Filing Cabinets
If you are looking for an easy way to get organized in your home office, then you won't go wrong with filing cabinets. These cabinets are made for files and important papers. But they can be used to store anything. They are available in different sizes too. But if you prefer a less cluttered office, then going for small and compact designs is highly advised. Filing cabinets are also available in many different colors. They are mostly made of wood. Some designs may also feature a combination of open shelving and closed drawers. Either way, they will be the perfect storage in your office.
Our choice Best filing cabinets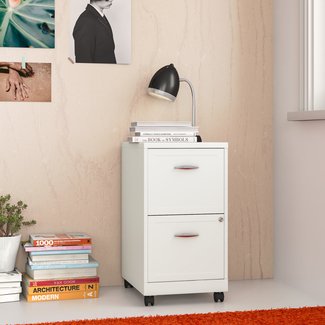 Gigi 2-Drawer Mobile Vertical Filing Cabinet
Give your home office simplified vertical storage with this two-drawer mobile cabinet. Made from steel with a beautiful pearl white finish, it has a rectangular shape that sits on four hooded double caster wheels for easy transportation. This cabinet features dual lockable drawers that glide smoothly with large storage space for files and office essentials and its top can accommodate a standard printer.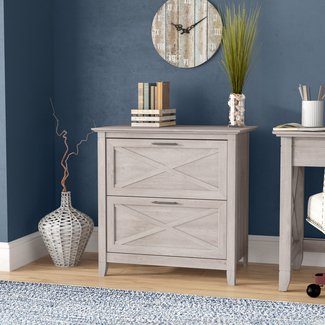 Cyra 2-Drawer Lateral Filing Cabinet
Keep your letters and legal files neatly arranged with these two file drawers. Made from laminate over engineered wood to give it a natural and authentic look, with a completely finished back, the piece can fit any space in the room. The distinct X pattern emphasis on the drawer panels creates a comfortable style that is supported by a strong and charming leg design. It has a perfect height to blend with a working desk.
Stormstown 1-Drawer Mobile Vertical Filing Cabinet
Make storage easy with this versatile and durable cabinet that is sure to give your home office a stylish look and organized. This cabinet has a large drawer that can fit a letter-sized file or be used as an extra storage space. It includes three open shelves that can accommodate your printer or extra papers with heavy-duty gliding caster wheels. It can be paired with a regular or L shaped desk or used as a stand-alone storage cabinet.
Orman 1-Drawer Vertical Filing Cabinet
Expand your home office with this cabinet and shelf that is designed with wheels for easy mobility and comes in a black steel frame with pull handles and a warm walnut finish. The drawer extension within the cabinet is suitable for storage of A4 papers or files. It includes file bars for convenient office settings and has a maximum weight of ten pounds per drawer for optimal storage.
Dahle 2-Drawer File Cabinet
Keep your home office well organized and paper-free with these two letters sized drawers. This drawer cabinet is crafted from MDF and metal to ensure durability. It features a tone label holder and a pulling and extendable drawer that can accommodate letter-sized files. The cabinet weighs 15 lbs and has a height of 4inches with an inside dimension of 10"H x 11.8"W x 17.1" D.
Walworth 2-Drawer Lateral Filing Cabinet
This unique drawer is everything you need to keep all your business needs organized and ready. Crafted from manufactured wood with a neutral black finish to blend with different color palettes, it will give your home office an attractive and classy look; it features two fully extended drawers that create a space for legal and letter-sized files. This cabinet is backed by a five-year warranty.
Laclair 3-Drawer Mobile Lateral Filing Cabinet
Looking for a modern and spacious cabinet? This versatile drawer that is manufactured from wood with a sleek and contemporary finish is sure to give you an office or study room an elegant look and also keep all files organized. This unit includes open storage space, file drawers and a storage cabinet for keeping printers, and offices essential in place and can accommodate letter-size files.
Talbotton 2-Drawer File Cabinet
If you need a small and beautiful cabinet then this 2-drawer, mid-century inspired cabinet is for you. It is made of wood with a beautiful white and walnut finish. It includes an extendable drawer for letter-sized file folders and has an overall weight of 35 lbs and overall dimensions of 26'' H x 18.5'' W x 15.35'' D.
Rutherford 2-Drawer Vertical Filing Cabinet
Give your working space an organized and defined look with this filing cabinet. Made from solid steel with a durable finish, this beautiful design features a dual drawer with file bars that can accommodate letter-sized papers and files. It also has a locking button to keep your sensitive files secured and safe. This piece comes with a one-year warranty and requires no assembly.
Ericka 2 Drawer Lateral Filing Cabinet
This cabinet is made of manufactured wood in an extravagant wood grain finish. This elegant design hits a rectangular shape with four-pointed square legs for easy mobility and includes a dual drawer on glides that is constructed to accommodate legal and letter-size files. Its horizontal top surface provides a space where a flat-screen TV or framed photos can be kept.