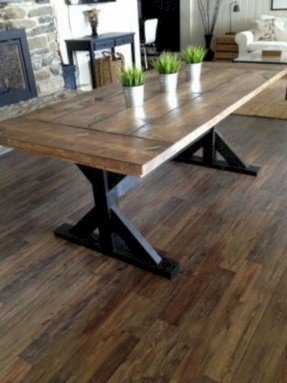 Bianca Noorda
This modern home-style table in the countryside is an excellent feature of the large dining or kitchen facilities. Solid wood construction in two shades is a great way to have a family feast.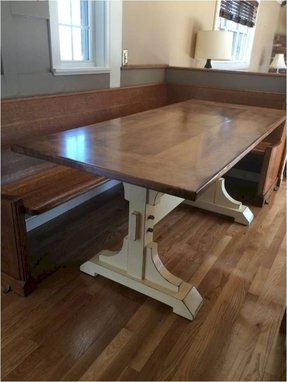 Lindsey Phillips
Dining table made of wood in two shades. Rectangular top has large usable surface. Stable base is reinforced with solid supports. Suitable for residential and commercial premises. It has a lot of great reviews.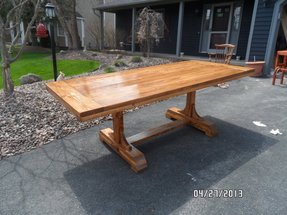 Moore Angela
A simple but elegant traditional table entirely made of wood with a glossy light brown finish. It features a base constructed of 2 upturned T-like supports joined by a sturdy bottom stretcher and has a rectangular top.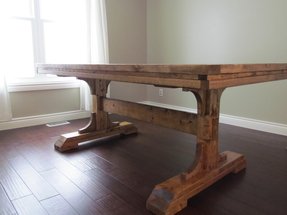 evanspaige1
If you are fan of old-fashioned, rural furniture, this pedestal farmhouse table is dedicated special for you! It is made of bright, carved wood and in spite of its simplicity it looks so good! Must-have in vintage dining room.
Samantha Ale
Dining table in traditional form. Construction is made of wood. Rectangular top has large usable surface. Received positive recommendations from customers for neutral design and high quality.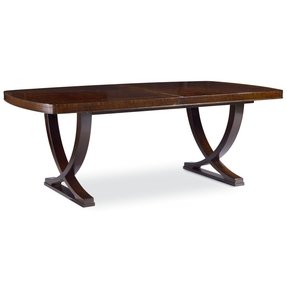 VanessaMartinez74
The form of this wide dining table is unobtrusive and simple, yet somehow classy. Double pedestal base utilizes arches and curves that create wishbone shape, and the dark boat-shaped mahogany veneer top features congenially rounded corners.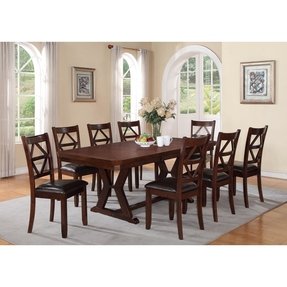 Mega Leahbrown
Larissa Extendable Dining Table
Extendable dining table which can accommodate lots of guests and family members. It features unique table leg design detail. Everything finished with durable and rich dark brown. It was constructed from wood.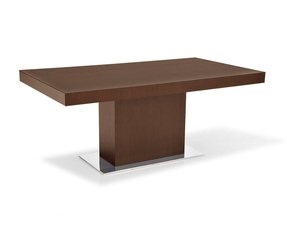 Melissa Jame
Sturdy and elegant, the pedestal table works well in contemporary interiors. Crafted of durable wood and nicely-polished, the table features a double pedestal base strengthened by wood stretchers, holding a thick top with sharp edges.
Stacy Bennett
Rustic dining table with a construction based on solid wood. It features a supportive base with two X-shaped bases. The whole table looks very simple and stylish in any type of design. It is suitable for large families.
Erika Smi
Enhance your dining room with this elegant dining set consisted of 1 rectangle table and 8 dining chairs. The table has a massive, double-pedestal base with a fixed stretcher, while the chairs are upholstered in a distressed leather, resting on tapered front and flared rear wooden legs.
Michelle Mit
Traditional and classic design for a double pedestal dining table made in a farmhouse style out of dark oak wood with a beam in the middle of the frame. The table is fitted with three matching chairs to finish the room off.
Peyton Marthy
If you need a large dining table for your rustic home, then this double pedestal table can be a great solution for you. Each of those bases rests on three curved legs for proper stability, holding a large, oval top - all crafted of wood and covered in a weathered finish.
Brittany Hug
Wooden dining table, great for any kind of interior. Right here it servers in a rather traditional one, but that's not the only option. Made from walnut, this rectangular dining table is able to accommodate up to 10 people.
Dominique Alex
Splash your dining room with a touch of vintage flavor, using this double pedestal mission table. Crafted of sturdy wood, the table holds a rectangle top and stands on wide feet supported by a flat stretcher.
Alexis Millerism
The turn of the 17th/18th was the moment when home-made specialties were served in a separate room. Its center must be a table - as beautiful as this two-tone double pedestal dining table with a light cream wooden base with 2 legs and a brown top.
Lindsey Bail
A great solution for larger dining rooms, this country dining table is very stable and durable, with gorgeous, 17th century, French woodworking. The table has two pedestal bases supported with spherical turnings and strengthened with a fixed stretcher.
Julia Lambertify
Dining table mounted on double pedestal base. Construction is made of wood. It has 6 to 8 seating capacity. Suitable for residential and commercial premises. Traditional form and elegant style.
Latoya Wat
Double Pedestal Dining Tables
Victoria Wats
A nice way to improve dining rooms with a bit of country style. This old-fashion dining table has a double pedestal base with flat feat, which holds a large, rectangular top with a smooth surface.
Julia Jenkins
Vintage setup for a small dining table with a low ceiling, furnished with a rectangular dining table made out of white-painted wood with a set of wicker rattan dining chairs with high backs and cotton seat cushions.
Meghan Rodriguez
Santa Fe Balustrade Dining Table with a Solid Top, 7 ft
Lily Cravenable
This double pedestal dining table constitutes a great proposition for industrial or rustic spaces. Based on two, four-branched legs, this long wooden construction is a solid piece of furniture, designed to withstand the test of time.
Martinez Leah
With this nicely-sculpted table, your larger dining room will be properly accommodated. It includes 2 three-legged, pedestal bases that hold an espresso-finished tabletop with beveled edges.
Jessica Zernike
Dining table with rectangular top. It is mounted on double pedestal base and reinforced with solid support. Elegant and functional design for the living room, dining room and others interiors as needed.
Alexis Hallify
A classy traditional dining table for 6 persons. It has a rectangularish grey finished woody top with canted corners. A black base is built of 2 rather low upturned U-shaped feet, with scrolled elements atop, joined by 2 stretchers with forked ends.
Torres Alison
A fine piece for contemporary dining rooms, this lovely dining table uses a two pedestal base and a firm, flat stretcher. Constructed of sturdy wood and covered in a cherry finish, the table also holds 1 rectangle top with a nice-polish.
Abigail Wrightful
C.R. PLASTIC PRODUCTS T11 DOUBLE PEDESTAL DINING TABLE, 72"
Jenna Delicata
Double Pedestal Dining Table | Bernhardt
Lauren Martinezify
AM Dolce Vita: Dining Room Chandelier Reveal, dining room crystal chandelier, trellis area rug, double pedestal dining room, oval back Louis dining chairs
April Ande
A.R.T. Furniture Margaux Counter Height Rectangle Double Pedestal Dining Table - Mahogany. -- Julianna
Thomson Marisa
Thomasville Double-Pedestal Dining Table
Brittany Tor
Presidio Oval Dining Table by Bassett Furniture
Russell Amanda
Kindel Furniture double pedestal dining table in cerused oak finish
Ramirez Jasmine
Dining Table Top and Double Pedestal Dining Table Base | Bernhardt
cyntiagracia
Villa Cortina Double Pedestal Dining Table - Dining Tables at Hayneedle
Jillian Bel
Double Pedestal Dining Table (Bassett Furniture)
Alexis Millerism
Details about Marvel 139" Oval Double Pedestal Dining Table
Victoria Green
Somerset Bay Double Pedestal Killington Table @Layla Grayce #laylagrayce #coastal
Jenna Edward
Antonio Counter Height Dining Table
Adriana Andersson
dining rooms - Dining Room wainscoting Benjamin Moore Revere Pewter Crystal Chandelier Mahogany double pedestal dining table cross-back dining chairs Blue silk drapes
Tara Zucker
Double-Pedestal Dining Room Tables - Amish Oak in Texas
Evans Liliana
Double Pedestal Farm Table
jasminedavies1000
library and office. partner desk. workspace.
Alexis Millerism
Dorset Custom Furniture - A Woodworkers Photo Journal
Peyton Marthy
Large Amish Oval Double Pedestal Dining Room Table Solid Wood Extending New | eBay
Kathryn Simm
Double Pedestal Dining Table
Alyssa Wilsonify
Double Pedestal Dining Room Table
emmahhansson
Double Pedestal Dining Table
MrMackenzieGarcia
Wood Dining Table with Pull Out Extension Leaf in Cappuccino Finish
Crystal Ste
Home > Dining Tables > Manchester Double Pedestal Dining Table
What are the advantages of double pedestal dining tables over other types?
As most double pedestal tables can be expanded, they are real lifesavers when you don't need a very large table for yourself, but throw occasional parties. The balance provided by such table allows to easily seat a large number of people without problems. Additionally, double pedestal tables have that rich, luxury feeling going for them!

What are the most popular materials for dining tables?
The most post popular materials for dining tables are wood, glass, metal, marble and laminate. Each of them has different characteristics, and there is no one best material.

I'm looking for a wooden dining table, but which type to choose?
Wood is the most versatile material and comes in several types – it can be hardwood, softwood or composite. Hardwood is considered to be the most reliable option, mainly because of the attractive look and long-lasting qualities, but it's also the most expensive one. The most popular hardwoods are mahogany, maple, oak and walnut.

I want my dining room to be modern and stylish… got any advice?
Glass dining tables are modern, airy and elegant, as well as easy to clean. But that's not your only option – metal dining tables are just as popular, and they certainly can be called heavy duty tables.

And if I'm looking for a luxurious dining table?
If you're looking for a dining table with a rich, elegant vibe, check out the marble ones. Additionally, these dining tables are also very easy to clean and last a lifetime!

I'd like to learn more about the different shapes of dining room tables…
Dining tables can be rectangular, square, round and oval, or come in a freeform. Rectangular dining tables are the most common ones and can work as dividers in open-plan houses. Square tables are fashionable but consume a lot of space. Round tables are great for traditional, cozy types of houses. Oval dining tables are easy to place, practical and space-efficient. Freeform dining tables are great to create an artistic design.

Do dining tables come in different styles?
Just like any other element of interior design, dining tables come in various styles. The most popular ones are traditional, modern, rustic, industrial, contemporary and shaker. Look them up and pick one cohesive with the rest of your house's design.

What are standard dining table sizes?
Dining tables measure 36 inches minimum, while the optimal height is around 28 to 30 inches. It's also important to remember that the size depends on the shape. For example, for seating 4 people, square tables measure between 36 and 44 inches, rectangular are at least 36 inches wide and 48 inches long, roundtables are 36 to 44 inches in diameter, and oval are around 36 inches wide and 56 inches long. That's why double pedestal dining tables are so handy – they allow you to expand just when you need it.

How to choose the colour for my double pedestal dining table?
Many homeowners go for interesting, fashionable colours, like bright red or yellow, for their dining tables, and that's fine. However, keep in mind that it may be a risky approach – today's hit is tomorrow's failure. If you want to be safe, just bet on the classic elegance – black is always the new black, and you can't go wrong with natural colour!
SUPPLEMENTAL RESULTS FROM USERS AND STORES