Doorbells & Chimes
Doorbells & chimes are designed to alert you when someone is at your front door. It could be a family member, a friend visiting, or a delivery guy bringing your order. Doorbells have become more sophisticated over the years. Even though they still retain their unique alert sounds, modern designs also come with additional features including motion detection and voice operation. Well, this selection of doorbells & chimes is designed for all users. Whether you are looking for something loud and alarming or perhaps a soothing and relaxing bell, you can be sure you will find doorbells & chimes tailored to your needs and preferences.
Our choice Best Doorbells & Chimes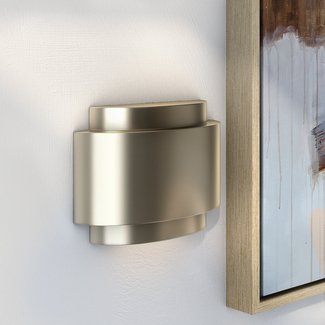 Contemporary Door Chime in Stainless Steel
Create the best first impression for your family and friends with this fashion-forward and stylish door chime. Created from stainless steel and finely polished, the curved silhouette to of this door chime oozes with elegance and sophistication. Feel free to mount it vertically or horizontally. It's pleasing to the eye and features a two sound note standard doorbell chime sound on the first door and a single note on the second door.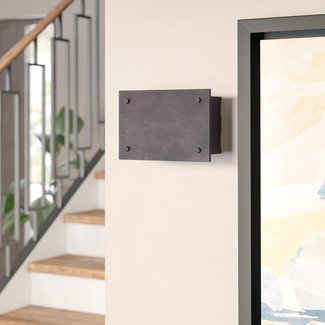 Industrial Lighted Door Chime
This industrial-themed door chime looks like anything but a door chime. It is artful, to say the least, and lends a decorative touch to your home environment. While it is understated with its industrial design and a clean-lined silhouette, the aged iron finish ensures that it is durable and built to last. Perfect for loft apartments, it also contains an LED light for added illumination. There's a light adjustment knob for dimming the LED and it sounds two notes on the front door and a single note on the second door every time it is rung.
Mission Style Door Chime in Antique Bronze
If you are tired of tacky doorbell chimes, then this one is a cut above the rest. The mission style door chime resembles warm wood furniture and metal fixtures and is crafted from resin. The antique bronze finish brings a hint of nostalgia to it. It's just as decorative as it is functional. As with most door chimes, this one sounds two notes for your front doors in one note for your second door. Feel free to hang it horizontally or vertically and measure the space beforehand.
Americana™ Doorbell Kit
This elegant doorbell chime contains a Rosewood finished frame with raised beveled edge brass design. The bonus is that it is expandable up to four doors total with the purchase of the additional wireless pushbuttons. The wireless range covers approximately 20 to 300 feet depending on your home's construction. It contains adjustable volume control to accommodate small and large homes alike. The active transmitter pushbutton and receiver chime "learn" to process and prevents interference from other wireless devices. The state-of-the-art doorbell chime will make a statement.
Hand Carved Scroll Cabinet Door Chime in Matte Black
Never miss a visit from a family member or friend, thanks to this traditional door chime. Made from resin and glass, it features a craftsman style construction with the perfect finishing touch to complement a classic cabin or modern farmhouse. The matte black finish makes it versatile enough to blend in with any type of traditional or modern decor while the glass is tea-stained, and the door chime is hand-carved, making it all the more valuable.
Tiered Mission Lighted Push Button
There's no better way for guests to announce themselves than with this chic and sleek doorbell. Crafted to resemble an aged iron finish, there is a button light that turns on and off to confirm a ring giving visitors a sense of touch inherent in traditional doorbells. A combination of technology and pizzazz, this rectangular silhouette doorbell chime is an example of striking and excellent engineering.
Remobell S Fast Responding Doorbell Push Button
This fast-responding video doorbell is state-of-the-art technology at its best. It has high-quality HD video, advanced motion detection as well as customizable motion zones. Thanks to its wide viewing angle and video-based motion detection, this smart doorbell will monitor and record all front door activity in real-time. It also contains a two-way speaker for listening to guests, and instant push notifications are sent to your smartphone device. It is the ultimate accessory to add to an ultramodern and cutting edge home.
Surface Mount Push Button in Weathered Black
This doorbell chime in a weathered black finish is a combination of old meets new. The weathered finish gives it a traditional and antique appearance while the clean-lined frame gives it a bit of a contemporary feel. It also contains an LED light that lasts for years and is eco-friendly. The doorbell chime works with any standard doorbell transformer. Now you never have to miss a house call.
Monarch Butterfly Push Button
Transform your front door with this butterfly doorbell ringer. Handcrafted from solid brass, this butterfly doorbell ringer has a protective coating and comes in an elegant gift packaging. It is so decorative; some people may even miss that it's a doorbell chime. However, if you are into all things, mother nature, then these butterfly doorbell chimes are right for you.
Surface Mount Lighted Push Button
Simple and understated, this basic doorbell chime gets right to the point. Whether it is a steady stream of trick-or-treaters or the pizza delivery guy, you'll never have to miss anyone at your door again. The doorbell has an LED push button in the center, and the standard white light it gives off makes it easy for guests to spot to it when they arrive after sunset. The antique pewter or oiled bronze gilded finish gives it somewhat of a sophisticated look.