Dolls & Accessories
Playrooms for kids, especially those designed for little girls, are never complete without dollhouses. The little innovatively designed dollhouses make the best toys for girls and little boys too. They provide the perfect setting for a child to place his or her favorite dolls or characters and other little play items. There are different types of dollhouses including those with open backs and complete 360-degree real home designs. They all have a solid style and illusion of a real mansion or multi-storied house. Check out the huge collection of dollhouses available in different sizes to match your child's needs and your personal budget.
Our choice Best Dolls & Accessories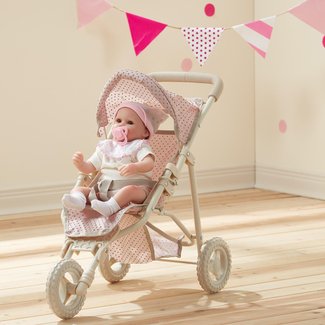 Polka Dots Princess Baby Doll Jogging Stroller
Buckle up your child's dolls and let them take a walk with this impeccably constructed baby jogging stroller. Sturdy and comfortable handle ensures convenient transportation and ease of use, whereas ample storage basket at the bottom securely holds all the doll's belongings. Three rubber wheels ascertain smooth mobility. It is foldable for compact stowing away when not in use. Regularly clean with dry or damp cloth to remove any dirt and bacteria.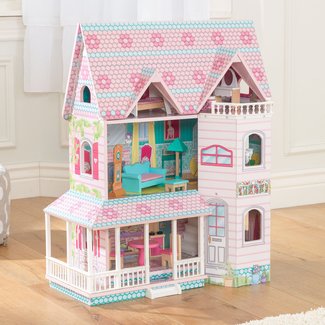 Abbey Manor Dollhouse
Cultivate imaginative play with this high-quality 28.25" H dollhouse. It spots pink detailed roofing and exterior with hints of blue guaranteed to light up your little ones' eyes. Features three levels, five furnished rooms, and a removable wraparound porch for endless fun. Sturdy wood construction makes it highly durable. Comes with sixteen home accessories and accessories. This adorable dollhouse accommodates dolls of up to 5".
Polka Dots Princess Baby Doll Crib with Cabinet and Cubby
Crafted from manufactured wood primary material, this baby doll crib features one cabinet, two storage bins, and a doll bed with one pink blanket. Painted with lead-free gray and pink paint, making it eco-friendly. The side rail is removable to convert the bed into a changing station when needed. Spacious cabinet and storage bins offer tons of space to store doll's accessories, clothes, and diapers. Suitable for up to 16" dolls.
Olivia's Little World Twinkle Stars Princess Baby Doll Changing Station with Storage
Surprise your little doll lover with this charming changing station in purple color. High chair serves as a feeding station, with the sink area for pretend cleaning during and after changing the dolls. Hanging stars mobile is for soothing them to sleep. Several storage compartments complete with three pink hangers help keep everything organized and in place. Recommended for children from three to ten years.
Olivia's Little World Polka Dots Princess Doll Fancy Closet with 3 Hangers
Neatly arrange the doll's clothes and accessories in this fancy doll closet. Pink/gray color palette and polka dot motif ooze feminine appeal, befitting the little girls. Two roomy shelves stow shoes and accessories out of the way and offer easy access when needed, whereas the drawer safely holds the doll's knickknacks. Hang the doll's outfits on the three pink hangers provided. Frequently clean with a dry or damp cloth to maintain its beauty.
Olivia's Little World Twinkle Stars Princess Doll Vanity Table and Stool Set
Make her eyes sparkle like the twinkle stars motif on this stunning doll vanity table and toolset. Manufactured wood primary material is robust and durable to warrant years of enjoyment. Has a drawer that opens up for storing barbie's glam products and an adjustable mirror for flexibility during use. Stable stool with pillow padding ensures comfortability. Designed for 18" dolls, and fits perfectly with popular brands like American Girl and Madame Alexander.
Olivia's Little World Polka Dots Princess Baby Doll Changing Station
Take your daughter's play up a notch with this 38.5" H baby doll changing station. Showcases a minimalistic design with less hazardous pieces making it extremely safe. Pink and gray color combination is muted yet elegant. Top surface is divided into a cleaning and feeding station, and a napping area fitted with a hanging mobile. Beneath are large storage compartments to allow your daughter to organize doll's clothes and accessories. Intended to fit 16-18" dolls.
Olivia's Little World Polka Dots Princess Doll College Dorm Double Bunk Desk
Made from manufactured wood with gray/pink finish, this college dorm double bunk desk features one cushioned chair, roomy desk area, four spacious shelves, a reflective mirror, moveable ladder, three pink hangers, a note board, and a bunk bed with bedding for the complete college dorm experience. Its stacked nature saves space, whereas the smooth finish averts scratching of dolls and elevate its aesthetics. Ideal for children aged three years and above.
Zoey Lights and Sounds Dollhouse
Foster your child's creativity and imagination with this innovative 50"H dollhouse. Equipped with eleven sounds like dogs barking, cats meowing, phone ringing, and popcorn popping, for a sense of real-life home. This three-level dollhouse has few room dividers, making it easier for kids to move around the 18-piece accessories set. Simply touch the stars on graphic panels to hear everyday noises, and a single tap to light up the dollhouse.
Polka Dots Princess Baby Doll Twin Jogging Stroller
Offer a realistic experience to your babies with this adorable baby doll twin jogging stroller. The retractable canopy is wide enough to shield both 'kids' from the scorching sun, and a convenient storage basket holds all the doll's luggage. Adjustable handle caters for children of all heights. Safety locks prevents stroller from suddenly folding and subsequently hurting your little one's hands. Intended to be used with 16" dolls.