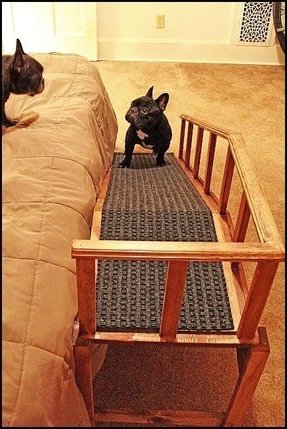 MultiKateAnderson
Some dogs might have troubles climbing to the bed, but that's what the dog ramp is for. Reliable wooden construction of the correct height to match standard beds, it's a real life saved for out tiny friends. Pinewood is stylish and pleasant to touch.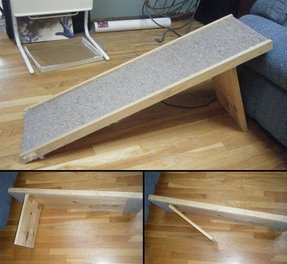 Alexander Jennifer
For anyone, who has an older pet and would like them to be able to reach higher surfaces more easily this pet step/ram is the perfect option. It provides the needed amount of stability and durability to ensure that your pet is safe.
Jenna Edward
I don't like pet steps, but the ramp is an excellent idea! Awesome for small pets to get on the bed. It's solid, nicely finished, wooden and high quality. Fits perfectly to classic style and decor.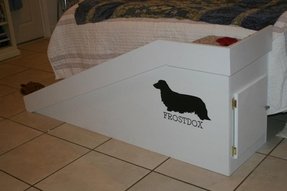 Jessica Zernike
Ramp designed for medium sized dog. It is made of wood and equipped with cabinet. Application in all kinds of interiors as needed.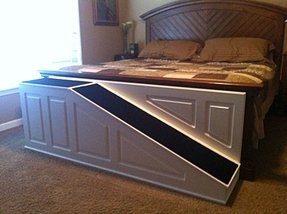 Joanna Russ
This pet ramp is going to help your four-legged friend to reach higher places. The whole structure is constructed of wood in a white finish, while the ramp's surface is covered by a non-slip material.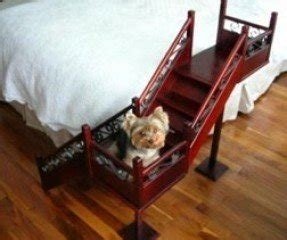 Cynthia Dia
Your tiny pet will be grateful for this functional gadget. A special bed ramp makes the bed accessible for your little dog while retaining the trend-right look of your bedroom: just look at this carved banister and cherry wood finish.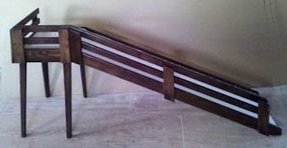 Julia Brow
Thanks to this functional ramp your pet will have no trouble with reaching higher spots, like beds, chairs, and sofas. The ramp is easy to set, relatively lightweight, and with a non-slipping surface.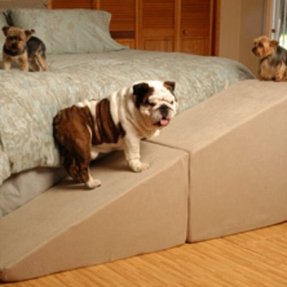 alexsandrawilson
For every small pet out there that has troubles with jumping on a high bed, we have something special. This puppy stairs are made of few separate pieces that can be formed into a comfortable ramp, leading your pup straight up on the bed. The elements are fast and easy to set.
Evans Liliana
A very original and practical project for pet owners. This bed for dog or cat includes comfortable and solid steps that allow for sleeping on the same level just like human. This bed also includes a lower storage drawer.
EmilyLee47
This simple folding canopy ramp is an excellent way to allow your pet to enter higher couches, armchairs or the car. The rough surface prevents slipping, and the whole looks neat and perfectly matches any décor.
Thomson Marisa
A very simple ramp for dogs. Thanks to this element, small dogs are able to access beds or sofas without jumping or scratching. This element includes a solid wooden frame and a ramp surface covered with gray and soft material.
MrMadelineJohnson
A fantastic helper for your pet, which allows smaller creatures to reach higher spots, like beds, chairs, and sofas. The ramp is entirely made of wood, and has a fixed support underneath, for proper stability.
MrMadelineJohnson
If you had, very young, old or sick pet (especially cat or little dog) you can make his life easier due to this simple ramp to the bed. Ramp doesn't stake a lot of place and it is made of bright, oak wood.
KellyKellAshley
This original, functional and decorative ramp is an item that provides access to a sofa or bed for small dogs. This soft construction includes some wooden elements. It is finished in white and brown colors.
Lindsay Gre
Bedside 25" Pet Ramp
It is a perfect ramp for the dog or cat, which you can put near the bed. It is particularly useful for dogs with short paws. This dog is able to walk up and down from a high bed, so the ramp as perfect support for him.
Dana Phi
This oak wood dog ramp with beige tan textured carpet can be an inspiration for DIY dog ramp project. Roomy top platform allows for easy stepping on and off the bed. The slope of this ramp is fit for higher beds.
Ashley Mar
Original, decorative and very useful ramp for dogs. It provides access to a bed, so it is suitable for small dogs. It looks like a small, multi-color house, so it matches any type of interior design and plays decorative role.
KimKimJacob
An elegant approach to a set of dog steps for a bed, perfect if you have a smaller dog that can't reach a high bed. The steps are made out of brown oak wood with a polished finish and are fitted with cotton-padded tops.
Tara Zucker
Sofa Ramp for Dogs
Cintia Kowalski
Your quadruped friend is old enough and can no longer jump out of bed the way it used to be. Thanks to the additional panel - dog ramp for bed with a steep but safe panel, and anti-slip red carpet - the dog will come in and go down without a problem.
MadisonHernandez11
this pet ramp is a great solution to getting your dog up onto the bed ...
Mitchell Stacey
Dog ramp for all kinds of interiors as needed. It is made of wood and covered with thick carpet. Suitable for small and medium sizes pets. Simple form and contemporary design.
Lambert Abbey
This construction includes a ramp and cube in one piece. It provides access to higher areas for puppies and small dogs. For example it assures access to beds. Its soft foam fill is comfortable and safe for animals.
Allison Gree
High and tall design for a traditional-styled dog ramp for a bed, made out of light pine wood, perfect for small or injured dogs to help them reach the bed. The ramp is fitted with a handy rail which makes sure the dog will not fall off.
SuperAliceMartinez
This dog ramp for bed can be a great solution if you like spending the nights with your furry friend. Well-profiled, will allow ageing or small dogs smoothly conquer subsequent steps.
Bianca Noorda
Dog ramp for the living room, bedroom and others interiors as needed. It is filled with high density foam and covered with thick fabric. Designed for small and medium sized pets. It is very well appreciated by customers.
MiaCasta1
This is the bear idea I've seen this far for a bed with useable storage underneath! I love this
SarahMiller29
Practical sturdy ramp for small, old, senile, ill or injured pets. A frame is handmade of brown-finished wood and has pets' names written in white on a side. Its upper surface is covered with carpet fabric in beige tones with inlaid black paw prints.
Megan Barnes
Cat Ramps and Dog Ramps for Beds - Easy Slope, Extra Wide
Martinez Marisa
Download Dog Bed Ramp Plans PDF diy wood end table plans
AmandaDonaldson1
An aesthetic practical portable ramp for pets. It has a wooden frame with a vivid yellow finish and a vertically slatted design. Its upper surface is covered with a durable but soft beige carpet fabric.
Theresa Powe
... using a drill driver to screw together the sides of the pet ramp box
Lily Cravenable
Thanks to this functional bed, your beloved dog or cat will be resting and eating in style. The combo is entirely crafted of natural-finished wood, including a built-in 3-step staircase with a dog house underneath, a dining area with 3 metal bowls, and a top bunk with protective railing.
Roberts Isabelle
StRamp 28" Pet Ramp
Practical slanted ramp intended for smaller, older or disabled dogs. It is made of grey plastic covered in a beige snaps-attached machine washable carpet tread. This ramp is lightweight, easy portable and has anti-slip rubbery feet.
Laetitia Zernike
Dog Ramps 18 Inches High Pet Steps Dog Steps by HamptonBayPetSteps, $99.00 -- easier on the joints for older dogs
Lindsay Pat
Bean struts down the dog ramp next to his owners' bed. The ramp was custom made by a cabinetmaker but it's possible to build one at home. You just need a few tools, materials and basic woodworking skills
TheVanessaWeber
Easy Step Pet Ramp for senior dogs- | In The Company Of Dogs
EmilyLee47
If your pet is having troubles reaching higher places, we have a perfect solution. The bedside ramp is made of wood, and covered with a anti-skidding material. It can be quickly folded or unfolded. And you can be sure that your four-legged friend will be able to climb on the bed, effortlessly.
Thompson Alyssa
Tie Down Straps & Devices
Jenna Daviesful
Dog Ramps for Beds or Couches Planning To Build
Jasmine Lee
Being an effortless way to reach even the tallest beds, this wooden dog ramp is an adorable proposition for all, who cannot imagine a night without their quadruped friends. Inexpensive, easy to assemble.
Peyton Donaldson
Been trying to find "pet stairs" for the couch and bed for a while. I like the idea of the slope instead of actual stairs; I think my dog would be more inclined to use it -- no pun intended. :-)
Kristen Broo
Pet Ramp for Bed - 12in Wide Climber Slope
Gray April
Would love to watch the littles on this.
TheSadieEdwards
Dachshunds! Omg need this for my dachshunds!!!
Lauren Martinezify
Trust me, your pet needs this tall dog bed steps. They've got six steps and soft cloth upholstery. It's a fantastic product for high beds. If you searching for a high quality pet steps, you should try this!
MrKeiraWhite
ramp for your dog cut wood boards to the lengths needed for the ramp ...
Angela Nelson
Will My Dog Go Up a Dog Ramp?
ThePeytonRobinson
Comfy and creative approach to a bid dog bed ramp, which provides for an interesting replacement to a set of dog stairs, making it even easier for a dog to reach a high bed. The ramp is upholstered with a cotton fabric, making it smooth and nice to touch.
Tara Cook
Practical ramp for small, senile or injured pets. A ramp frame is handmade of solid wood with a natural finish and joined with a stool-like platform. It has side rails and its surface is covered with brown carpet fabric.
What are the types of dog ramps?
What we generally call dog ramps can actually be ramps, stairs or steps.
So when to choose the ramp?
Dog ramps are flat, inclined ramps, which are especially good for older dogs with mobility problems – mainly arthritis and hip dysplasia. A dog ramp doesn't put any strain on dog's legs and joints and is easy to use.
What about dog stairs?
Dog stairs are best for smaller dogs. They usually consist of upwards of 4 short steps, which is enough for your dog to get onto the bed without any problems.
And dog steps?
It's the best choice for medium-sized dogs. Dog steps consist of between 1 to 3 steps.
What should I do before I buy a dog ramp?
It's crucial to get the measurements right, so you will need to find out the exact height of the object next to which your ramp will be positioned – be it a sofa, bed or truck. Then, you have to think about the needs of your pet – as was mentioned, older dogs may need ramps, smaller dogs stairs, and medium dogs steps.
Are some materials better than the other?
PVC dog ramps are long-lasting, durable and waterproof. They are also very easy to clean and disinfect. On a downside, however, they are a bit less solid, and as such are better for smaller dogs. Metallic ramps are heavier, more durable, and as such better for larger dogs. Wooden dog ramps are the most popular for indoor use, as they are the most versatile, and look great.
What are the differences between telescopic and folding dog ramps?
Dog ramps can be folding ramps or telescopic ramps. Telescopic dog ramps are ones that are ready for use out of the box – simply slide the bottom part out and lock the position. If you would like for your ramp to have a smaller size when packed, think about bi-fold or tri-fold dog ramps. However, folding ramps are not as adjustable as telescopic pet ramps.
Any additional features to think about?
Skid-resistant ramps, as well as ones with the high-traction surface, are something you might wish to consider. It's also good if your ramp has carry handles and safety latches.
How to choose the kind of slope?
Standard dog ramp slopes come in three types – climber slope (26 degrees), normal slope (22 degrees) and easy slope (18 degrees). Consider the mobility of your pet, and choose the easy one if your dog has joint problems, or a climber slope if your dog is young and healthy.
SUPPLEMENTAL RESULTS FROM USERS AND STORES