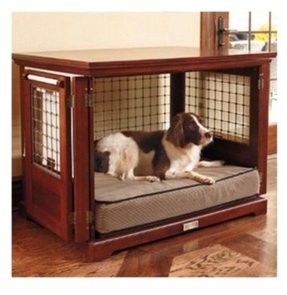 Lucy1Reid
The simple design and style of this beautifully crafted dog crate is a combination of functional furniture and stylish addition to the interior. The wooden construction can also serve as a cabinet or end table.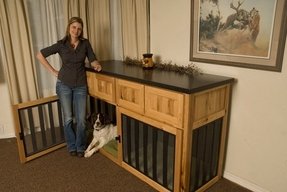 Price Caitlin
This large and massively made crate for the dog is a combination of functionality and style. Beautifully presented in every interior and can be used in many ways. The whole made of solid wood has a stylish top.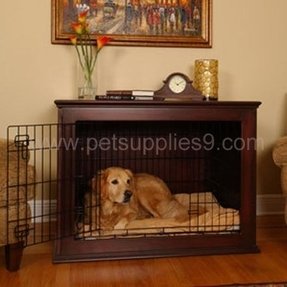 KellyKellAshley
Add this solid and nicely finished wooden dog gate into your home, and enjoy the safety zone for your lovely pet. It's not only useful, but a stylish product too. You need to try it!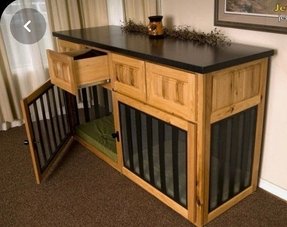 Erica White
An amazing dog crate for indoor use, which will make your beloved pup, or two, very happy. Crafted of natural wood with espresso accents, the crate features a spacious two-door compartment with mesh panels for ventilation, 4 drawers, and a smooth rectangle top.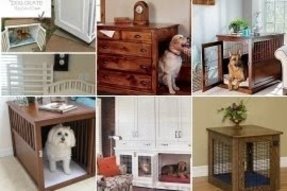 Patterson Gracie
Suitable for indoor use; this spacious dog crate is going to make your beloved pup comfy and well-protected. The unit is made of sturdy wood, with a flat base, a door with a metal lock, and hollow sides for ventilation.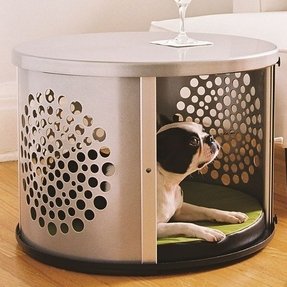 SuperAliceMartinez
BowHaus Modern Pet Crate
This modern side table in a kennel in one is the perfect solution for your home. Blend beautifully with modern wystrojemn interior, and the metal structure with finesse cutouts and a comfortable seat inside, the interior adds a wonderful character.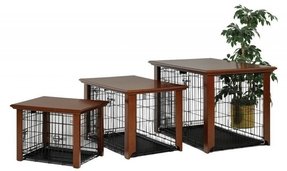 Renee Pri
Robust construction in classic design makes this dog crates in the shape of furniture - coffee tables or benches are an excellent choice for any interior. Beautiful design makes the whole is elegant and functional, and the size is easy to fit into your pet.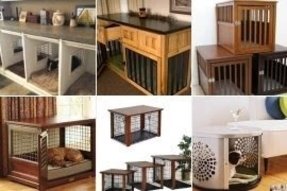 Karen Per
An aesthetic contemporary dog crate which can serve as a side table. It's made of wood with a nice finish in mid brown tones. It has a squarish top, walls of black metal wires (with a lattice pattern) in wide wooden frames, a door with a catch.
Ross Alexandra
DIY Dog Crate with Ana White plans. Say goodbye to ugly dog furniture ...
Martinez Marisa
Dog Crates
KimKimJacob
Stylish dog crate in furniture style is a perfect combination of solid wood construction, gratings, and functionality. The whole can serve as a side table and a place for the dog, and it also looks great inside.
Powell Joanna
Cute dog crate built in to the decor! @Mary Kaye by penny
Stephanie Pow
16 Repurposed Furniture Pieces: Great DIY Ideas For Your Pet's New Home! 4 -
Abigail Wrightful
Indoor Wood Dog Crate and Pet Cage
Meghan Bell
Side table-style dog crate with a removable tray and divider. Product: Dog crate Construction Material: ...
Campbell Monica
Dog bed in the shape of chest. Construction is made of wood. Dedicated for large sized pets. Neutral and functional design for each home as needed.
Kristen James
EcoFLEX Pet Crate End Table
Create the perfect place for your pet, while they are indoors. You get both the amazing functionality and stunning style with the versatile finish. It is durable and strong enough to ensure you get many years of great and problem-free use.
TheVanessaWeber
Beautifully crafted wood furniture style beds are a great combination of functional furniture and space for our pets. Attractive design and excellent finish make the dog crates look perfect in the interiors.
Jackson Krystle
Cabinet Re-purposed Into Dog Kennel
emmahhansson
The practical and well-made dog crate in the furniture style makes it a great showcase for every interior design. The Beautiful design perfectly fits in with modern style, and at the same time, it is a perfect place for your pet.
MadisonHernandez11
Share on twitter More Sharing Services Midwest Wooden Dog Crate Table Cover
Abigail Wrightful
20 Wonderful Pieces of Furniture For Pets
Hilton Emily
New Age Pet® ecoConcepts™ Habitat 'N Home InnPlace Wooden Dog Crate in Espresso -- Wood dog crate end table -- Mission style end table -- Made from eco-Flex (recycled polymers & wood fibers) -- Latching door -- Built in crate floor -- Moisture r
Laetitia Anderson
Wooden dog crates - totally ridiculous but also really pretty
Robinson Layla
I love this idea. Will put it in another area though. Not sure where as yet
Jenna Delicata
Killer Kennel Endtable
Mega Leahbrown
Privacy for a dog is its natural law, as his safety is important too- and that the unique dog crate, that provides these two things is not ugly. A wooden gray, bedside table with a wooden dog grating, will allow him to sleep in the middle on a soft cushion.
Laura Par
Welded and wood dog crate kennel
alexsandrawilson
DenHaus Dens are dog crates + beautiful furniture in one.
MiaCasta1
25 Cool Indoor Dog Houses | Home Design And Interior
Cintia Brook
Here's a great selection of affordable designer~look end table dog crate furniture styles in wicker, wooden and other decorative dog crates that look like furniture. Decorative dog crates serve as great indoor dog houses to keep your pooch safe and...
Andrea Cox
Astonishing Wood Dog Crate Furniture Decorating Ideas Images in Garage ...
Angela Russ
a8b02-img_0035.jpg
Lucy1Reid
Your pet can sleep near you, in truly royal style. You will not even notice that it is there. Pet bed is built into the white night cabinet. Lined with soft, decorative Victorian fabric. With little royal curtains and with ornamental frills.
Lucy1Reid
wood-dog-crate.jpg
Evans Liliana
End table/Dog bed
AliceHilton1
Wooden dog crate furniture for your home
Lopez Ashley
Dog Bed (inspired by Ana White's Farmhouse Doll Bed Plan) - Click 3 Sisters 3 Styles blog link for details
SuperCarolineWalker
dog crate furniture
Laetitia Anderson
A configurable gate for indoor use to keep your dog in a limited area. Wood craftsmanship includes a walk-thru door that allows for easy movement between spaces. It's lightweirght, foldable and easy to use.
SarahMiller29
DenHaus Espresso TownHaus Hideaway Dog House, Small
Liliana Gadjus
DenHaus TownHaus Indoor Dog House and End Table
RaquelStone12
Love these cute covers for your dog crates!! Dare I tackle the project? These were done by kevinandamanda.com
Zernike Laetitia
Wood Frame and Metal Dog Crate
Melissa Turner
dog crate console
RileyThompson1
Mahogany End Table Dog Bed -- end table dog house for the pooches! :-)
Bianca Weberable
The dog den is often located in the central part of the apartment-it is worth good design and to have many functions,such as a bed and a coffee table.Made of wood in the form of a table,with a dog's nest inside. It is possible to close it with a metal grate.
Adriana Andersson
Click to enlarge image(s)
Morgan Meghan
Glendale Woodworking - Custom Furniture Style Dog Crate
TheVanessaWeber
Furniture Style Indoor Dog Cage | Midwest Classic Collection Pet Crate ...
Dogs need comfortable and cosy crates. They just love them, that's a fact. But you don't have to strike compromises with the style just because you're an owner of a lovely pet. Today, dog crates come in plenty of styles and shapes, and the best of them are designed to fit right into your interior design. That's what we've prepared for you here, all the best examples of furniture style dog crates. Before you pick one, it's good to get to know them better, to be able to buy a correct dog crate.

The comfort of your dog comes first. Depending on the breed of your dog, the size of the crate you need varies. An overly small dog crate will make your dog feel uncomfortable, and may even cause injuries. On the other hand, a dog crate that's too big won't be very cosy, and your dog won't be able to feel at home in it. Ideally, it should be big enough for your dog to be able to freely turn around in it, with around 10 inches of free space from each size.

Now, the design of your dog crate is very important. Not only because a dog crate that's cohesive with the rest of your interior design will look good, but also because your dog will like it more if it matches the surroundings. An out of place, mismatched crate can cause unease. You don't want to upset your dog, so pick one that looks like the rest of your place.

All of the dog crates we've prepared for you here are furniture style, which means they resemble ordinary furniture. They come in all imaginable styles, materials and sizes, to make sure everyone can find an appropriate dog crate that will match the design of his house. It doesn't matter if you live in a modern apartment or a cottage-style house in England, we're sure there is at least one appropriate dog crate right here, perfect for your situation!

Another important aspect of the dog crate is its finish. No sharp edges allowed, for obvious reasons. Dog crates have to be polished, safe to use and easy to operate. That's why the opening mechanism is very important. It has to be durable and firm, for times when you'll want to keep your dog locked inside, for example when someone visits you. However, it also has to be easy to open, for safety reasons – for example, in the case of a fire alarm, you have to be able to unlock it instantly. Rest assured, all of the dog crates we've prepared for you are safe and trustworthy, but it's still good to have things like this in mind and double check them.

That covers the topic of furniture style dog crates – now you're more than prepared to pick a dog crate that's both stylish and practical. Go ahead and look around, we're sure that here you'll be able to find a dog crate that will satisfy both you and your dog!
SUPPLEMENTAL RESULTS FROM USERS AND STORES