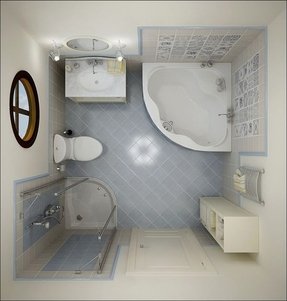 Dominique Wilson
Corner Bathtubs
This amazing bathroom design is a truly perfect example that you are able to fit everything you need in even the smallest space, since it provides a solution for all those, who don't have the largest bathroom but would still like to experience maximum comfort.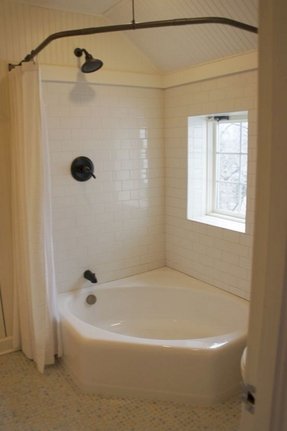 Anderson Marisa
Corner Tub
Minimalist bathroom idea: corner tub is combined with shower surrounded by traditional white curtains hanged on industrial bronze bar (matches the vintage shower head). There are white tiles on a wall and mosaic tiles on floor.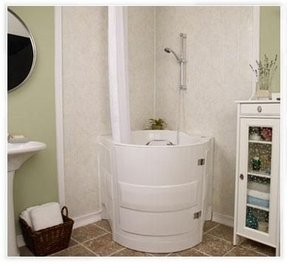 Carmen Milani
Corner Tub Shower
Corner bathtub with 3 steps. Designed for back to wall installation. Great solution for saving space in each bathroom according to taste and need. Traditional form and functional design.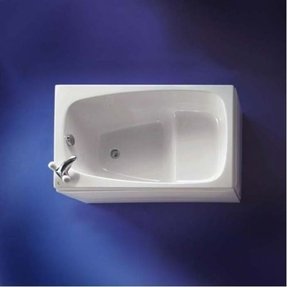 Peterson Michelle
Square Bathtub
This incredibly useful and compact tub is the perfect solution for small interiors. Simple design, specially shaped interior and impressive fittings add style and style. Ideal for modern and minimalist interiors.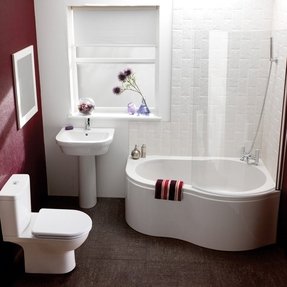 TheAmandaGosselin
Corner Bathtub Shower
Soaker Tub Shower Combo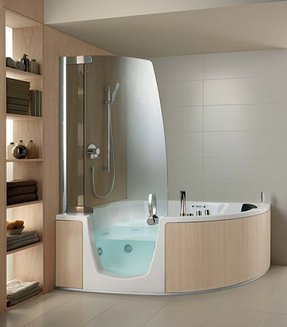 Stephanie Rod
A comfortable, solid and functional bathtub that is suitable for corner placement. It saves plenty of space in small bathroom indoors. This solution is very hygienic, resistant to wear and damage caused by different factors.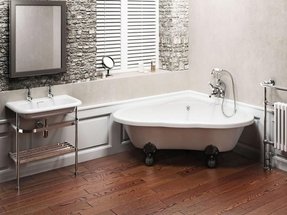 paigewalkerpaige
Pretty corner-mounted bathtub so space-saving and ideal for small bathrooms. This triangle-shaped tub with a gently wavy front edge and rounded corners is made of acrylic white inside and pale pink outside. It has decorative legs.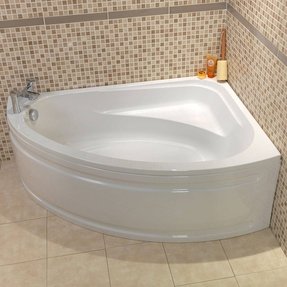 Isabella Martinable
If you have spacious bathroom and you love long bathing with aromatize oils and lather, this corner, wide bathtub is dedicated special for you. It is made of white ceramic and has metal, silver-plated taps.
Coupe Andrea
Contemporary setup for a colourful bathroom with tiled walls fitted with two-coloured tiles in blue and beige. The corner bathtub made out of white ceramic with a showerhead above provides a comfy place to wash.
Torres Rebecca
If you are in a need of something chic and modern for your not so large bathroom, you can try this eye-catching, corner bathtub. The bathtub doesn't sink into the floor, only rests on it, just like the traditional one.
Julie Rus
This picture shows a nice idea for an arrangement of a small bathroom. A corner sink is located just above a bathtub. These white, functional elements are attractive and very solid. They save a lot of space.
Bush Eliza
Corner bath tub from Neptune - the new Wind bath | Bathtubs On the trendir site
Tara Coll
Struggling to refurbish a small bathroom? I'd never believe that you can have both tub and shower in a space-limited bathroom, but here the corner facilities do the job. Dark brown surfaces are visually balanced with cream elements.
carolinepatterson1
A long, relaxing bath is a great way to recover from a hard day. In order not to give up the shower, it is worth choosing a white acrylic corner bathtub for small bathrooms with a glass screen. Compact shapes, longitudinal form and use of space.
Craven Zoe
Corner bathtub made of high quality acrylic. Perfect solution for space saving in any bathroom.
cyntiagracia
Vintage setup for a traditional bathroom with a tiny, compact design. The walls of the bathroom are painted in a sophisticated pattern with blue ribbon decals, which nicely complements the ceramic decorations.
JudyJacob1
Deep corner tub can be a great solution if you are dealing with tiny bathrooms. This tiled one adds also style and prestige, fitting well into a well-designed, refined interior.
Stephanie Gonz
... Small Shower Areas › Small Bathroom Layout Idea With Corner Bathtub
Sarah Ashleyist
Corner bathtub in modern form. It is made of high quality acrylic. Great solution for small bathrooms.
emmahhansson
A cool aesthetic space-saving corner shower for small bathrooms. It's of durable bacteria-proof white acrylic. It has walls with an across slatted pattern, a protruding quarter-circular bowl, an inbuilt small corner shelf, a corner drain hole.
morganmarthy
Small Jacuzzi Tub - Soaking Tubs for Small Bathrooms
TheAmandaGosselin
Bring some luxurious comfort into your modern bathroom, using this exquisite soaking tub, straight from Japan. The bathtub has an octagonal shape, is large enough top ensure you a quality bath time, and it's easy to clean.
Kelly Bryant
corner bathtub with led lights for modern bathroom design
RaquelStone1
corner shower for a small bathroom
Martinez Marisa
Small Bathroom Remodeling Bathroom Design
TheVanessaWeber
Soaking Tub with Shower for Small Bathroom
KellyKellAshley
This bathtub is a durable and small-sized, functional element that is suitable for small bathrooms. Its white color is neutral, so it looks very nice among other functional items and elements that decorate bathrooms.
RaquelStone12
If they could pipe your shower head to the window wall without cutting into walls that would give you more usable space inside the tub.
Laetitia Zernike
TheDianaBanks
real life inspiration - inexpensive bathroom reno. good mix of traditional elements with modern ones
alexsandrawilson
Tiny bathroom inspiration.. great storage for such a small space
MadisonHernandez11
small bathroom ideas - perfect for the extra small bathroom in the new house
Bianca Noorda
Jacuzzi ESP6060WCL1HXA Almond 60" x 60" Espree Corner Whirlpool Bathtub with 12 Jets, Heater, Pneumatic Controls, Center Drain, and Left Pump
MiaCasta1
Corner Tub with Shower Ideas | Corner Shower - How to Install
MsMadisonWalker
corner tub glass shower.... MILLER GLASS CO. Tally.
Brittany Ros
72" x 72" Corner Soaking Tub
carolinepatterson1
for small bathrooms magnificent bathroom with round corner bathtub ...
EmilyLee47
Enclosed tub - would be great with small corner shelves for candles & personal items
Kathryn Wood
This could work in our small bath. Replace shower curtain and tub with stall and glass wall. Room would look bigger. (Don't extend shower full length of original tub to make a space for small shelving or closet!!)
AlexisZimmermann1
small bathroom corner bathtubs for small remodeling ideas
TheElizaLambert
Wonderful storage idea for master bath!
Mackenzie Milani
corner bathtubs for small bathroom designs
Coupe Andrea
We're switching to a fiberglass shower stall kit because we've had it with leaking tile jobs. Love how this photo dresses this ready-kit up by framing it in and adding tiles at the top!!
EmilyLee47
Cipini Verona Circular Shower Enclosure Small (Right) - review, compare prices, buy online
TheVanessaWeber
Small Bathroom 9: Luxurious Tiles. note corner bench, basket-weave floor & travertine tiles on shower walls.
Jenkins Katie
Inspiration for small bathrooms from Ikea.
Jocelyn1Walker
Sumptuous Dark Bathroom Floor Tile Ideas With White Corner Tubs As ...
Cintia Kowalski
corner bathtubs
MiaCasta1
Here is a shower door some other company did but we install ones just like this everyday.....bathroom remodels for small bathrooms | Shidler Remodeling of Cincinnati - Bathroom Remodeling Blog
Patterson Gracie
traditional bathroom by B & P Distinctive Renovations, LLC....corner shower.......remodel?
I'm thinking about a corner bathtub, but I'm not exactly sure if I'm going to like it. Anything I should know?
Corner tubs are usually installed in smaller bathrooms, when consumers would love to have a tub, but can't quite fit a standard one. As they have a different shape than typical tubs, it's best to visit a storeroom and try sitting in one, to get the feeling.

What are my options when it comes to the materials?
Corner tubs come in various materials. The most popular ones are fibreglass, porcelain on steel, acrylic, cast iron, cultured marble, ceramic tile as well as stone and wood.

What to consider before choosing a specific material for my corner tub?
Usually, it's the price that dictates your choice. Cultured marble or cast iron, for example, are more expensive than acrylic tubs. The more expensive materials are known to last longer, but you don't always need a heavy duty corner tub. Consider what you need and your budget, as well as the aesthetics. As a corner tub is often not the main one, cheaper materials might just do the trick.

What about the size? My bathroom isn't very big…
Corner bathtubs are usually around 60 inches long and 60 inches wide. Their shape, however, makes them very space-efficient.

And the height?
The height of 22 inches is the standard for corner bathtubs. Of course, there are some exceptions, and you can always have your bathtub custom-made to suit your preferences.

What about the location of faucet spout and handles?
The location of faucet spout and handles directly impacts the accessibility of your corner bathtub. If these are placed on the front, you need enough space on the sides to exit the tub.

Is cleaning a corner tub hard?
Not at all. Rinse it with clean water and then give it a wipe. For heavy dirt or moderate stains, it's best to sprinkle the tub with baking soda and spray some vinegar-and-water solution over the stain. Let it bubble for several minutes, and afterwards scrub it with a soft cloth or a sponge till paste forms. Let the paste work for around 15 minutes, then wipe and rinse.

I mostly see triangle-shaped corner tubs, but is there some variety?
Yes. While most of the corner tubs have a roughly triangular shape, the number of sides may vary from three to five. Generally, the triangular shape is the most popular, but if you're looking for something different, check out the rectangular tubs. These are also called "two-sided tubs" or "double apron tubs".

SUPPLEMENTAL RESULTS FROM USERS AND STORES