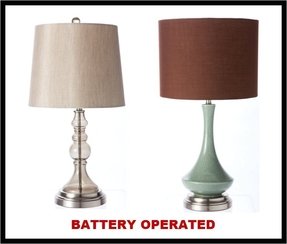 TheSadieEdwards
Battery Operated Lamps
This beautiful and functional table lamp provides plenty of light in a specific spot without wires. This battery operated cordless lamp is easy in use and transport. It includes a rechargeable battery.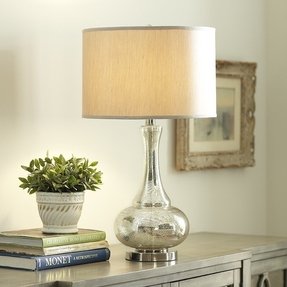 TheDianaBanks
Battery Powered Lamps
Linden Table Lamp
Exquisite in is original design, this glass table lamp features a silver and gold crackled, metallic finish that makes it look simply stunning and add great deal of class to the interior style, while the chrome metal base provides extra reliability.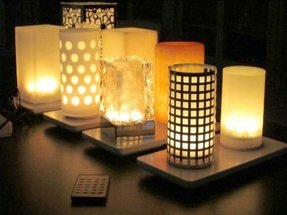 TheAmandaGosselin
Cordless Table Lamps with Shade
Set of cordless table lamp stylised on candle holder. They have glazed lampshades in a few different patterns and they are inserted on ceramic bases. Every lamp has few little bulbs. This set is not only illumination, but very elegant decoration too.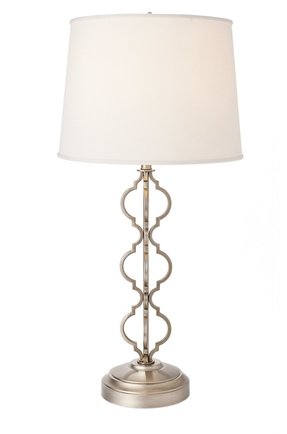 Campbell Christine
Wireless Lamps
Need a table lamp? Check this cordless beauty. Gentle, beige colour of the lamp shade, together with the rich, metal base make it a great addition to both traditional and modern houses. Very soft on the eyes, to ensure you don't get tired reading!
Jaclyn Washington
Small Battery Operated Lamp

A table lamp with deep azure hue that will make a beautiful statement piece in your household, while the curved fabric shade easily adds drama to the silhouette. It will prove to become both extremely functional and stylish.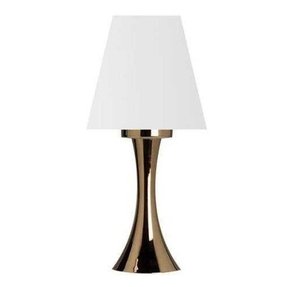 Torres Rebecca
Space saving, cordless table lamp that features a very original and modern design. It includes a decorative base made of shiny metal. It provides support to a classic shade finished in neutral white color.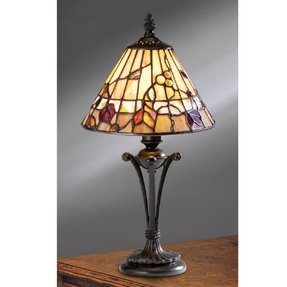 Jessica Zernike
I am a big fan of Tiffany's art and I collect the Tiffany's lamps. This is one of my favorite. It features the antique style, small size and brown with red color palette. Looks beautiful on my nightstand.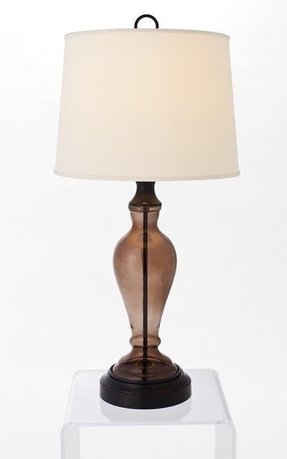 alexsandrawilson
This cordless table lamp, stylized for the lantern, is a beautiful and exceptionally elegant interior design element. Attractive colors, simple and giving the suppressed but still bright light of the lamp shade is a perfect combination.
Johnson Stacey
Glamorous and fabulous: crystal base table lamp creates a dazzling focal point and a decorous centerpiece at wedding table. Such a decoration idea works best if the lamp is cordless, so LED lamps are recommended.
Diana Hil
No troublesome cords or wires: cordless lamps like these work best as a table decoration. These lamps are stainless steel, with sturdy cylindric bases and subtle disc shaped shades. Their updated look suits contemporary interiors.
Caitlin Woo
Table lamp powered by batteries. Base is made of transparent glass. Drum lampshade is made of fabric. Great as night lamp or additional source of light in all kinds of interiors as needed.
Campbell Vanessa
Living Room: Cordless Lamp Option (More Colors)
Erika Rive
A set of two modern cordless lamps, perfect for a home with a high power consumption as not to overload the line. The lamps are fitted with electric LED lights in a yellow and blue color, providing a unique look.
TheVanessaWeber
Battery Powered Lamps - Family of cordless table lights.
Martin Ashley
Decorative Cordless Table Lamps on Table Lamp Decorative Clear Glass ...
Jenna Delicata
This stunning cordless table lamp offers the perfect combination of functionality and style thanks to its teal color of the frame and the contrasting cream shade that adds ample visual appeal to the overall look.
paigewalkerpaige
This table lamp is a functional and cordless solution that is able to illuminate different indoors without wires. Its white color and traditional shade stylization matches almost any kind of interior design.
SuperOliviaJackson
cordless table lamp
isabellepotter1
Table lamps in the role of additional lighting often give way to the popularity of floor lamps. However, it is worth finding a place for a cordless table lamp - with a shiny chrome base and a shank and a white bowl with a cylindrical form with a black border.
Nicole Parker
Table lamp mounted on glass base. Drum lampshade is covered with fabric and gives warm tone of light. Elegant and functional design for each room according to taste.
Alison Long
A modern approach to a stylish table lamp with a cordless design, made with a chromed brass frame with a shiny polish. The frame of the lamp is made in a cube fashion with a cone-shaped lampshade on the top providing a nice finish.
Mackenzie Poly
This Jade cordless table lamp will be a good accent in any contemporary interiors. Its silver ring base will add a glamorous, prestigious appeal. Creates a beatuiful, romantic glow in the evening.
TheVanessaWeber
Small Battery Operated Lamp - Egg Cordless Desk Lamp
Alyssa Wilsonify
Table lamp as additional source of light. It is covered with frosted glass. It gives pleasant atmosphere to all kinds of interiors. Suitable for residential and commercial premises.
Alexis Milani
This oval mercury glass table lamp features a white drum shade with a clear acrylic sphere finial, and an ergonomic base with distressed silvery ripples. There's a 3-way switch to operate the light, and 150 socket wattage.
Marissa Hugh
cordless table lamps rechargeable
MrMackenzieGarcia
Ashford Bronze Battery Operated Cordless Table Lamp
Holly Bell
Ginger, Cordless Table Lamp by
evanspaige1
Modern Lantern Cordless Table Lamps
TheStacyGosselin
CLOVE CORDLESS TABLE LAMP BLACK SHADE at
AmandaThomson100
Sample Ceramic Cordless Table Lamp Battery Operated Lamp Rechargeable Lamp | eBay
Aloma Garcia
cordless table lamp lighting
Patricia Cook
Modern Lantern | Hive Cordless Table Lamp
Mackenzie Milani
Modern Lantern | Jade Cordless Table Lamp
KayleeGreen100
LUXE Cordless Table Lamp - Table Lamps - Dallas - modern lantern
MrMadelineJohnson
Cordless Table Lamps | Neoz Ritz - Rechargeable Cordless Lamp |
Lauren Lewis
Battery operated decorative table lamps.
JudyJacob1
The 'Curve' (F) Cordless Table Lamps | Battery Operated LED Lamps
AliceHilton1
Want to brighten up your room a bit? With this classic table lamp, you can't miss. The lamp is covered by a fashionable shade, made of quality fabric; while the base is shaped like a stylish vase, with a metallic ring on the bottom for proper stability.
Jessica Flor
Totally cordless table lamp no ugly wires or plugs to worry about!!!
Crystal Miller
Cordless Table Lamps An Energy Efficient Way Of Lighting | Lamps - Part 1
Bianca Weberable
New Working Sample Cordless Table Lamp Battery Operated Lamp Rechargeable | eBay
Peyton Marthy
cordless table lamps battery operated
Megan Coo
cordless table lamps
Turner Holly
I always wanted a tripod lamp, but the ones in catalogs are so expensive. Here's how to make a tripod lamp for a fraction of the cost! - Dogs Don't Eat Pizza
Danielle Gra
battery operated table lamps
Courtney Thom
A gorgeous French desk is the ultimate in office decor, in our opinion. That huge obelisk is the perfect desk accessory! Another must is a cordless lamp on desk...
Liliana Gadjus
Cordless Table Lamps Amazon
MrMadelineJohnson
Louis Vuitton's Limited-Edition "Objets Nomades" Debuts at Design Miami : Architectural Digest
White Jillian
Garay Studio : Mush Lamp
I'd like to buy a cordless table lamp and put it near my monitor. Would that be okay, or will my eyes hurt?
As long as you pick a correct lamp, it will be fine. A standard computer screen can produce anywhere between 20-25 foot candles (FC). As you will be looking back and forth from your screen, you want to keep the contrast ratio of light at around 3-to-1. This means that if the screen produces 20-25 FC, the table lamp should be at 60-75 FC.

Are lamps with adjustable head and arm much better than the standard type?
Yes, especially for the eyes. This feature allows you to adjust glare and shadowing to your liking.

Safety is an important issue for me. Are cordless table lamps safe?
Even more so than standard table lamps. First of all, consider getting yourself a LED lamp, as the lamp heads of these stay cool to the touch, and there is no risk of starting a fire or burning yourself. Of course, the most important benefit of using a cordless table lamp is the fact you can't trip on the cable!

How to choose the size of my new cordless table lamp?
The most important factor is the size of your desk, as the lamp should be proportionate to it. For larger desks, a larger lamp is appropriate. A desk lamp should have a 30-degree beam spread, able to highlight your whole workplace. As a rule of thumb, the cordless table lamp shouldn't measure more than half of the height of the object it will stand on. Otherwise, the light just won't distribute properly, and it will fail to illuminate the space.

Talking about height, is there an optimal height at which the lamp should be placed?
Yes. Ideally, the middle of the lampshade should be around the eye-line of a person sitting in the room – be it on the bed, a sofa or the chair. This way, the light will be gentle and won't distract you from your activities.

What are the most popular types of desk lamps?
The most popular are adjustable arm desk lamps, gooseneck desk lamps, clip-on, tree (multi-arm), magnified, organizer desk lamps and banker/piano desk lamps. Look them up to decide which shape and functionality are optimal for your needs.

I like to change the design of my room on a regular basis. Won't a cordless table lamp be a rather boring addition?
Not at all. Table lamps come in all shapes and sizes, and even after your purchase, they are easy to refresh. First, think about the finish – from antique to modern, there are plenty of table lamp styles out there. But even after you get yourself a table lamp, a simple change of the lampshade can totally change its vibe – one day it can be a translucent lampshade of a soft colour, and the next day a Tiffany-style, classic beauty!

SUPPLEMENTAL RESULTS FROM USERS AND STORES