Cookware Sets
Cookware sets are an integral part of your kitchen. Whether you are looking for novice style cookware for average cooking needs or specialized cookware for professional chefs, the amazing variety of products out there will easily meet your needs. Cookware sets are traditionally made using nonstick metal but you can still find and buy porcelain products as well. The sets can also play an important decorative role in your kitchen. Stylish pots, pans, and bowls in, particular, neatly displayed in open kitchen shelving, will help add a measure of immense character and style to your kitchen.
Our choice Best Cookware Sets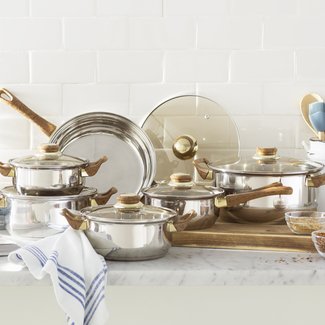 Wayfair Basics™ Santillan 12 Piece Stainless Steel Cookware Set
Light bronze gaskets, pale wooden handles and gleaming silver surfaces, grant this 12-piece cookware set a traditional appeal which is capable of instantly adding a hint of glamour to the traditional-themed kitchen.
The ensemble which is suitable for hand washing, has been forged from stainless steel which is durable, non-reactive and easy to clean. It is also safe to handle and features transparent lids with steam vents.
Take advantage of its versatility to prepare dishes which range in complexity on your gas or electric smooth top stove of choice.
Wayfair Basics™ 10 Piece Ceramic Non Stick Cookware Set
Cool-touch handles provide the units of this 10-piece cooking set with an additional element of safety while its non-stick design makes it suitable for temperatures of up to 400° F.
The ceramic ensemble which has also been designed with heat resistance bakelite handles and knobs, is also dishwasher safe and suitable for gas and electric smooth top cooking.
Take advantage of its bold black allure to provide a magical contrast in a kitchen designed with pale grey and pristine white.
Rachael Ray Create Delicious 13 Piece Aluminum Non Stick Cookware Set
Brought to you in an alluring ruby red, this 13-piece cookware set will add a splash of color to a transitional, traditional or a craftsman kitchen.
Dishwasher and oven safe, the aluminum, non-stick set is also stackable, PFOA free and durable. Shatter resistant lids, flared rims and riveted handles also provide it with an extra element of safety.
Enliven neutral themed traditional or craftsman kitchens by displaying its colorful allure on shelves set above the counter for an added touch of convenience.
Lagostina Martellata 10 Piece Copper Non Stick Cookware Set
Specially designed to ensure you get the most out of your cooking experience, this 10-piece cookware set has been designed with tri-ply stainless construction and a copper exterior.
The former will ensure even heat distribution while the latter will facilitate the cooking process.
Each unit is broiler and oven safe and comes with riveted handles for an additional element of safety.
Suspend from a rack set on a ceiling above your cooking island to suffuse your kitchen with the aesthetic qualities of its gleaming copper exterior and its silvery interior.
Rachael Ray Hard-Anodized 14 Piece Aluminum Non Stick Cookware Set
In addition to delivering an alluring contrast of a silvery grey exterior coupled with medium orange handles, this 14-piece cookware set also comes with the convenience of being suitable for dishwashers.
The set is especially safe owing to its dual-riveted, firm grip rubber handles and tempered glass lids.
Oven safe at temperatures of up to 350°F, the non-stick ensemble which has been crafted using anodized aluminum is also especially durable.
Make use of its versatile, easy release units to entertain your guests in style with your favorite offerings.
Rachael Ray Create Delicious 10 Piece Stainless Steel Cookware Set
An alluring silvery facade enlivened by ruby red handles ensures this 10-piece cookware set will infuse your cooking sessions with a hint of glamour.
The stainless steel set which is stackable, oven and dishwasher safe, is also induction compatible and suitable for use with metal utensils.
It also features dual-riveted silicone handles for enhanced safety and shatter-resistant glass lids.
Create a scene of perfect domesticity in a modern or contemporary kitchen by suspending it on a curved arch right over kitchen utensils in complementary colors.
T-Fal Initiatives 14 Piece Aluminum Non Stick Cookware Set
Brought to you in an attractive combination of gleaming black and pristine glass, this 14-piece cookware set will instantly complement the color scheme of any kitchen it is placed in.
The appropriate utensils have also been provided with the non-stick cookware set which is also suitable for dishwasher and oven use.
In addition to being PFOA and PTFE free, the stackable aluminum set also comes with resin handles and is capable of handling up to 700 degrees Fahrenheit.
Place on silvery metal hooks above a marble prep area decorated with a bowl of fruit or flowers to imbue your kitchen with a glamorous modern touch.
Farberware Neat Nest 13 Piece Aluminum Non Stick Cookware Set
Robust handles and flat top knobs lend this cookware set an eclectic appeal which will ensure it blends right in within a minimalist or contemporary kitchen.
Manufactured from aluminum, this set is durable and easy to clean.
It is also stackable and PTFE safe in addition to being dishwasher and oven safe.
Owing to the excellent conductivity of the metal used in its manufacture, you will be able to look forward to the even heat distribution it provides.
Gotham Steel Original Copper 20 Piece Ceramic Non Stick Cookware Set with Bakeware
Featuring a rare and enchanting combination of light sepia, silver, and grey, this 20-piece cooking set also comes in a variety of forms.
In addition to being PTFE,PFOS and PFOA free, it is also safe for metal utensils. This versatile ensemble is also dishwasher safe and is capable of withstanding oven temperatures of up to 500 degrees.
Take advantage of its impressive versatility to bake, stew, or sauté at any moment of your choosing.
Anolon Nouvelle 11 Piece Non Stick Cookware Set
Featuring an eclectic combination of anodized aluminum and stainless steel, this 11-piece cookware set will be capable of withstanding impressively high temperatures.
In addition to the former quality providing non-stick convenience and the latter ensuring it is dishwasher safe, the entire set is also non-reactive and durable.
Suspend on sturdy hooks on a medium brown wooden support to imbue your kitchen with a hint of classical magic.