Bread Boxes
Are you looking for a decorative way to keep your bread fresh for a long time? Well, you can consider the assortment of incredible bread boxes available on the market right now. Whether you are looking for a retro-inspired wooden bread box with minimalist design elements or more modern boxes, you will find something to cater to your needs. Bread boxes can also be incredible accents that can be used to accessorize your kitchen décor. These pieces are not used for the bread alone. You can also use them to store freshly baked bulkie rolls, croissants, and other baked goods.
Our choice Best Bread Boxes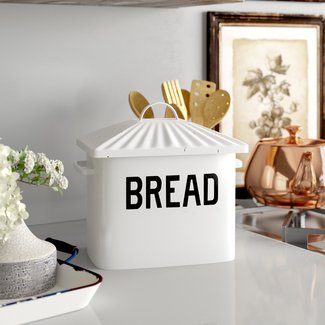 Selim Bread Box
If you're looking to replace your disorganized-looking kitchen basket, this bread box with rustic charm is the perfect option for any farmhouse style kitchens.
It's roomy enough for multiple items such as loaves of bread, bagels, and muffins and has two small holes on its lid to keep your baked goods fresh. Those looking for a bit more organization can place their recipes and cookbooks in this bread box for a neat and visually appealing kitchen decor.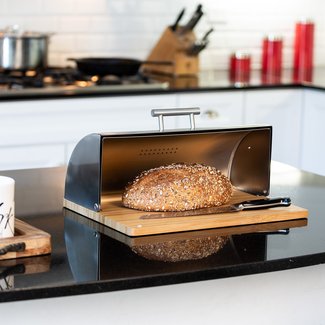 Stainless Steel Bread Box with Bamboo Cutting Board
This modern and functional bread box is the perfect addition to keep your bread fresh. Made of stainless steel with a finger-print resistant cover, it has a smooth mechanism for opening and closing and comes with a durable bamboo cutting board that can resist stains and odor.
With its sleek and elegant design, this bread box fits well with various kitchen styles, such as contemporary or transitional. Place all your bread products in this bread box for a neat countertop.
Harter Bread Box
Keep your kitchen decor simple yet chic with this minimalistic bread box. Whether you have a farmhouse-style kitchen or a shabby chic one, this visually pleasing bread storage option looks good in various settings.
It does a good job at keeping your countertop clutter-free, can store a loaf of bread and small pastries while keeping them fresh, and its rectangular shape is ideal for limited counter space. Pair it with a bamboo or white utensil crock for a cohesive look.
Living Bread Box
Made from color coated steel with a beech wood lid, this bread box has a retro meets modern flair. Its multipurpose reversible lid protects the bread's freshness and can be used as a chopping board.
This elegant bread box is large enough to hold several types of bread and baked goods in one go. Complete the look of your kitchen by pairing this bread box with its matching coffee, tea, sugar, and cookie set for a coordinated kitchen style.
Castille Bread Box
This modern bread box crafted from bamboo with a see-through door is both environmentally friendly and functional. With a dimension of 9.75'' H x 15.5'' W x 9.5'' D, this bread box can store several loaves of bread and buns while only taking little counter space.
It's easy to clean, has a door magnet for easy access, and you can easily see what's inside. Use the flat top for extra storage to place items such as jars.
Wingler Stainless Steel Bread Box
Modern and elegant, this bread box is perfect for displaying your baked goods in your contemporary kitchen.
With a polished stainless steel finish and a black trim, this bread box allows you to neatly store away your bread while keeping your counter stylish and organized. The small window in the front allows you to easily see what's inside before heading to the store. This bread box rolls open and has plenty of room for different kinds of bread.
Wayfair Basics Steel Bread Box
With a sleek and modern style that fits well with any decor such as retro or farmhouse, this bread box is the perfect kitchen addition that doesn't require a lot of space on any countertop.
Made from steel with a sleek solid finish and a rollable lid, this bread box will keep your bread and pastries fresh and flavorful for longer with its airtight seal and odor resistant design while offering a smooth opening and closing.
Anton Bread Box
If you're looking for a sophisticated yet classic bread box design style, this off white bread box with a sweet gray text on the front is a great option. The bread box provides enough space for storing your bread in one neat spot while its neutral color blends perfectly with other kitchen decor and color schemes.
Pair this bread box with other neutral colored kitchen decors for a minimalistic kitchen style.
Bonnett Stackable Bakery Display Case Bread Box
Its stackable and multi-functional design makes this display case bread box a great addition for showcasing your bakery goods such as cookies and bagels. The bread box is easy to access with its slanted front door and knob and has two compartments to store your food.
With its transparent design, this bread box is easy to clean, fits perfectly on any kind of counter or table, and provides an elegant way to display your pastries.
Caine Bread Box
Combining a traditional design with a modern touch, this bread box is perfect for transitional kitchens, especially those with wooden cabinetry.
This bamboo bread box is spacious enough to store a couple of baked goods without taking up too much room. Its stainless steel handle offers a sleek look, the rollable lid makes it easy to access, and its rectangular shape does a good job at keeping your counter neat and tidy.