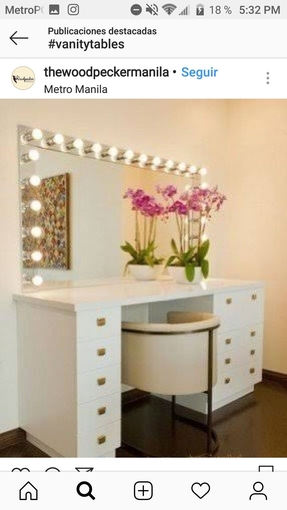 Crystal Perez
Makeup Vanity Table with Lighted Mirror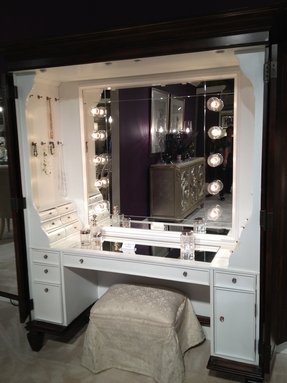 Brittany Gree
Vanity table in Hollywood style. Includes illuminated mirror, hooks for all kinds of jewelry and many drawers for storing personal items. Elegant and functional addition for bedrooms and others interiors according to taste.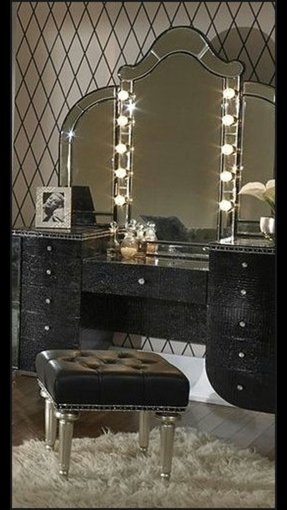 cyntiagracia
What a convenient way to do your make-up in a glamorous Hollywood style: this lighted vanity set with rich black finish and triple arched mirror will take your decor to a whole new level of sophistication.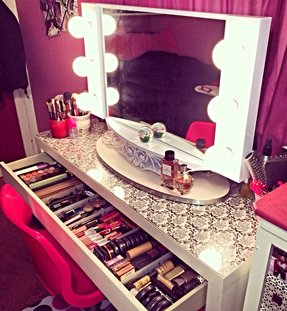 Bush Eliza
A set that provides comfort while preparing a makeup. This bedroom set includes a piece of furniture with a storage drawer for cosmetics. It also includes a spacious top with a mirror and a comfortable, pink chair.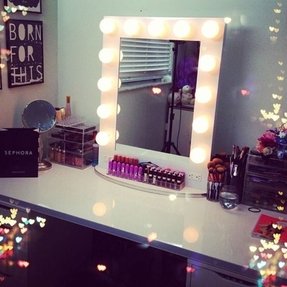 Coupe Andrea
Now you can finally enjoy the full comfort thanks to this amazing vanity mirror that sports the lighted structure and is more than enough to make you put your make up in the mornings with full visibility.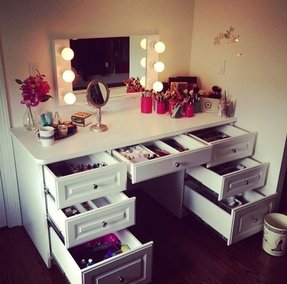 morganmarthy
Extremely capacious white vanity set with seven wide felt-lined drawers and a lighted mirror with Hollywood style light bulbs framing. Ample of space to store make-up accessories; the worktop is spacious as well.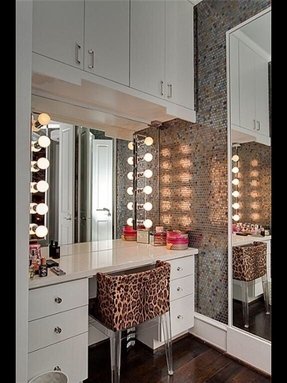 Julia Thomas
Are you trying to create the beauty nook? This makeup station is in the closet space, so it's save some space in bedroom or changing room. The mirrored sliding door and mirror behind desk make this room bigger.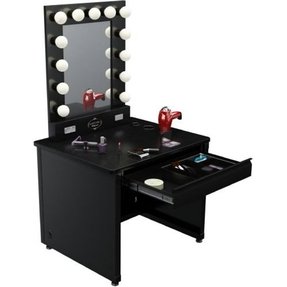 King Margaret
Broadway Lighted Vanity Makeup Desk - Black - Vanity Makeup Tables - P ...
Jessica Zernike
A decorative and functional vanity set designed for luxurious bedrooms. It provides storage space in one large compartment and in four storage drawers. It also offers a quite large top with a functional mirror.
Roberts Isabelle
If you want to feel like a movie star, you may want to take a glimpse at this vanity makeup mirror. The rectangle glass is embedded in the black frame, and surrounded by 16 light bulbs. Thanks to such a bright piece, you'll be able to put your makeup without the slightest flaw.
Bianca Noorda
Minimalistic dressing room. It is made of blanched wood and it has drawers and special racks intended to storage cosmetics, jewelry and accessories. Vanity table has mirror with original illumination which help you do you make up more precisely.
MsMadisonWalker
Makeup vanity set with a durable and simple table that includes a storage drawer. This drawer features practical compartments. Rectangular top is paired with a nice rectangular mirror. Neutral white color is very interesting and stylish.
Courtney Coo
A very attractive and solid vanity desk with mirrored construction of drawers and walls. Its spacious top also includes a mirror, so the whole set is suitable for bedroom use. It allows for preparing an attractive makeup.
AmeliaHughes1
This fabulous dressing table with a mirror illuminated by large bulbs brings to mind an acting wardrobe. The beautiful wooden construction is functional, has built-in power outlets and is perfect for everyday use.
KellyKellAshley
Vanity table with bench. All elements of this set are finished in black color that looks good in any home decor. The table offers some storage space in its 11 drawers. Comfortable bench features a soft and thick seat with button tufting.
emmahhansson
Makeup vanity with lights
Dana Harr
A gorgeous vanity set with lighting system mounted on both sides of a mirror. The set uses a lovely-polished frame with 1 small drawer, 1 smooth top, tapered legs, 1 rectangle mirror, 8 shiny bulbs and 1 matching ottoman.
Alexis Milani
Handy and functional addition to any bathroom – a cordless LED floor stand mirror on a tall pole with a handy shelf for cosmetics and a few racks to hang towels, providing a universal piece in an industrial style.
Krystle Williams
Perfect mirror for your dressing table. Made with stuff from IKEA, so it's cheap and reliable. Attached light bulbs provide great illumination when applying makeup. Appropriate both for a teenage girl as well as a grown woman.
Kristen Adam
Bedroom Vanities - extraordinary bedroom makeup vanity
April Collins
Vanity table for the bedroom and others interiors according to taste and need. Construction is made of wood. It is fitted with triple mirror and 9 drawers in various sizes for storing cosmetics and others personal items.
Tara Evan
Shabby and chic design for a makeup vanity cabinet with a makeover, which gives it a new look. The vanity cabinet is fitted with a new coat of white paint, finished off with a floral arrangement at the top of the piece.
SuperLaurenPotter
Stunning contemporary vanity set with a pink finish but a creamy tabletop. A lower part comprises of lots of drawers. Upper cabinets with drawers, shelves and glass doors are aslope against a large square mirror (with 2 sconces) in the middle.
Jaclyn Torr
My wife needed a vanity for everyday make-up. Why not? I found this beautiful mirrored dresser with shiny glass finish and many drawers for her cosmetics. With the lucite chair it looks stunning and glamour.
MrKeiraWhite
This bedroom makeup vanity with lights creates a magical, fairytale-like climate, ideal to start your day like a princess! A fabulous proposition for all contemporary bedrooms.
Kimberly Cam
If you want to feel like a movie star while putting up your makeup, now you can, with this elegant vanity mirror. This rectangle mirror is embedded in the metal frame, and brightened up by 13 large bulbs that generate quite a strong light.
Roberts Isabelle
A real diva needs a proper makeup vanity. This one here is white and sleek, made from lacquered material to cast beautiful light reflexes. The big mirror is very practical, while the soft, white stool on acrylic legs will provide you with the comfort you deserve.
LilyWright1
With this extravagant mirror, you will be doing your makeup like a movie star. The rectangle mirror has a bright light surrounding the whole piece, allowing you to flawlessly care for your beauty.
Adriana Andersson
Fake Natural Light...Fake Natural Light If you don't have enough natural light, Farooq recommends buying 85-105 watt bulbs with fluorescent lighting. "These mimic natural light," Farooq says. Look for white fluorescent bulbs; lights with a yellow tinge al
Erica White
Roundup: Awesome Vanities and Makeup Tables
Olivia Smithist
A glamorous vanity table and an elegant mirror. A table features a black finish with a croc-skin design. It has a recessed top and size-varied drawers with small metal knobs. A triple-arched lighted mirror has edges of mirror tiles in black frames.
Long Stephanie
An amazing addition for every teenage girl, who loves spending her time in front of a mirror. The mirror is embedded in a rectangle frame that is equipped with 12 shining bulbs, and an on/off switch.
Stacy Martin
Hey, I found this really awesome Etsy listing at
Kimberly You
BeautyByLeti | DIY Vanity with Mirror Hollywood lights
Victoria Mar
DIY Lighted makeup vanity mirror. I so want to make one of these!
Laura Anderson
we have all seen the gorgeous vanity makeup tables by vanity girl ...
MrMadelineJohnson
Nice master bathroom layout - I'd use different colours, but like the idea!
Alexander Renee
makeup vanity table with lights
Martinez Marisa
Classy bedroom makeup vanity that mixes modern findings with Hollywood glamour. Dark vanity base with unique marking gives support to a white stone slab top with gray streaks. Three round mirrors are properly lighted up.
Alicia Campbell
cute makeup vanity table with lights is free hd wallpaper cute makeup ...
Erin Martin
Photos of the Bedroom Makeup Vanity with Lights
Veronica Wood
this, in front of a window (for lighting) with a couple of woven baskets under would be the most perfect makeup vanity...I would need a tv at a good angle to the mirror though...I get bored when getting ready :)
Diana Washington
Louis Phillipe Vanity Set with Mirror
This awesome vanity set with mirror would be a great decoration for every kind of bedroom. It's not only super stylish, but also very functional! You will fall in love with the new design and comfort in your house.
Jenna Hay
Picture of Vanity Mirror with Lights
Washington Lisa
18 Photos of the Buy Best Cheap Lighted Makeup Vanity Sets with Mirror ...
TheVanessaWeber
precious in pink... dressing room w/herringbone flooring, white armoire, desk, ottoman & billowing pink drapes
MiaCasta1
Bedroom Vanities - 10 Extraordinary Makeup Vanity For Bedroom ...
RaquelStone1
set bedroom makeup vanity with lights
Kristina Tho
Master Bath - traditional - bathroom - other metro - Design by Courtney, LLC
TheAmandaGosselin
Vanity corner LiveLoveDIY: Bedroom Ideas: How To Decorate On a Budget
Every woman needs a proper makeup vanity, that's a fact. The ones that come with lights attached are even better, as they are a real dream come true for most women. Let us elaborate a bit on how they are better than the standard makeup kit, and how will they easily turn a makeup session into the highlight of a day for any woman!

First of all, it's important to mention the main asset of a bedroom makeup vanity with lights – it's as ergonomic as they get. By that, we mean such vanities make the most out of the space they take. Some people think they couldn't possibly fit a full-sized makeup vanity into their bedroom, but it turns out they could very well end up saving space. That's because makeup vanities come equipped with plenty of storage compartments. Not only that, but they also come with a mirror attached. That means you can get rid of a lot of standard storage units, dedicated to storing makeup utensils, and the mirror if you happen to have any in your bedroom.

Other than for their ergonomy, makeup vanities are also famous for their usefulness. Trust us, applying makeup on a professional-grade vanity is in every way superior to applying it with the use of a simple, handheld mirror. You or your wife will be able to apply a perfect, flawless makeup. The effect will be just as good as visiting a beautician! The lights attached to the bedroom makeup vanities we present here further improve the outcome of applying the makeup, as they make sure you don't leave any spots unattended, so you won't ever have to worry about uneven makeup.

Now, let's not forget that a makeup vanity will not only help you beautify yourself or your wife but also your bedroom. Nothing screams "luxurious" as loud, as a bedroom with a professional, impressive makeup vanity. It's even better when it comes with lights attached! If you decide to invite any guests to your bedroom, we're sure that it's the makeup vanity that's gonna stay in their memory for hours after they leave your house.

As you can see on this site, makeup vanities with lights come in plenty of styles and shapes. Therefore you won't have any trouble finding one that fits the design of your house and your bedroom. Be it a modern, minimalistic apartment in New York or a rustic, cosy cottage somewhere in Texas, rest assured that there is at least one makeup vanity with lights right here that will be a great match!

Having told you all about the amazing assets of the makeup vanities, there is one last thing we didn't cover yet. Any of these will make your wife feel like a true movie star every time she applies makeup. Therefore, if you want to show your wife that she's your most precious star, just get her one of these vanities and you will thank us later!
SUPPLEMENTAL RESULTS FROM USERS AND STORES