Bar Stools
Bar stools are essential for bars because most people like a place to sit while they consume their favorite beverage or snack. But bar stools can be for more than your traditional wet bar. They can also be for breakfast bars or to ease the strain on the cook in the kitchen or to place diners at a height where they can enjoy the view. Better yet, they come in all sorts of designs from the traditional four-legged stool with a flat top, to comfortable chair seats with well-designed footrests. They can have logos or ruffles or both.
Our choice Best Bar Stools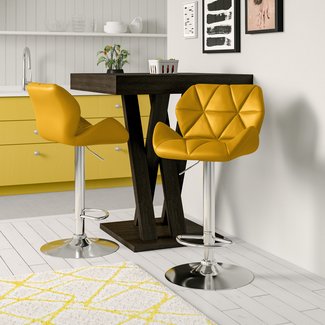 Marceline Hydraulic Adjustable Height Swivel Bar Stool (Set of 2)
Make a statement in your kitchen or outdoor bar area with this stylish and functional bar stool. The metal stand is finished in shiny chrome, and the pedestal base also doubles as a footrest. The unconventional seat is curved and has pointed armrests which are all enveloped in Fox leather upholstery and a glossy hue. The swivel barstool is also height adjustable. The eye-catching bar stool will make the perfect addition to your kitchen island.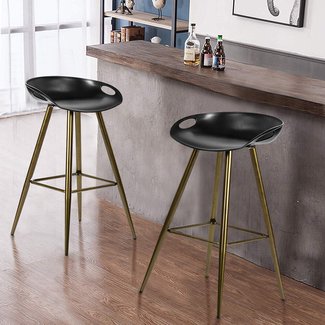 Bak 28" Bar Stool (Set of 2)
If you're looking for an elegant yet minimalistic look in your kitchen then this comfortable, polypropylene seat bar stool is just for you. Thanks to the big metal frames, this bar stool is strong and secure while the floor protectors keep your floors from getting damaged. The seat is also quite unusual having a handle on both sides and the entire look is simple yet extremely practical and sleek. The stool does not swivel; neither is it height adjustable.
Karina 27.5" Counter Stool (Set of 2)
Exclusive and swank, this set of two bar stools will add charm and style to any space in your home. The low back bar stool is reinforced with stainless steel frames, and the comfortable foam padded seats are encased in smooth velvet material for a truly luxurious feel. Place these set of two bar stools around your Kitchen Island or indoor bar area to complete the chic look.
Bednarz 24 Bar Stool (Set of 4)
This wooden bar stool is understated; yet will flawlessly fit into any background. They are durable enough for use inside your home, a shop or café as well. Constructed from robust steel, they also contain non-mar foot glides to keep your floors looking immaculate. The set of four stackable bar stools is a perfect choice for seating at a breakfast nook for a busy family and then stacking away until the next use.
Hayden Bar & Counter Stool (Set of 2)
This expertly crafted bar stool with wood grain details adds austere charisma to your furniture collection. Thanks to the clean design, its charm is understated in a rustic kind of way. Feel free to add it to your dining room table, Kitchen Island or bar area to compliment any wooden table or countertop. The backless bar stool contains solid Rubberwood frames as well as a two-tone black and brown base and seat color.
Dovercliff Bar & Counter Stool
Designed for both indoor and outdoor spaces, this industrially influenced bar stool is the perfect addition to your entertainment area. The low profile design is crafted from galvanized steel with an updated Winsor back, four tapered legs as well as a vented seat to create a factory-inspired profile. The strong and sturdy bar stool can accommodate individuals up to 330 pounds while the delicate plastic foot glides will prevent scratches and scuffs on your floors.
Huling Bar & Counter Stool (Set of 2)
Bring some conventional appeal into your humble abode with this counter high bar stool. Made from solid wood, it features a classic silhouette and slatted design on its arched back. For added comfort, you'll enjoy the contoured seat and foot rest as well as the versatile solid finish which will blend in or stand out with your current decor. After some simple assembly with the included tools, these bar stools are ready to compliment your kitchen island or breakfast nook right out of the box.
Waco 26.5" Counter Stool (Set of 2)
Nothing says opulent and high-end like this pair of traditional bar stools. Crafted from solid birch wood, the frame is tenacious and sturdy while the wingback style seat is upholstered in linen fabric for a cool and collected look. The diamond tufting adds a touch of fancy panache while the foam cushioning brings comfort to the forefront. While these bar stools are comfortable enough to want to keep all to yourself, their eminent beauty will have you placing them around your dining room table or outdoor bar area for all to see.
Hardiman Adjustable Height Swivel Bar Stool (Set of 2)
Are you looking to give your interior decor a splash of contemporary charm? Then don't miss this premium white leather bar stool. The foam-padded seats are enveloped in premium PU leather giving them a cutting edge appearance and making them extremely soft and comfortable. Plating steel ensures the stand and base are strong and stable while keeping corrosion and rust at bay. The 360° swivel seat and height-adjustable function make the stool even more convenient and easy to use.
Demello Bar & Counter Stool (Set of 2)
Convenience and easy maintenance is the order of the day when you choose this minimalistic bar stool. Designed to complement your home's traditional interior decor, the frame is made from solid beech wood, painted in white, and it contains four sturdy legs. The round seat and built-in foot rest provide comfortable seating while cleaning up simply requires a wipe down with a dry cloth. Although it does not contain a swivel and is not height adjustable, this quaint, charming barstool is the ideal height for breakfast bars and pub tables.
Mary-Kate Counter & Bar Stool (Set of 2)
If you're looking for reliable seating that will last you for years come, then look no further than this faux leather bar stool made from synthetic leather upholstery and powder-coated steel legs. Feel free to enjoy the rugged design in the comfort of your own home while snacking over your kitchen counter. The softened angular lines provide a bit of an industrial appeal while they are still lightweight enough to move on to your patio for extra seating. If modern and trendy is what you're going for, then this sleek bar stool should be on your list.