Backpacks
Backpacks are a wonderful invention. They allow people to carry things yet have their hands free. Whether you are using your backpack as luggage for a long air flight or to hike down one of the many famous hiking trails, it needs to conform to your size and your ability to carry weight. A framed backpack should settle the weight on your hips as much as on your shoulders and back. This relieves stress on your spine, but means making sure your backpack fits you. While they can be adjusted, one size does not fit all.
Our choice Best Backpacks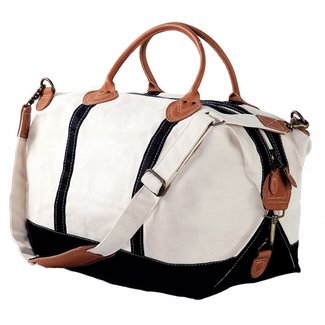 Personalized Weekender in Black
Travel in style with this personalized weekender bag. Whether you are visiting family or heading off on a business trip, the stylish and fashion-forward bag contains all the storage space you need for your most essential items. The detachable shoulder strap on this monogrammed bag means you can use the carry handles on the top, or if you've got too much in your hands already, put the straps back on and throw it over your shoulder. This cotton canvas bag with leather accents doesn't just look good but is tough as well.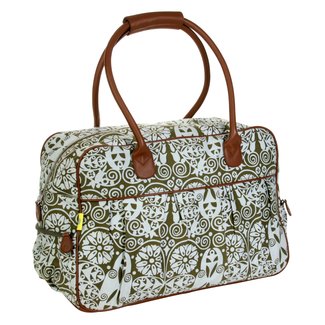 Dream Traveler 20" Carry-On Duffel
Are you tired of carting along with the typical black handbag? Well, you're in luck. This incredible-looking bag is the ideal balance of functionality and elegance, combined with sheer style. Constructed from organic cotton, it has a luxury feel, while the handles and leather piping around the bag give it an air of sophistication. It contains two zippered side pockets to throw in last-minute items, and the beautiful colors combined with practicality makes this the ultimate grab and go bag.
Adventure Bag
Serious about travel? Then this adventure bag will make the ultimate statement. Constructed from 600 D nylon and polyester, this adventure bag will give any weekender bag a run for its money. It easily folds away when you empty out all the contents and is expandable to pack your essential items and still some more. The bag contains an outside pocket to access urgent items quickly, and the clip-on shoulder strap makes carrying around the adventure bag convenient.
Artisan 16" Shoulder Duffel
Stand out in style with this multi-coloured duffel bag. The lightweight luggage is ideal for a weekend away or an overnight excursion at your favorite retreat. It's chic and fashionable with multiple colors and motifs making it the perfect choice for anyone with a light-hearted spirit. With two front pockets and two side pockets, there's more than enough space to throw in your essentials and accessories. Feel free to hold it in your hand or clip on the shoulder strap to free up your hands.
Chevron 22" Lightweight Duffel
This busy bag is anything but dull and boring. With the exciting zig-zag motif and vibrant colors, it is the essential weekender bag, overnight bag or gym bag for someone who wants to stand out. The bag contains a front zippered pocket to throw in your tiny accessories and gadgets while the shoulder strap is ergonomic and adjustable so you can carry the bag around in comfort and style. Although it's made from heavy-duty polyester material, the bag is lightweight and easy to carry while still being long-lasting and durable.
21" Lightweight Carry-On Duffel
If you're looking for a versatile and ease of use travel bag, then this is the one for you. It easily converts from a flat garment bag to duffel in a matter of minutes. With front and side zipper pockets, you'll be able to keep your gadgets in order while the full interior nylon lining lends protection to items. The limited carry handle adds a touch of pizzazz to this bag while the detachable and adjustable shoulder strap offers convenience for when you need to throw the bag on your shoulder.
17.8" Gym Duffel
Irrespective of whether you need to spend a day at the gym or overnight at a friend's place, this duffel bag is versatile enough for any occasion. Lined with cotton and made from canvas material, the bag is durable and has a high-end look that spacious enough to hold a variety of items. The pockets on the front and sides of the bag allow you to throw in small items that you can reach in a jiffy when needed.
Damask 21" Carry-On Duffel
Traveling with style and dexterity is easy with this graceful and versatile travel bag. It contains an organic Eva construction and a structured shape with vibrant patterns on the exterior that are attention-grabbing. The top zipper opening allows you to easily open and close the bag, throw in items and getting stuff out. The ergonomic shoulder strap is adjustable while the interior pockets give you additional space for smaller items.
Highland II Series 15" Leather Carry-On Duffel
Looking for an easily transportable handbag that you can store as many of your personal belongings as possible? Well, you're in luck. This synthetic leather, rugged carry bag is perfect for storing everything you need for a short trip. You get a total of four separate zippered pockets as well as a molded zippered bottom compartment for extra storage space. A touch of class is credited to the antique brushed silver hardware on the bag while it contains a reinforced snap fast handle for security.
20" Lug Around Duffel
There is nothing more fashion-forward than this multi-colored leather and nylon duffel bag. With six interior storage pockets and three outside pockets, there's more than enough space to store everything from your essential items to extras. The leather flaps on the outside pockets give the bag a little pick-me-up, while the water-resistant material is easy to clean and maintain by just wiping clean with a damp cloth. It is also eco-friendly and does not contain phthalates or BOP.