Adirondack Chairs
Adirondack chairs are some of the most popular outdoor furniture pieces. These chairs are used in patios and other outdoor living spaces to provide comfortable and stylish seating. Although traditionally these chairs were made of wood, they are now crafted from a wide range of materials. However, because they are meant for the outdoors, all materials used to make them are weather resistant. Adirondack chairs feature distinctive styles and outstanding craftsmanship. Whether you are looking for a wooden chair, one made from plastic, or chairs made from resin, you can be sure there's something for you. These chairs also come from some of the most notable brands on the market.
Our choice Best adirondack chairs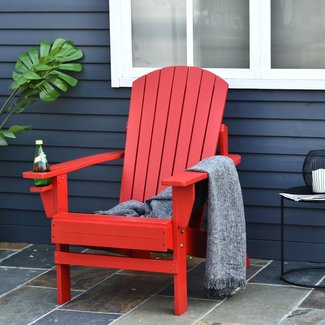 Abilene Outdoor Solid Wood Adirondack Chair
With a shiny finish, comfortable armrests, and classy backrest, this slope chair is bound to be one of your most comfortable outdoor accessories. A rare combination of attractive and functional, this chair is made from durable wood and is relaxing for all body types. Additional features include weather-resistant materials and a cup holder built into the armrest. This chair is also easy to assemble: only a screwdriver is needed to put it together.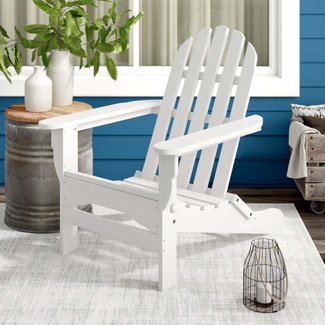 Hartington Plastic Folding Adirondack Chair
Look forward to outdoor lounging on beautiful summer days with this Adirondack chair, made with durable plastic and stainless steel. The folding feature makes it easy to assemble and dissemble for trips to and from the pool, a picnic, or other outdoor outings. The backrest has open slats for water to drip, rather than pool, so you won't end up sitting in water if you need a rest after swimming. Choose from a variety of colors to match any space.
Gwen Solid Wood Double Adirondack Chair with Table
Relax in style with this Adirondack chair that accommodates two people – and even comes with an ice bucket to help keep your drinks cool. With a rustic wood finish and fan back that allows plenty of airflow, this chair combines both comfortable form and function. The wood is weather-resistant and allows for plenty of armrest space, so you and a friend won't have to fight for room! The pre-drilled fir wood boards make it easy to assemble.
Mckelvy Fir Adirondack Chair with Table
These Adirondack chairs, complete with a classy paint finish, sloped seat, and backrest are a stylish picture of comfort. Enjoy a cool drink on a hot day, which you can easily place on the wide armrest and table feature. There's even a hole in the table feature to allow for an umbrella, so you can relax in shade or have protection from rain. This chair can hold up to 264 pounds. Perfect for the garden, poolside, patio, or by the river.
Fordyce Solid Wood Adirondack Chair
Made from high-quality mahogany, your new Adirondack chair is as stylish as it is eco-friendly. You can leave it outdoors in any kind of weather, since the polyurethane finish is made to resist mildew, water, or rust damage. Your comfort is guaranteed with the sloped seat, slatted back, and straight arm rest. Choose from a variety of colors to match any space or style. All that's required to clean it is soap and water and a washcloth. Minimal assembly is required.
Sherrill Classic Solid Wood Adirondack Chair with Ottoman
Comfortable and versatile, this solid wooden chair is the perfect addition to your lawn, deck, or patio. The fir wood is sure to match or add a tasteful accent to any other outdoor furniture or accessories. Choose from up to three reclining positions to enjoy your summer beverage or nap. Complete with a solid painted finish, this chair is built to last through all kinds of weather. Plus, it comes with a 1-year manufacturer's warranty.
Delgado Acacia Solid Wood Rocking Adirondack Chair
Rest in solid acacia wood with high-back slats that can hold up to 250 pounds. With minimal assembly required, this chair is uniquely made: no two will have the exact same finish, wood knots, or coloring, which makes it a distinct addition to your yard, deck, or patio. Guaranteed to be one of your best summer purchases: no cheaply-made, manufactured quality here.
Detrick Plastic Adirondack Chair with Ottoman (Set of 5)
This eco-friendly Adirondack chair offers a classic design that is as stylish as it is comfortable. This chair is made from recycled material but has a similar look and feel to natural wood, so you can feel confident that your purchase means less plastic ends up in a landfill. The additional chairs, side table, and ottoman are easily transportable and highly durable through all kinds of weather.
Deleon Acacia Solid Wood Adirondack Chair
This solid acacia wood chair is amazingly comfortable, with wide back slats for optimal relaxation. It can hold up to 250 pounds, and minimal assembly is required to set it up. Because it's made from 100% natural materials, no two chairs have the exact same color or finish, making this purchase a truly unique feature for your yard, pool, or patio.
Classic Adirondack Plastic Chair
With a comfortable, contoured seat, this durable Adirondack chair is made to withstand all different types of weather: from hot sun to heavy rain, snow, or wind. The genuine Polywood and plastic resin frame is extremely durable, and will not splinter, crack, rot, or chip, so you can sit comfortably without having to worry about splinters. This chair can hold up to 300 pounds, and minimal assembly is required.