Accent Chairs
Accent chairs are seating that is not part of a matched set of furnishings. For example, adding a papasan chair to a living room that contained a matched couch and chair, would be adding an accent chair. An ice cream chair set in a hallway nook by a display table would be an accent chair. A brightly upholstered chair that contrasts with a living room suite of any style would be an accent chair because it provides a contrast to the general décor. A rocking chair in a bedroom would also serve that function.
Our choice Best Accent Chairs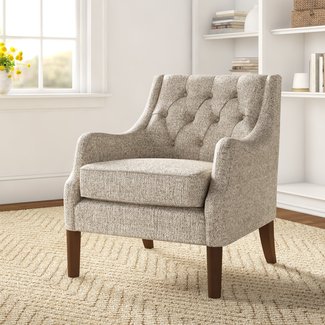 Rogersville Armchair
An armchair is a finishing touch to any cozy living space. The unique serpentine shape to this chair's arms construct a stable cradle, and the clean lines and muted colors blend well with contemporary or classic motifs. Tapered legs rise up into a traditionally shaped seat with button tufting at the back and a removable cushion for easy cleaning. A classic stalwart of every great sitting area, the Rogersville Armchair comes in grey, beige, and teal.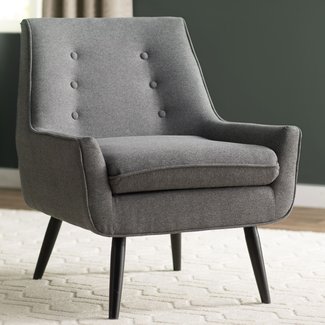 Eytel Armchair
This charming accent chair has style and grace with a mid-century flair. Tapered legs of finished wood lead up to a manufactured wood frame and polyester-upholstered seats. The back features subtle buttons and tapers fetchingly into low arms. This product needs to be assembled with the easy-to-follow instructions that come with it. It has a modern-retro vibe and comes in muted grey or a showy pimiento as well as teal.

Ivo Wingback Chair
With a stern, classic profile, this muted beige armchair is a foundational point in any sitting area. Set upon tapered wood legs, the frame of this chair is made of solid wood, and its wingback design blends with different aesthetics. However, details like button tufting in the back and nailhead trim lend themselves to a more classic rather than a contemporary décor.

Naumann Armchair
This versatile armchair can be the conversation starter your parlor needs! Or enjoy its medium-firm foam fill with a book and a cup of herbal tea. Sturdy wooden legs in a dark brown finish are capped with rubber to prevent floor damage. This armchair has a solid look and comes in vibrant colors like citrine yellow or mallard teal, making it a perfect complement to a small room. Details like button tufting and piping adorn its flared arms for a stunning design.

Amet Armchair
This solid yet stunning armchair makes the perfect accent piece in your sitting area. Available in an array of attractive colors and patterns like showy teal floral or subtle sienna paisley, this chair is a showstopper! The combination of its tradition-inspired design and classic nailhead creates a chair perfect for a study or a sitting room. Sturdy tapered legs lead to a pine and manufactured wood frame and 100% polyester upholstery.

Garren Club Chair
This sturdy armchair boasts a simple yet stunning silhouette. With a mid-century modern flair, this charismatic chair would be an excellent statement piece in a living room or study. It has an overly wide seat and back with minimal details, blue polyester upholstery wrapping foam fill, and a solid wood frame with rounded tapered legs. With splashy throw pillows, this inviting accent chair is hard to resist.

Atwater Armchair
Accent chairs are a great way to add some pizzazz to your living space. Flared arms and a roll-top back give this armchair a traditional silhouette. Vine-and-medallion design in muted teals and tan showcase this chair's design, which translates into country-chic or natural décors. With a frame of solid hardwood and foam fill wrapped in a polyester blend, this statement piece will be charming your guests for years to come.
Canyon Vista Lounge Chair and Ottoman
This chair and ottoman set give a dash of style and color to your seating area. The simple details allow the mid-century modern upgrade to shine in yellow, orange, blue, or even purple. Buttons line the smoothly upholstered back and seat on this chair, and the solid wood frame leads to sturdy, tapered legs. The sleek simplicity of the lounge chair and ottoman are charming and paired with a mid-century standing lamp; it would make quite a picture.

Araceli Armchair
This chunky charmer can make your modern décor dreams come true! With a blocky contemporary shape atop rounded, flared legs, this accent armchair features a retro charm with button tufting and track arms. Built with a pinewood, poplar, and ply frame, this armchair provides comfortable seating and style with its spring-suspension and thickly wrapped core cushions in a fetching array of colors.
Spraggins Armchair
A subtle take on mid-century flair, this accent chair has a chic, pleasing shape. The sea-foam color of the chair is soothing and inviting. The minimal shape and comfortably curved arms blend well with modern décor as a curved accent to other sharp angles. It could also complement a more classic color scheme of navy, brown, and white. With a hint of island breeziness, this accent armchair will charm visitors.