Our Choice
Swindell Etagere Bookcase
Etagere is an openwork shelving area that can be used to display books or ornamental items. Often placed in a living room or entryway, it can be a way to organize things yet have them visible and readily accessible. This particular Etagere unit uses an ironwork frame to support wood-tone shelf units that have upturned stops on the ends as well as a back lip to keep items from sliding off.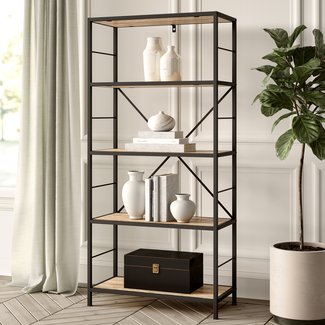 Macon Etagere Bookcase
Barnwood etagere with ironwork supports. The natural woodgrain of the polished Barnwood complements the industrial ladder sides and the X Brace backing. Suitable for heavier ornamentals, books as long as bookends are added, and wicker baskets. Or for just about any item that needs a shelf. The neutral nature of this shelving unit makes it an easy add-on for almost any décor but is especially pleasing in a boho or country environment.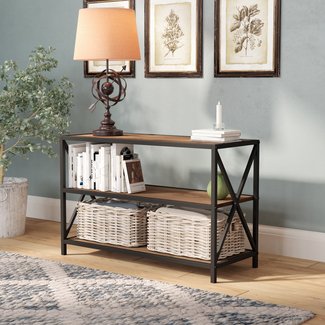 Adair Etagere Bookcase
A low two-shelf etagere bookcase makes a handy hall organizer, end-table or just a place to keep a few small things that need to be on hand. The sturdy X bracing on the ends makes it suitable for books, with or without bookends. Matt black framework with wood-tone shelves allow it to be easily placed with almost any color scheme or décor style. It goes very well with rattan baskets.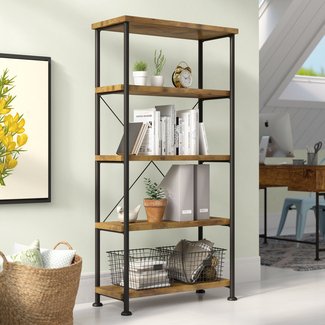 Epineux Etagere Bookcase
Serviceable for almost any location from the front hall to pantry, this etagere bookcase features ladder-style frame supports made of iron. The shelves are veneered hollow boards, reducing the overall weight of the unit. To prevent accidental tipping, it comes equipped with a device that can be used to secure the shelves. Does not meet certain California guidelines; not recommended for households with young children, babies or ladies who are expecting.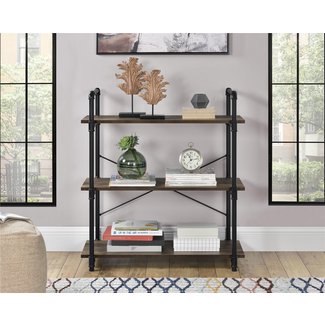 Dodd Etagere Bookcase
Two-shelf etagere bookcase made from tubular metal ladder frame, with brown wood-tone laminated particleboard shelves. While neither showy or expensive, it is ideal for those small items that never seem to have a home, yet are desirable for one reason or another. Ideal for small ornamentals, books or even stacks of magazines, it will go well with more kinds of décor. Some assembly will be required upon arrival.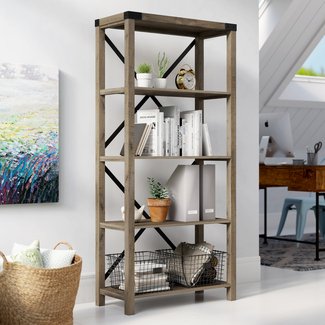 Schreiner Etagere Bookcase
Modest etagere bookcase in brown wash wood tone, with X bracing on the back, could be the handiest piece of furniture you will buy. The unit is constructed from manufactured wood and brown washed metal. The flat X brace helps to prevent wracking or sagging. The wood tone is less intrusive than similar units that obviously are constructed with metal as part of the design. With its modest brown coloring, it will not detract from your fine collectibles.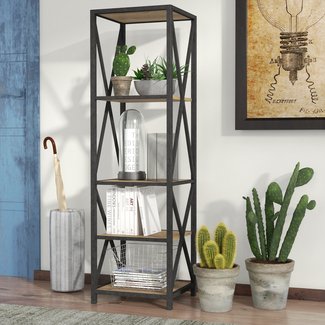 Augustus Etagere Bookcase
Characterized by brown, laminated manufactured wood shelving that is almost as deep as it is wide, this striking etagere bookcase will make an excellent home for large books, rattan baskets or large pieces of artwork. The black frame makes a striking contrast with the brown shelving creating a statement that you will not be ashamed to have anywhere. One small caveat: It does not meet California's 65 ruling for potentially carcinogenic substances.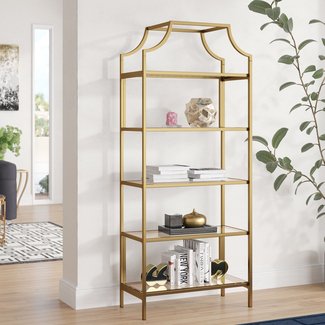 Damon Etagere Bookcase
This etagere bookcase will lend elegance to nearly any location. The gold-tone metal frames clear glass shelves, which the top is shaped into the suggestion of a regal crown. It will look right at home with a Victorian or Edwardian setting, but can be adapted to boho or shabby chic. Add your favorite coffee table books or unique art pieces for a true conversation piece.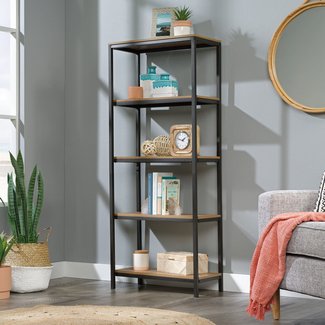 Ermont Etagere Bookcase
A spare black metal frame paired with manufactured wood with a natural, blond wood veneer sure to go equally well with a modern minimalist, boho, shabby chic or country décor. Can be used as a utility shelf for items such as towels or it can be used as a bookshelf or to display ornamental pieces. It comes with a tip restraint and is intended to be installed against a wall.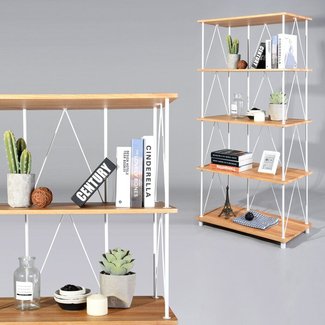 Axbridge Etagere Bookcase
An almost ethereally fragile unit in appearance, it is, in fact, quite robust and is capable of holding up all kinds of utility items. Four slender posts hold up the corners of four shelves, while inverted V braces help ensure that books or magazines do not fall off the ends of the shelves. Wood shelving helps hold the unit together while creating a sturdy support for the things you store there.