Our Choice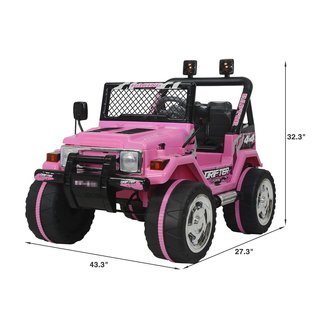 Jeep
In this hot pink miniature jeep, your child will feel like they can take on the world. The tires are decorated with pink stripes, and the mesh-style windshield helps your kid get in touch with their inner action hero.
This 12V electric ride-on is excellent for enjoying on flat, smooth surfaces up to 3 mph. There are two options for control: remote control for parents and a fully functional gas, brake, and steering wheel for kids. There are also two LED headlights for cruising in low light.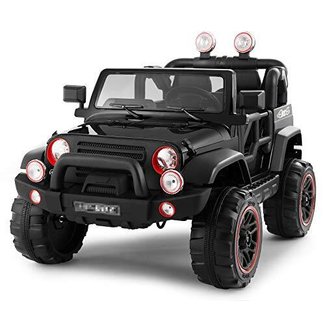 Jeep
Available in red, white, pink, and black, your bold little adventurer can choose their favorite color vehicle to cruise around in.
This electric ride-on features a USB connection port allows your child to listen to music or their favorite stories as they drive around in style.
Built for ages 3 to 8, this 1-seater jeep reaches a maximum speed of 2-3 mph and can be controlled via a remote for parents or foot pedals for more confident children.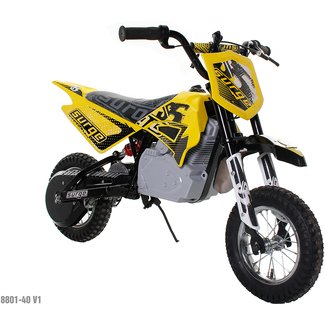 Surge 24V Battery Powered Motorcycle
With a maximum speed of 14 mph, this battery-powered motorcycle supports a weight capacity of 140 lbs., making it ideal for fun-loving school-aged kids and tweens.
A high-torque 24V motor, rear hand brake, variable speed grip, and comfortable, ergonomic seat help provide power, control, and support to young riders.
The battery charge lasts for 45 minutes, just enough to have an adventure but not go too far. Available in a striking red and electric yellow.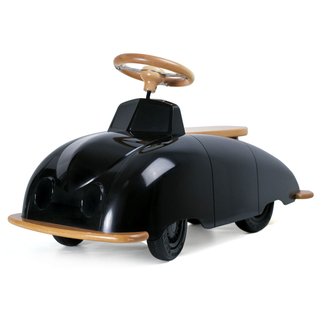 Saab Roadster Model Car
Built to imitate the elegant lines of the original SAAB car, this toy car is crafted from durable wood and high-quality plastic. The result is a kid-powered ride-on that children can easily push with their feet, steer, and enjoy for years.
At only 21 lbs., this little car is easy for little legs to propel along. Its sleek black finish and natural wood accents will win compliments and make beautiful memories.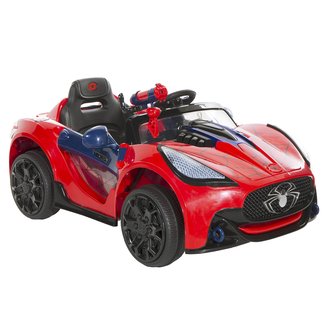 Spider-Man 6V Battery Powered Super Car
Spiderman-themed and perfect for young superheroes ages 3 to 6, this epic 1-seater features detailed Spiderman graphics and an LED light-up hood.
Superhero action sounds, a water cannon, and ergonomic seat help to create an immersive, imaginative experience for your little one ensuring this ride-on will be your child's future favorite toy.
The 6V electric motor powers the car at speeds up to 2.5 mph, making it a safe yet fun option for young children.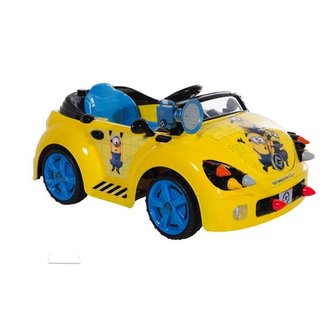 Minions Rocket 6V Battery Powered Car
Your energetic little one will love this brightly colored, minion-themed electric ride-on. A decal decorates the car's hood while a working horn and fart blaster gun provide hours of laughs and fun.
Perfect for ages 3 to 8, this electric ride-on is ready to tackle grass, wood flooring, asphalt, or cement, and it features a top speed of 3 mph with a seat buckle for safety. It makes a wonderful birthday gift for your favorite prankster.
Hello Kitty Coupe 6V Battery Powered Car
Enjoy backyard fun with Hello Kitty with this 6V electric ride-on that's ready for adventure. This bright pink 1-seater is crafted from easy-to-clean, high-quality plastic and decorated with Hello Kitty decal.
The ride-on features MP3 speakers so your little one can listen to their favorite tunes, and a forward and reverse functions for better control. Cat ears adorn the bucket-style seat, bringing extra style to your child's ride. Ideal for ages 3 to 6 who are ready to take on the cul-de-sac or the driveway.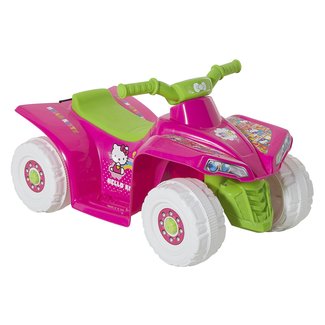 Hello Kitty 6V Battery Powered Little Quad
With a bright pink and lime green exterior, this Hello Kitty quad combines adventure-readiness with fun-loving details. ATV-style tires provide traction while flowers, rainbows, and Hello Kitty faces decorate the body of the quad.
Easy to assemble and easy to use, its 40 lbs. weight capacity makes it the ideal first quad for toddlers. It has a simple push-button accelerator and 6V electric motor to deliver enough power to reach a maximum speed of 3 mph.