Our Choice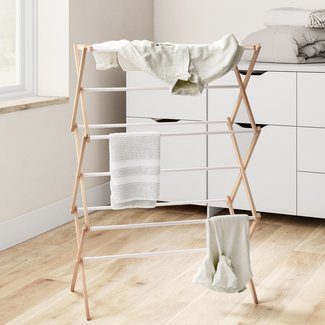 Folding Drying Rack
This white and natural finish drying rack is designed to help you dry your clothes and expands the life of your clothes. It is made from wood and prepared with 25 feet of drying space with a top shelf for air-drying sweaters, swimsuits, and more. It is designed with vinyl-coated bars that hinder clothes from spilling and can fold up to 3 inches for portability.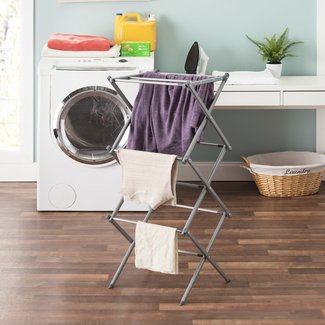 Express Folding Drying Rack
Air dry your clothes with this compact and modern drying rack. Made from metal in sturdy rod-like shape for easy drying of clothes and a white-coated paint for an attractive look. This portable dryer expands up to 29.5 inches and when folded up, its 3inches. It is sturdy and perfect for drying even heavy clothes. No assembly is required upon arrival.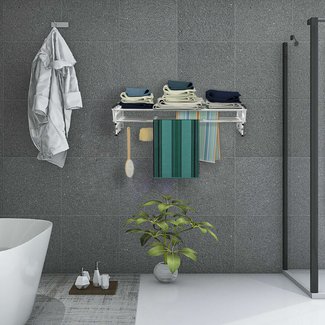 Expandable Clothes Wall-Mounted Drying Rack
Dry your clothes outdoors or indoors with this modern and durable stainless steel drying rack. This rack features an adjustable clamp that can be wall-mounted or attached to a fence and its towel racks are made of solid stainless steel with eight steel rods. The expandable laundry rack is perfect for your balcony, fence, or laundry room and it is easy to install or fold away when not in use.
Folding Drying Rack
Increase the lifespan of your clothes by air drying them on this contemporary, solid enamel-coated steel drying rack. This foldable rack is rust-resistant and easy to set up. It has an overall height of 39 inches and a 20-inch width and weighs 6.77lbs. It allows you to organize and hang your wet clothes without fear of them falling off. This portable dryer can be folded when not in use to ensure durability.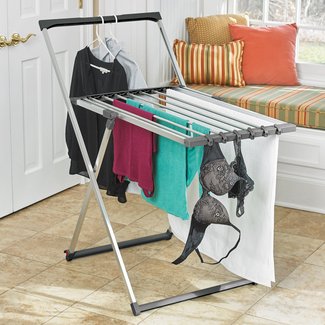 Ultralight Folding Drying Rack
Air dry your clothes with this x-frame drying rack that is made of strong aluminum rods that give 18 feet of drying space. It features a simple open to close function with friction tabs and a built-in dress clip for drying small items. It also includes a recessed hanger that holds up to 20 hangers and a rolling rear wheel for easy transporting of the rack.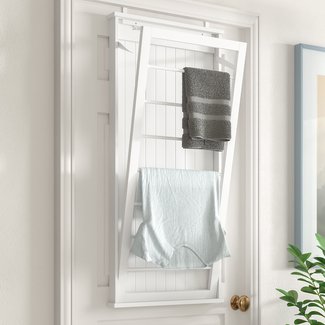 Folding Drying Rack
If you don't have enough space to keep a drying rack then this lovely piece is for you. The wall or over the door mounting rack is designed to help you air dry your clothes without consuming your floor space. This white finished unit is sure to blend and give an attractive outcome when mounted on a white door. The hanging rods can be adjusted to 45 or 90 degrees or folded flat against the door when not in use.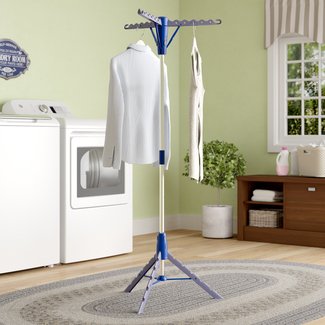 Folding Drying Rack
Naturally dry clothes with this 36 garment steel dryer that is perfect for your shirts, coats, and dresses. This foldable drying rack features an easy to use push-button that releases and holds up several clothes at a time. The 64 inches tall rack keeps you long fabrics from brushing the ground and air dry clothes that cannot be dried by a machine.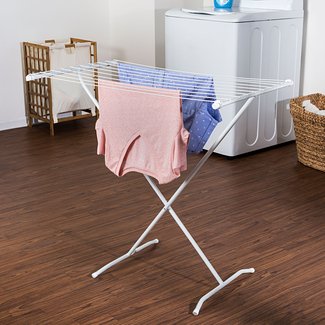 Folding Drying Rack
Use the 30-linear feet drying rack to naturally dry up your laundry. This modern piece features a smooth metal exterior that holds your favorite scarves and tops thereby preventing them from falling. It has a top wire that can dry clothes, and accommodate hangers; when not in use, it is easy to fold and store in your laundry room or any free space.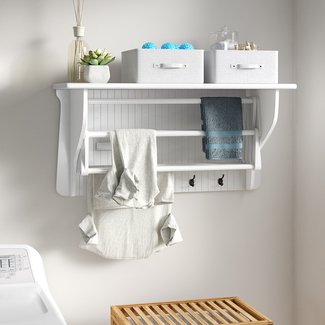 Folding Drying Rack
Dry your laundry at once with this portable laundry rack that features a wall-mounted design. Crafted in a collapsible style to expand from your wall thereby enabling you to hang your clothes in a stylish form. This rack extends to 28.5 inches and has five built-in shelves and hooks for hanging essential and other clothing with a 31inch mounting hole distance. It is perfect for your laundry room, balcony, or fence.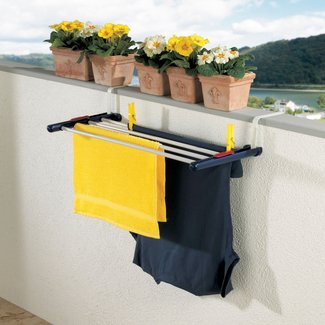 Quartett Over the Door Dryer
This portable blue and white drying rack is convenient and easy to install on your balconies, over doors, windows, or banister. This laundry unit has a large hook fastened to the rack which makes it compatible to be hung over the window, shower, or banister. It has a 6.56-inch drying space, making it ideal for air-drying large pieces of clothes, and it's backed by a 2-year warranty.