Our Choice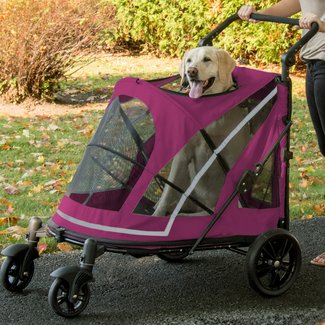 Expedition No Zip Standard Stroller
Allow your porch to enjoy a spacious and comfortable ride in the no zip standard stroller. With many new and exciting features, it makes for a fun and exciting ride for your pooch and his friends. With two easy locking doors, pets can now enter from either the front or the back of the stroller and exiting is a breeze as you don't even need to turn the stroller around. There's a convenient parent tray and cup holder for keeping hydrated while taking your best friend out. The multi-position handle at the back allows your furry friend to get out of the stroller effortlessly.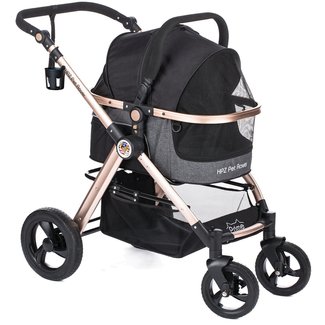 Pet Rover Prime Folding Standard Stroller with Detachable Carrier
Get ready to move with this versatile and luxurious 3 in 1 stroller. It contains a detachable carrier which also works as a car seat for the ultimate convenience. Going from house to car to stroller is as easy as 1 2 3 thanks to the fold/unfold operation. Thanks to the rust-free, gold aluminum frame, the stroller is lightweight, functional, elegant and practically indestructible. This dog stroller allows you to travel in comfort and style for life.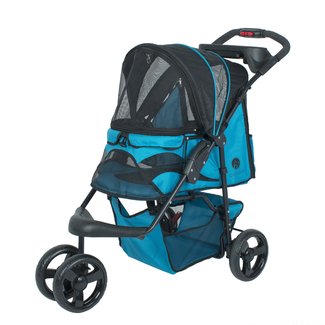 Folding Standard Stroller
Strolling down the sidewalk is now a breeze thanks to this dog stroller with large tires and double wheels. Irrespective of whether you're heading out to shop or have a picnic, this dog stroller has a large storage box to hold treats for both you and your Fido. The two large back pockets and cup holder tray accommodates 2 cups and provide plenty of additional space to throw in last-minute necessities. The included canopy is a nice addition and shields your pet from the sun while on the move.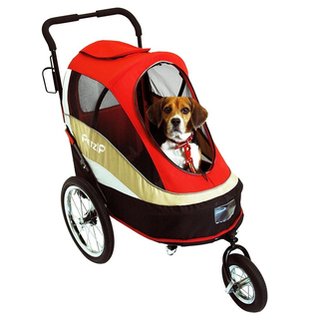 Jogger Stroller
Aiming to create a performance-inspired ride for both you and your best friend, this pet jogger is a dream to travel in. For a smooth experience, the large tires contain shock absorption and enough traction. Thanks to these features, your pet will be secure and comfortable even if they've just had surgery. The 360° ventilated mesh windows provide additional circulation so that your pets can relax while they take in the fresh air. The stroller comes with three adjustable leashes for safety, and the fabric is removable and machine washable.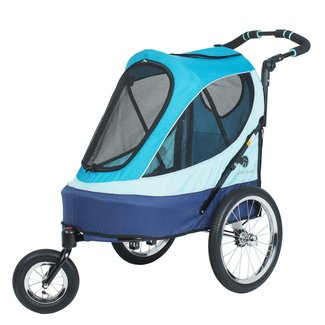 Folding Jogger Stroller
This Jogger stroller is the ideal ride for your pets to travel in. They will travel safely and securely thanks to the one-step dual brake, which prevents the stroller from moving. Traveling at night is a pleasure thanks for the accented reflectors located all around the jogger. Storing this stroller away is a pleasure thanks to the wheels that can be popped out and there's an included air pump and rain cover for added convenience while the multiple position adjustable handle has a foam grip for long-lasting comfort.
Folding Standard Stroller
Push your pet around effortlessly in this foldable pet stroller. Stabilizing the entire stroller is made easy thanks to the small yet heavy-duty wheels which give you and Fido a nice, relaxing ride. The pet stroller will benefit even handicapped, anxious and mature pets. To help with unforeseen messes, the stroller includes a patented pee pad, and your pets will be able to enjoy the view through the well-ventilated mesh windows as you happily push them along.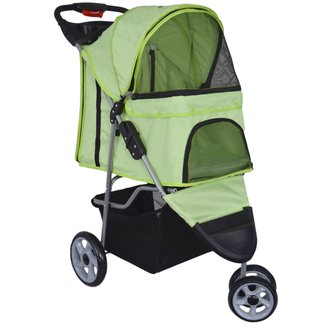 Nimmo 3 Wheel Standard Pet Stroller
Give your pets a first-class ride in this standard three-wheel stroller. The three zipper access points allow you to conveniently let Fido in and out while the spacious interior padded foam bottom provides enough comfort for the ride. The back and front windows are made of mesh which is fully breathable and also gives your pet a great viewing experience. The top mesh window allows you to keep an eye on your pet and the top cover collapses back to create a large opening. Handy dual cup holders for drinks and snacks are available for both you and your pet to enjoy on the ride.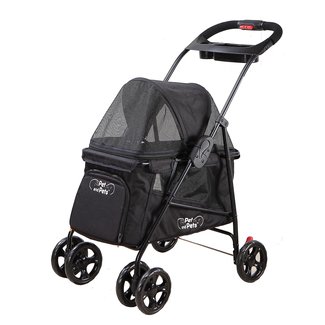 Folding Standard Stroller
If you're looking for a light and durable dog stroller to take your best friend on afternoon rides, this is the one. It's small but contains heavy-duty meals designed to keep the stroller from moving and giving your pet a smooth ride. The interior is spacious enough to reduce stress and anxiety in your pet while the large ventilated mesh windows allow your pet to see his surroundings and take in the fresh air at the same time. It contains a convenient one-hand folding mechanism making it easy to move from house to car, and vice versa. The seat cover is easily removed to wash and dry.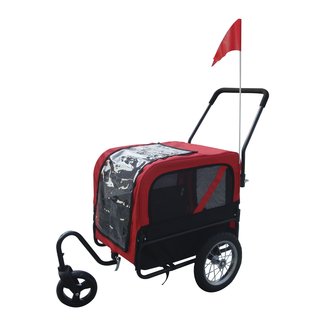 Hosley Dog Pet Stroller
If you enjoy maintaining an active lifestyle for your pet, this convertible pet stroller will make it easier. It can be set up in minutes, and the mesh screen on the front and back allows for increased circulation and a clearview experience for your pet. Not only does it contain a water-resistant polyester fabric and a sturdy steel frame, but this tiny stroller is heavy-duty and designed to last for years to come. Thanks to the dual entry at the front and back, loading and offloading your pet is easier than ever before. It contains a bike hutch and therefore can be used as a bike trailer.
Folding Standard Stroller with Detachable Carrier
This standard stroller with a detachable carrier is one of the most versatile and convenient companions for your pet. When Fido's tired of walking, or there are too many people around, simply slip him into the safety pet carrier. Carry him around with the backpack, roll hi around with the luggage, or attach it to your car seat. The pockets on both sides allow for additional storage space while the entire unit is lightweight and ventilated, which makes it transportable and comfortable for your furry friend.