Dog Houses
Give your dog a little heaven to relax with an outstanding selection of dog houses in the market. Although dogs are active animals that love the outdoors, every now and then they need a place to relax and recharge. Dog houses are perfectly suited for this. The houses are mostly made using wood but different materials like plastic are becoming very common. The architectural design of each house will also vary a lot. Whether you are looking for that costly and luxurious dog house or something minimalist that will just do the job, the architectural variety out there should do for different needs.
Our choice Best Dog Houses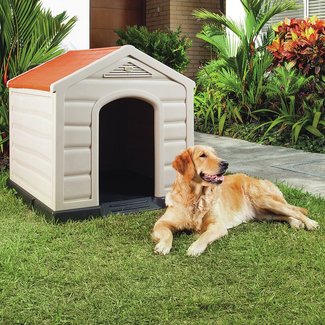 Jarmon Outdoor Dog House
Make your pup more comfortable with this beautiful and durable polypropylene resin construction. This outdoor dog house is suitable for your terrace, patio lawns, or garage and it's easy to assemble. It is built to last and resist harsh weather conditions. This pup house can accommodate a dog size of 50-60lbs and has a raised floor that will protect your pet home from getting damaged.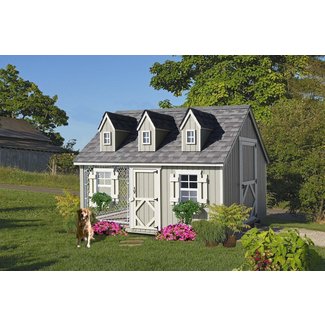 Cape Cod Cozy Cottage Kennel Dog House
A pet home is what every dog needs to feel free and cared for. This extra large, cottage style dog house is made with solid wood that is rust and weather-resistant and has decking floors to ensure easy cleanup. It features a kennel run protected with a quality chain link fencing and comes with locking handles for increased security. Amish craftsmanship ensures supreme longevity.
Lucien Club Dog House
Just like humans, our little pets need to snuggle into their homes after a long day of keeping vigil over your property. This pet home is made with beautifully glazed pine wood that makes it an attractive addition to your patio or lawn. It's designed with a hinged roof to let you check on your pet and easily clean its home. It is crafted with a raised floor to keep your furry friend's home free from moisture.
Danica Black Plastic/Metal Dog House
Make your pets comfortable with this elegant and sturdy steel-framed weather-resistant pet house. This pet home comes with a padded cushion for extra comfort, and four padded legs to keep your pet healthy and safe from moisture, leaving your floor safe and damage-free. This pet home can be used indoor or outdoor and can only accommodate small to medium dog sizes.
Holyfield Dog House
This metal-coated dog house is crafted to keep your little friend comfortable and safe as well as to make a statement wherever you decide to place it. The contemporary triangular-shaped design lets in natural light and air to keep the house clean and fresh. This portable home features a microfiber material to keep your pet cool during summer and warm during winter days. It is a perfect home for small dogs with a size up to 7 lbs.
Genevieve Dog's Inn Dog House
Give your pup a beautiful home with this colonial-inspired dog house that is crafted from solid wood, plastic, and metal to resist harsh weather. This dog house features a shuttered window that adds charm to your outdoor space and a raised floor design to keep your pup out of the mud. It also includes a flexible foot to keep the house level when it is kept on uneven ground. This home is perfect for large-sized to medium dogs.
Dionne Dog House
Keep your pet warm during winter and cool during summer with this natural insulating kiln-dried cedar wood dog house. This durable house features a little inner room with a mini staircase that leads to an open rooftop terrace. The balcony is confined by a lattice fence which prevents your dog from falling. This waterproof pet house comes in panels and fits a 25 lbs size dog.
Large Igloo Shaped Dog House
The igloo-shaped pet house is sure to keep your dog happy. Made with unique and durable plastic, it features several compartments to fit a mid-sized dog, giving it a den feel and a lot of fun with the wide opening at the back of the house. It also includes an adjustable ventilation cap for maximum air and freshness and a sturdy buckle that keeps the dome firm. This pet house is easy to clean and manage.
Gustave Dog House
This spacious dog house is designed with a combination of manufactured wood and solid weather-resistant pine that ensures durability. It is available in different finish styles and sizes with a shade-like shape and plastic adjustable legs that keep the house level on uneven grounds and prevent moisture. This dog house is great for large-sized and mid-sized dogs.
Hargraves Wood Dog House
This generously sized dog house has a large door for easy access by the pet and is perfect for indoor or outdoor use. Its neutral color makes it appealing to the eye and the tile-like roof with a wavy frame creates a warm and attractive atmosphere for your pet. It includes a stylish pet mat and is perfect for medium to small-sized dogs.