Our Choice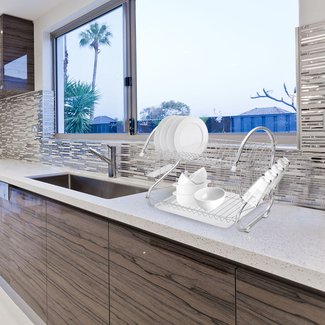 Stainless Steel Dish Rack
The stable and sturdy S-shaped frame of this dish drainer features two different rack levels to accommodate a wide range of dishes and two specialty compartments for cutlery and cups or mugs.
The drainer is delivered with a drain tray and footpads included to protect your countertops from scratches or water damage. Measuring 14.57" x 9.84" x 16.93" this unit will fit in most kitchens and kitchenettes, even if counter space is limited.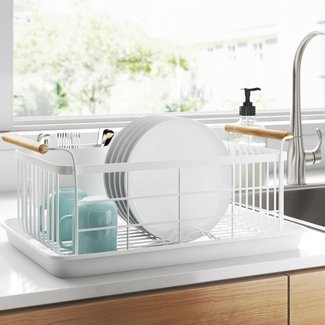 Alvin Steel Dish Rack
With its neutral powder-coated white steel frame, this dish drying set enhances the contemporary look of your kitchen.
The 7.87'' high-sided frame prevents tall, heavy dishes from toppling, and it comes with a drip tray and a white utensil compartment that is fitted with a plastic base, so nothing falls through the cracks.
The wooden handle not only gives your tray a warm, natural touch – it also gives you a space to hang your dish towels. It provides added mobility making it easier to free up valuable countertop space when not in use.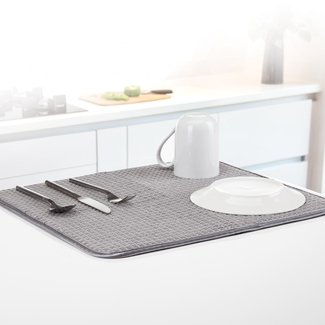 Antibacterial Drying Mat
Whether your dish rack is currently overflowing, or you are looking for a more understated drying device, this gray antibacterial drying mat is the perfect solution.
The mat is constructed with a mesh layer that promotes faster drying through increased airflow and an inner foam layer that supports delicate cutlery and crockery while drying. The fabric is coated in silver antibacterial protection that prevents bacteria growth for up to 30 washes.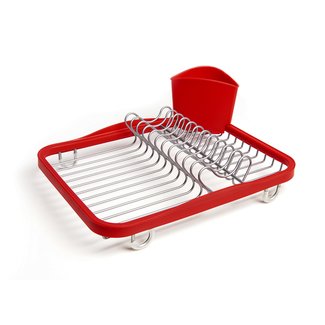 Sinkin Plastic Sink Dish Rack
For a kitchen with limited counter space, an in-sink dish rack ensures dry dishes with plenty of countertop area to spare.
This rack measures 14" W x 11" D x 5" H to fit most standard kitchen sinks. It is designed to rest at the bottom of the sink so that water can drip down the drain – no drying mats or boards necessary.
The non-slip rubber feet ensure the rack stays in place and doesn't damage your sink's surface. The plastic utensil basket can be removed entirely or repositioned to fit your sink's unique shape.
Stainless Steel Dish Rack
Equipped with two removable plastic drip trays, this stainless-steel drying rack helps your dishes dry faster by preventing the upper level from dripping on the lower level.
An additional cutlery holder keeps your silverware sorted, while the glass rack can be mounted on the side to allow for optimal airflow and streak-free glassware.
Complete with black plastic accents to complement the stainless-steel frame, this unit can be quickly and easily installed so you can enjoy better kitchen organization sooner.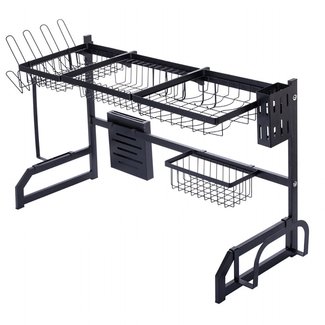 Stainless Steel Over the Sink Dish Rack
If you have a small kitchen, you can start taking advantage of vertical storage space with this over-the-sink storage and disk rack.
Fitted with four multifunctional racks, three holders, and five hooks, you can dry your dishes, hang your favorite dish towels, store two large cutting boards. The rack also comes with a fruit and vegetable holder so you can wash and store your produce in the same place.
The set is delivered with a high-quality microfiber and sponge foam mat to give you an additional drying surface that absorbs up to four times its weight in water.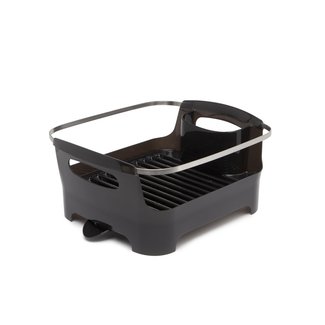 Basin Smoke Polypropylene Countertop Plastic Dish Rack
This dark gray drying rack gets rid of unsightly drip trays and mats thanks to its innovative self-draining system. A removable trough collects water dripping from your dishware and directs it back to the sink.
Suitable for use in the sink or on top of the countertop, this rack is a modern update to a kitchen staple.
The rack can also double as a transportable dish and utensil caddy for parties or outdoor meals.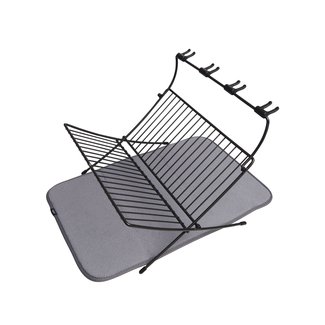 Xdry Collapsible Countertop Dish Rack
This dish-drying solution features a rack and drying mat in one convenient set. Despite its compact size, it can hold up to 19 dishes and offers 4 built-in stemware holders for your favorite wine glasses or mugs.
The microfiber mat catches any water while providing an additional drying surface for large pots and pans.
The mat is machine-washable for better kitchen hygiene, and both the mat and metal rack can be folded and stored away easily to free up more kitchen space.