Your home or office desk makes a massive difference in your focus, comfort, and productivity while you work. Even if you only use your home desk for managing bills and other personal tasks, you need a space with adequate storage and flat surfaces for paperwork, electronics, and more.
However, your sense of style should also influence your choice of desks. Your desk should be pleasing to the eye and add to the overall interior décor scheme of your home.
Luckily, there is a range of desk shapes, styles, and colors to choose from. Here are the best types of desks, from small secretary desks to elaborate executive desks, for all sorts of people and occupations.
Writing Desks
A writing desk is a flat, basic surface that provides a bare environment for writing and typing. These desks vary widely in size, but most are at least 36" wide and 24" deep.
Writing desks are available in a wide variety of styles ranging from rustic barnwood to sleek modern manufactured wood. Although some don't have any drawers or other features, most include at least some small shelves or drawers underneath the main writing surface. They're perfect for practical people who just need a simple and distraction-free surface to focus on writing.
They usually have thin legs because they're not designed to support much storage. If you need something with a heavier weight limit, you may be better off with a secretary desk or something even larger.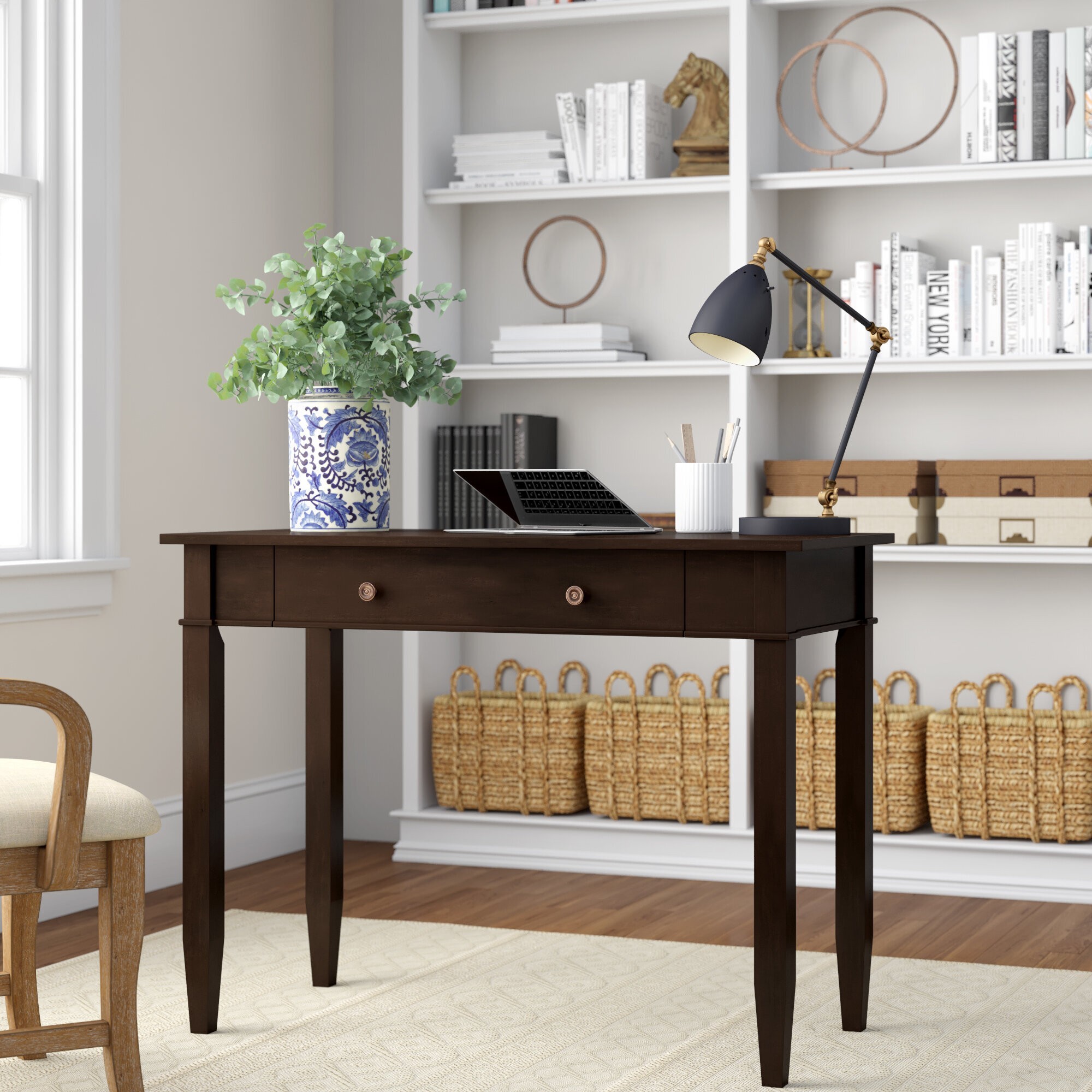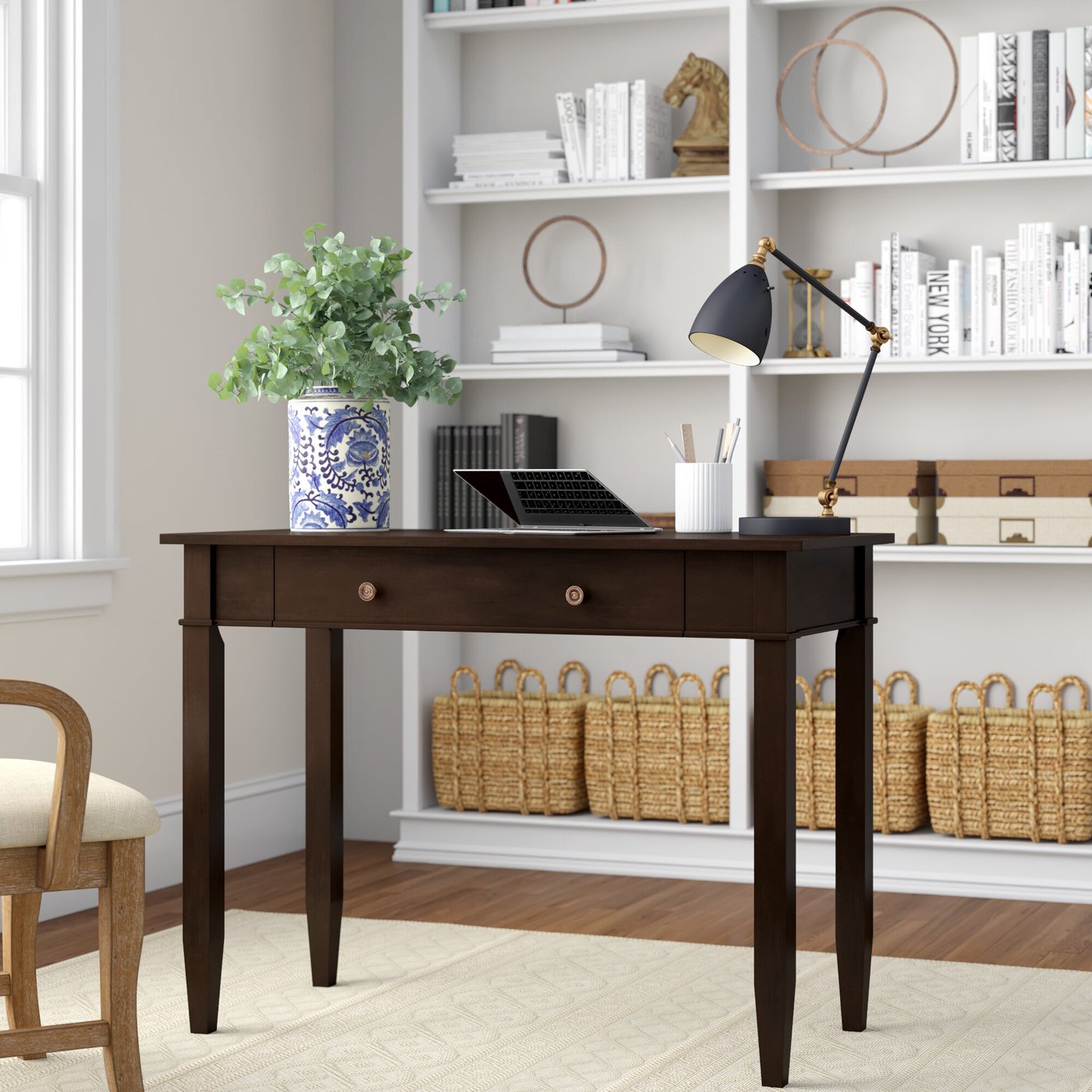 Secretary Desks
Secretary desks are designed with cubbies and storage, making them great for people who need to write and complete paperwork by hand. They're a good option for avid writers who want some romantic charm in their room or apartment owners who are short on space but occasionally need to work from home.
They are not completely flat on top, and instead have a small built-in hutch that rises out of the back of the desk. They have a beautiful vintage charm but are still available in a variety of finishes to suit contemporary spaces as well. Classic secretary desk colors include mahogany and cherry, but oak and white painted options are becoming common.
Secretary desks are not typically designed for desktop computers or printers, especially if they have a drop-down cover on the front that makes it difficult to store large devices. However, some larger modern secretary desks may have features like a keyboard tray and cable management system. Small secretary desks usually have enough space for a laptop and mouse to fit comfortably.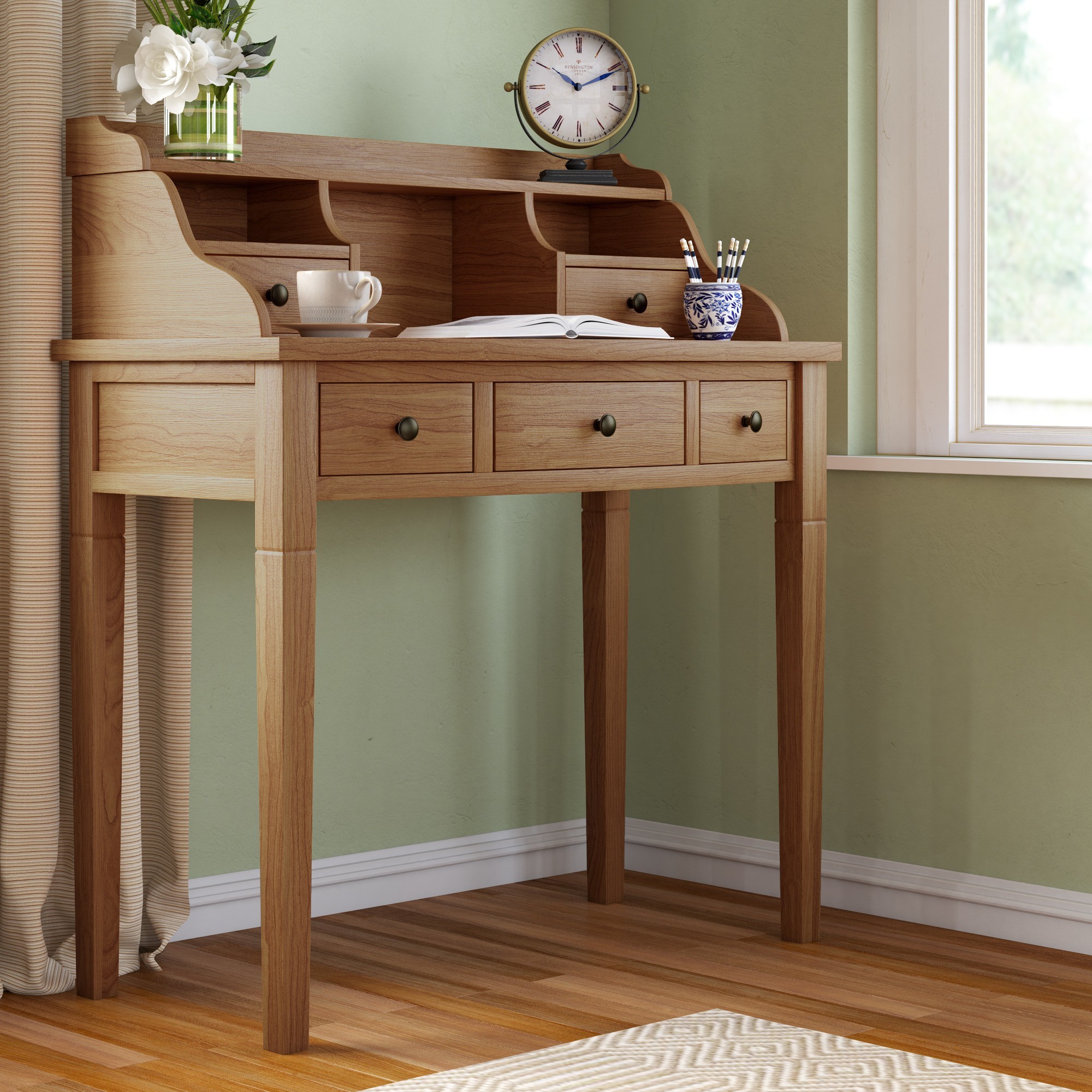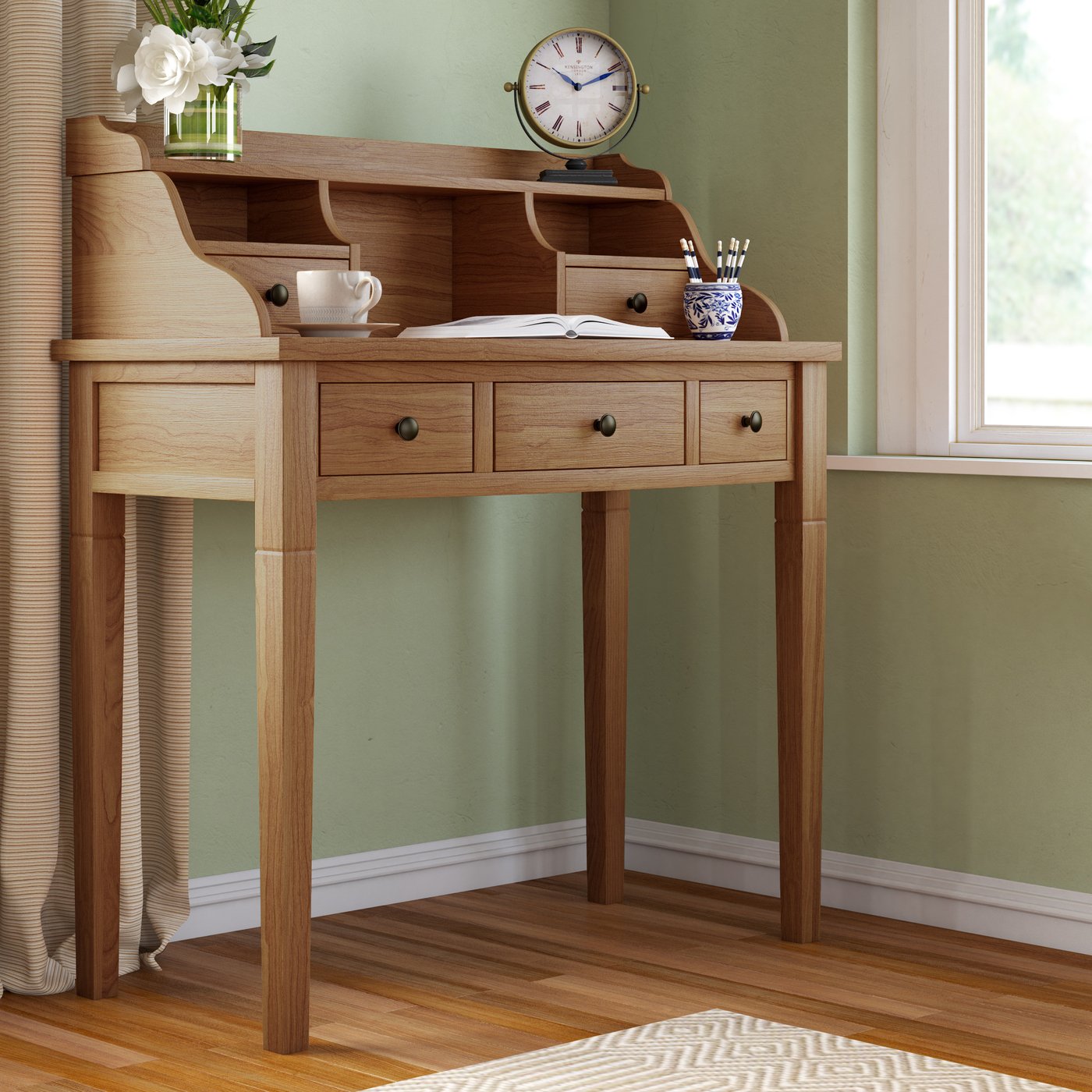 Computer Desk
Computer desks are designed for the classic home desktop user who needs a monitor, computer tower, and printer within easy reach. They usually have additional cubbies or shelves for other electronics, like keyboards or external hard drives.
As more people switch to using laptops, a large computer desk may provide more storage than you actually need. However, busy families with lots of electronics will inevitably find ways to use this space.
Computer desks are sometimes designed with a hutch to help make the most of the space above the computer, and sometimes have cabinet doors that close in front. Because of this, they sometimes have a footprint of under 36" wide by 24" deep.
They're usually large and imposing, so they're better for serious computer users and students who need something utilitarian. They typically prioritize function over form but can still be coordinated with your room's color and design scheme.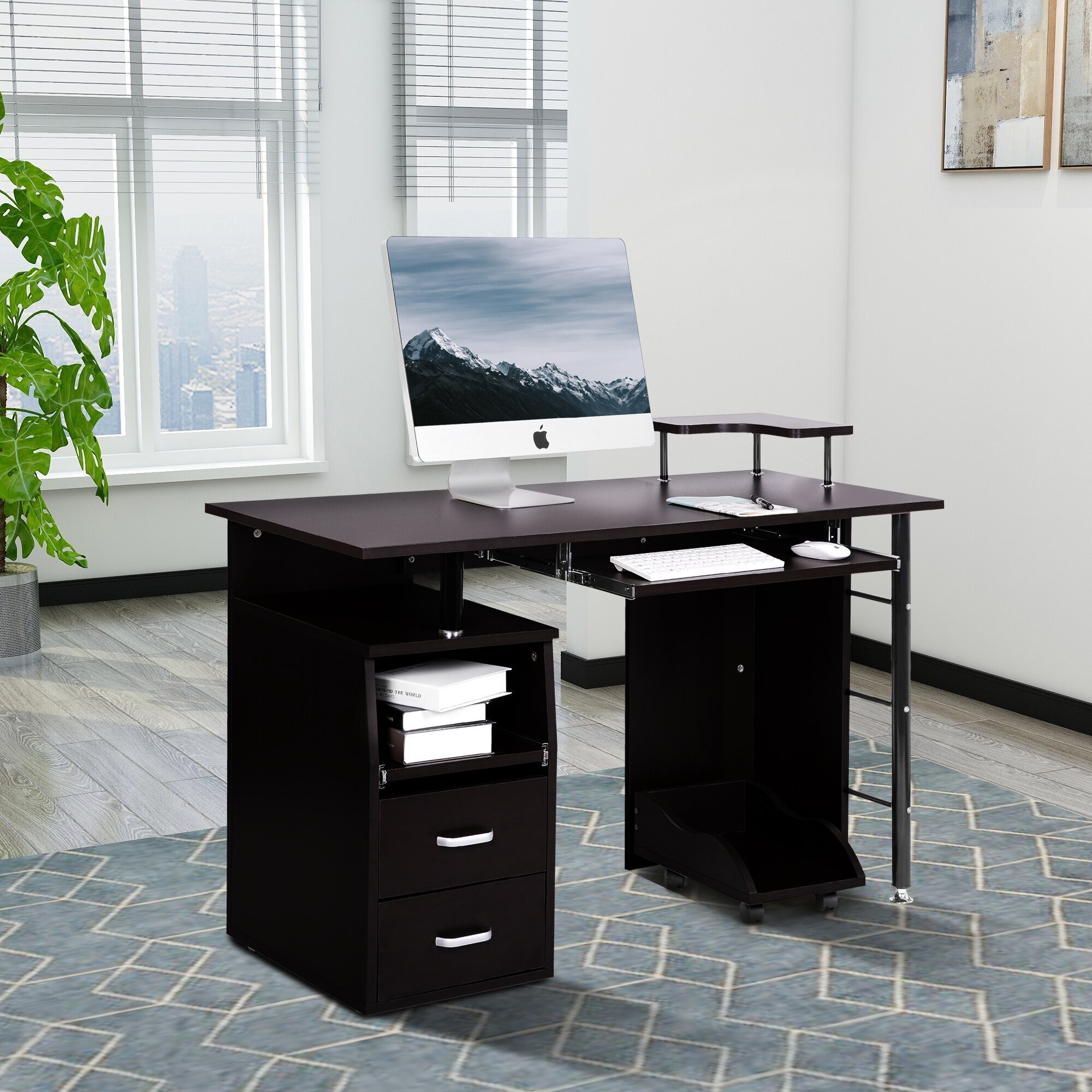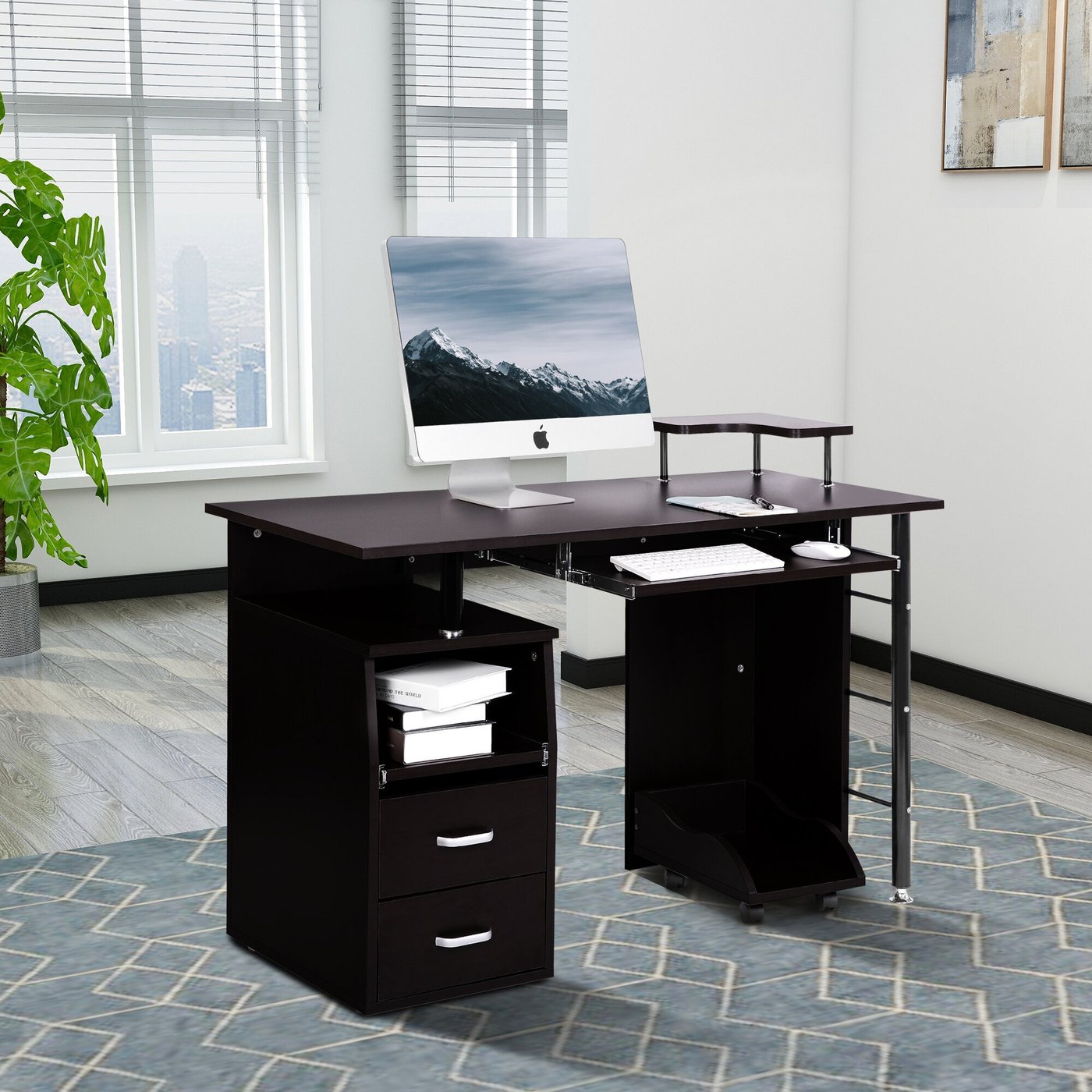 Executive Desks
Like writing desks, executive desks have a flat, sleek surface on top, which maximizes the user's visibility during meetings. However, executive desks also typically have more storage space in the form of drawers. They often include locking filing drawers and other spaces for sensitive paperwork and equipment.
Executive desks are distinguished by their deep and broad writing surface, which owners may use to store any manner of inboxes and baskets for paperwork. They may be up to 72" long and 36" deep to provide as much space as possible and act as a status symbol for the owner.
Executive desks are used in commercial offices more than in homes, but they lend a regal air to any home office. Mahogany executive desks make an incredible statement piece, especially if you work from home regularly and want to create an office, study, or library. They're perfect for business professionals with ambition and an earnest desire to impress clients.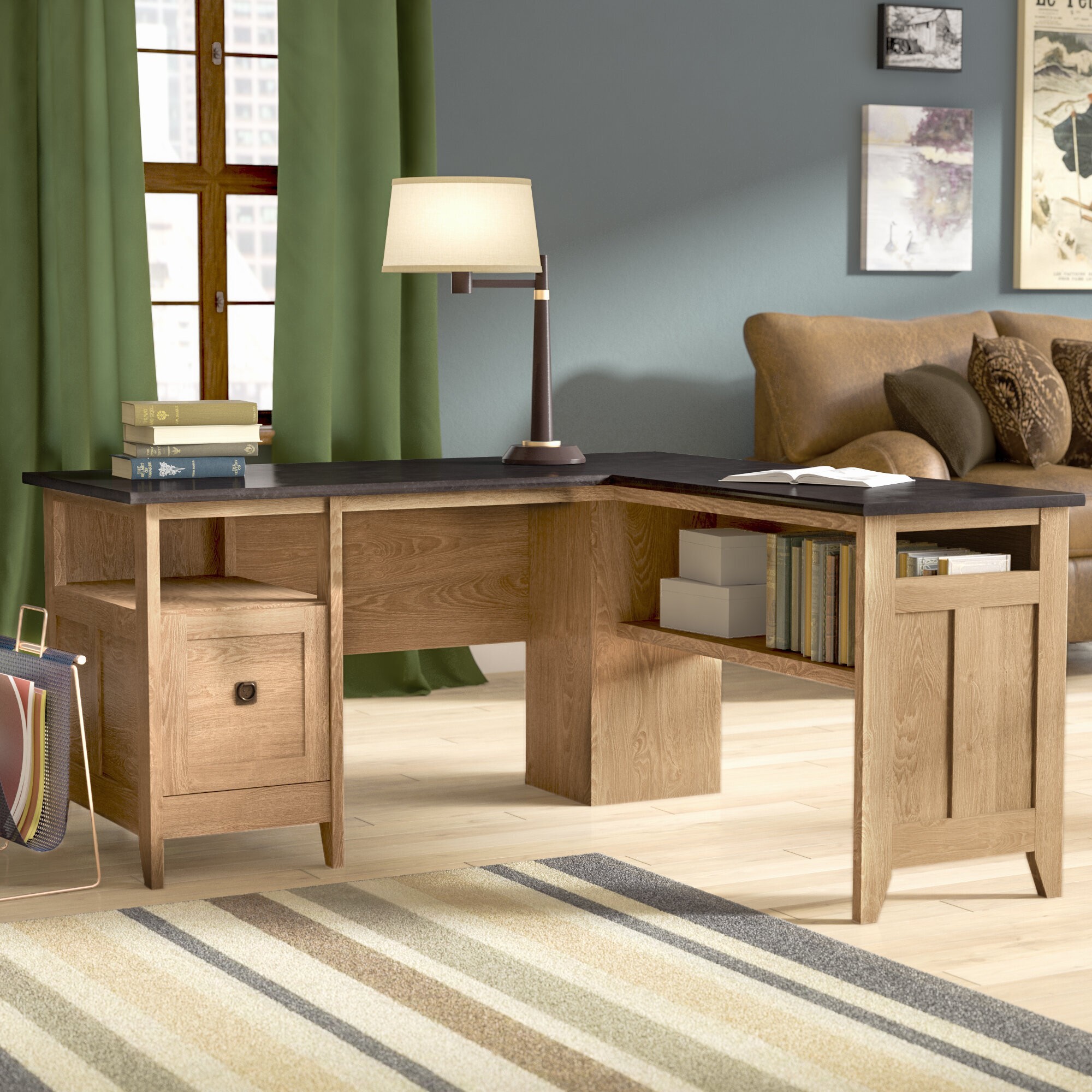 Credenza Desks
Credenza desks look like executive desks but are much smaller. They sometimes appear similar to secretary desks, but have a more modern feeling overall and prioritize storage over writing functionality.
Some credenzas don't have an opening for a chair underneath because they are intended to be used behind or next to an executive desk. However, credenzas also make an excellent addition to living rooms, master bedrooms, and other areas that may occasionally need a writing surface.
They're an excellent add-on for serious professionals who want more space to spread out while working. However, they also suit homemakers who need extra space to work on bills and other tasks.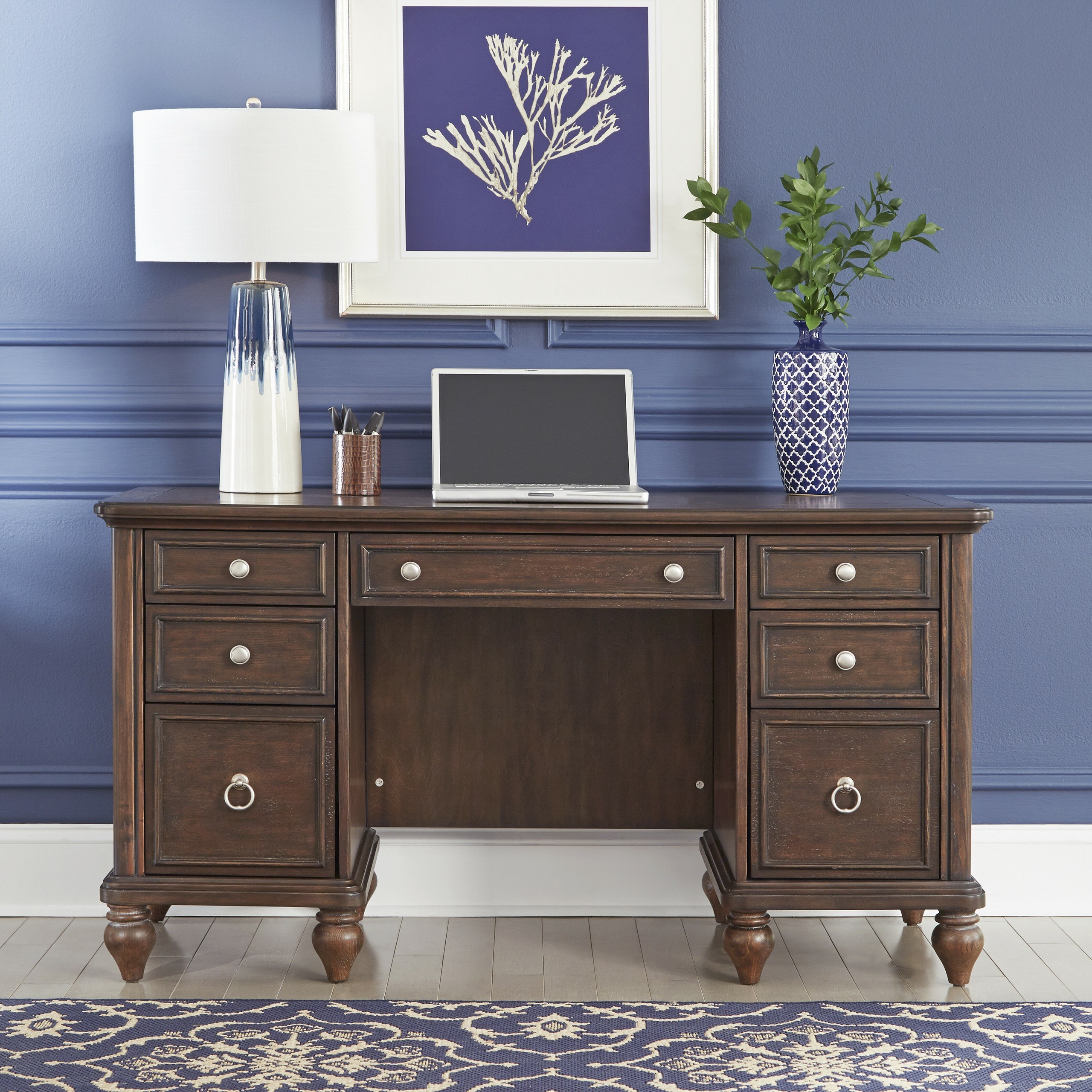 Floating Desks
Floating desks attach to a wall and have minimal or no side supports. Some desks fold up to free up space when the desk is not in use. This makes them a popular option for apartments, condos, and other cozy spaces that need flexibility.
They add modern, minimalist charm to sunny spaces where a larger desk might make the room look small. They come in a range of colors and faux wood finishes, but they are most commonly made of manufactured wood or lightweight woods like pine because of their unique engineering needs.
Floating desks are usually inappropriate for heavy desktop computers or any purpose that requires substantial weight. Users should be careful to follow all installation instructions and weight limits.
However, they're an excellent investment for young professionals who only need an occasional workspace or families who sometimes need a space for kids to study. Young, hip people trying to make their room open and inviting will find floating desks to be an excellent option.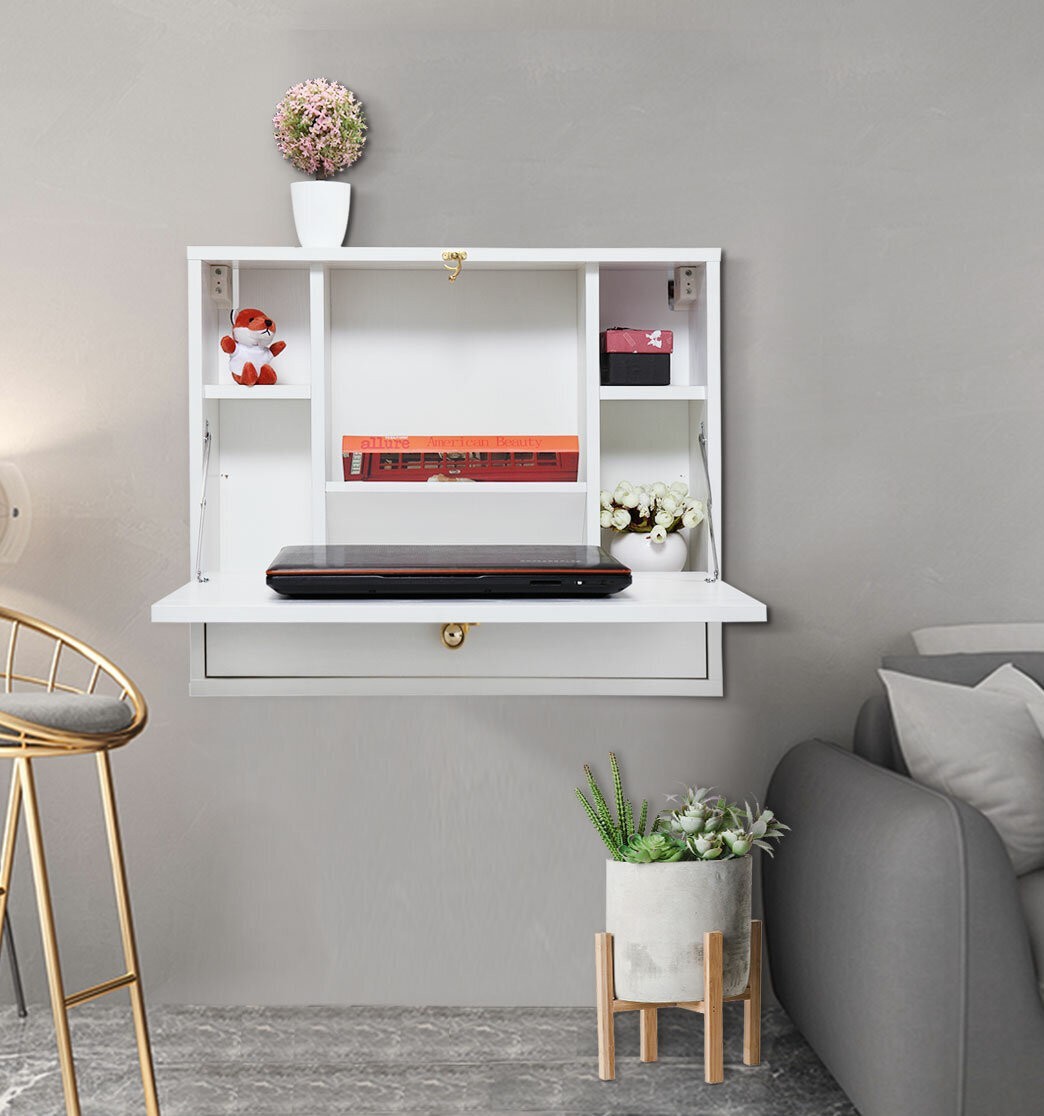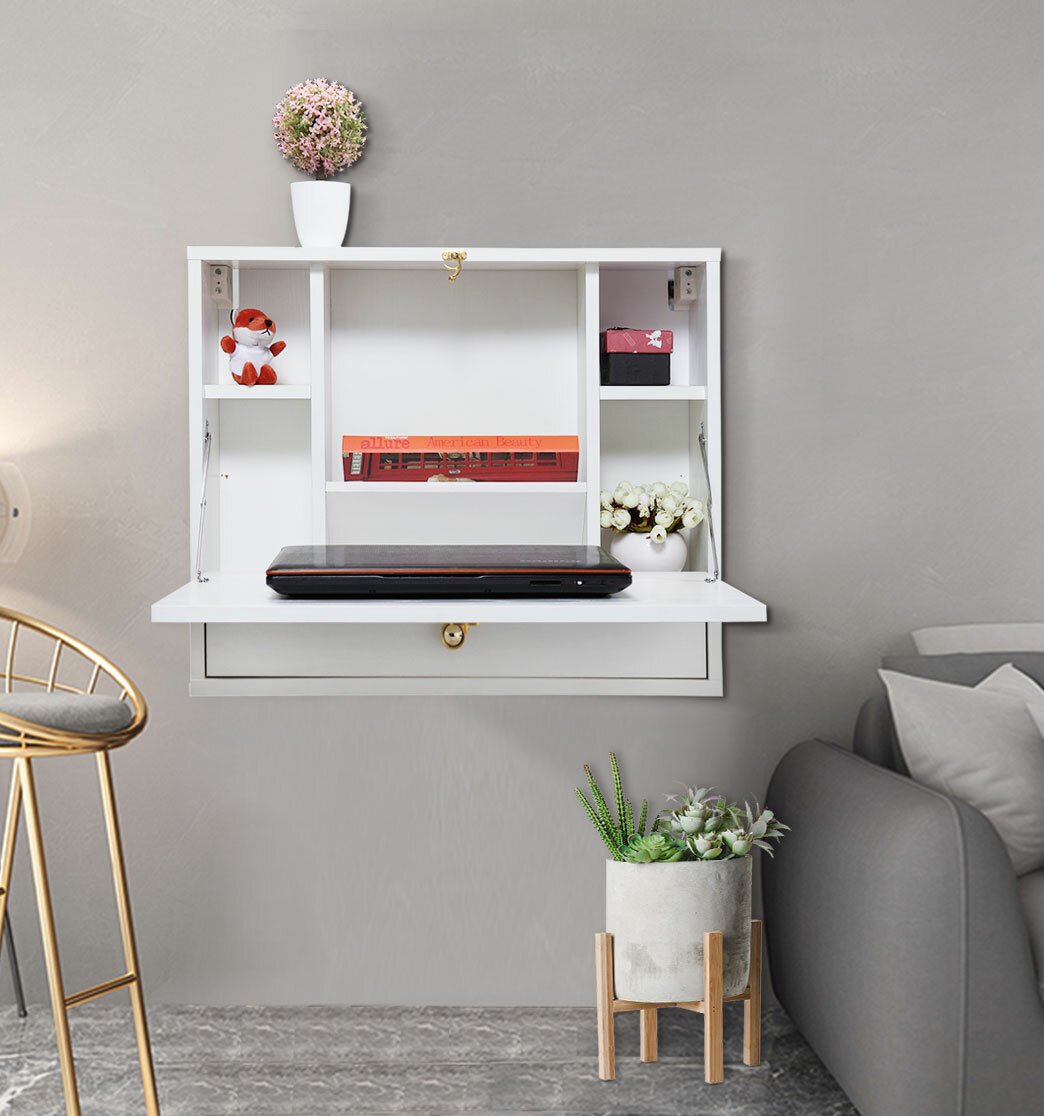 Choosing the Right Desk for You
Every individual has a unique combination of style preferences and functionality needs, including writing space and storage. With the wide variety of desks now available on the market, you can find something within your budget that meets your needs and adds to your home's charm.
Start by deciding on the type of desk you want, then pick a color and general size. From there, you'll find a whole list of options made with quality materials and easy assembly. In just a few days, you can have a beautiful new addition to your home that helps organize your space and makes you more productive.