Our Choice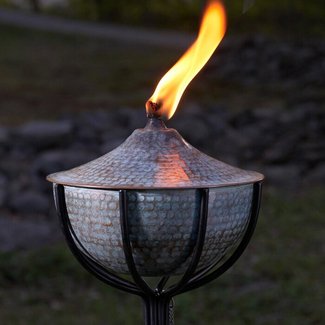 Garden Torch (Set of 4)
Light up the atmosphere when you make use of these stylish garden torches. Available in a set of four, it is an elegant way to create proper mood lighting and also repel insects. These portable torches are crucial for not just lighting up the evening but creating cherished memories. Thanks to the rugged metal construction, they are also fade and rust-resistant, ensuring that you enjoy them for years to come.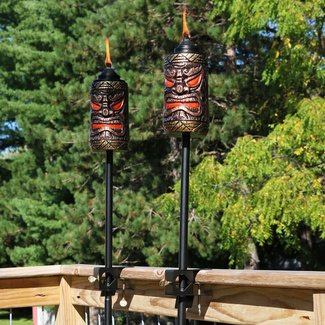 Clairville Garden Torch (Set of 2)
These tiki-inspired garden torches are anything but common. So if you're looking for an eye-catching and intriguing way to illuminate your outdoor area, these set of two tiki torches will do the trick. Made to resemble Polynesian wooden faces, they each feature a four-section pole that keeps them firmly grounded so you can spend your evening simply enjoying the light instead of worrying about it. By putting citronella inside torches, you will deter mosquitoes and other pests from your outdoor party.
Aronwold Pyramid Garden Torch (Set of 2)
If you've always wanted to have a set of elegant pyramid torches, then you're in luck. These set of two garden pyramid torches are tall and elegant, making these outdoor lanterns ideal for illuminating your outdoor space after the sun goes down. The bright finish is ideal for blending in with your existing decor or alternatively standing out. The torches are water, weather, and rust-resistant, ensuring you get many years of good use out of them.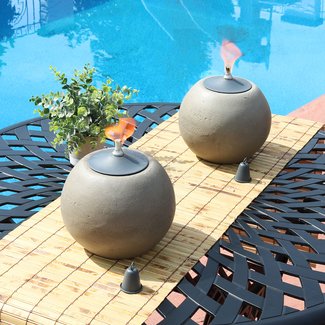 Yount Tabletop Torch (Set of 2)
There's nothing like a charming tabletop torch to lighten up your evening. Not only will it keep pesky insects at bay, but it will also help spark conversation around the dinner table. These torches are made from glass-reinforced concrete and contain a spherical design with a steel canister on top to hold a constant flame. When you're ready to head indoors, simply using the included snuffer to help you easily and safely put out the flame and the torches inside.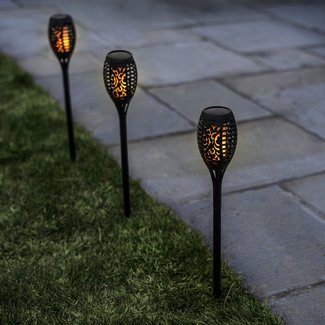 LED Flickering Garden Torch (Set of 2)
These solar-powered tiki torches are the ideal combination of opulence and functionality. Containing six dancing flames and standing 20 inches tall, they create the perfect atmosphere for any occasion. A safer alternative to real flames, they still provide the same soft glow to the area. These smart torches are designed to turn on at dusk, turn off at dawn, and the best part is you will never need batteries as it takes six hours of light until full charge. If you are looking for a greener and more eco-friendly option, this is the one for you.
Garden Torch (Set of 2)
This natural garden torch is the epitome of understated charm. The clever design transforms from a full-size torch to midsized garden torch so you can use it to light your deck with the included deck mounting it. It also comes with a multi-piece pole to align and adjust it to a suitable height. Alternatively, feel free to set it on your dinner table to create the ideal focal point. The 4-in-1 garden torch comes complete with the fuel canister and flame guard, long-lasting fiber-glass wick, and metal snuffer to extinguish the flame.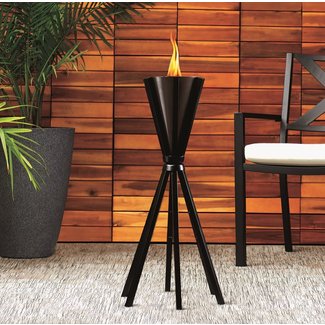 Bonaire Garden Torch
Create an instant oasis in your backyard with this portable patio torch. Add the charm and warmth of natural flame without the hassle of propane tanks or firewood. The durable design features powder-coated steel construction for seasons of good use and long-lasting beauty and performance. Thanks to the height of these torches, they complement any patio. Repelling insects is just another bonus offered by this eye-catching garden touch.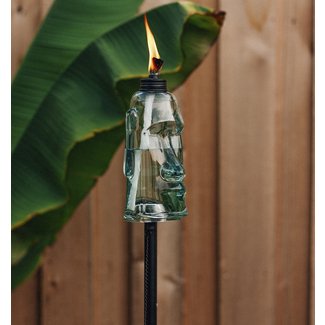 King Oahu Glass Garden Torch
This tempered glass garden torch is all you need to illuminate your special occasion. Since it is portable, you can use it on your patio, deck, or any other outdoor entertainment area. To keep it looking its absolute best, simply wipe down with a damp cloth. It works with oil, and you can add citronella fuel to it to help deter insects.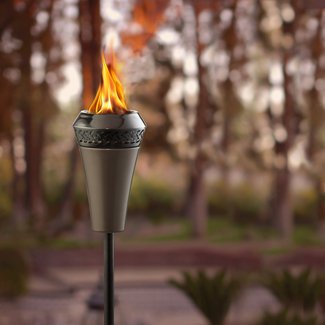 Island King Garden Torch
Keep flames burning big and bright with this uniquely designed torch bowl. Containing a weather-resistant gunmetal finish, it is easy to use and comes complete with an easy to assemble four-piece pole. Easily fill it up using the twist and pour mechanism, which allows for quick fills and less mess. You can also use it for filling citronella fuel inside these torches to keep the insects at bay. Available in a set of two, feel free to use it to complement any outdoor setting.