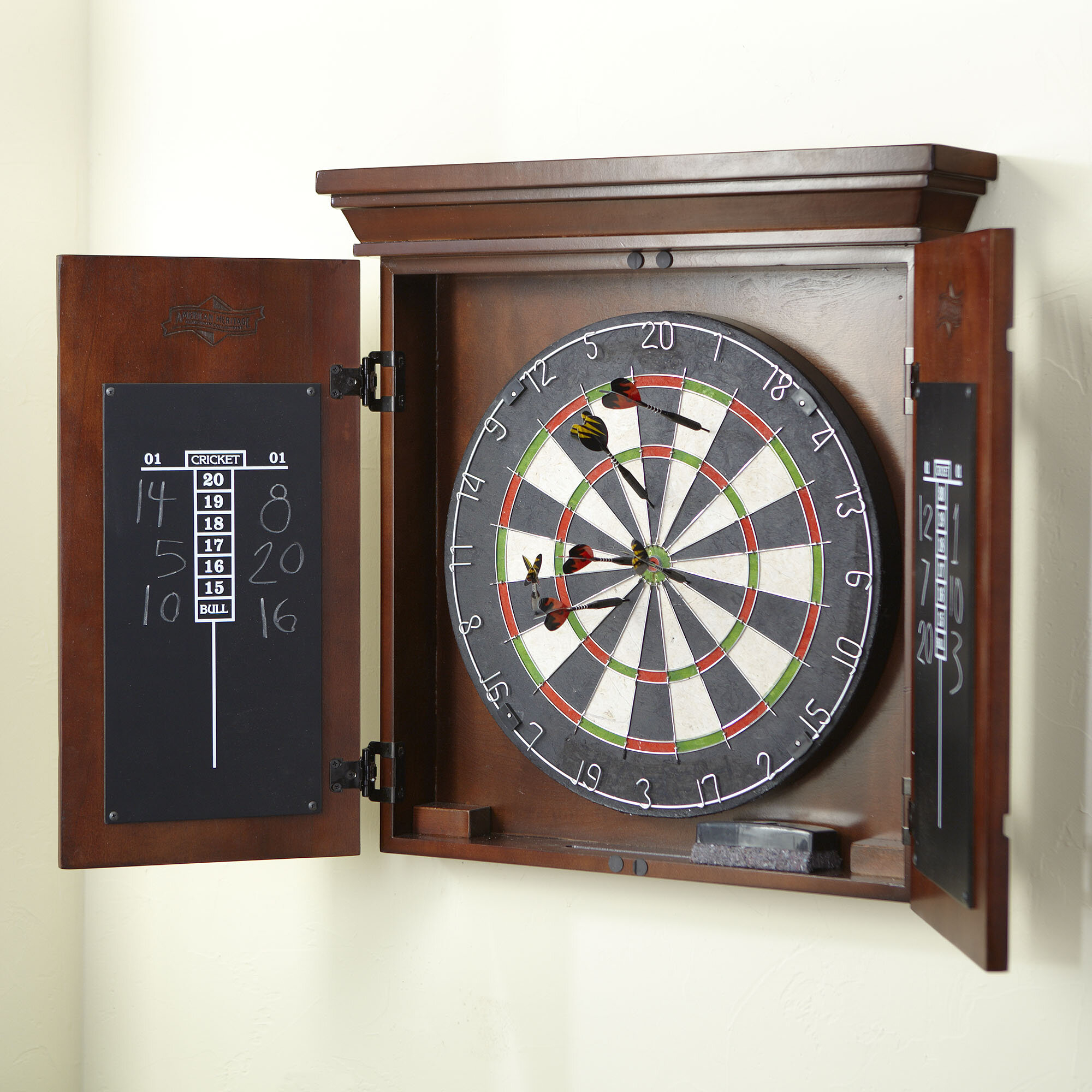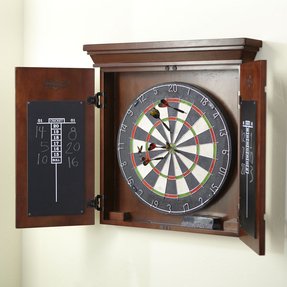 Sierra Dart Board
Classy traditional wall-mounted dart cabinet of solid wood with a warm brown finish. It features a dashy moulding top. Its doors have dark metal hinges. It includes a professional bristle board, 2 dart sets, 2 black chalk scoreboards.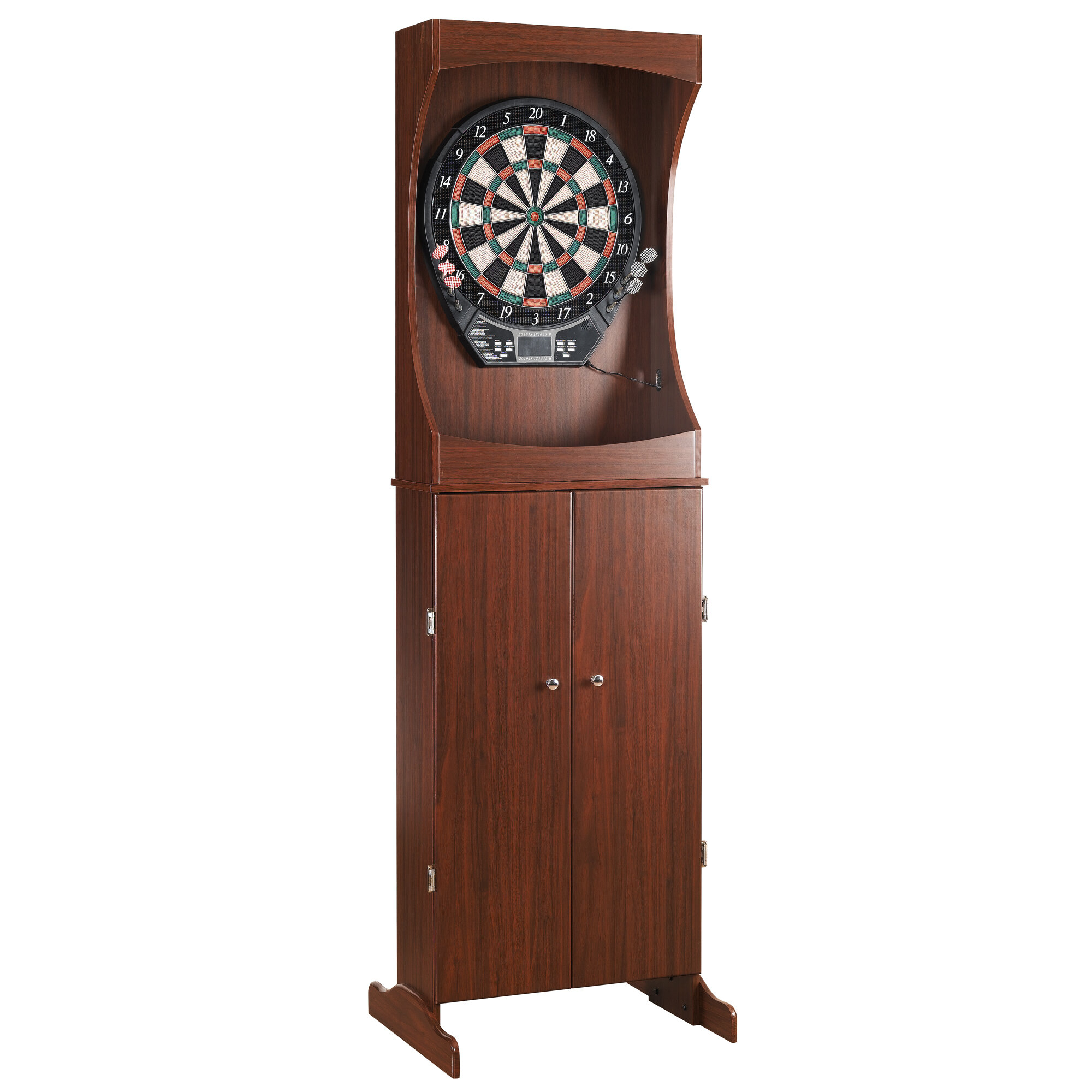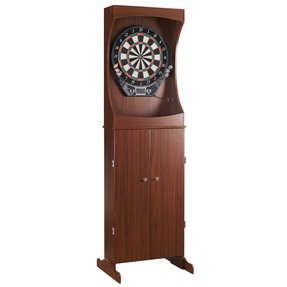 Outlaw Free Standing Dartboard and Cabinet Set
Traditional style dart cabinet set lending classic elegance to a game room. As sometimes combining modernity with tradition is highly commendable, the set is equipped with electronic dart board (please note that it requires batteries!).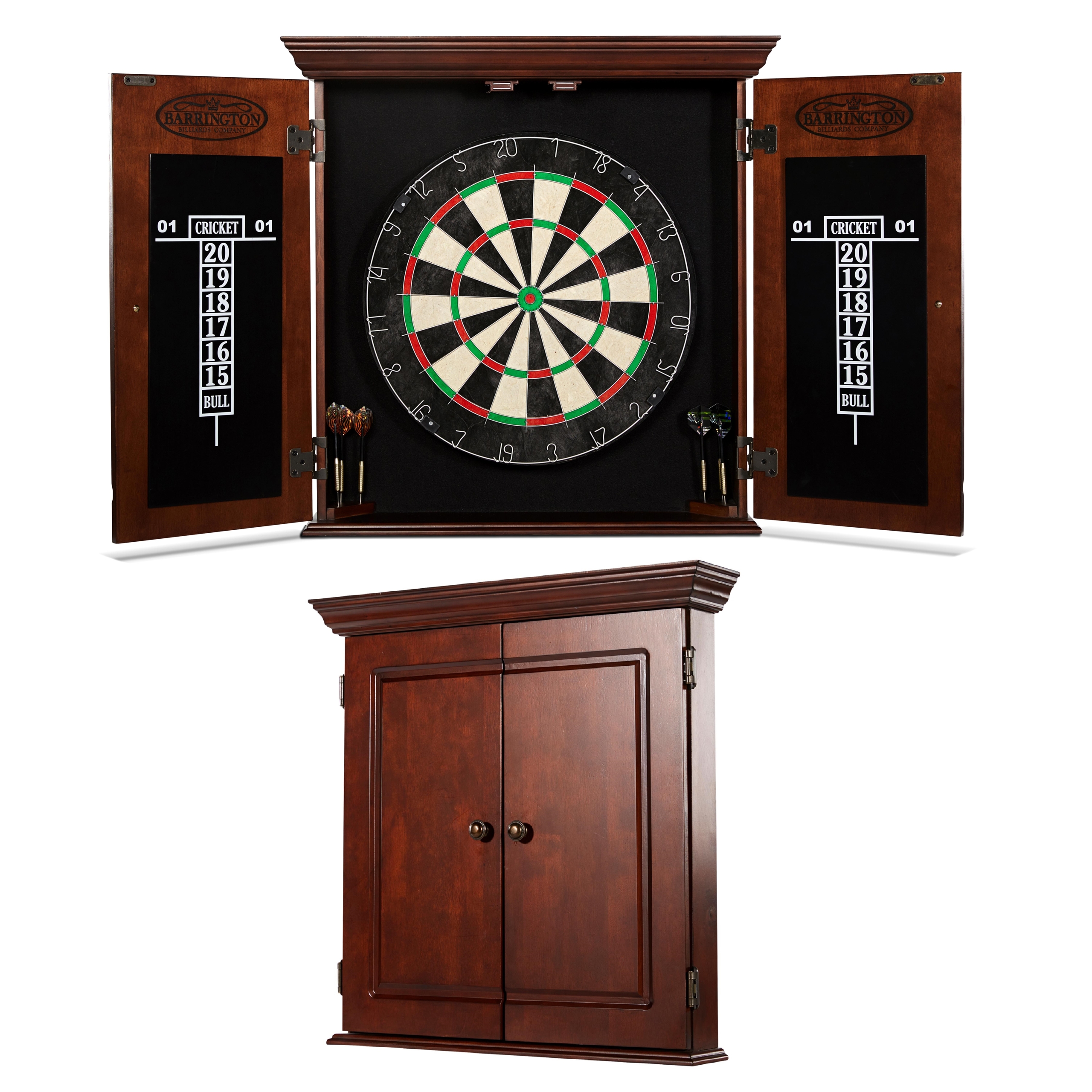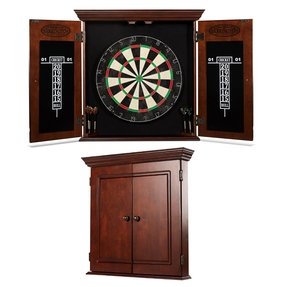 Cavalier Dart Board Set
This Entertaining Dart Board Set is designed in slightest details, and offers long and quality time while hanging out with your friends. The frame is crafted from solid wood, and includes two doors to properly secure the dart board, darts, and scoreboards.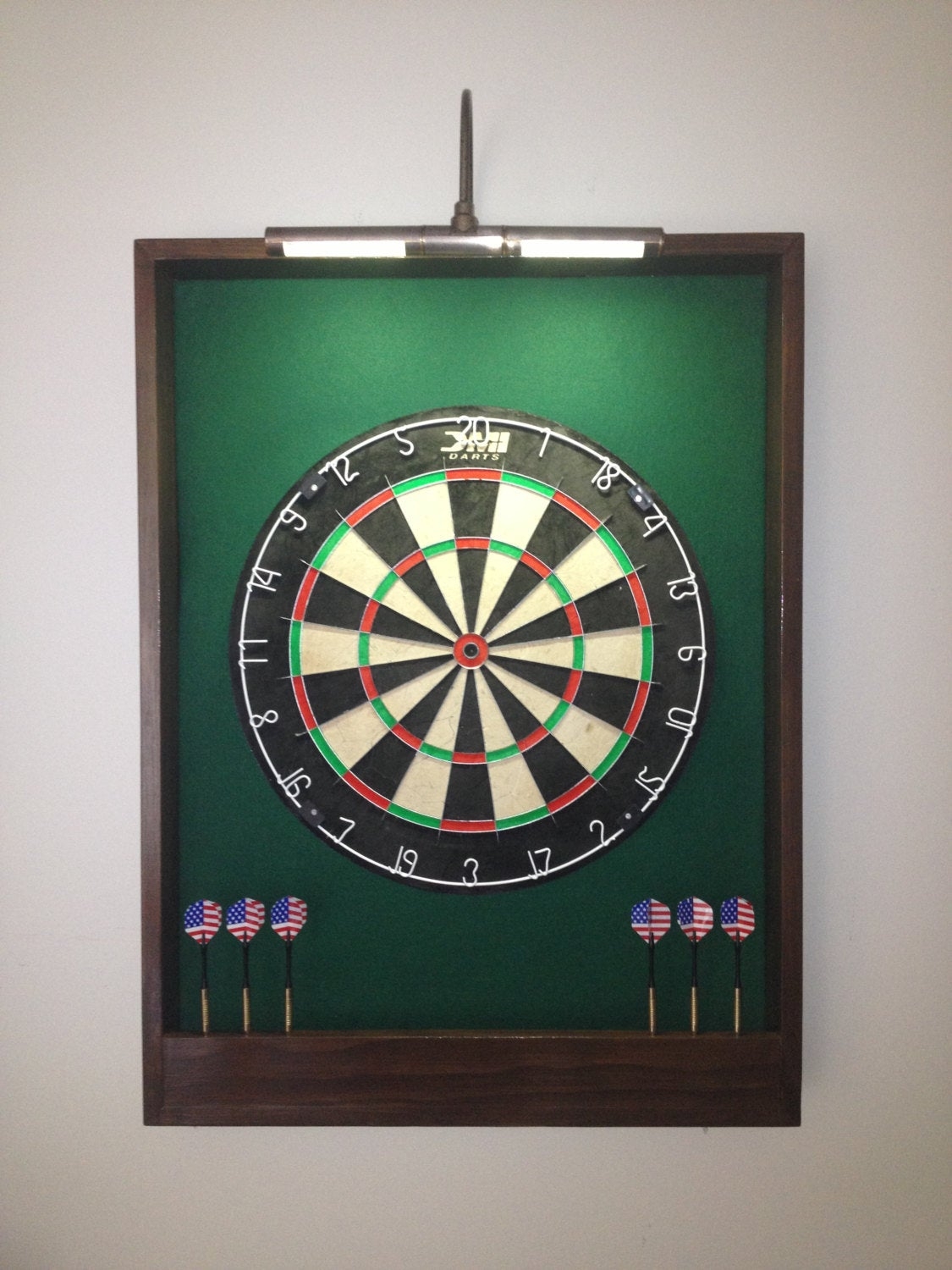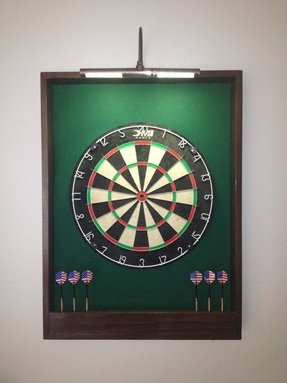 Led lighted sandstone felt brown trim
This dart board was enhanced by the addition of LED lights. The cabinet itself is pretty impressive, with added top illumination and place for keeping your darts. If you're looking for a modern dart cabinet, that's the way to go.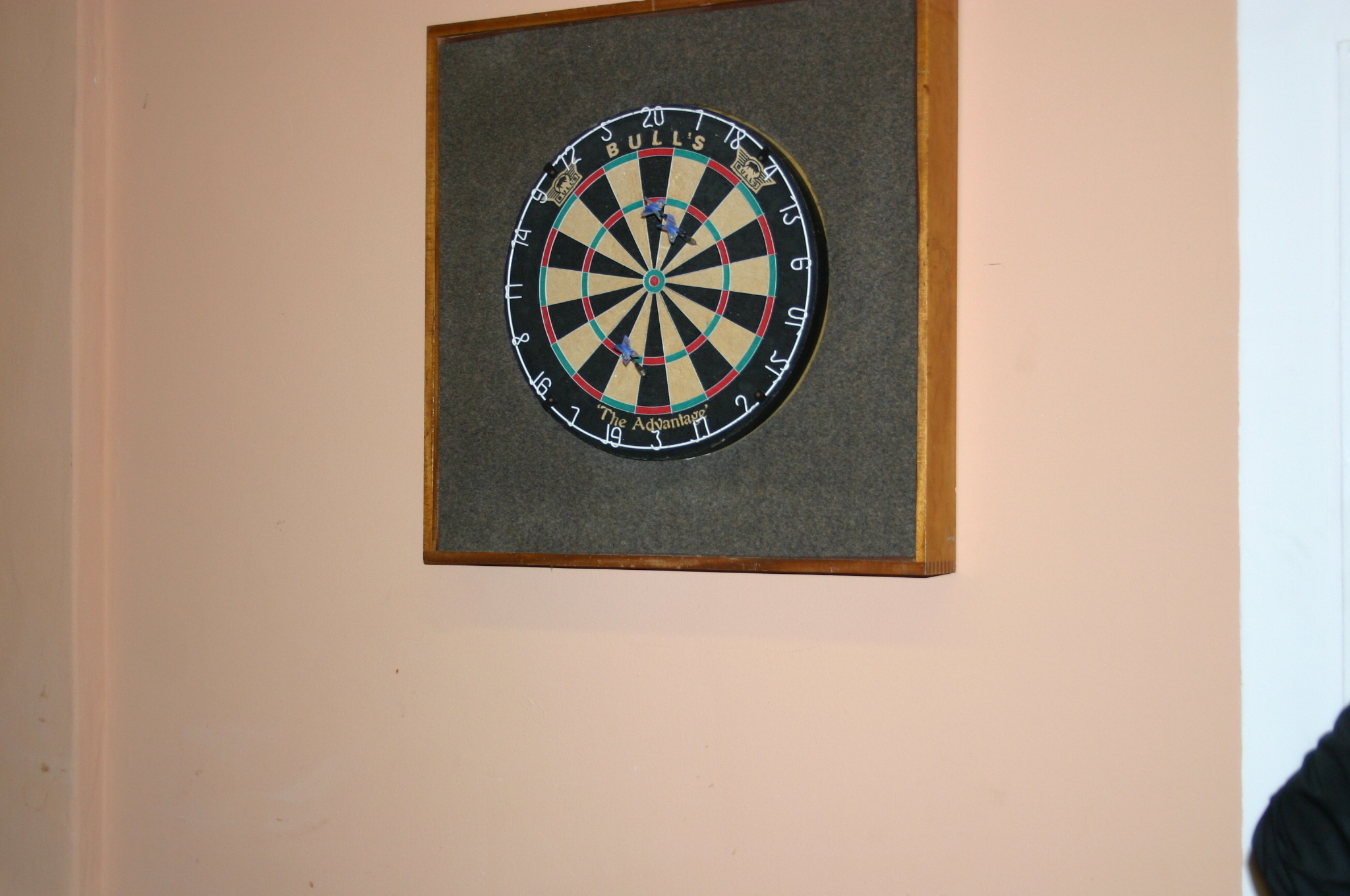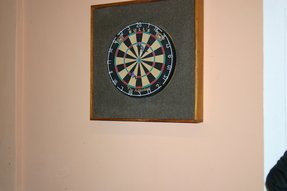 Lighted red black trim custom dart board
Wooden casing in black color with a scoreboard, a colored bristle disc, arranged in a circular circle with punctuated fields, on a red background. That is how presented here custom dar board cabinet looks like. Darts surprises with American flags.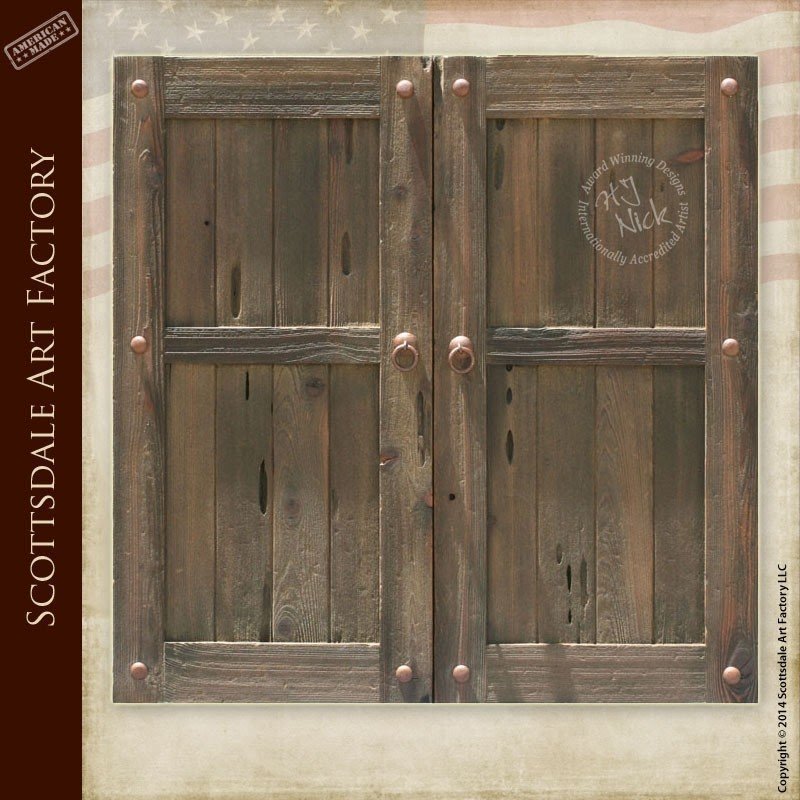 This custom dart board cabinet is made from solid wood with a wire brush finish, adding a cool rustic vibe, known from the western saloons. There are dozens of various personalization options, including the size, colour, finish, shelving etc.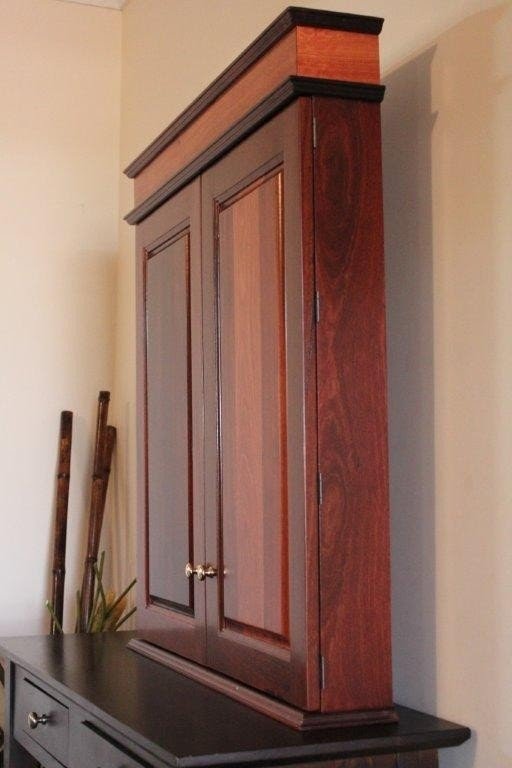 An elegant dart board cabinet, constructed of solid wood and covered in a cherry finish. The cabinet is quite narrow, and features 1 two-door cabinet with decorative pull-knobs, which properly secures the whole dart equipment, inside.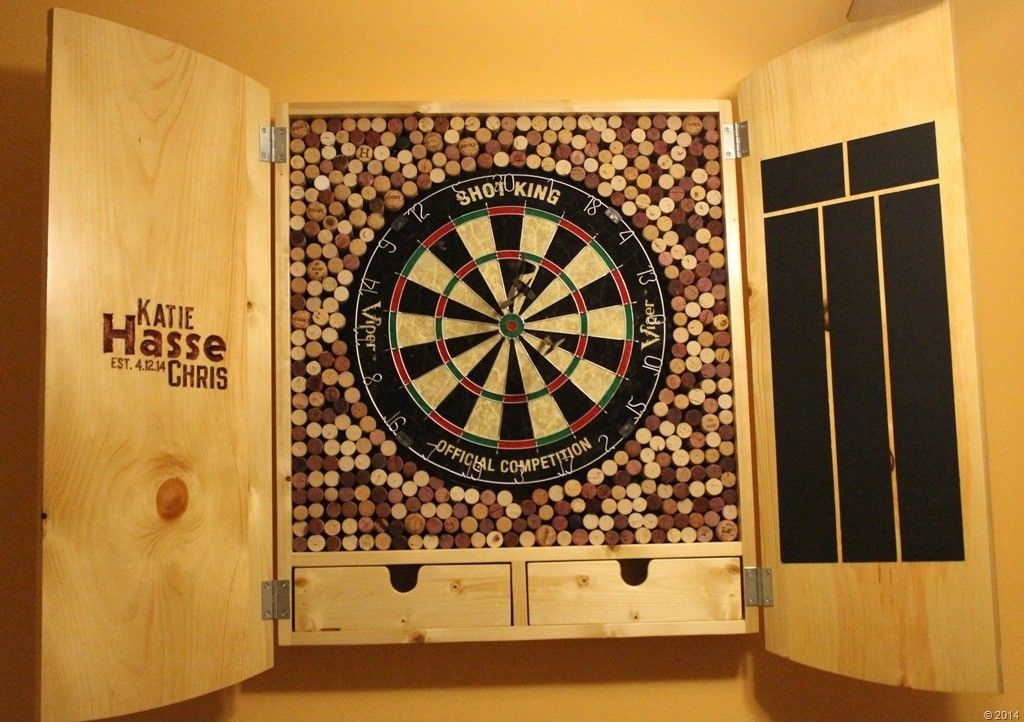 Dart board designed for mounting on the wall. It is mounted on wooden frame. Includes 2 drawers for storing accessories. Suitable for residential and commercial use.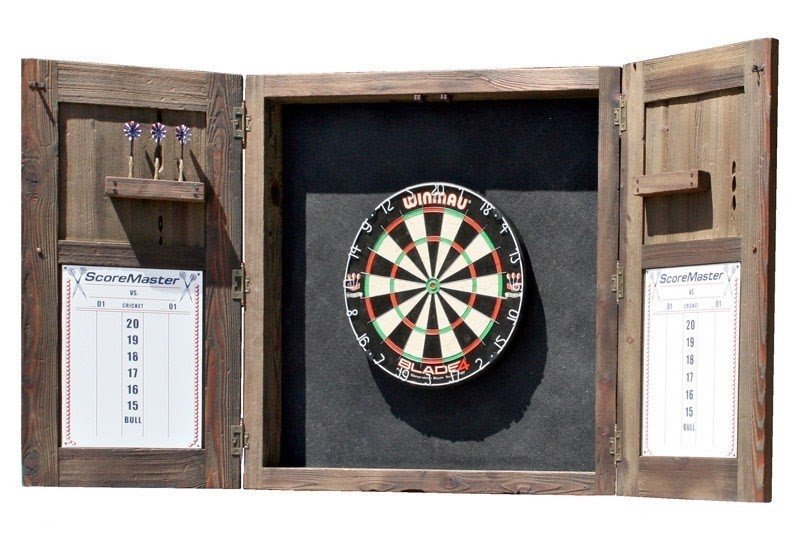 We have wardrobes for the bedroom, cabinets for towels in the bathroom, shoe cabinets and kitchen pantries. This wooden ash wood cabinet - with double doors is something completely different. It is a custom dartboard cabinet, to have a dart fun.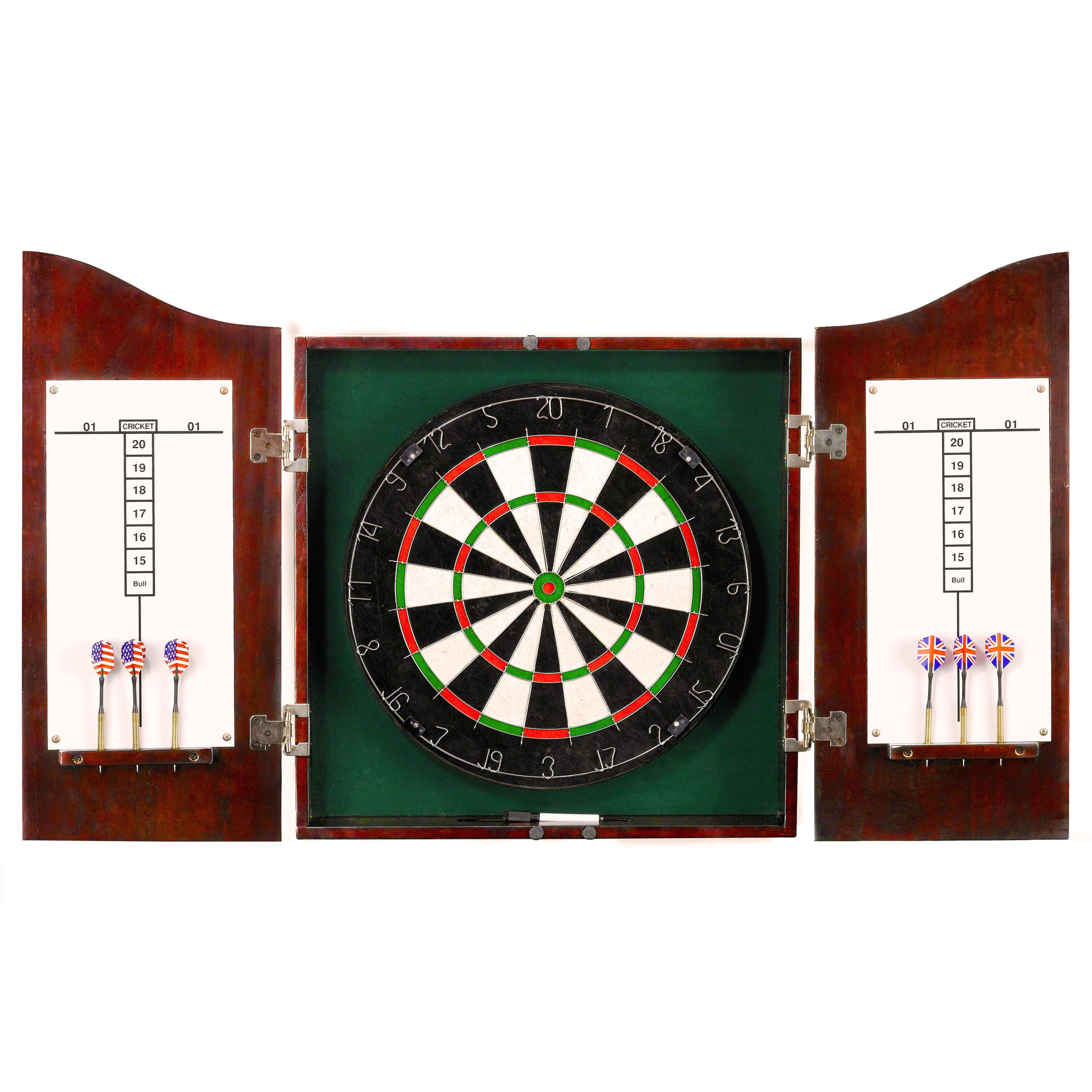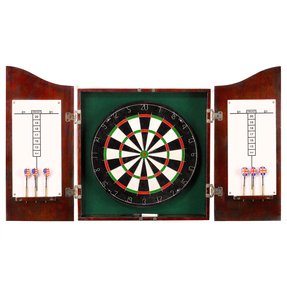 Sliding dart board dedicated for commercial use. Designed for mounting on the wall. It is fitted with table for points. Traditional form and modern design.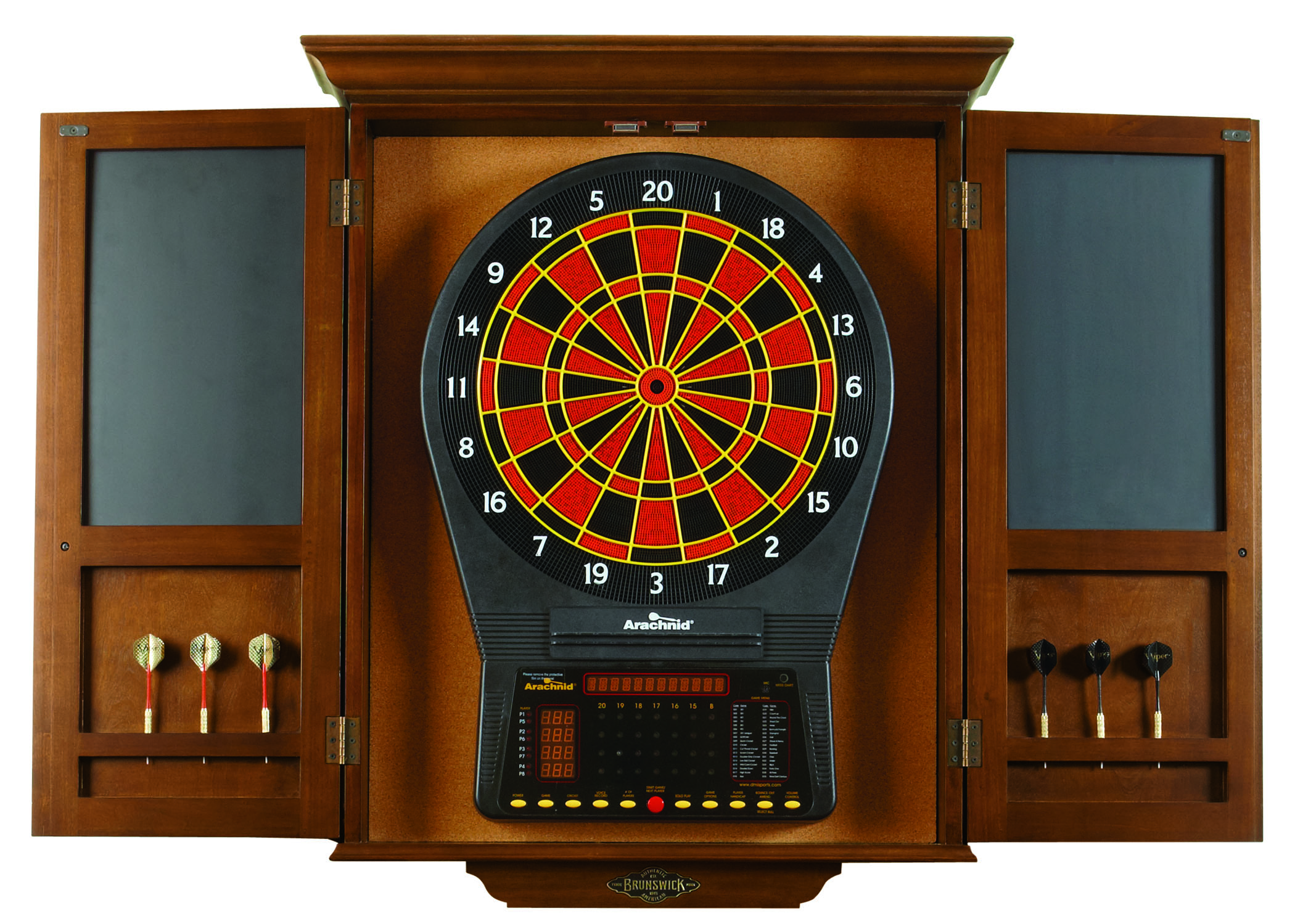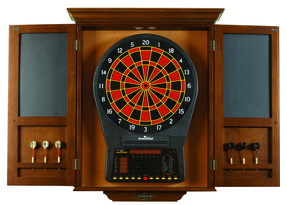 Cabinet is constructed of hardwood and harwood veneers with antique ...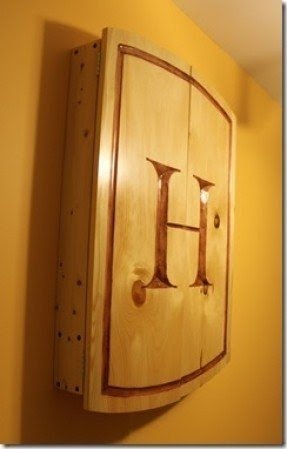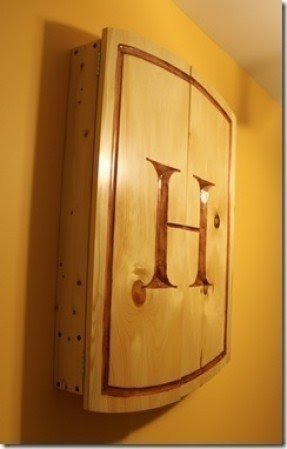 Personalized enclosed to play darts - it's an interesting gift idea for the lover of this game. Made of pine wood custom dart board cabinet, it has a double front door with an engraving of the selected letter, e.g. letters from the surname.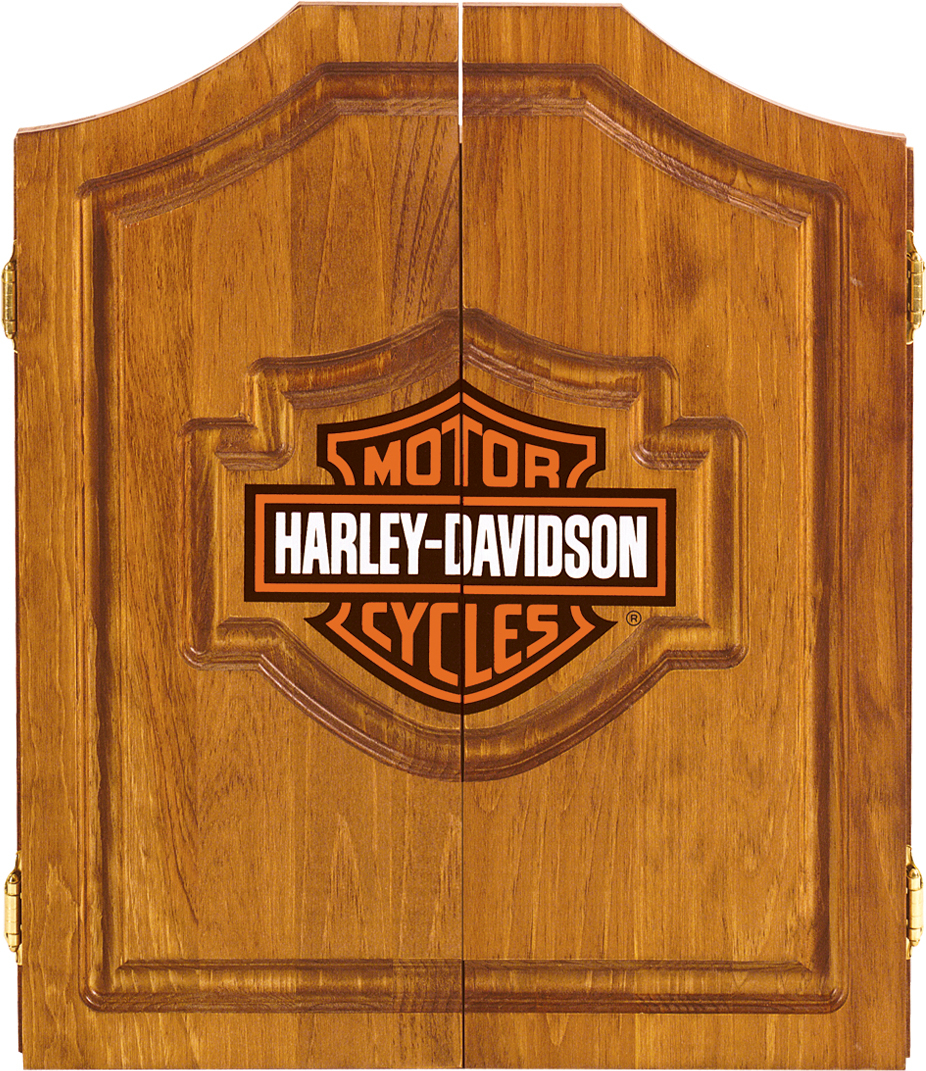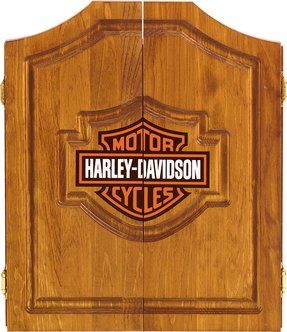 Harley-Davidson™ Bar and Shield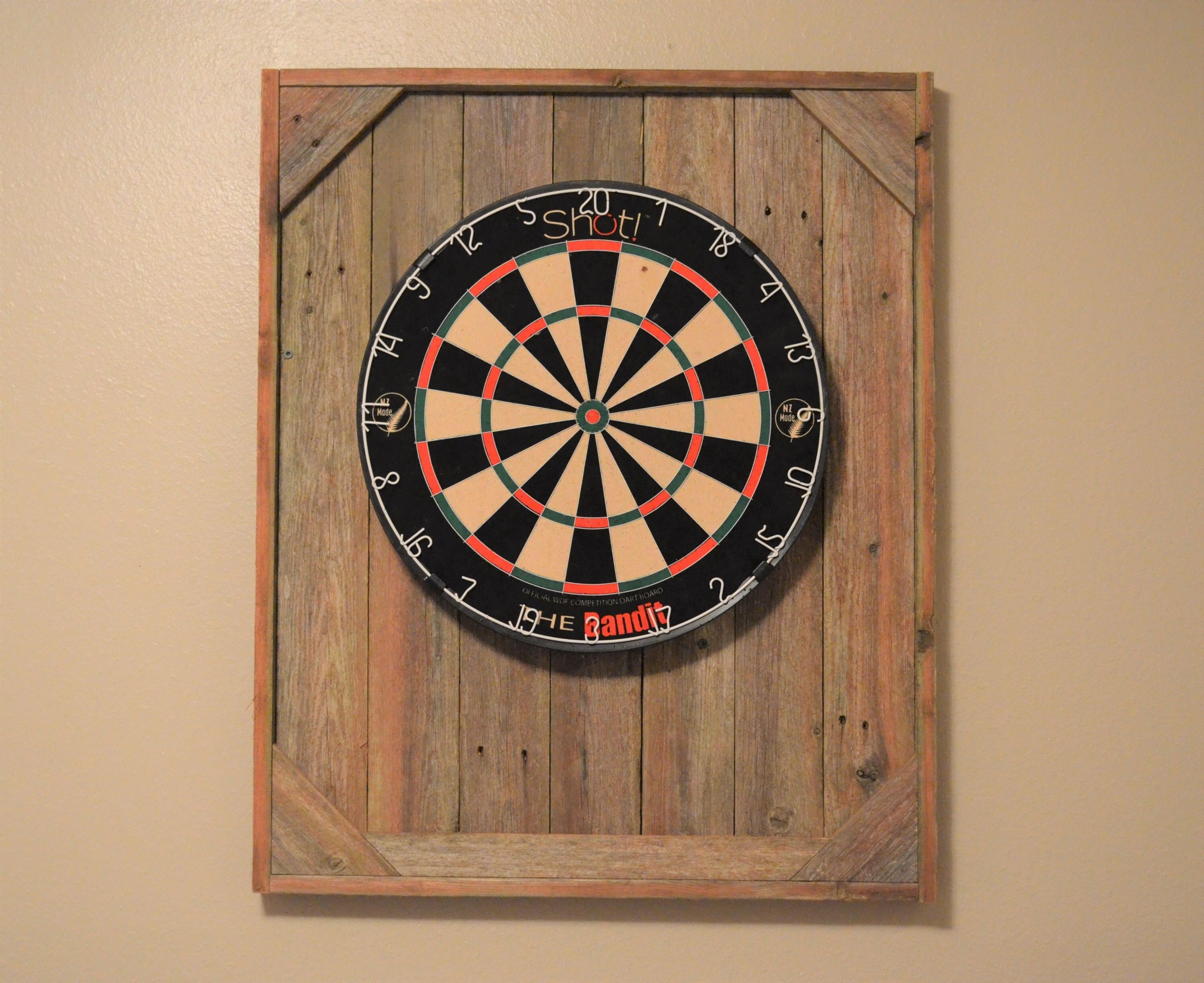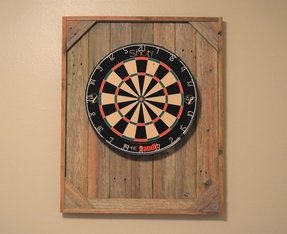 If you are party animal and love parlor game, this dartboard will be perfect for you! Due to special background made of wine's stoppers. It looks very stylish and doesn't stake a lot of place, so it can be inserted both in your home, and pub.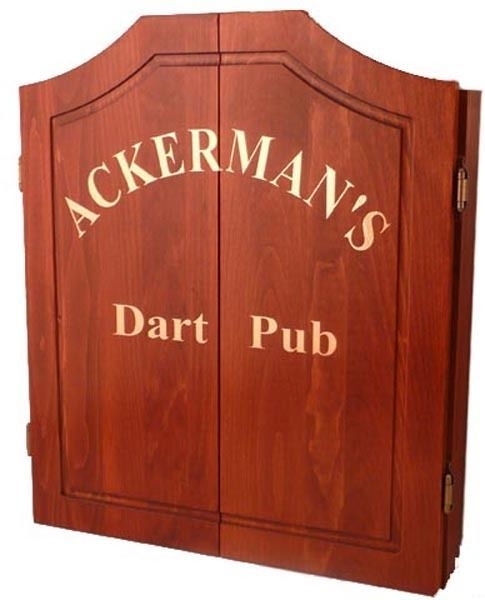 Details about DART CABINET PERSONALIZED DARTBOARD & 2 SETS OF DARTS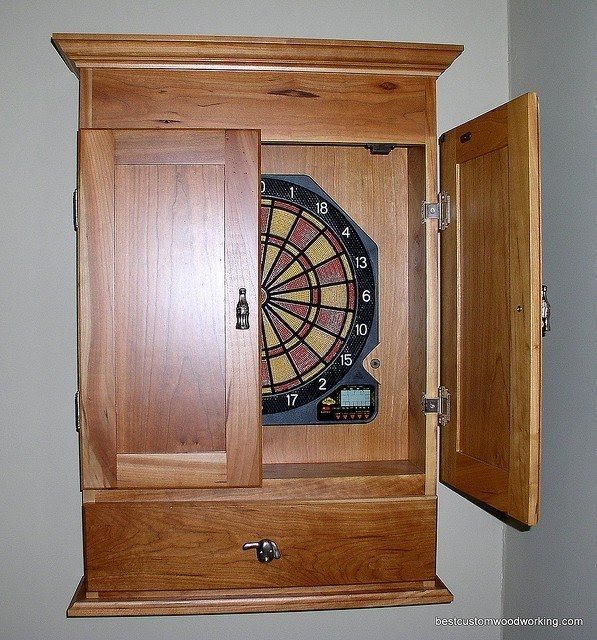 Dart board is indispensable in a game room or in a man's cave. Get a darts board incorporated into a personalized wooden cabinet, coming with all the equipment that you'll need to play. Coming with a functional lockable drawer.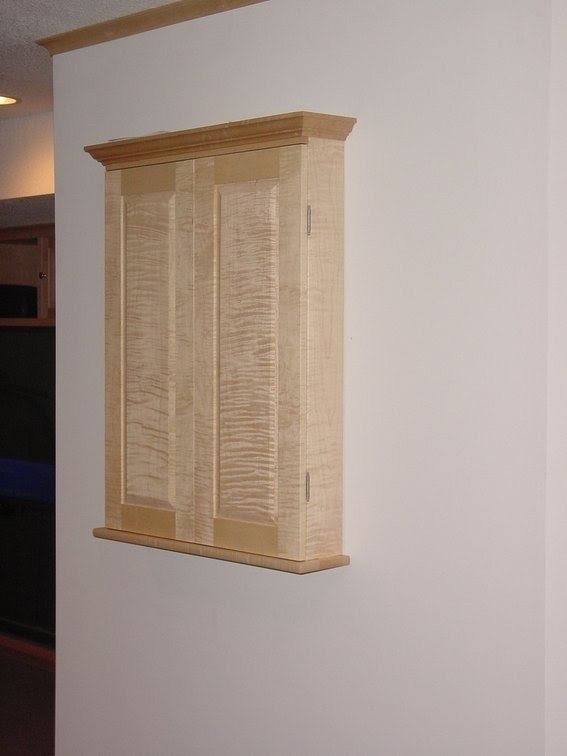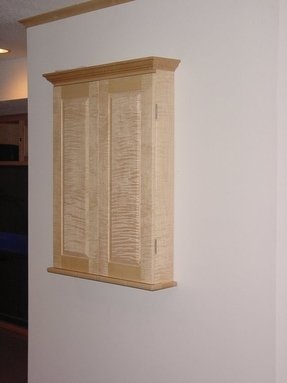 This custom made maple dartboard cabinet constitutes a great proposition for all fans of darts. Finished with natural, bright maple, it will bring a warm, soft touch one's living room or bedroom space.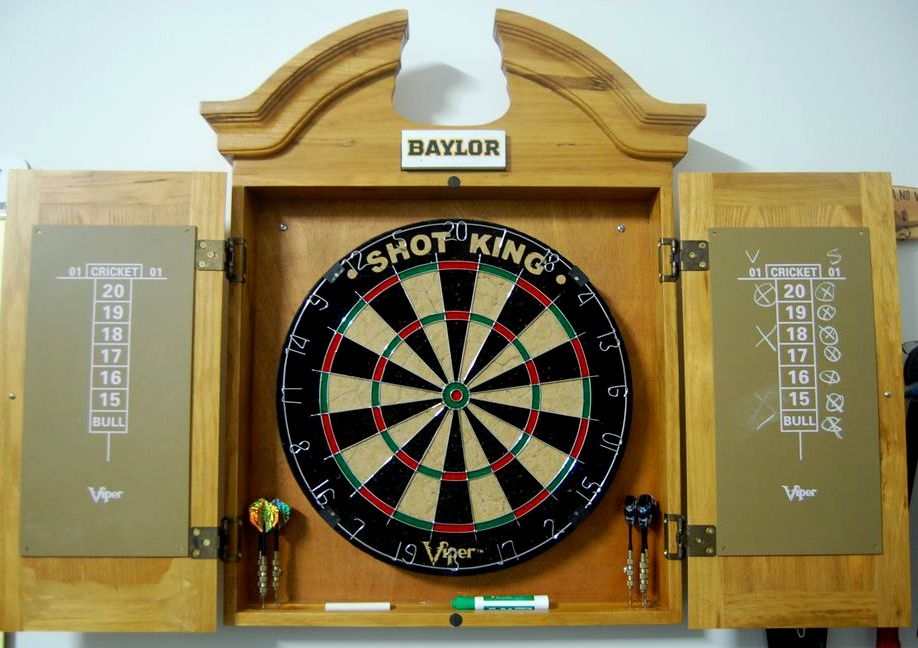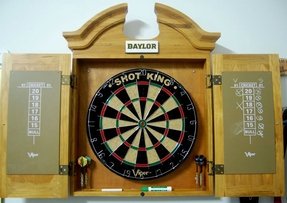 My custom Baylor dartboard...thinking of staining the wood to make it match my pub table. Not sure though. This will also move from the garage to the game room once it's complete.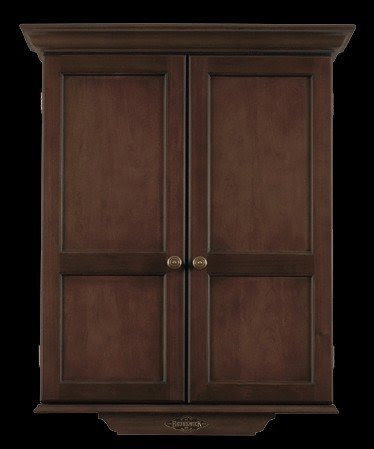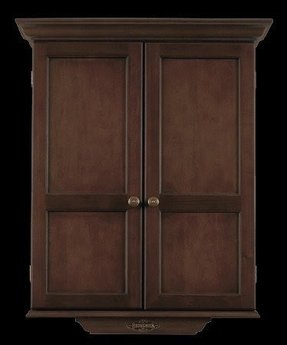 499.00 - Espresso Finish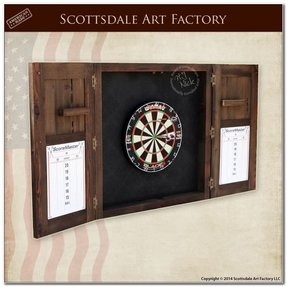 Dart Board Cabinet - Design From Historical Record - DBC316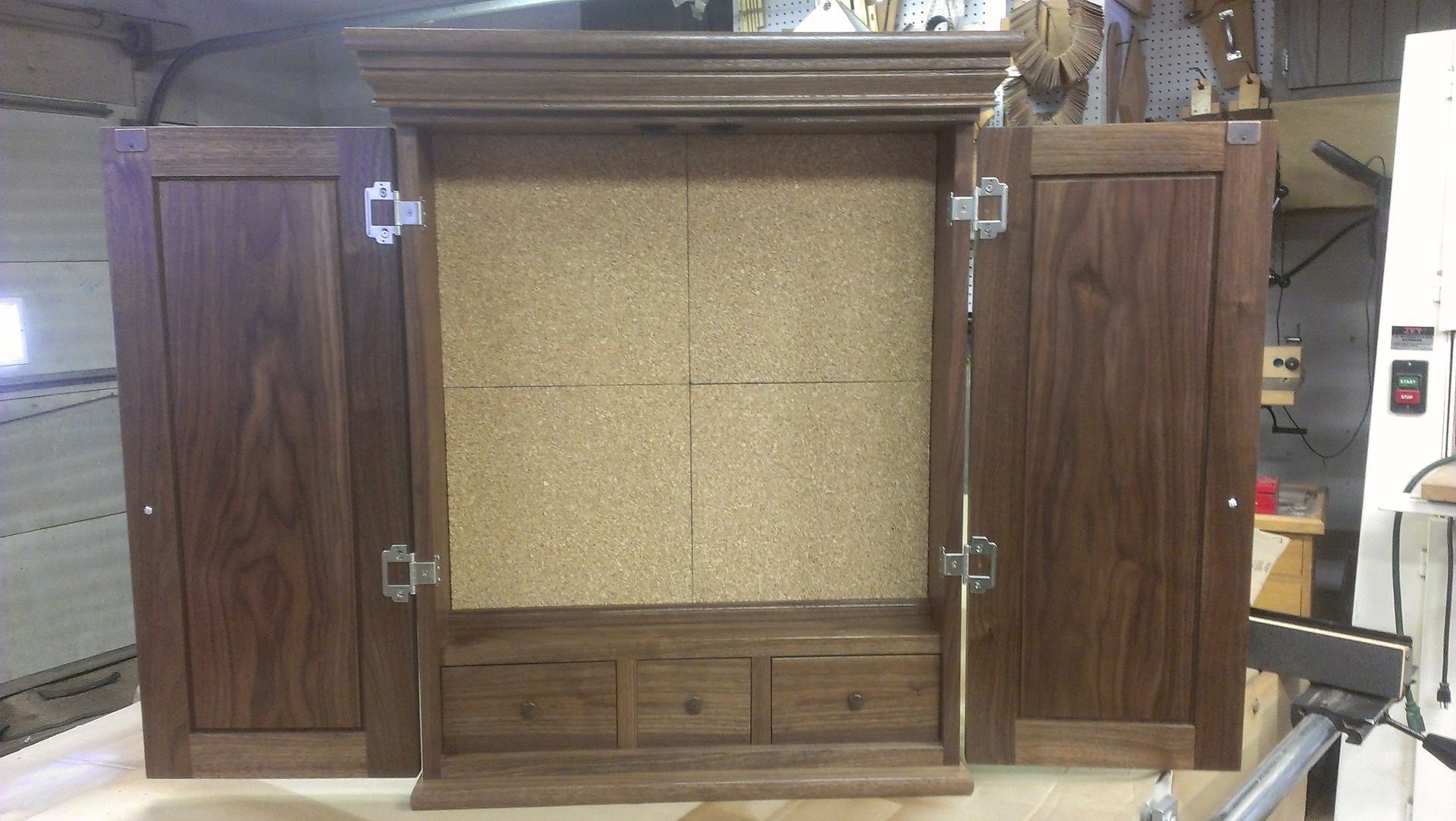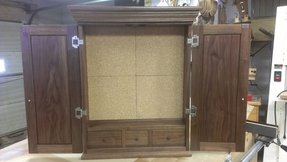 Custom Made Maple Dart Board Cabinets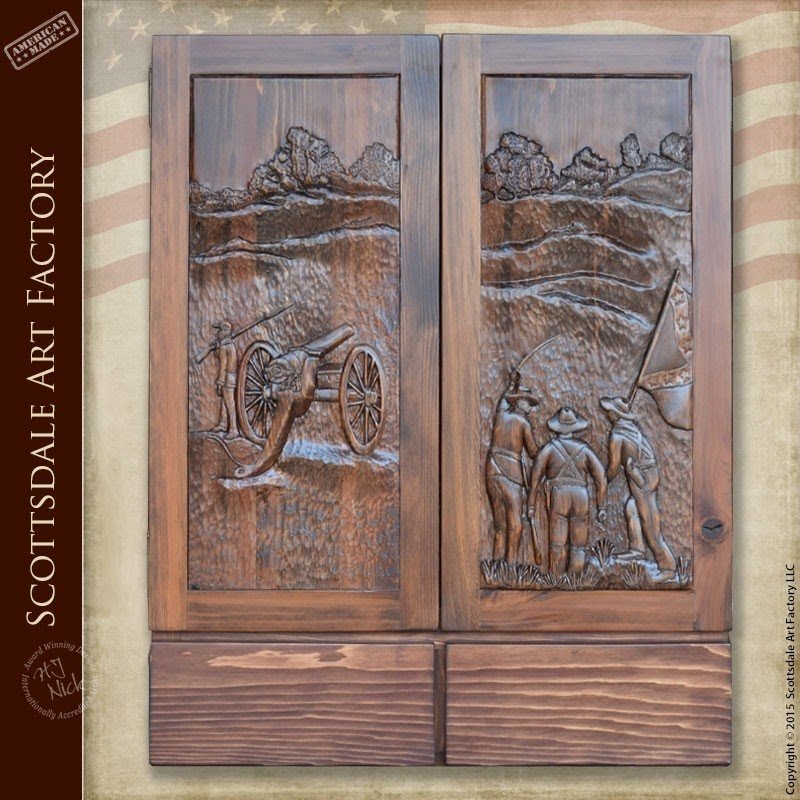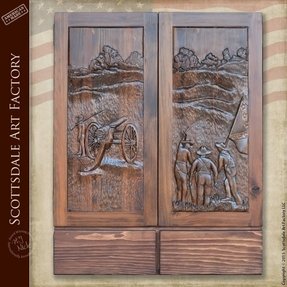 A splendid choice for game rooms with vintage accents. This dartboard is hidden in a wooden case with 2 artistically-carved doors that display a Civil War battlefield with a canon and bunch of soldiers.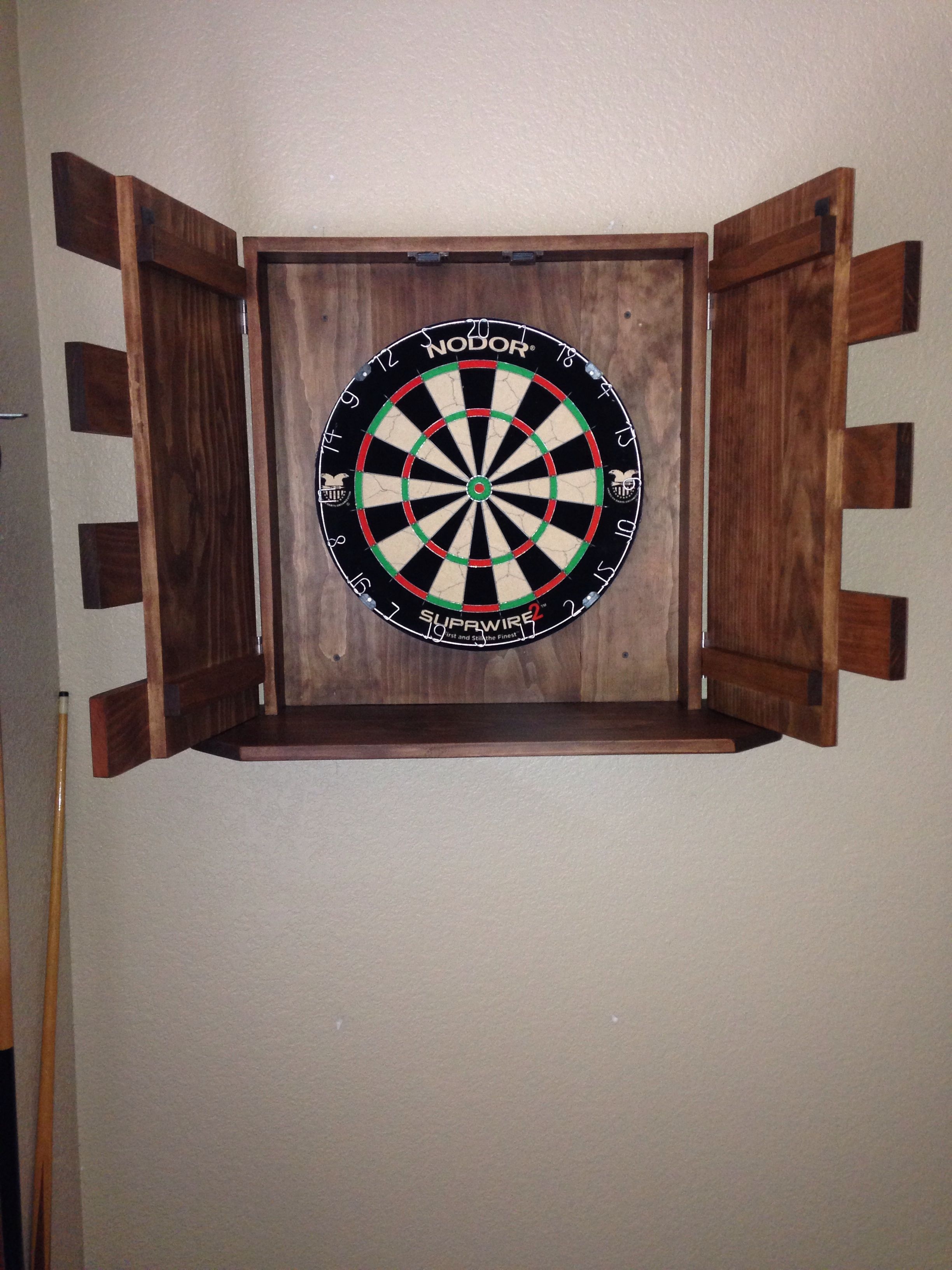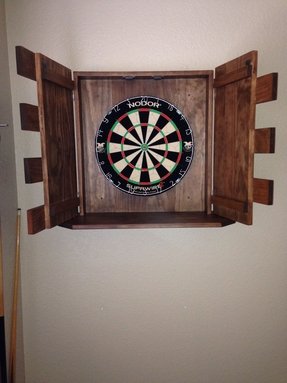 Finished dart board cabinet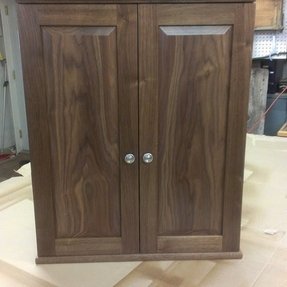 Custom Made Walnut Dart Board Cabinet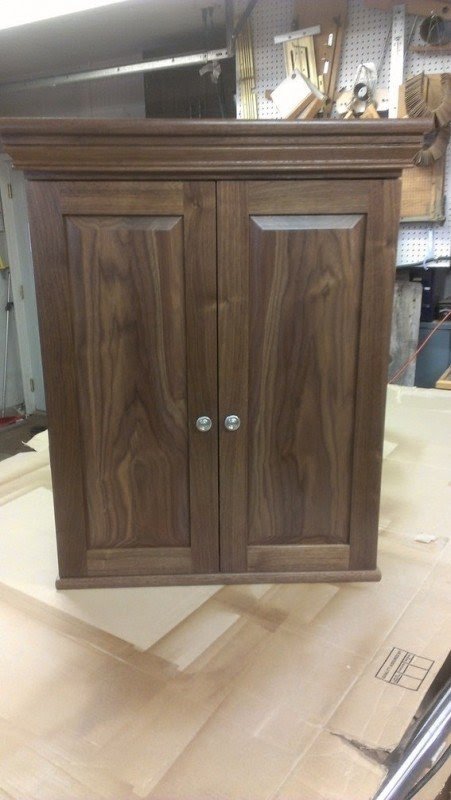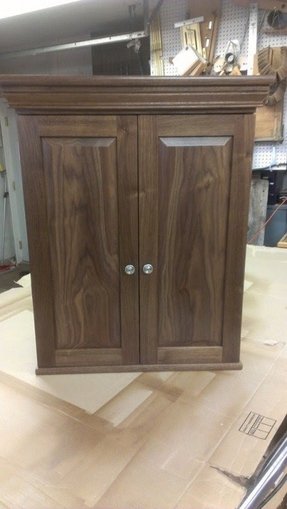 Custom Made Walnut Dart Board Cabinet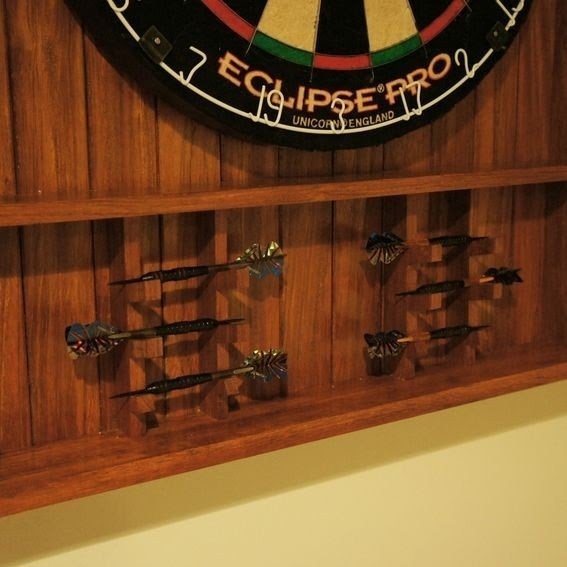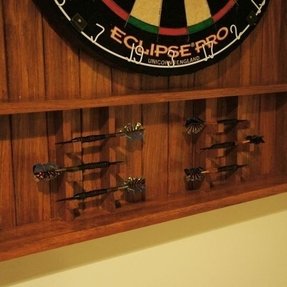 The game of darts is fantastic and the falcon eye trains. Antique carved wooden doors made this custom dar board cabinet, and ideally adapted for darts, metal supports. A strong finish, comfort, and a natural rustic style.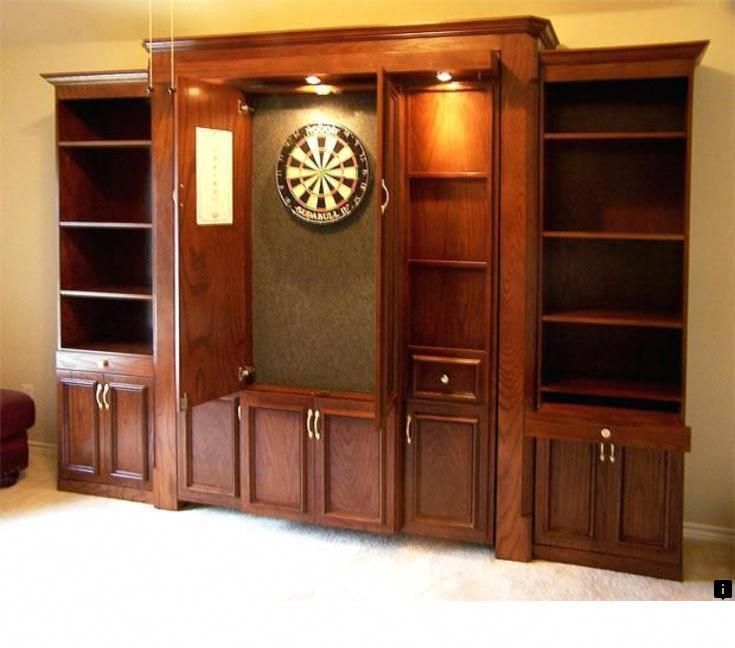 A cleverly designed Murphy bed, which when folded up offers a dart board behind the cupboard doors. A funny project for all fans of intricate design. All carved in stylish, deep brown wood.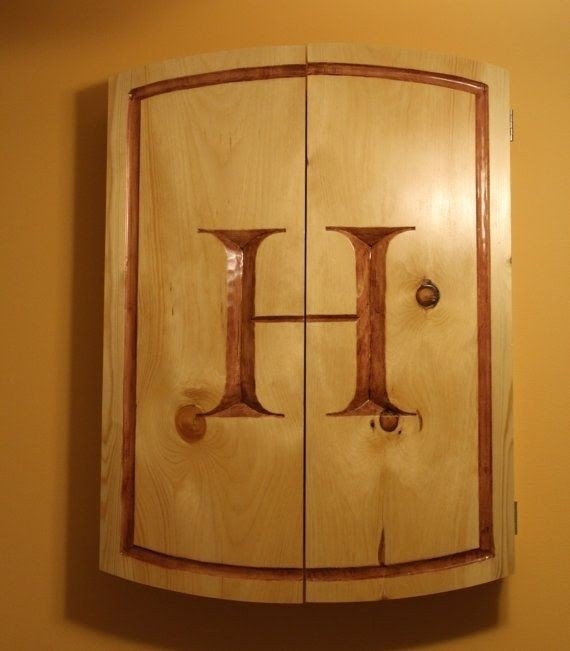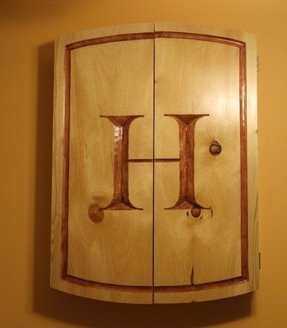 Dart Board Cabinet with Wine Corks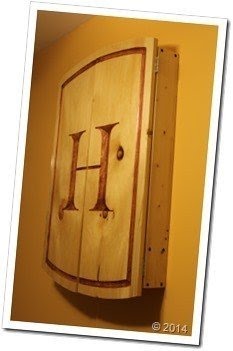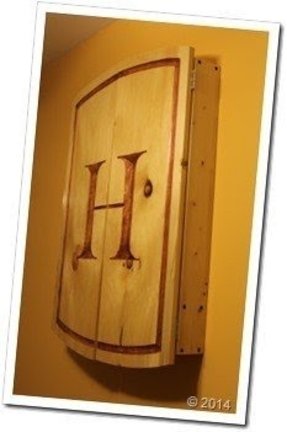 This custom-made, dart-board cabinet constitutes a proposition for all darts lovers. Made from stylish, oak wood, it enchants with its dense graining, emphasizing the traditional appeal.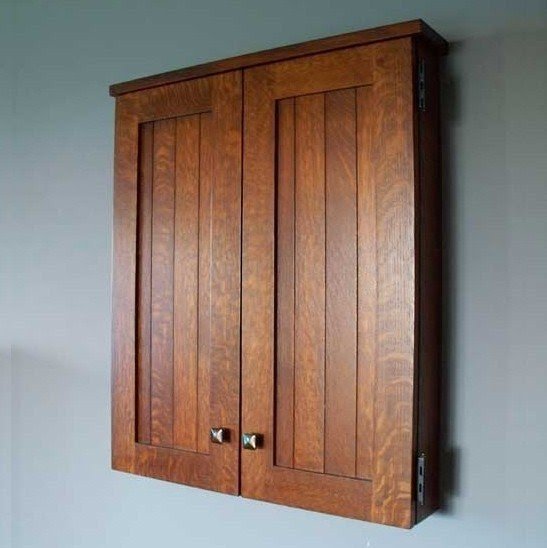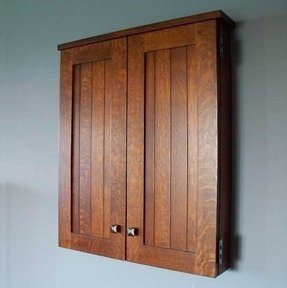 Craftsman Style Lighting & Hardware. Mission Furniture and Mirrors ...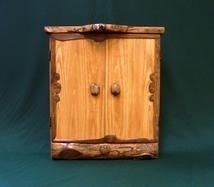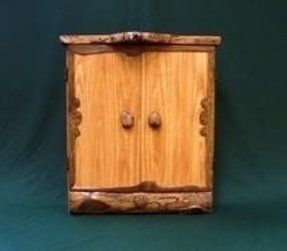 Custom made, this dartboard cabinet will be a perfect proposition for all fans of the game. Handmade, from high-quality bright wood, it would provide long-lasting entertainment and correspond well to the surrounding decor.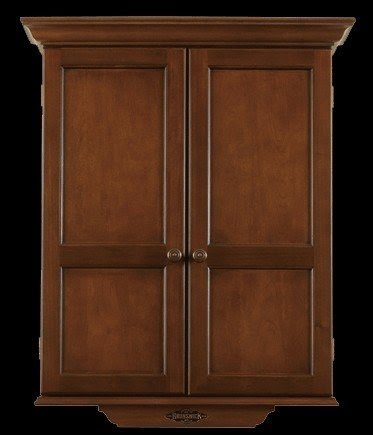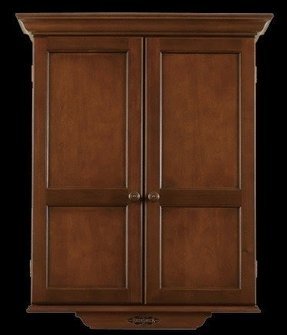 499.00 - Chestnut finish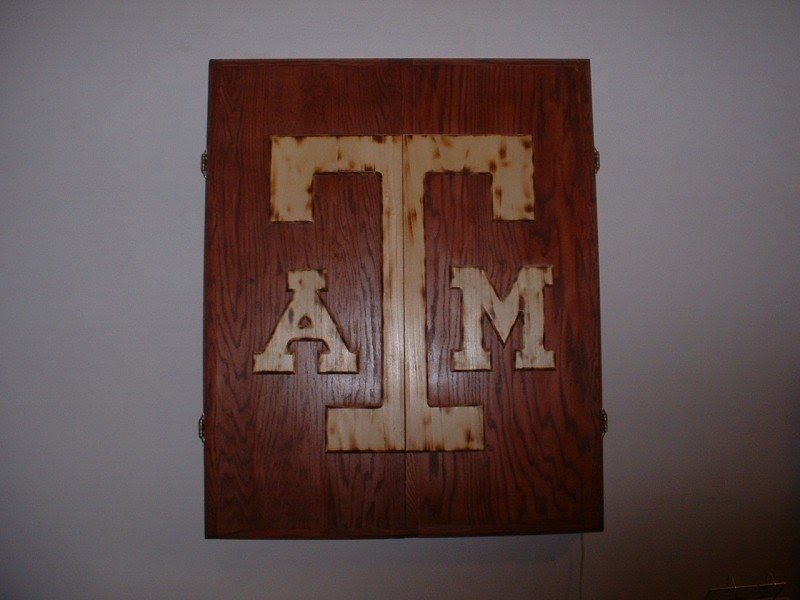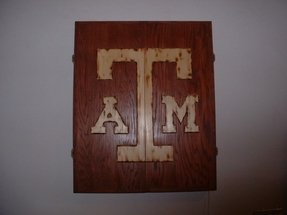 1st dart board cabinet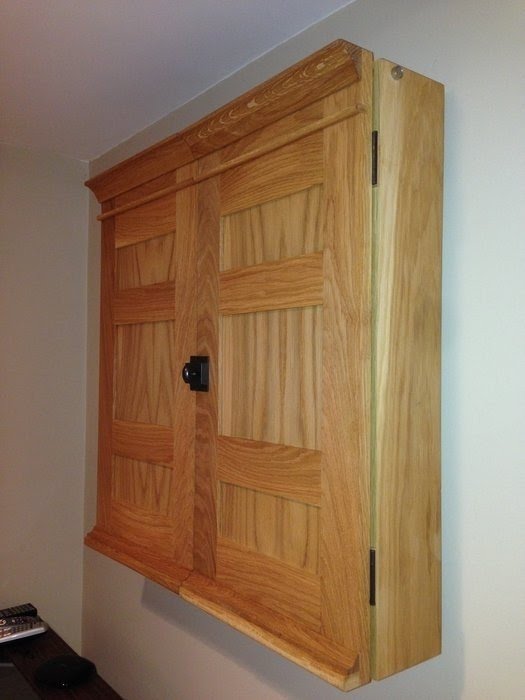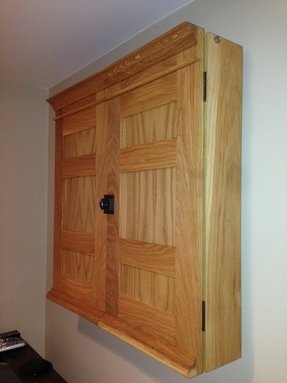 image image image image image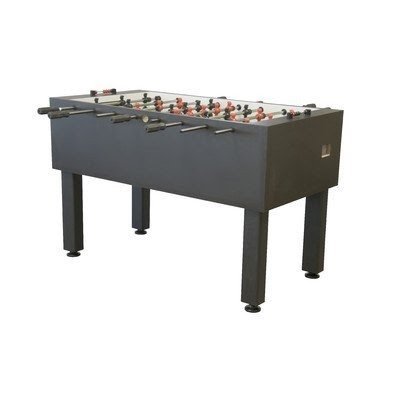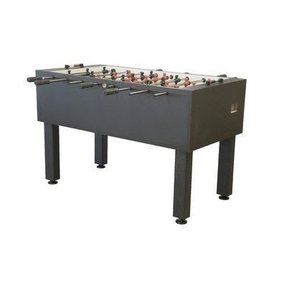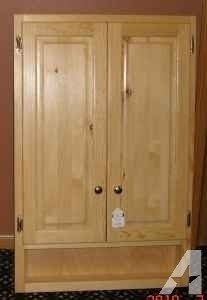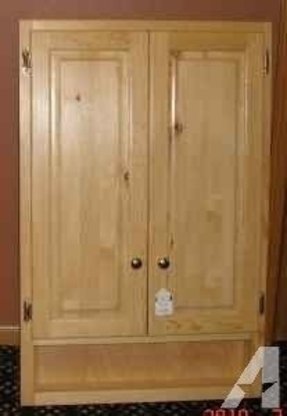 diams; SALE!!! - Custom Dart Board Cabinet ♦ - (Slinger for sale in ...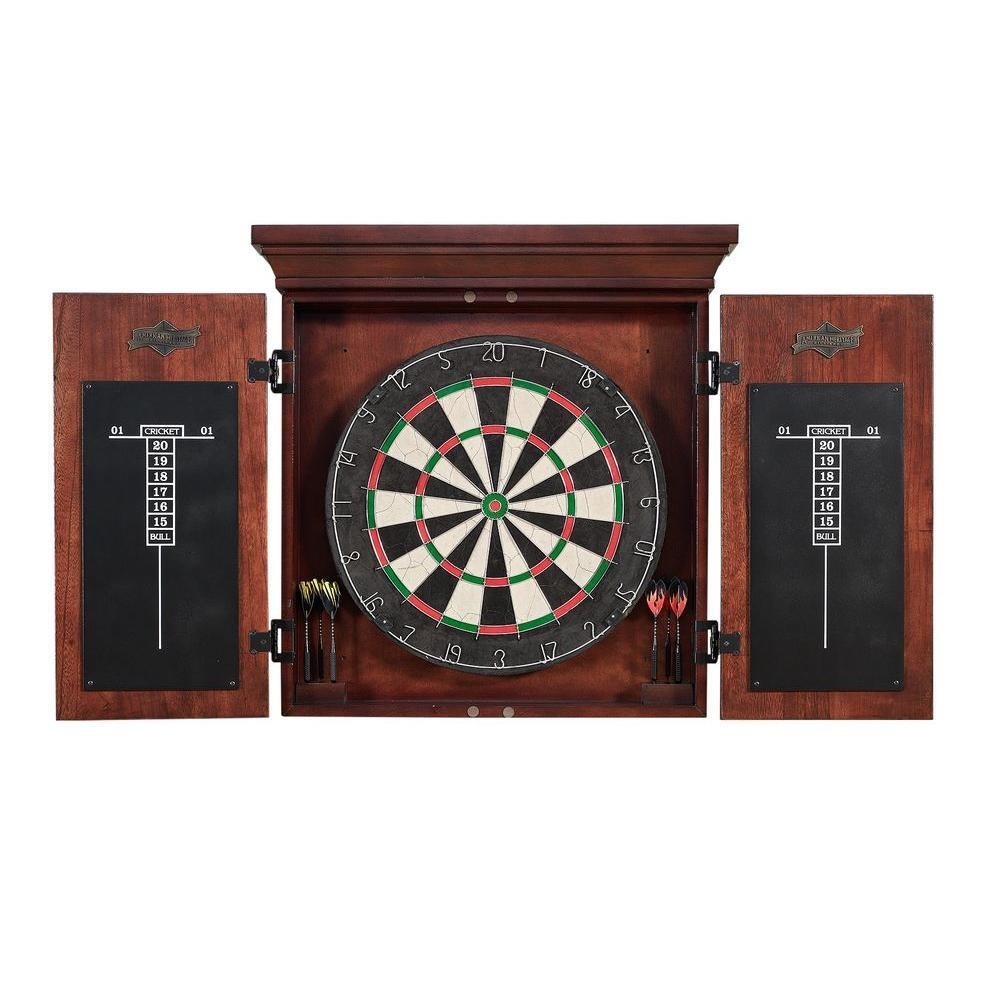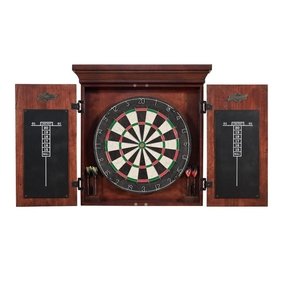 Athos Dart Board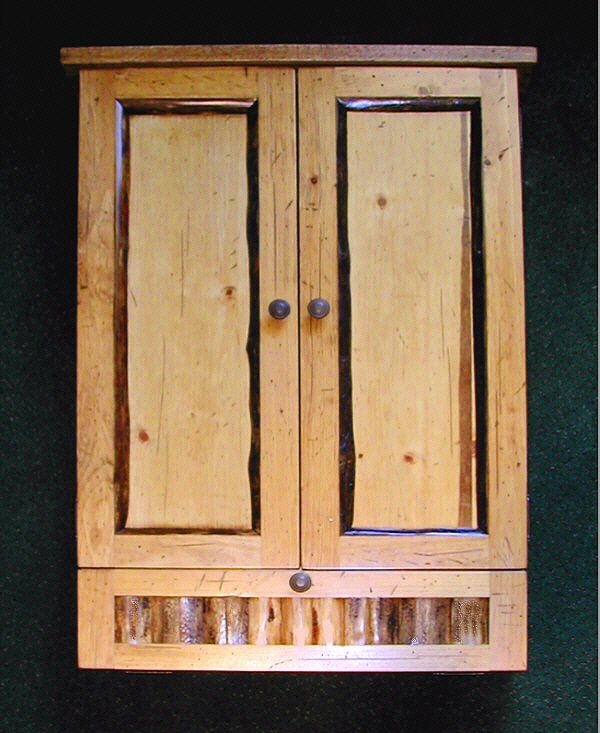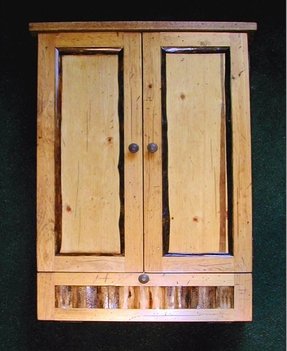 This dart board cabinet is just the perfect option for when you need to store some of your belongings or simply keep parts of the darts game in place, safely and neatly tucked away. It sports the strong and light finish of the durable wooden structure and is an easy fit for any traditionally styled space.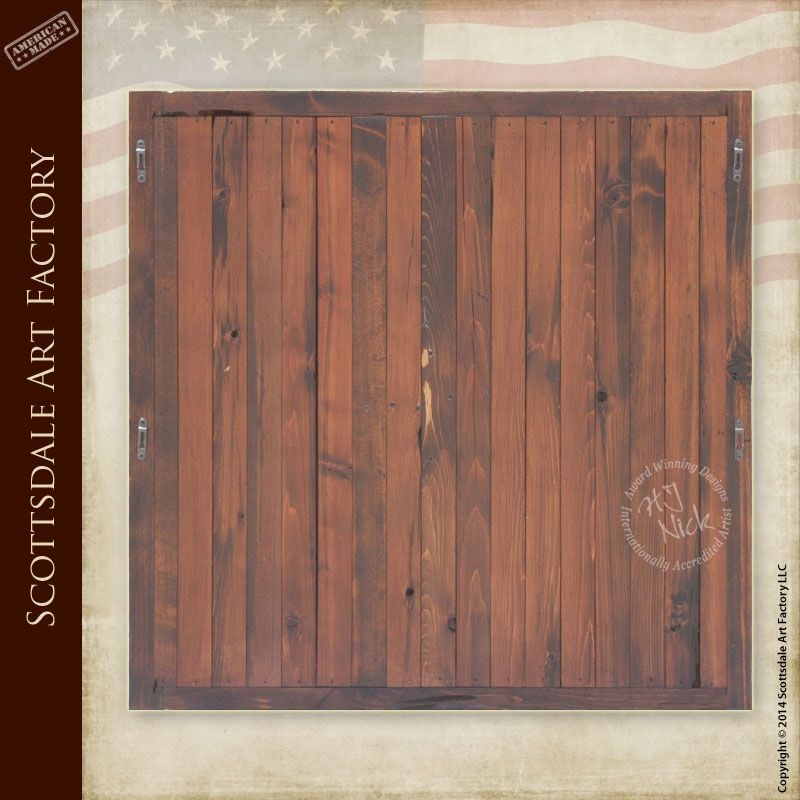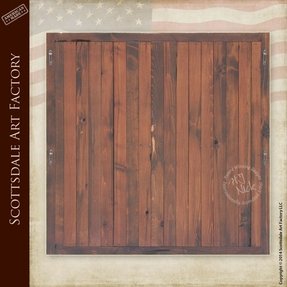 Custom game room cabinets and furniture finished on all sides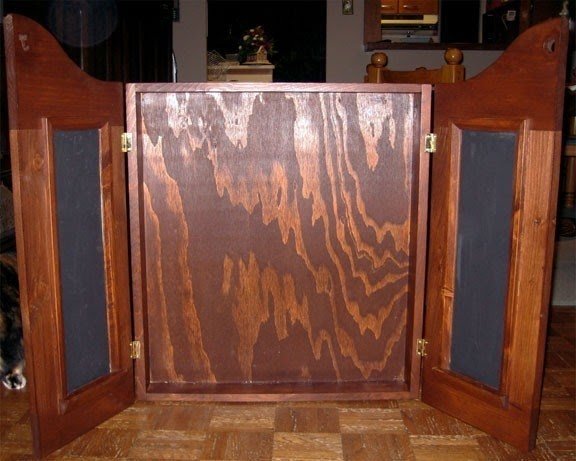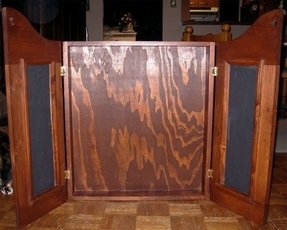 Dart%20Board%20Cabinet.JPG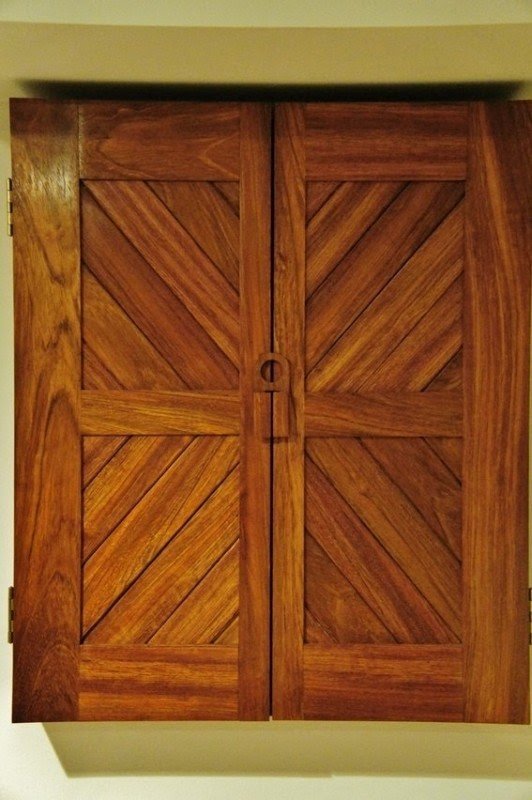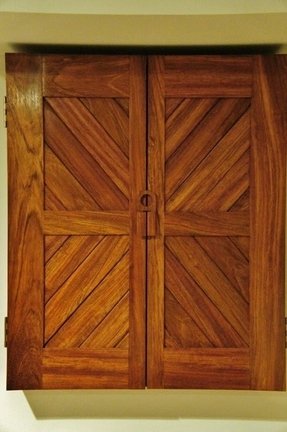 Custom Made Dart Board Cabinet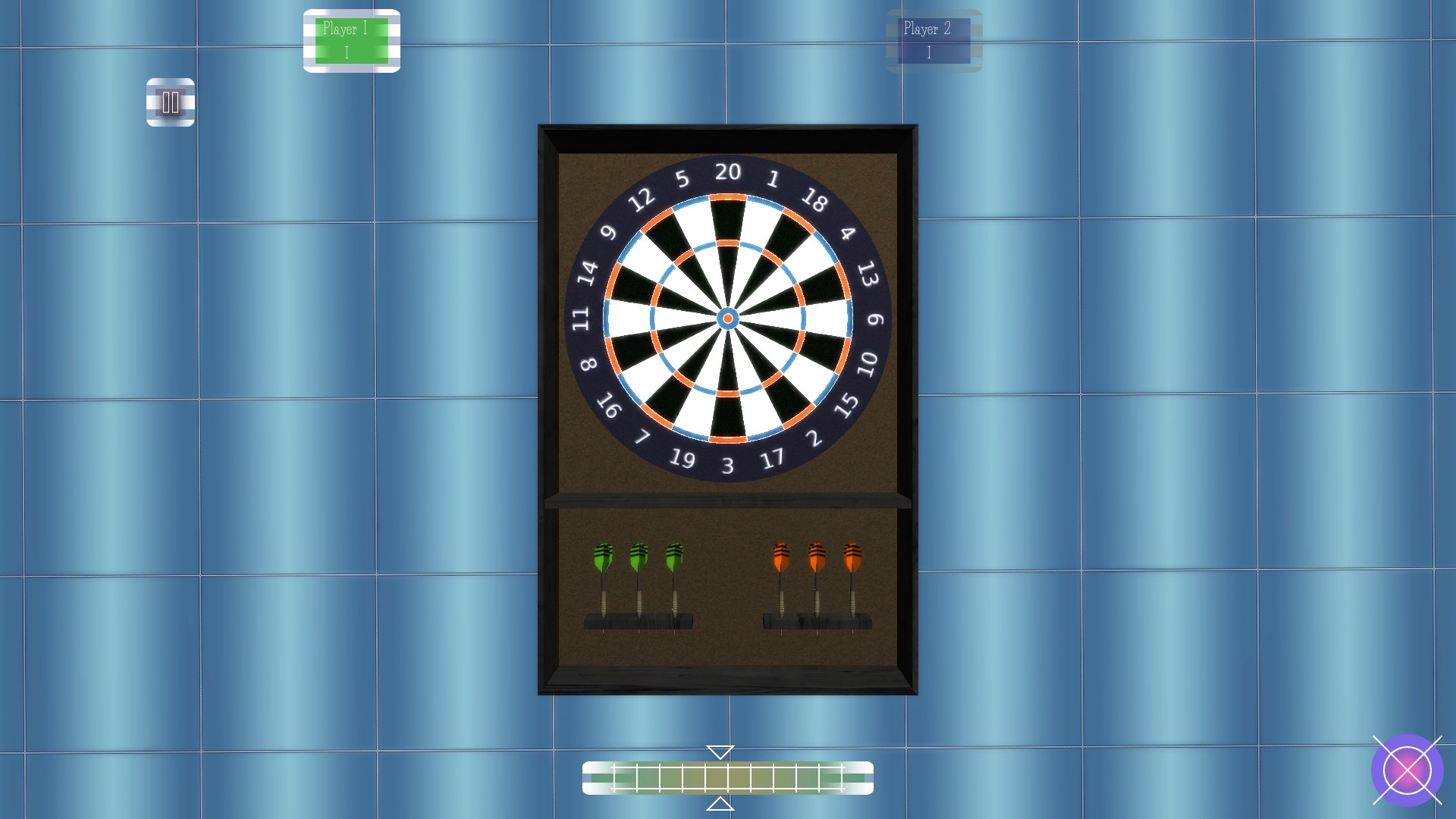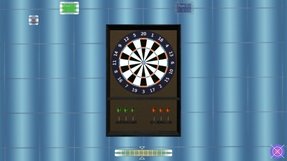 dart club box custom dart boards cabinet and backboards man cave dart ...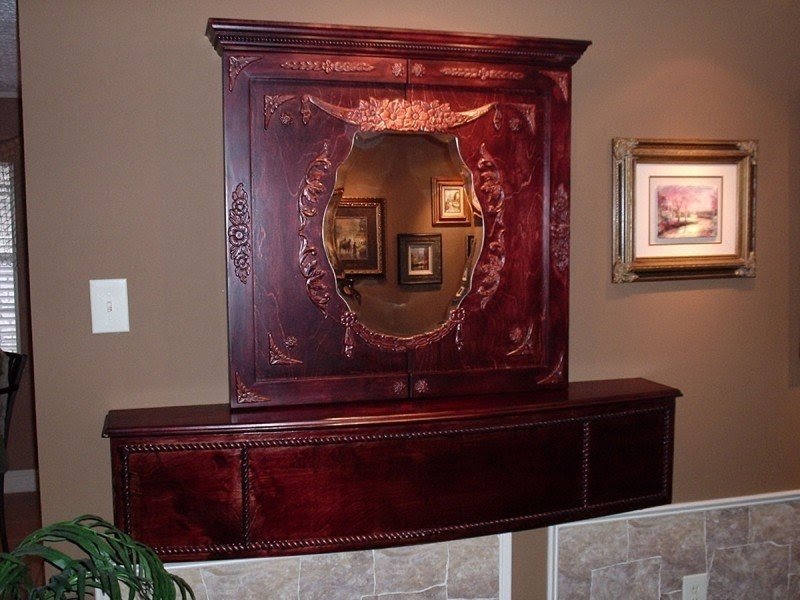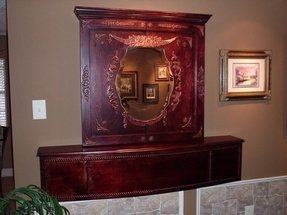 Custom Dart Board Cabinet Back to Gallery