Our Choice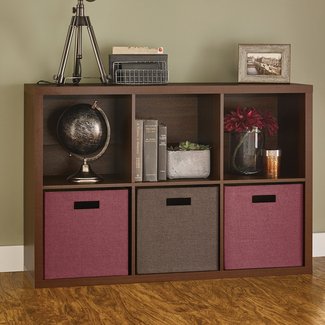 Decorative Storage Cube Bookcase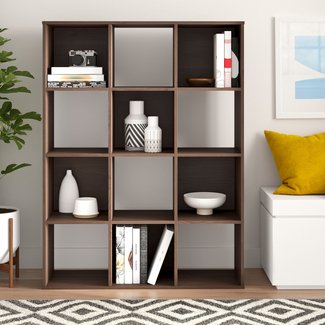 Cubeicals Cube Bookcase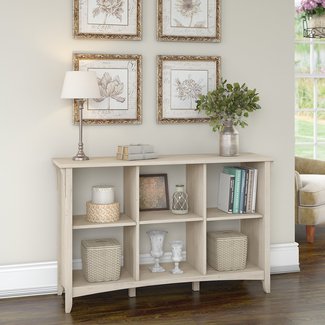 Salina Cube Bookcase
Lovely enough to showcase your collectibles, this attractive organizer can adapt to many storage jobs. Slightly curved legs with decorative side lips, you will not be ashamed to use this natural finished piece as a console table in a contemporary design. Standing at almost 30" tall, it is the perfect height for resting behind a sofa or placing against a hallway wall. Only 13.78 deep, there will be no intrusion to traffic areas. Minimalism decors find the black color more accenting while the cozy Cape Cod gray is lovely with country style homes, holding sewing and reading materials.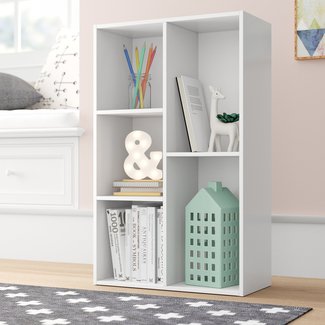 Harkless Standard Bookcase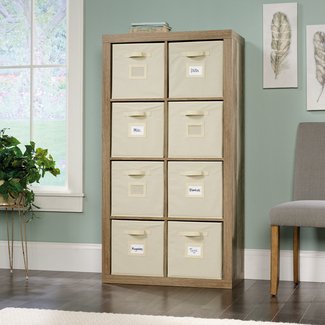 Clarklake Organizer Cube Bookcase
Fralick Cube Bookcase
Cherry is a dignified wood that is used sparingly and in good taste. Made out of pressed wood, the form is straight yet delicate with beveled edges and curved base rails. The height is an impressive 60" and each of the 16 shelves are built to hold up to 30 pounds. Plants, heavy metal containers and rows of books will be supported without worry. Place this fine piece of furniture against a wall where its beauty will stand out. Baskets or bins can also be placed within the cubbies that measure 13" square. An awesome addition to a home office when organization is a must.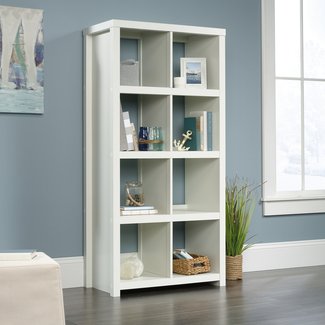 Ottery Cube Bookcase
Whether you are looking for a formal or casual cube bookcase, this flexible unit is capable of fitting into any type of decor. Present your favorite photos in frames, set up your keepsakes where they will be appreciated or spot the cubbies with colorful wicker baskets. Measuring around 60" high and 30" wide, this cube bookcase is small enough to place beside a work desk or in a hallway between bedroom doors. The cubes ae distinctive with raised panels, but can still accept bins measuring 12" x 12". The long sides are indented for a clear modern effect. Decide which color tone is best for your decor. White, lintel oak or Dakota oak will surly bring a breath of fresh air to your particular taste.
Wyton Cube Bookcase
A favorite of urban country lovers, this caged trolley brings new meaning to simple farm living. Metal supports high-grade chicken wire with a weathered wood bottom. 9 cubes let you arrange your favorite farm friends in your kitchen, living space or on a porch. The wheels are fully functional, allowing the unit to be moved from place to place. This delightful rustic bookcase will even serve your needs in a bathroom for holding towels, soaps and toiletries. 41.5" tall and 37" wide, the cubes are accepting to 12" x 12" baskets or bins. Ships assembled except for the wheels.
Fitzpatrick 6 Cube Corner Unit Bookcase
Teens love the industrial look. Give them what they want without the hefty price of metal and iron. 16 cubes in a plastic frame provides the look and the storage of the real thing. Rubber connectors keep edges safe, neat and very sturdy. Use as many sections and shapes that you want. Get extra storage for your sports gear, books and electronics or use in the garage for out-of-season items. The entire unit combined weighs under 33 pounds and has a weight capacity of 44 pounds per cube. Very versatile and dependable, use a few in one area and the rest in another.