Our Choice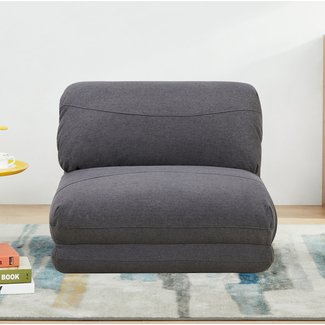 Arlean Convertible Chair
This versatile convertible chair can be adjusted to be a floor sofa, chaise lounge or sleepy bed. The solid wood frame assures sturdiness while the thick foam material provides ultimate softness and comfort during your cozy relaxation. Perfect for a teenager's room, bedsit, den or media room. It can support up to 330lbs. so you can be sure all family members or overnight guests can use it without compromising its condition.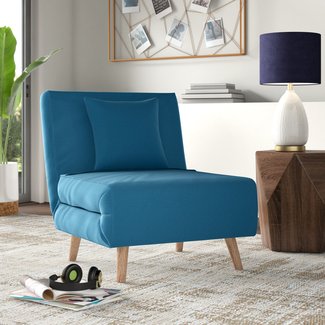 Wolfe 30.71" Convertible Chair
This space-saving convertible chair is ideal for studio apartments or dorm rooms. The chic look with angled legs will showcase your contemporary decorating style. The trendy coral fabric will create a warm accent in your room, while the royal teal will produce a cool vibe. You can also choose a medium-shade grey finish if you're looking for a neutral tone to go with your already busy decor.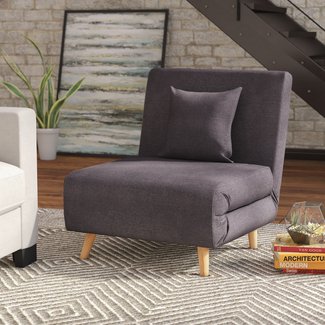 Wolfe 30" Convertible Chair
If you're short on square footage but eager to entertain, this large chair/bed is your best pick. The reclining design folds down flat with ease for effortless conversion. It requires minimal assembly and the necessary tools are provided. The removable cushions are also reversible and their 19.69'' thickness will promote restful sleep. It comes with a matching pillow for a complete look.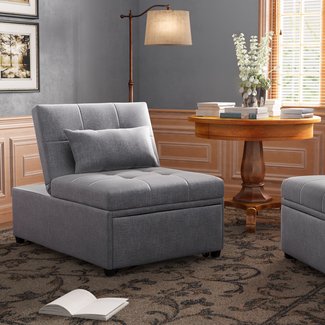 Kriemann Convertible Chair
This sophisticated chair will add class to your living room whilst offering a spacious sleeping arrangement when needed. The chunky design will look best in larger rooms filled with modern decor. It's crafted with strong attention to detail which produces an expensive look. The solid metal construction will withstand the test of time, and wiping it with a damp cloth will keep it clean during many years of use.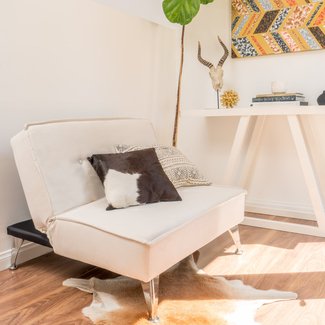 Babineau Convertible Chair
Whether you need an extra cozy seat for a guest or a plush place to rest your feet upon, this ottoman chair has you covered. The polyurethane foam provides outstanding comfort while the canvas-like polyester fabric is resistant to wear, tear and stains. The tufted design of the upholstery combined with curved silver chrome legs will create a sleek look in your living room or indoor patio.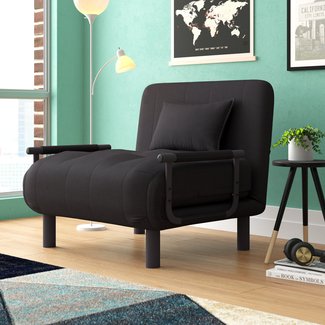 Roaden Convertible Chair
This robust roomy chair is your ultimate choice for hangouts and sleepovers. Its contemporary look will complement living spaces of similar decor, while its sleeper feature will provide comfort for your overnight guests. The chair has a pretty muscular appearance—it will look great in a man cave or your teenage boy's room. It's crafted out of steel, foam, and polyester and can hold up to 250lbs.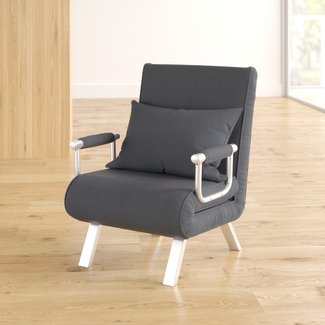 Longoria Convertible Chair
Invite versatility to your limited space with this chic armchair featuring 5 adjustable levels of comfort built in the backrest. Ideal for organic component lovers, this product is upholstered with 100% linen with a faux suede finish. The cushion has a hidden bonus—you can easily remove it and place it in a washing machine for ongoing cleanliness and freshness. The sponge fill pillow is included.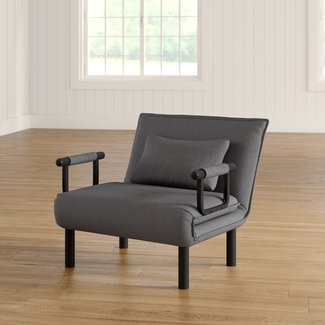 Springdale Convertible Chair
This space-saving design will match any modern decor interior with its selection of natural hues of brown, beige, charcoal and grey. Its plain look will blend in with strong accent walls or decorative rugs. Its neutral tones are a plain canvas for your creativity—you can dress it up with patterned pillows or toss a vivid blanket across the armrest for a nonchalant look. This stylish chair transitions into a chaise or bed in a matter of seconds extending its purpose in various situations.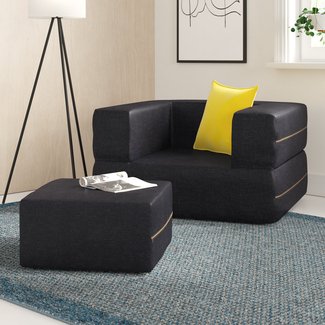 Eugene Convertible Chair
If you fancy unique furniture, this 100% cotton chair will be a centrepiece of your decor. It provides superb comfort with the all-around foam design. The chair features an additional footrest that fits like a puzzle in the middle of the converted bed. Surround it by a tripod or oversized swing arm floor lamp and line art paintings to offset its bulkiness and match the accented zipper design. If you'd like to expand on this look, you can purchase the matching couch and ottomans.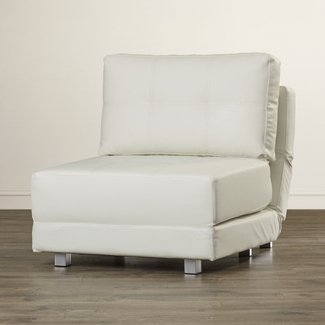 Hersey Convertible Chair
This faux leather large chair is an ideal solution for hosting overnight guests or snoozing during the day. The low profile seating is crafted with high-density elastic foam cushions that assure a restful sleep. Both the headrest and backrest are adjustable providing personalised support. It's very easy to maintain—just wipe it with a gentle leather cleaner for a brand-new look. The legs can be removed turning it into a perfect lounging piece for a toy or game room.