Our Choice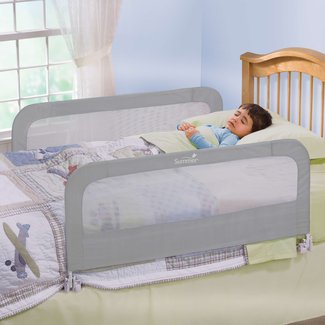 Home Safe Double Mesh Safety Rails
For an easier transition from a crib to a toddler bed, use this twin set of mesh safety rails to protect your little one from falls.
Constructed from a sturdy frame covered in a double layer of breathable mesh perfect for warm summer nights, the set of rails connects under the bed mattress for improved strength and stability. Available in soft neutral grey, the rails coordinate easily with your child's favorite bed linens.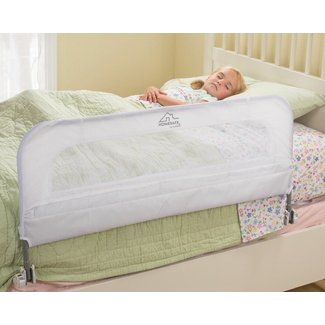 Home Safe Full Mesh Safety Rail
Help your little one get a restful night's sleep in their new toddler bed with this full mesh safety rail.
The mesh-covered plastic rail is easy to install on a standard twin bed. Measuring in at 42" long, the rail is wide enough to accommodate your growing child, while leaving ample space either side to allow your child the independence of getting in and out of bed themselves.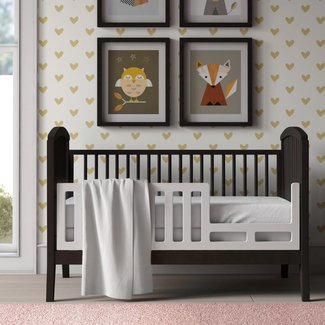 Goulet Toddler Rail
Build a crib that will grow alongside your toddler with this crib-compatible safety rail. Designed to extend the life of your child's crib and help them transition to sleeping in a twin bed, this mid-century modern inspired rail lets you gently train your child without the need to buy an additional frame and mattress.
Made from solid wood in a delicate shade of creme, this rail is the perfect addition to your child's nursery décor.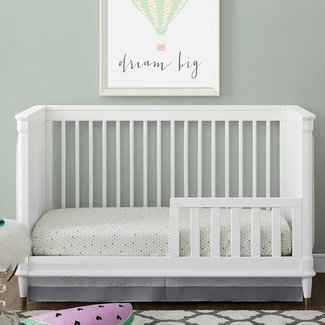 Bohdalov Toddler Bed Rail
Transform your convertible crib into a dreamy toddler bed with the addition of this safety rail. Crafted from solid pine wood in a crisp white finish, the rail features vertical slats and a slightly rounded corner to protect your little one from accidents.
The rail leaves a wide opening at the foot of the bed to allow your child to climb into the crib sleep on their own, and the clean lines coordinate perfectly with your current nursery decor for a rail that offers both safety and style.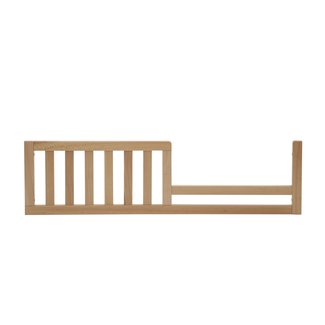 Brittany Toddler Bed Rail
Quality construction and a rich wood finish give you a toddler safety rail that makes bedtime a breeze.
Created to complement your convertible crib, the minimal design allows for easy installation with a reinforced center strut to increase the stability for additional protection. The open-ended structure encourages independence and gives your child more freedom to explore when they wake up.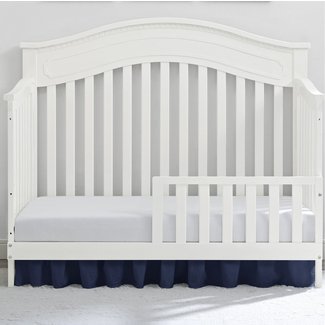 Lares Toddler Bed Conversion Rail
Keep up with the growing needs of your toddler and install this stylish safety rail on your convertible crib.
A clean white finish and a streamlined design allow the rail to blend seamlessly with a variety of décor styles from boho to modern urban. The solid pine construction is sturdy for superior protection, non-toxic, and low maintenance, making it easy to clean sticky fingerprints.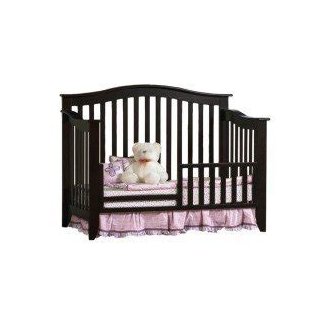 Willenhall Toddler Bed Rail
Sweet dreams start with a secure and comfortable place to sleep. Keep your toddler safe and sound with this modern wood crib rail.
Made from hard-wearing solid pine, the rail features a stylish narrow slatted design and comes in a subtle, neutral grey shade to complement the color palette in your little one's nursery. Reinforced with a horizontal strut, this understated piece can simplify the transition to a bigger bed.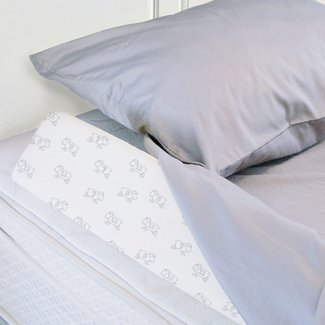 Perfect Sleeper Mesh Safety Rail (Set of 2)
Nurture your child's growth and independence with this flexible protective rail to keep them safely tucked in at night.
Crafted from high-density foam, simply slip these soft padded rollers under any fitted sheet on your toddler's bed or crib, and the innovative triangular design will prevent your child from falling out and keep them safe and snug all night long.
The foam rails come with removable covers that are machine washable, giving you a low-maintenance safety solution perfect for your growing child.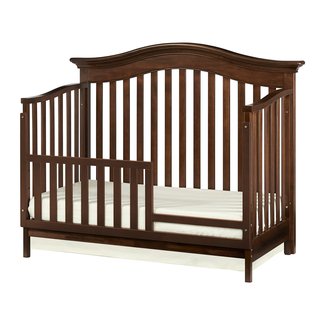 Montana Toddler Guard Rail
For active toddlers who love to wiggle while they asleep, give yourself peace of mind and protect your little one from toppling out of bed with this crib guard rail.
The rail is made from a combination of MDF and solid wood for a lightweight product that is built to last. The set comes with robust zinc hardware for a sturdy construction. The dark stain finish is designed to complement traditional style cribs but works well with a variety of nursery designs.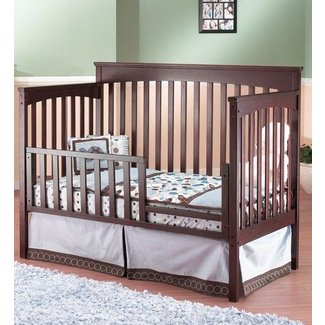 Callan Toddler Bed Rail
Convert your child's crib to a toddler bed in a snap with this stunning wooden bed rail. Designed to attach to the coordinating crib base, the unique design not only keeps your child secure but also stabilizes the structure of the crib.
The low slatted side keeps you little one safe and comfortable as they snooze and still allows them to hop out of bed on their own when they wake up. Featuring molding around the leg base and solid white painted finish, this rail is the perfect way to introduce a big bed to your growing toddler.