Our Choice
Gracelynn Console Table
This console tale has a crisp and clean look that would be right at home with traditional or farmhouse home style. The Open X detail on the ends keeps it light and airy. The shelves hold up to 50 pounds of collectibles or books or entertainment accessories. The single long drawer is perfect for concealed storage including items you grab on your way out the door like keys, lanyards, wallets and ear buds.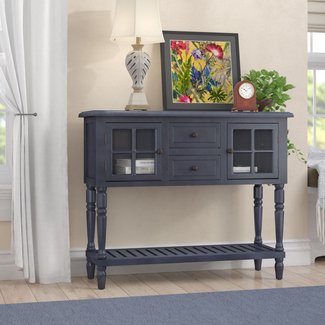 Decarlo Console Table
This traditional piece gets its sophistication from 2 glass front cabinets and turned legs. The tabletop, legs and the front of this table are all made of solid wood.  The top is perfect for accessorizing while the lower slatted shelf offers ample storage for heavier things like dishes or serving platters. The two drawers with metal pulls are perfect for corralling dining room accessories like napkin rings and candles.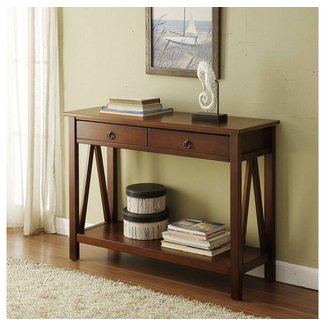 Soule 42" Console Table
This simple and charming console table comes in an on-trend rustic gray color or a rich and warm tobacco shade, two neutrals that work with nearly every design palette. It offers plenty of display space on both the top and the bottom and two drawers that conceal the clutter. The open sides give this console less visual weight, making this piece perfect for smaller spaces.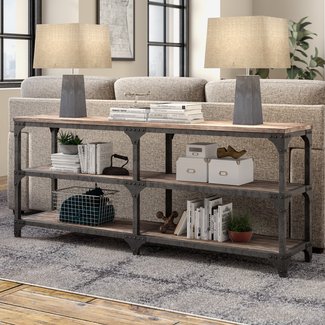 Neligh Console Table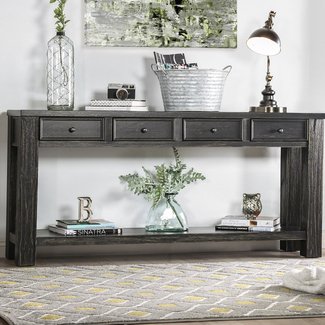 Janousek 64" Console Table
This table definitely makes a statement. It is big and bold with a top, a bottom shelf, chunky legs and four drawers for storage. This table is made of solid wood and comes in either antique white or antique black veneers. You know it's a brand new table but its weathered appearance makes it look like a treasured family piece.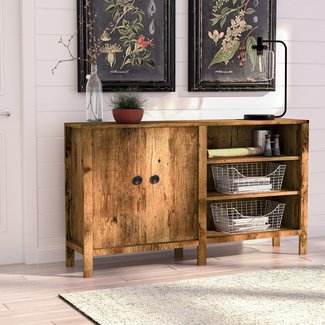 Odile 58" Console Table
This piece is loaded with personality. With one side open and one side closed there's plenty of room for accessories and storage. It couldn't be more customizable thanks to adjustable interior and exterior shelves that can also be completely removed. Just add a distressed lamp, a lantern and metal baskets for the perfect farmhouse look.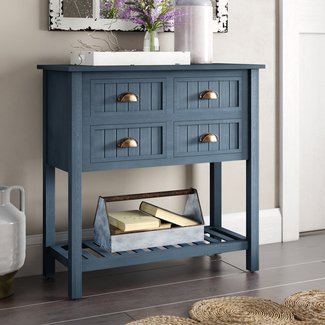 Rosas 4 Drawer Console Table
This is the little table that could. Its smaller footprint means you can tuck it into practically any place. The four drawers with beadboard fronts and metal cup-style pulls offer storage galore no matter what room it's in. The wide range of colors includes an antique navy choice that would really pop when placed in front of a neutral gray wall.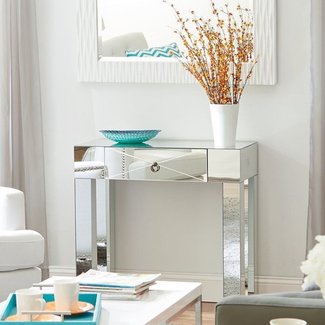 Jessa 31" Console Table
This table is the ultimate reflection of your unique and glamorous style. It's a simple design with a single drawer and broad legs, but the mirrored surface jazzes it up to Art Deco glamour. Natural and room lighting will simply dance off the surface of this table making it perfect for tiny spots that you don't want to feel crowded.
Kemper Console Table
This console table looks like you found it in a high-end antique store. Partially made of solid wood the rustic walnut finish comes from hand-rubbed paints and stains and purposeful distressing. That means each of them is a one-of-a-kind. There is no assembly required for this table so you can begin accessorizing it the moment it arrives.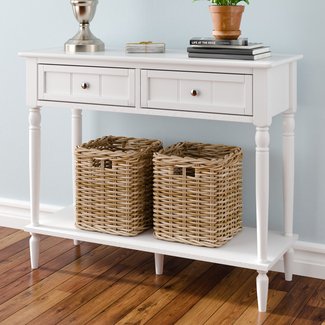 Pittard Console Table
At first glance this console looks like a simple style of table, but look closer and see how its style is elevated in the details. The two drawers for storage are covered in a design that is reminiscent of shiplap with metal knob pulls. The legs are done in a turned post style. And it comes with an optional bottom shelf. You can choose to use that bottom shelf for a row of favorite books or rattan baskets full of blankets. But its style becomes more simplistic if you opt out of the bottom shelf and only accessorize the top.