Our Choice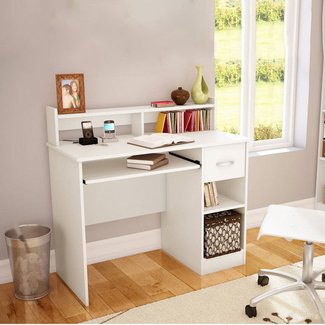 Axess Computer Desk with Hutch
The Axess computer desk with hutch comes in a selection of colors and is the perfect addition to a home office. With a pull-out keyboard tray, drawer, and deep lower storage area divided by a shelf, this desk is ideal in a bedroom, office, or rec room. There's a hutch on top to hold pictures, reference books, or chargers. The desk can accommodate one or two monitors and includes a hole in the back of the hutch to organize wires into one tidy bundle.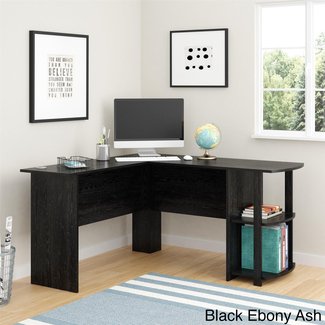 Salina L-Shape Computer Desk
This desk certainly is a space-saver. The Salina L-shaped desk is an ingenious solution to any space issues. It conveniently fits into the corner of most any room and provides ample workspace for a home office or crafting spot. Two shelves at either end of the L provide storage space. The selection of finishes – dove gray, espresso, white, black ebony ash, and rustic oak – blend into most décors.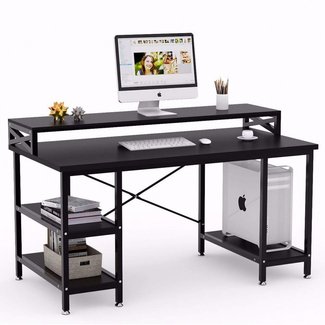 Maciel Computer Desk
The open design and copious storage space make this desk an excellent choice for any household. The Maciel computer desk includes a riser to hold items, a wide working platform, two tiers of shelving on the left, and space for a printer on the bottom right-hand side. The X-shaped frame makes wobbling a thing of the past, and the footpads protect floors and are adjustable to suit any grade.
Ketter Reversible L-Shape Computer Desk
This desk is an amazing addition to a home office or entertainment room. The sleek metal frame is accented with a beveled, safety glass top and powdered metal finish, and a sliding keyboard makes this an excellent choice to accommodate multiple computers and monitors. To create a haven for a gamer, set up two of these desks to make a half-circle configuration. Its geometric design is subtle and modern and blends well with a variety of styles.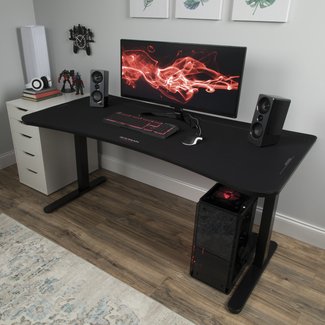 Gaming Computer Desk
This unique desk is the ultimate choice for any serious gamer. The extra-wide tabletop can hold up to two hundred pounds and the widest of monitors. The surface is completely covered with a mouse pad, so your range of motion is never restricted. An ergonomic curve to the desk's front edge lets you get close to the action. The grommets in the table match up with the mouse pad to make cable management seamless.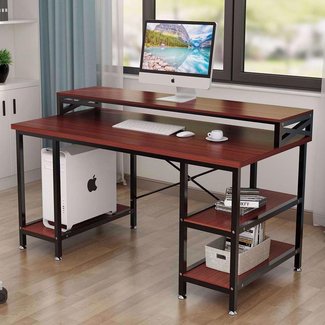 Mulhall Computer Desk Reversible with Hutch
The simple, yet elegant, Mulhall computer desk is an excellent choice for a home office, bedroom, or study. The provided hutch raises the level of your monitor to eye-level to ensure proper posture and the most comfortable working position. The hutch extends your work area with space for an extra monitor. Storage shelves underneath can accommodate a CPU and other home office supplies for a neat work area.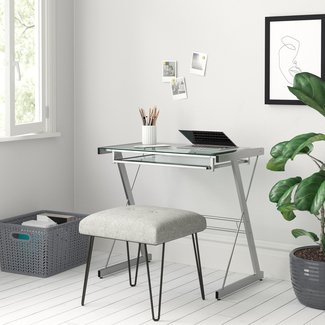 Yvonne Glass Desk
The compact, modern Yvonne is a superb choice for a guest room or a space-conscious office or living space. The desk has a sliding keyboard tray that tucks away after you're finished typing. The powdered metal frame and tempered glass top add a touch of sophistication to any room. With an excellent price point and taking up minimal space, the Yvonne desk is ideal for the modern home office.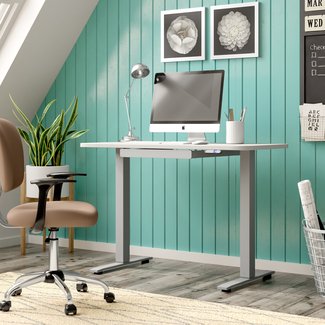 Sabine Electric Adjustable Standing Desk
The Sabine electric standing desk is a sleek addition to any workspace. Its rectangular shape is softened by rounded edges, and one drawer provides ample space for storage. It adjusts from 28 to 48 inches so you can choose whether you'd like to be standing or sitting during your workday. The smooth electronic dual-power motor makes adjusting this desk a cinch. This one is great for health-conscious types who are often working on a computer.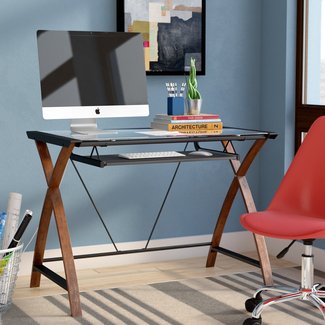 Hibner Glass Desk
The Hibner includes a combination of steel, glass, and wood, making it a stand-out, whether you're jotting down a grocery list or writing a novel. Its pull out drawer can accommodate a keyboard and mouse or other office supplies. A tempered glass top sits atop four, curved, cherry wood legs with details in black steel. This desk is sleek and comfortable and fits most décors seamlessly.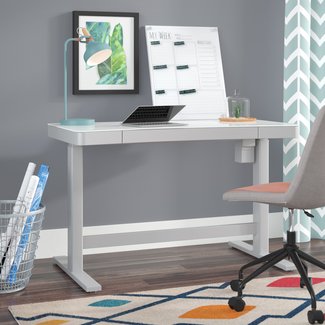 Belda Standing Desk
The modern-looking Belda standing desk is a must-have for any health-conscious office or workspace. Its digital controls are top-of-the-line and will remember three to four of your favorite desk heights, so you don't have to. An ample drawer is tucked away into this desk's sleek shape and its glass surface doubles as a dry-erase board for notes. This desk is also protected with a two-year warranty.