Our Choice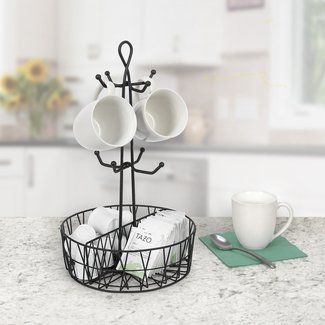 8-Mug Holder and Coffee Station Organizer
Add a look of vintage sophistication to your space with this eight-mug holder and coffee or tea station. This accessory is made of sturdy steel with a rustic twist to keep all your items neatly organized. It features an eight standard size mug holder with a divided basket for keeping items such as sweeteners, coffee pods, and tea bags neatly organized. It also includes a ring form handle which helps in moving or carrying the accessory.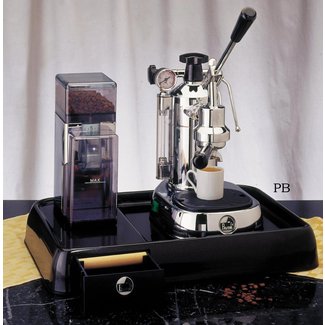 19" Universal Base for la Pavoni Espresso Machines
This accessory is made exclusively for your la Pavoni lever machine, pump, and grinder with heavy steel sheet metal which guarantees a problem-free usage. It features a sliding drawer that serves as storage space or coffee grinds disposer. It also comes with rubber feet protection for delicate surfaces to ensure a tear or wear-free countertop.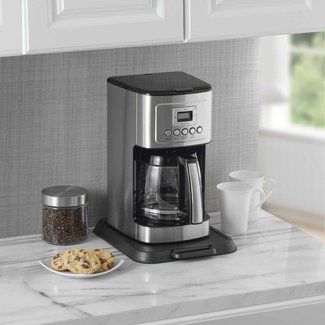 Coffee Cab Rolling Countertop Small Appliance Stand
This petite coffee accessory is sure to keep your countertop clutter-free with its uniquely designed lock and release lever which smoothly slides appliances into place without causing any damage. Measuring 13.75'' H x 10.54'' W x 1.2'' D, this item is designed for small accessories like coffee pods, blenders, toasters and other moderate-size countertop appliances.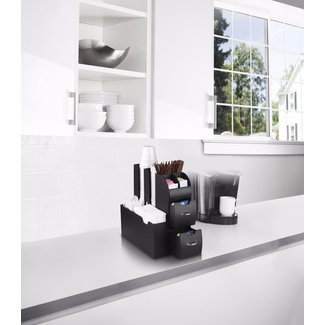 Mind Reader Coffee Condiment Organizer and Sleeve Dispenser
Keep all your coffee accessories in one place with this all-in-one compact unit. It is designed to help you organize all your coffee essentials from your coffee pods to sugar, cups, and napkins. This attractive, black finished unit will easily blend with most kitchen designs. It features two drawers, a sleeve dispenser, a snack organizer, a bottom rubber gripper, and a chrome handle.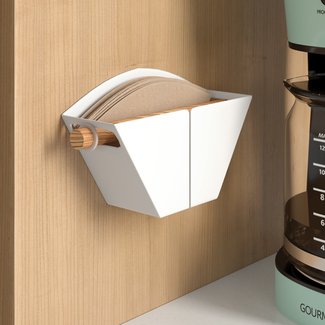 Alvin Magnetic Coffee Filter Holder
Your coffee maker would be incomplete without a filter, and this sleek, magnetic holder is excellent for keeping all your filters in place. This portable piece is made from white finished metal with a wooden bar which makes it easy to access and protect your filter from damage. It is designed with a magnet at the back for easy attachment to your refrigerator or any suitable space. This lovely piece is a great gift choice for family and friends.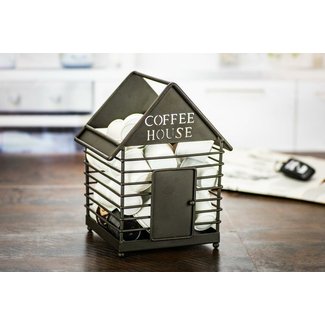 Boston Warehouse Trading Corp 18-Pod Coffee House
Keep your coffee pods conveniently stored with this house-shaped, metallic mesh basket that hold up to 18 coffee pods. Its cute design makes storage a breeze and keeps your countertop clutter-free. This modern piece arrives in a sturdy box and does not require assembly. It can also serve as a fruit or accessory holder. A great gift choice for all sorts of occasions.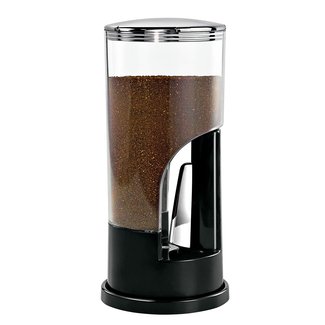 Honey Can Do Indispensable Dispenser Ground Roaster Coffee, 1 lb
Enjoy fresh ground coffee any time of the day with this airtight dispenser. Made to keep pre-ground or home grounded coffee fresh at all times and offer maximum flavor. It is constructed to measure out one tablespoon at a time and can be used directly for placing ground coffee into espresso machines or coffee makers. Its base keeps countertops free from scratch or coffee spills.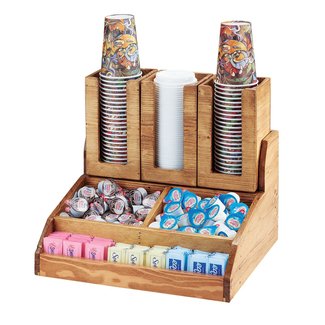 Madera Condiment Station
Arrange all your coffee accessories and condiments in this traditional, convenient bamboo station. This unit is separated into different compartments for storing your sugar, tea, coffee, cups, lids, and espresso mugs, all perfectly organized and easy to reach. It will keep a tabletop mess-free in an office, coffee store, or at home.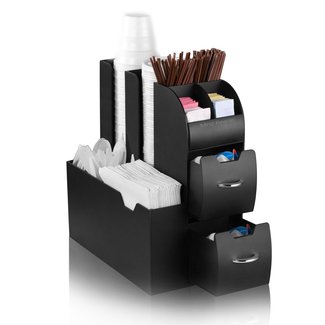 Mind Reader 2 Piece Coffee Condiment Caddy Set
Neatly arrange all your accessories in one unit with this compact organizer that can hold up to 50 Nespresso capsules. This modern unit features different compartments and a drawer for keeping your sweeteners, stirrers, and napkins in one compact unit. It will keep all your coffee condiments in place and its clean, black design will blend with a variety of kitchen styles.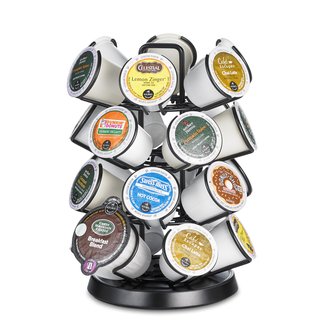 Java Concepts 24-Pod Steel Carousel
This single 24 pod organizer is made of quality material with a black satin finish and an ultra-smooth rotation. It takes up less space but accommodates single serve k-cups, mug pods, or carafe pods and keeps your countertop clean at all times. It has a foam base that protects your countertop from scratches and the patented carousel enables a quiet and smooth 360 degree spinning for easy access of condiments.