Our Choice
Scallop Treeskirt
Your special Christmas tree deserves the best decoration possible, which is where this cute tree skirt comes in. The tree skirt will definitely add a classy and practical touch to your tree. The beautiful quilted tree skirt is made from luxuriously soft cotton material and features decorative playful scalloped ruffle and tie closure. It is also easy to care and maintain with regular spot cleaning only. It is available in a diameter of 54 inches.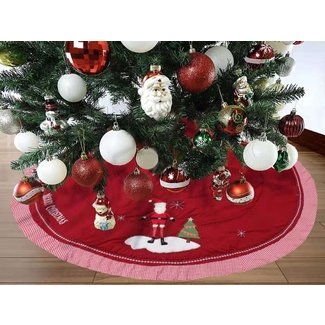 Santa Claus Treeskirt
Are you looking for an adorable tree skirt for your Christmas tree? You won't go wrong with this beautiful Santa Claus tree skirt featuring delicate holiday Santa embroidery and tie closure for decorative purposes. It is a real show stopper when displayed under your white Christmas tree. The quilted tree skirt is nice and bigger than other decorative tree skirts. It is made of soft cotton material but keep in mind that you can only spot clean the tree skirt.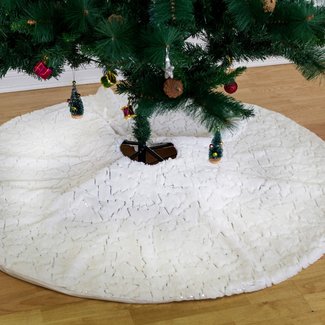 Christmas Tree Skirt
Christmas is no Christmas without a special tree for the occasion and no tree is complete without an adorable skirt underneath. This faux fur tree skirt is just the perfect item you need to create a tasteful holiday look in your home. It is a handcrafted and decoratively embroidered furry tree skirt featuring tree shapes that sparkle under your Christmas tree lights. It is soft beautiful and just perfect for your winter wonderland tree.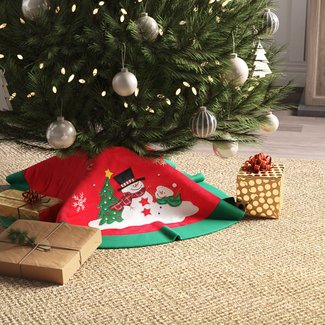 Christmas Tree Skirt
Here is a soft festive Christmas tree skirt available at a great price. It is the perfect decorative addition you need for your Christmas tree to create a festive mood during the holiday season. The tree skirt comes with two fabric ties at the back and an intricately designed winter season theme embroidered on red cotton material. It is available in the right size for smaller Christmas trees. This is a quality embroidery tree skirt available at a good price.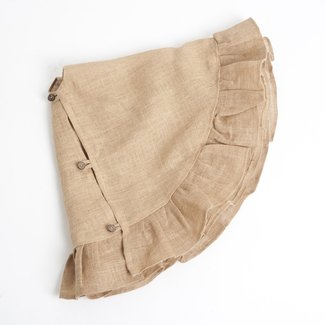 Kalgoorlie Tree Skirt
If you plan to modify your Christmas decoration style this holiday season, here is a ruffled jute tree skirt designed to create a modern rustic charm to your Christmas decoration. The tree skirt features a solid color and ruffled edges to create a fun and festive look. It also comes with a button closure for the perfect tailored finish. For the best care, we recommend that you spot clean or handwash the tree skirt.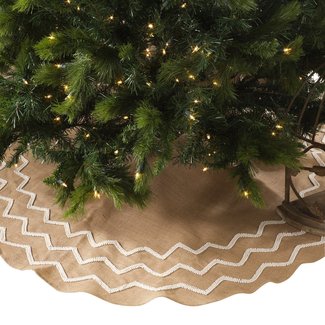 Tree Skirt
This is the perfect tree skirt for anyone who wants a clean theme for their Christmas tree decoration this year. The tree skirt is designed to help you avoid the tedious task of sweeping away the annoying tree needles every now and then. It is made from 100% jute that keeps dirt and dust from view, burlap and decorative beading. The tree skirt comes in brown color with a striped pattern.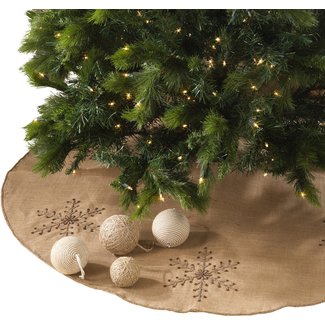 Tree Skirt
Here is another cute tree skirt designed to save you from the endless task of sweeping needles under your Christmas tree. It is made of jute fiber which does a great job of masking dirt. The tree skirt has a circular silhouette which is perfect for gathering tree needles under your tree. In terms of decoration, the tree skirt features perfectly embroidered snowflakes on a rustic looking beige background. It will look absolutely beautiful under your tree.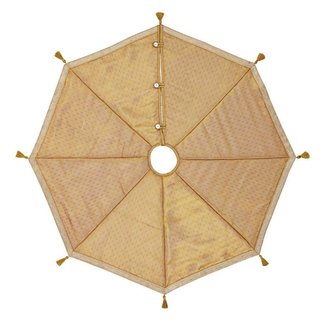 Tinsel Tree Skirts
Looking for a fun and glitzy style to decorate your Christmas tree? Look no further than this festive tree skirt. It comes with fine netting of shimmering gold pattern embroidered on an antique cotton material. The gold pattern is overlaid on an octagon shape with golden tassels threaded on each corner. It also features 3 button closures. The fabric looks absolutely beautiful while the pattern provides glittering reflections of your tree lights.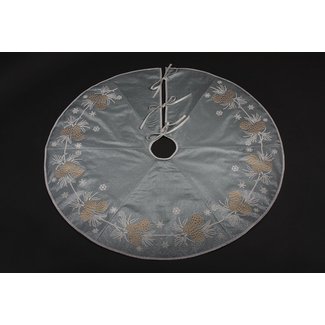 Cheraw Tree Skirt
Create a peaceful and serene environment around your Christmas tree this season with this embroidered tree skirt. It is designed to give you a unique holiday home décor. The tree skirt features frosted Christmas pine cones set on a magical blue winter background. It even sparkles under your tree lighting. The colors provide a warm glow to your holiday decoration. This affordably priced tree skirt can easily be machine washed with a gentle cycle and no bleach.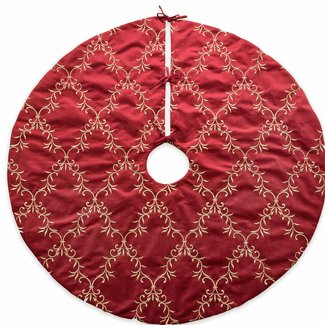 Christmas Tree Skirt
If you are still planning your Christmas tree decoration options, we recommend that you check out this simple reindeer tree skirt. It is a beautiful Christmas décor made of high quality soft and safe material. It is handcrafted and carefully sewn in double layers. The versatile tree skirt comes in a neutral theme to match different types of Christmas decors. It features intricately sewn reindeers on a red background. Keep in mind that it is a spot clean only item.