Our Choice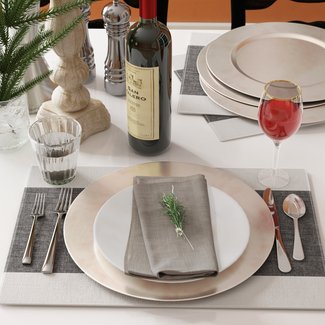 Forbell 4 Piece Charger Set (Set of 4)
This set of four charger plates balances simplicity with a pop of color. Vibrant, fun, and full of personality, these 0.25" H x 13" W x 13" D charger plates help tie your table settings together.
Available in nine different high-gloss finishes--platinum, rust, gold, teal, pink, green, eggplant, copper, and cobalt blue--you'll be able to match almost any color scheme. Crafted from high-quality plastic for longevity and durability.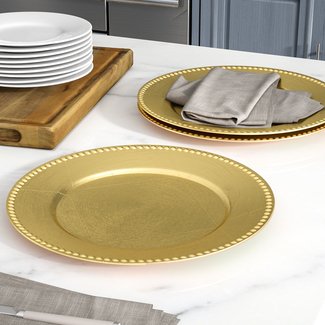 Carmon 13" Beaded Charger
Bring a touch of old-fashioned elegance to your dinner parties with this stunning charger plate.
Whether you gravitate towards the shabby chic aesthetic or want to enhance a more traditional sense of style, the 13" charger plate features a beaded edge and adds a bold metallic luster to your place setting.
Perfect when paired with soft gray pottery and nature-inspired table accents, such as a display bowl of pinecones. The result will be a natural, soft, and luxurious dining atmosphere.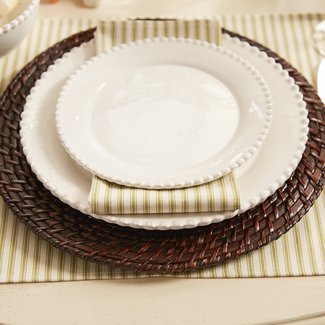 Rison 13" Charger (Set of 4)
Thick, sturdy, and food-safe, this set of four woven rattan chargers combine the charm of an old-fashioned picnic with low-maintenance natural style.
The chunky weave of the lead-free jute material adds texture and depth to your tablescape, while the bottom of each charger is flat to keep your plate steady as you eat.
With their durable construction, these chargers are perfect for everyday use.
Josh Galvanized Charger Plate Set (Set of 4)
These gray galvanized metal charger plates boast a speckled finish for added depth and interest, and their neutral tone renders them perfect for year-round use, whether you are hosting an elaborate holiday dinner party or enjoying a quiet meal with the family.
Lightweight and stackable so they are easy to store, they're perfect when paired with pewter serving plates. Ideal for adding a touch of industrial-inspired class to a country-inspired kitchen.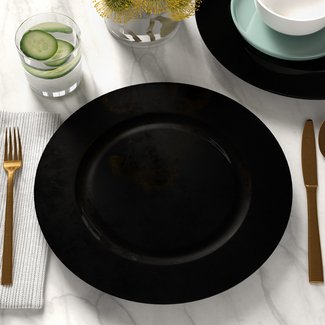 Jaylen Melamine 13" Charger
Available in both jet-black and silver finishes, this 13" charger plate makes an ideal addition to both formal events and homes with a sense of upscale style. Strong, melamine craftsmanship lends durability and easy cleaning to this design.
A gorgeous brushed finish and lightweight, premium feel helps to cultivate an air of luxury and is perfect for holiday meals. The slim profile minimizes space needed when stacked for storage.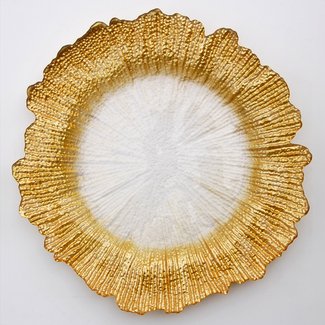 Mckenna 13" Charger (Set of 4)
Stunning and undeniably high-end, this set of four glass charger plates echo the lines of seashells with its asymmetrical gold-colored edge and white center.
Each charger is free-form and handcrafted from lead and PTFE-free material, which means you will receive a unique charger plate with subtle nuances all its own.
To enhance the longevity of the chargers, each has been lacquered and double-fired to make them water-resistant and easy to clean by hand.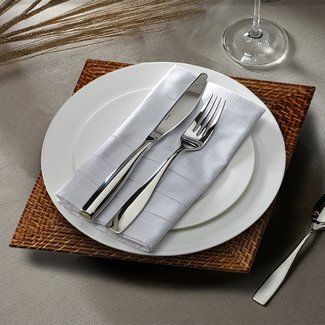 Elijah Square Charger (Set of 4)
Relaxed and casual, this gray square charger is constructed from faux wood to give you an elegantly rustic look. Perfect for matching your chic, contemporary aesthetic.
At dimensions of 13" W x 13" D, this spacious charger leaves room for a medium-sized plate, napkins, and cutlery. It can also double as a part of a table-center display of candles or other accessories.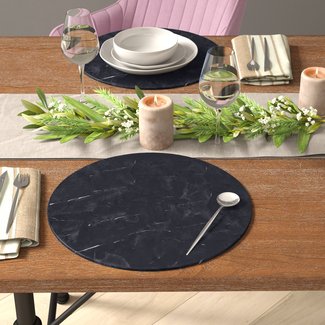 Claxton Marble Charger
Available in both black and white, this stunning marble charger radiates class and sophistication. Perfectly circular and flat, it provides a steady, stylish base for your favorite china table setting.
At 15" in diameter, it provides the perfect stage for a sumptuous meal. With a luxurious stone look, this charger is especially wonderful as a birthday or an anniversary gift. Pair with your favorite crystal for the ultimate indulgent meal.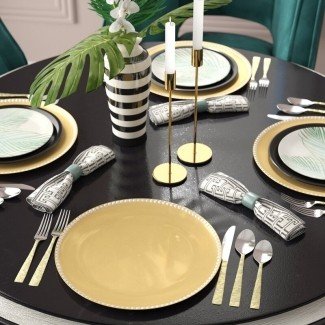 Faiyaz 13" Studded Design Charger (Set of 4)
A high-shine metallic finish and durable, commonsense plastic construction make this set of four chargers perfect for almost any occasion, whether formal or informal. No matter if you choose the gold or platinum finish, they're sure to win compliments from guests while simultaneously protecting your table from spills and scuffs.
Budget-friendly and built to last, you'll get years of enjoyment from this set—ideal for pairing with a shabby chic or contemporary aesthetic.