Our Choice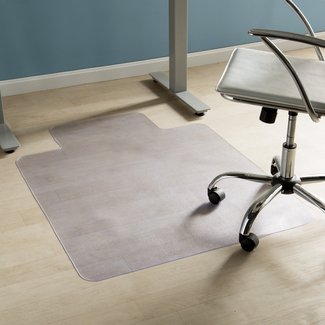 Wayfair Basics Hard Floor Straight Edge Chair Mat
Protect your carpets, rugs and hard floors with this high-clarity chair mat produced with PVC plastic. The proprietary material makes it slip-resistant ensuring the product stays in place while the chair glides onto it. It's manufactured in the USA and comes with a 1-year warranty. It's perfect for environmentally-conscious people as it's proudly made from sustainable eco-friendly recycled materials.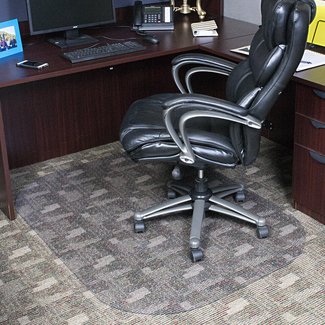 Evolve Low Pile Carpet Rectangular Chair Mat
Shield your expensive floors or low pile carpets in high-end style. This is the only chair mat specifically designed for today's 5-star wheelbase chairs, offering more efficient use of the rollable surface of the mat. The round corners eliminate the useless portion of the squared-off corners found on most rectangular chair mats today, turning it to an environmentally-friendly product requiring a minimal amount of PVC material, while providing a large rolling space.
Wayfair Basics Office Low Pile Carpet Straight Edge Chair Mat
If you're looking for an affordable and long-lasting mat to protect your floor or low-pile carpet, this product will not disappoint you. The slip-resistant cleated back surface ensures perfect adhesion all day long, and the straight edges make it easy for chairs with caster wheels to glide right onto it. It comes in two sizes to accommodate various office areas. The standard lip shape offers extra surface protection right under your desk.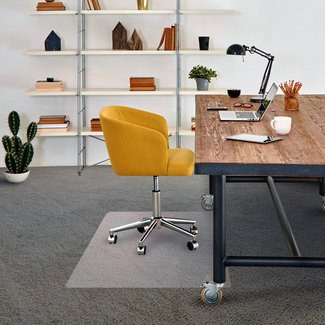 Ecotex High Pile Carpet Beveled Rectangular Chair Mat
For the environment lovers, this product meets the industry's standards for reducing the carbon footprint. It's manufactured from an enhanced polymer which contains up to 50% recycled material and is 100% recyclable. It's also 100% PVC- and lead-free, and its production utilises 25% renewable energy. Benefiting the planet won't compromise your rolling comfort—this mat is very firm and won't sink into the high-pile carpet underneath.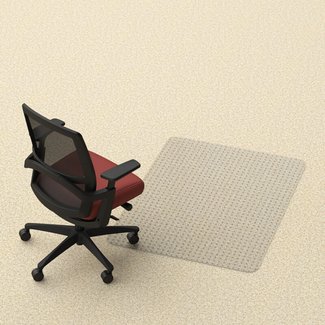 Medium Pile Carpet Straight Edge Rectangular Chair Mat
This mat is an ideal pick for durability lovers. It offers the best overall quality available on the market today. The mat is designed to provide industry-leading clarity, superior wear resistance and a surface that allows chairs to move freely. It's created with the consumer in mind—Phthalate-free, BPA-free and odourless. Its traditional rectangle design with gripper backing protects low to medium pile carpets.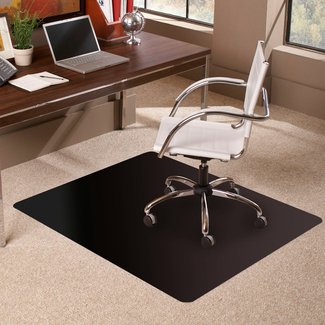 TrendSetter Rectangle Low Pile Carpet Straight Edge Chair Mat
Create a bold look around your chair with this sophisticated black mat. It will be a perfect addition to your black&white decoration style, and it will please your rebellious teenager's eye as well. The exclusive anchor bar cleats hold the mat firmly in place without damaging the underlying surface. Rise above the standards and showcase your personal style while investing in a strong-grip and easy-glide protection of your floors and carpets.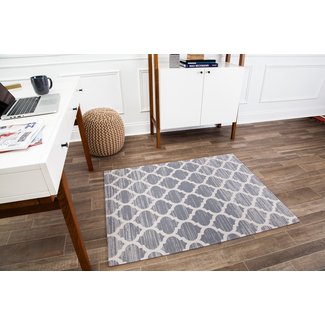 Medium Pile Carpet Straight Rectangular Chair Mat
Enhance the look of your office space with this unique rug-like chair mat. The distinctive warm brown or cool grey hues overlaid with a symmetrical pattern will complement all natural-looking wooden floors and medium pile carpets. If you fancy white furniture, this product will be a 'cherry on top' among such decor elements. To keep it pristine and long-lasting, spot clean with a solution of mild dish soap and water.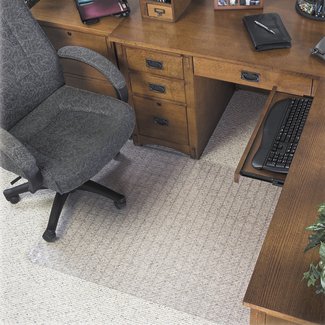 Supermat Checkered Low Pile Carpet Beveled Edge Chair Mat
This innovative checkered grid mat offers an optimal carpet grip turning it into a super-mat suitable for frequent chair rolling action. If you often get up from your desk or roll to a different area of your C-shaped station, this mat will withstand all the traction without compromising the level of adhesion. The top layer is ultra-smooth ensuring effortless gliding and preventing tension build-up in your body.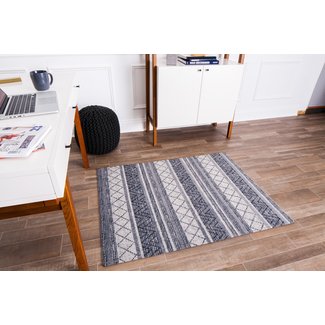 Medium Pile Carpet Straight Rectangular Chair Mat
If you wish to create a visual statement in your working area, this chair mat is a perfect solution, featuring a geometric pattern in a rug-like finish. It will look particularly great against a hard-wood floor, or in a stark office environment, bringing a touch of softness to your work station. Ideal for workers who like to stand out expressing their style in unconventional ways.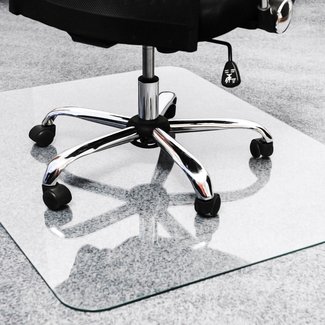 All Floor Types Straight Chair Mat
Elevate your executive workspace with this flat unbendable mat featuring a perfectly smooth ergonomic rolling surface that will ease moving about during work hours. Its tempered glass finish will match metal or glass furniture and contemporary decor whilst letting the floor shine through. Invest in a luxurious style that's heavy-duty, anti-slip (due to 4 silicone pads), 100% recyclable, as well as resistant to water, stains, cracks, warps, scuffs, and fire.