Our Choice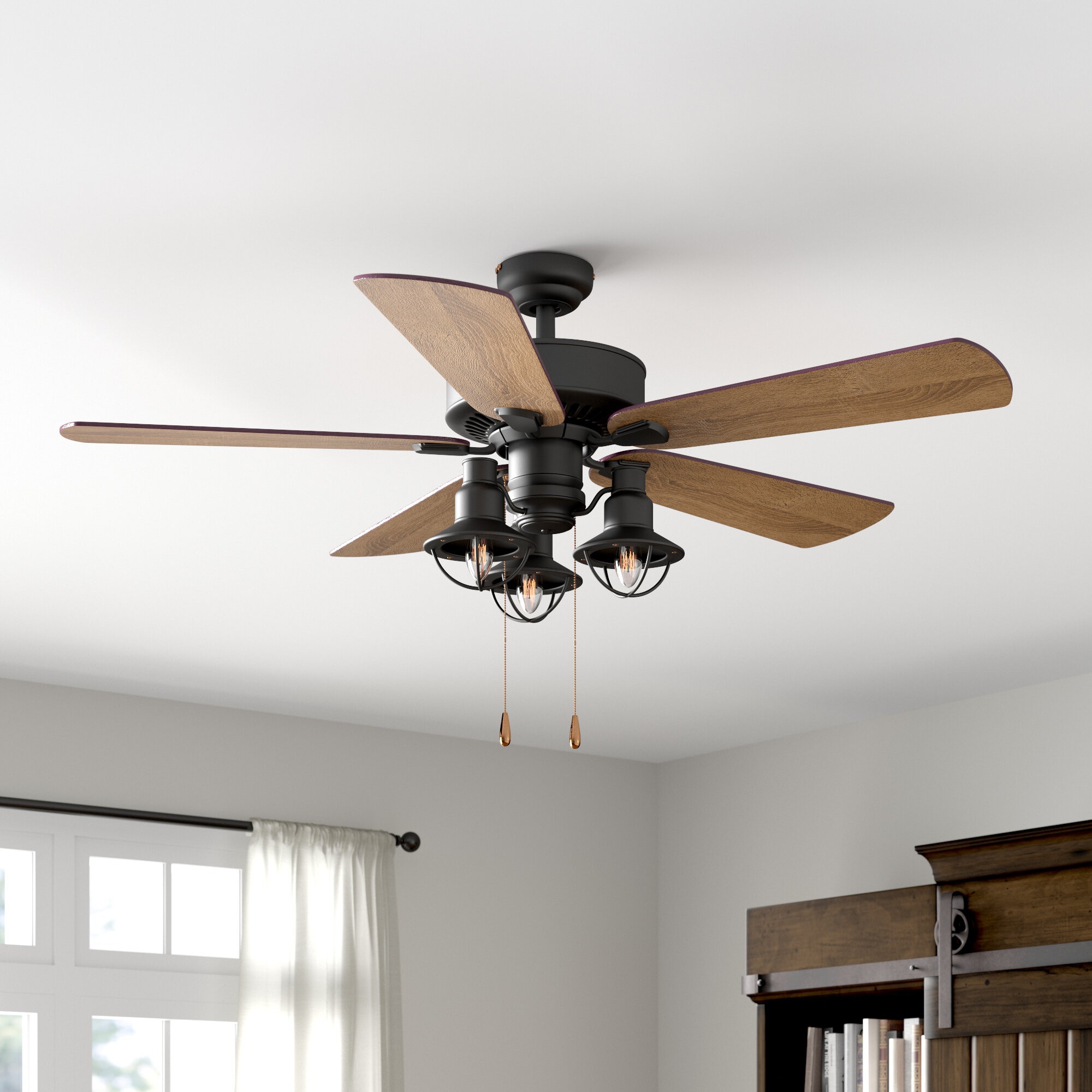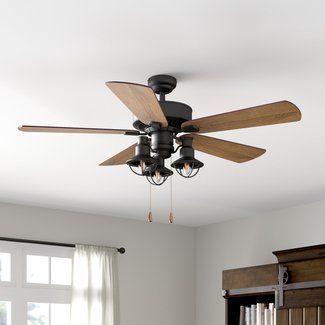 52" Ravello 5 Blade Ceiling Fan, Light Kit Included
Liven your room with this standard down rod mount ceiling fan. Distressed weathered wood finish on the blades beautifully contrast with black metal body conveying a modern farmhouse appearance. Comes with remote control for adjusting comfort without leaving the bed or couch, and a branched light kit to be used with three 13 watts maximum bulbs (purchased separately). This efficient fan is recommended to use in medium rooms of up to 12' * 14'.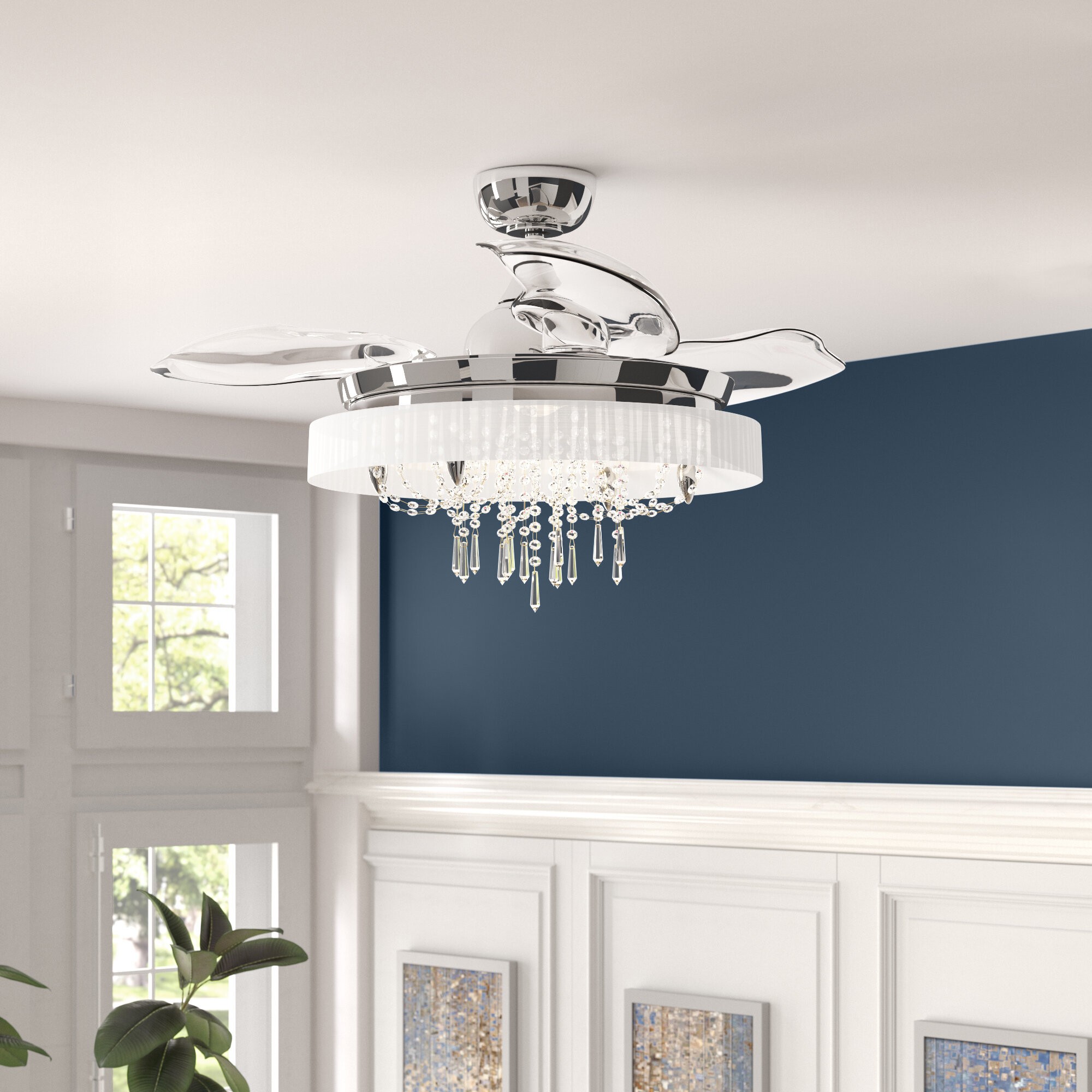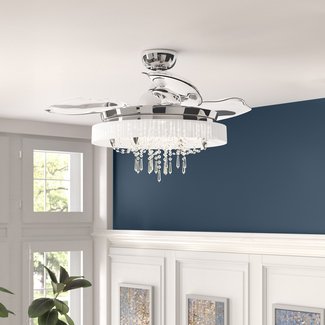 42" Sweitzer 3 -Blade Ceiling Fan with Remote Control and Light Kit Included
Redefine fine living in your living/bedroom with this gleaming ceiling fan doubling up as a chandelier. Chrome-finished metal body, white plastic blades, and clear shiny crystals in gauzy ribbon shade looks every inch of elegance. Three retractable blades pop out during use and retrocede when the fan is off, leaving a sparkling chandelier in full display. Purchase six candle-shaped lightbulbs on E12 base with a maximum of 40 wattages to go with it.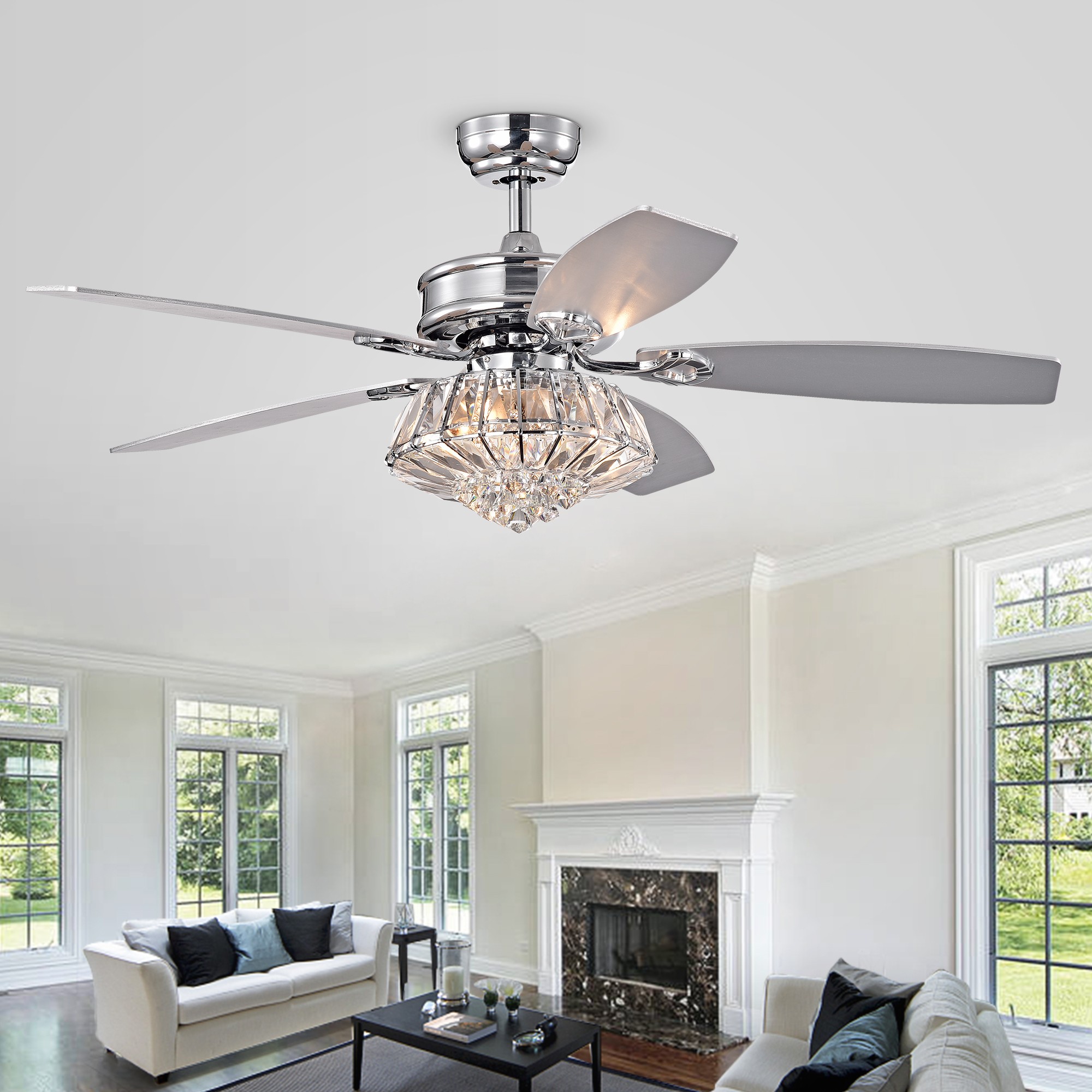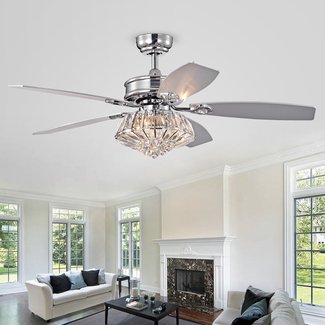 48" Steadman Reversible 5 Blade Ceiling Fan with Remote, Light Kit Included
Bring some fresh air into your living room, bedroom, or dining room with this stylish crystal ceiling fan. Reversible motor changes the rotation direction depending on seasons to ensure comfortable temperature all year long, whereas reversible blades allow for an effortless design update. Three different fan speeds give you maximum control over the airflow/breeze. Remove dust and loose dirt by wiping with a dry cloth.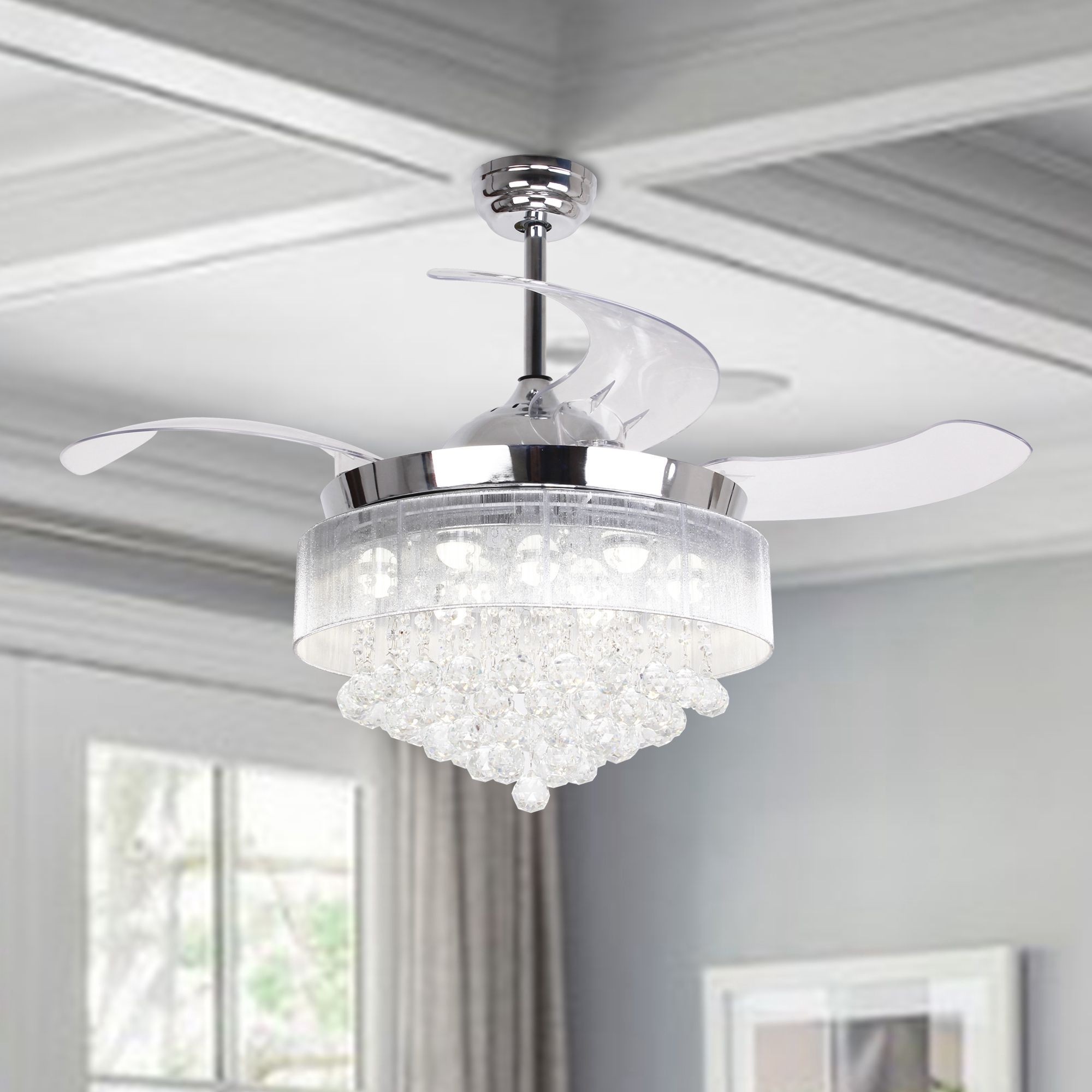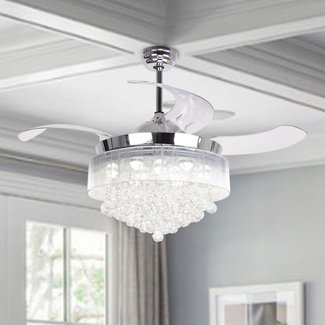 46" Broxburne 4 Blade LED Ceiling Fan with Remote, Light Kit Included
Stylishly make your room more comfortable with this jaw-dropping retractable ceiling fan and chandelier. Integrated LED lights brighten up your home, are more energy-efficient, and durable to last up to 50,000 hours of use. Timer function comes in handy when sleeping and want to keep the fan running for a few hours. Exclusive motor technology ensures the fan runs quietly. Suitable to use in both small and medium rooms measuring 8'*10' and 12'*14' respectively.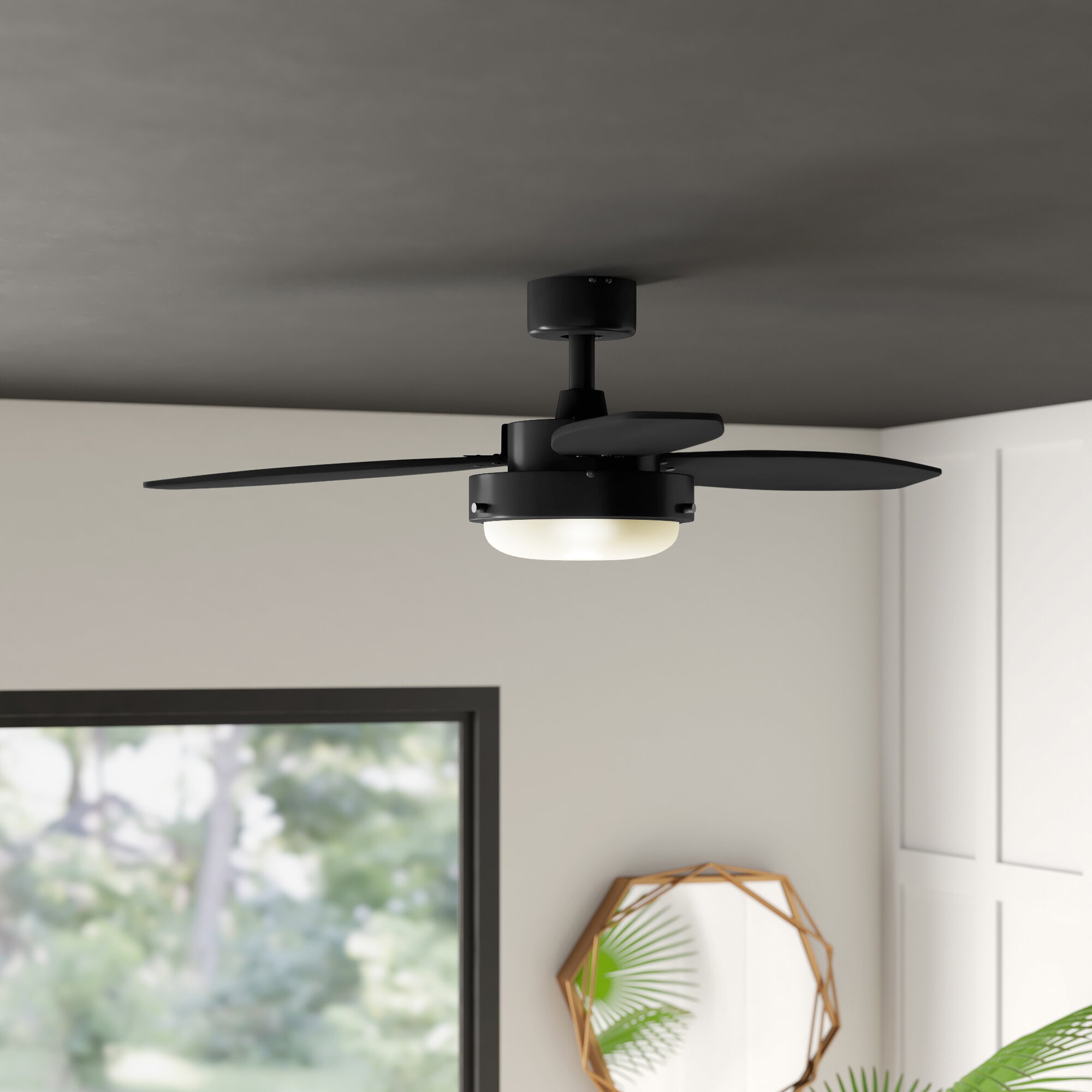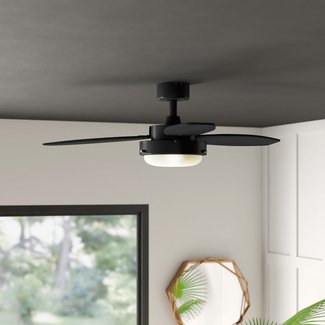 42" Corsa 3 Blade Ceiling Fan, Light Kit Included
Crafted from metal body with manufactured wood blades in a variety of finishes, this standard ceiling fan features a reversible motor and three removable & reversible blades. Integrated LED lights eliminate the need for purchasing bulbs, thus saving money, whereas its dimmable feature allows for modifying brightness to fit your needs. It can be installed in slopped or angled ceiling of up to 13°. To operate this modern fan, use the pull-chain controls.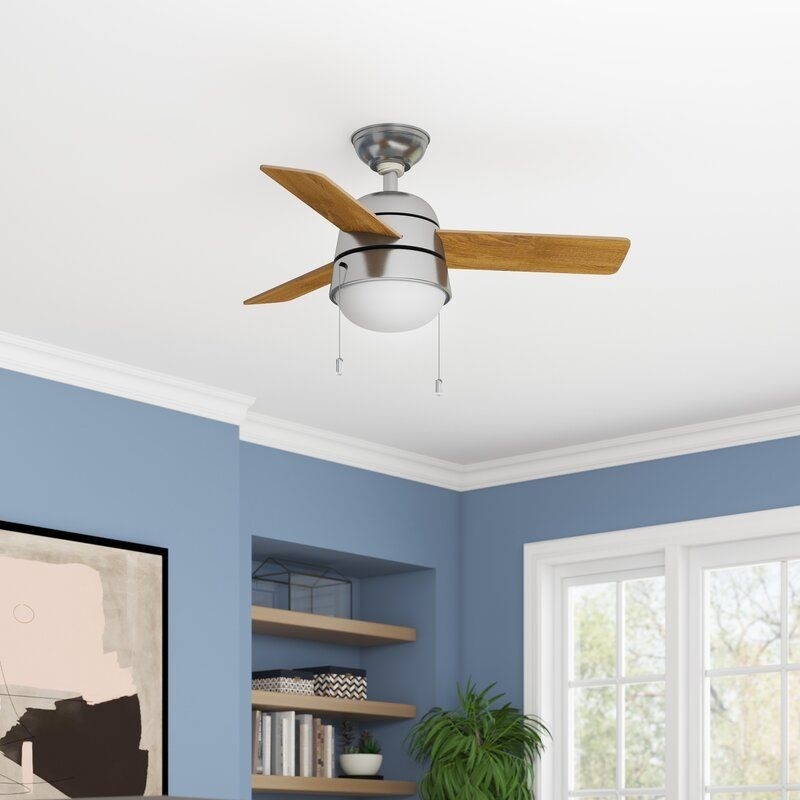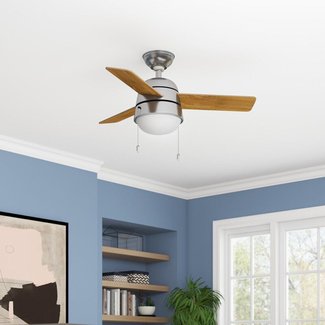 36" Aker 3 -Blade LED Standard Ceiling Fan with Pull Chain and Light Kit Included
Keep cool during the summer and warm in winter using this standard ceiling fan with lights. Has down rods to permit the fan to be mounted at the appropriate height in up to 11' ceiling height. 15° blade pitch circulates just the right amount of air, while the three 36-inch blades enable air to move more efficiently and faster for a chilled, refreshing effect. Match ceiling blade finish with prominent hardware like door handles and cabinet doors to achieve a put-together look.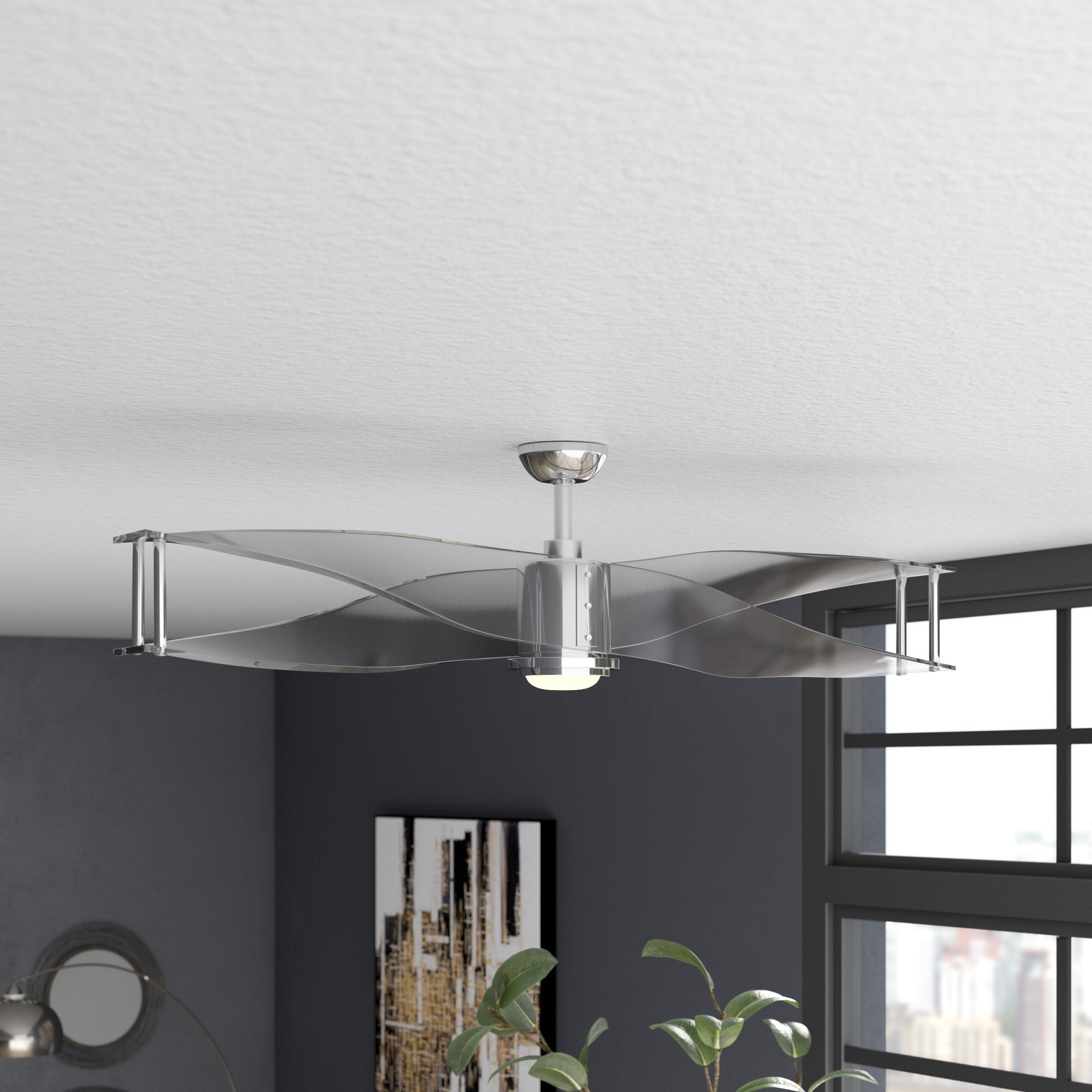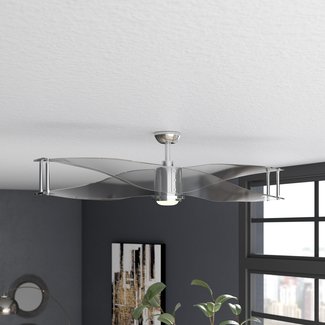 56" Penbrook 2 Blade LED Ceiling Fan with Remote, Light Kit Included
Chic and contemporary, this modern-styled flush mount ceiling fan bequeaths subtle elegance and uniqueness to any home. Two clear acrylic blades showcasing smooth curved design and polished nickel-finished body evokes a light and airy feel guaranteed to transform your home's appearance. Comes with six different fan speeds and 170 CFM per watt airflow to warrant optimum efficiency. Remote control allows for convenience. Can be used in large rooms of up to 18' * 20'.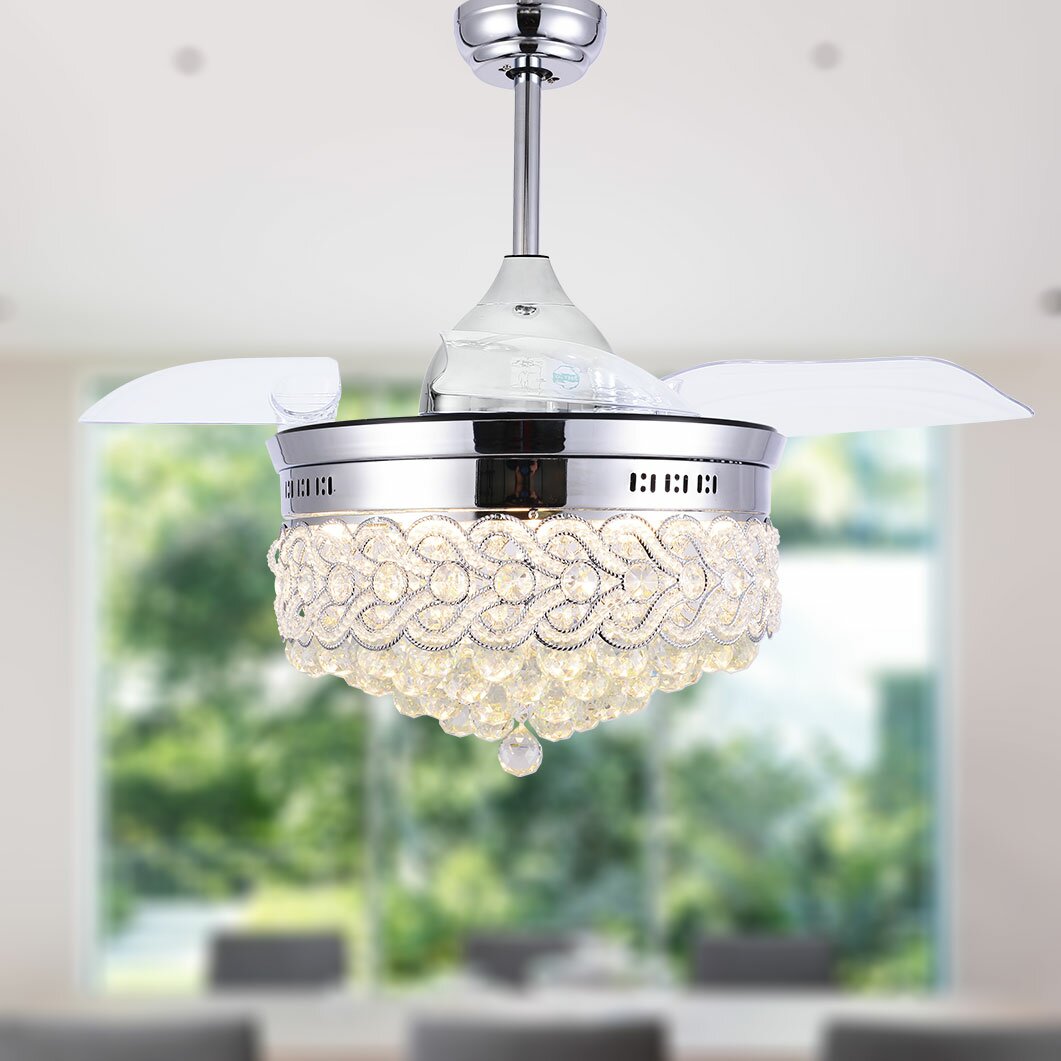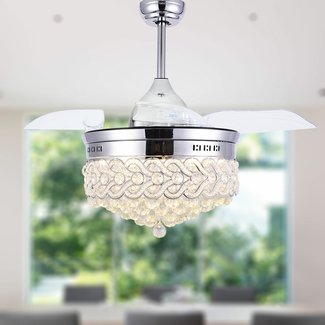 Aadvik 4 Blade LED Ceiling Fan with Remote
Supplement your home décor with this 24.4" height crystal ceiling fan. Four transparent plastic blades automatically unfold when in use and retract when not in use for a seamless look. Comes with two down rods measuring 5" and 10" to allow for mounting on high ceilings. Whisper-quiet performance moves air without any hum or buzz, while remote separately control light and fan. This fan should only be used in dry locations like a home office, bedroom, living room, and dining room.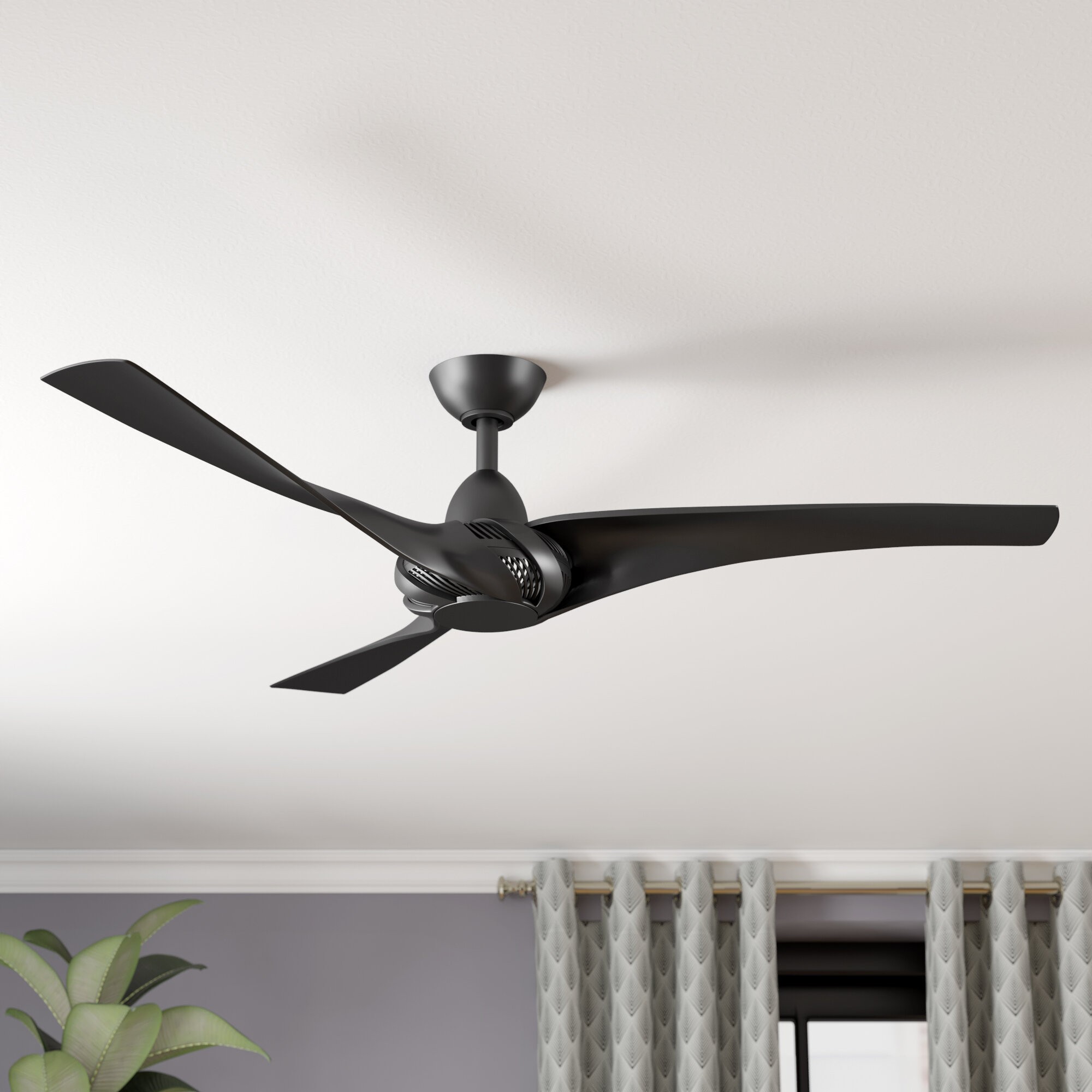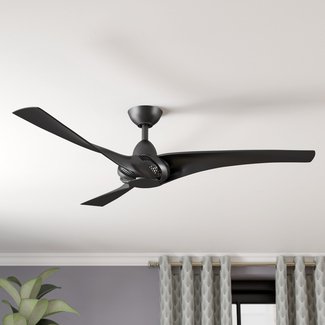 52" Smoak 3 Blade Ceiling Fan
Supplement your air conditioning with this one-toned propeller ceiling fan. Sleek unadorned blades infuse a contemporary and modern touch, making it suitable for modern or transitional themes. Wall controlled four fan speeds enable you to maintain excellent comfort levels, while reversible motor ensures perfect temperature regardless of the season. The 4.5" down rod can be replaced with a longer one for higher ceilings. This simple and classic fan is ideal for medium-sized rooms of up to 12' * 14'.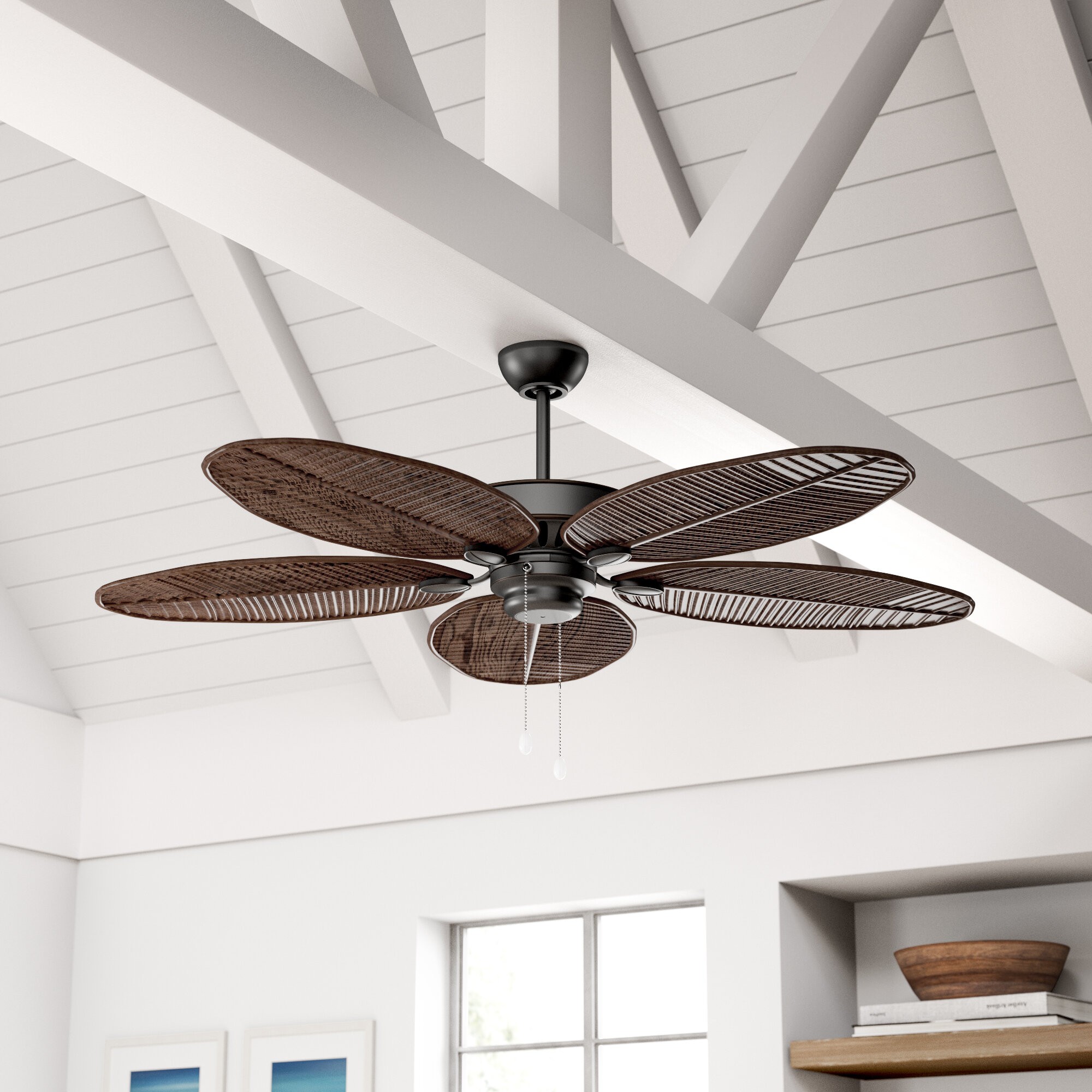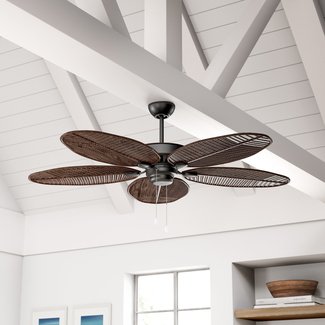 52" Kateri 5 Blade Outdoor Ceiling Fan
Stir up fresh breeze during those sultry summer afternoons with this down rod mounted ceiling fan. The palm leaf blades in either white or walnut finish radiate island/tropical vibes. Its wet rated making it ideal for areas exposed to rain, snow, ocean spray, and water like exposed patios and outdoor porches. Comes with three-speed pull chain control. A light kit can be added to the fan as the original listing comes without it.