Our Choice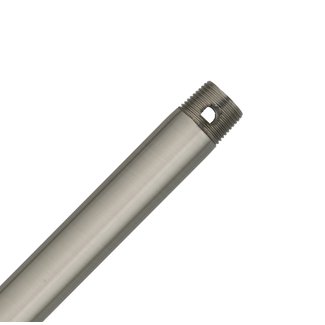 Ceiling Fan Downrod
Fans in a room with vaulted ceilings may not provide adequate airflow. However, with this downrod, you can bring the fan closer to the floor for better cooling efficiency.
It is available in 31 different finishes and 19 sizes and has a universal fit so you can find the perfect rod to suit your mounting hardware and motor housing.
It is made out of metal which makes it strong and durable. It also comes with a 1-year product warranty so you can rest assured of its quality and performance.
Winnie the Pooh Blustery Day 21" Blade (Set of 5)
Fans of Winnie the Pooh will love this blade set that makes a playful addition to a nursery or child's room.
The wood construction is easy to clean for optimal dust control, and the whimsical pictures on the underside of the blades are printed in non-toxic paint for a safer cooling system for your family.
It can fit a fan that is up to 52" and each blade is 21" long. It comes as a set of 5 blades with each blade weighing only 3 lbs.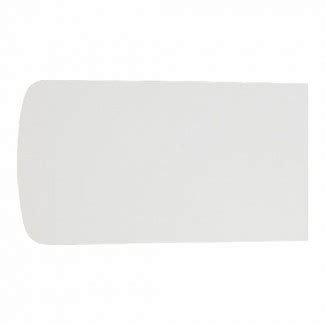 Ceiling Fan Blade (Set of 5)
Sleek, simple, and perfect for a minimal home, this set of 5 blades is budget-friendly yet does not compromise on quality.
There are a total of 14 finishes; from studio white to toasted walnut, you can find the color that perfectly matches your style. The blades are rectangular and have a width of 24". Each weighs in at about 3 lbs. and the whole set has a blade sweep of 52".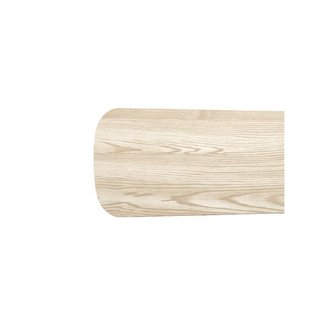 Woll 16.73" Ceiling Fan Blade (Set of 5)
Create a cool, calm space to relax in your home with this set of ceiling fan blades. With 6 unique color options, including teak, cherry, and satin nickel, you can find just the right blade set for your home aesthetic.
The rectangular wooden blades are 5.7" in width and 16.73" in length, and are reversible so you can configure your cooling system to suit your fan motor housing. At an affordable price like this, these blades can't be beaten for quality.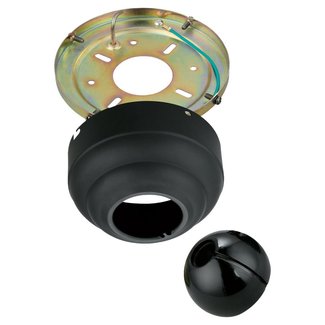 Ceiling Fan Sloped Adapter
If your favorite style of ceiling fan won't fit on your angled ceiling, this adapter makes installing a fan on a sloped surface a breeze.
Made in the USA, you can rest easy knowing this product is made from quality materials and constructed well. The metal material is durable to provide you with a long-lasting finishing touch to your home fixtures.
It is available in 7 different finishes from weathered iron to matte black to coordinate easily with a wide variety of different home décor schemes.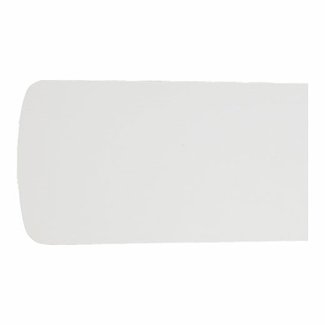 Ceiling Fan Blade (Set of 5)
Perfect for boho chic or eclectic décor style, the creative leaf design of this 5 blade set is sure to make your room stand out and bring the adventurous aesthetic of distant shores to your home.
The blades are made from a sturdy thermoplastic for superior durability and each item has a width of 21". The whole set weighs about 22 lbs. It comes with 3 pre-drilled holes for easy installation.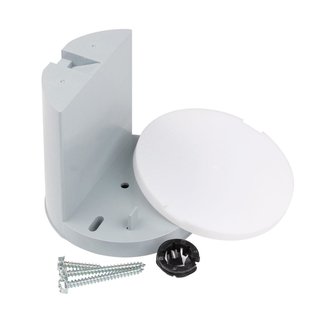 Ceiling Fan Housing
A support brace comes in handy to ensure the safe installation of your ceiling fan or light fixture.
The set includes a 15.5 cubic inchdual mount box, mounting hardware and a specialized Safe-T-Cap brace. It has 8-32 threads for light fixtures and 10-24 threads for ceiling fans. It fits 16" to 24" ceiling joists, making it a versatile piece for your home and can be installed without going into the attic.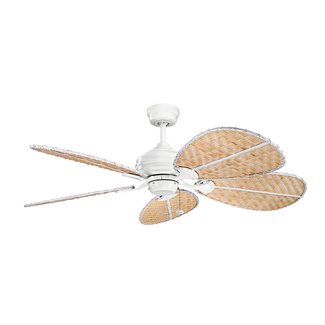 Ceiling Fan Blade (Set of 5)
Enjoy a peaceful tropical oasis on your patio with this set of 5 fan blades. These quality blades are weather-resistant and made with plastic and wood. They can be installed on an existing fan for an instant style upgrade.
The blades are reversible and oval in shape with a detailed woven pattern. They are 22" in width and 13.25" in length and feature a single drill hole at the base for quick and easy installation.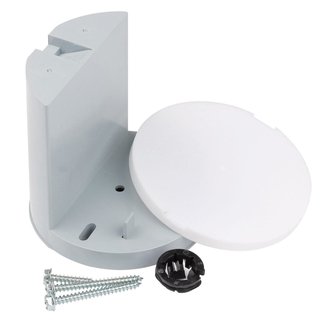 Fan Master Junior Ceiling Fan Housing
A sturdy support box is necessary for the safe installation of a light fixture, or ceiling fan. The set comes wwith a Saf-T-Cap, mouinting hardware and easy to follow instructions.
This unit can hold up to 70 lbs. for ceiling fans and 150 lbs. for light fixtures. It is half an inch deep and has the capacity for 13 cubic inches of wiring. All the wiring can fit on one side so there is no need to split wires.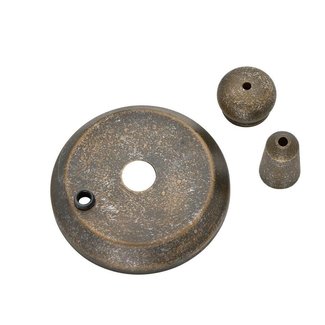 Ceiling Fan Hardware
This decorative cap and finial package can be color-matched to a variety of ceiling fans. There are 4 different options to choose from, including cottage white and antique bronze to suit a wide range of different home décor styles.
The cap and finials are both made out of metal. With a unique style and a quality build, you are guaranteed to be satisfied with this piece of hardware.