Carts & Stands
If you are looking for serving carts that can double up as stands, then you will be glad to know there is a great variety of carts & stands to choose from on the market. Carts are mostly used to move stuff around the house in bulk. It could be drinks, food, clothes, or anything. But when not in use, they can also be used as stands, offering extra storage for small items. The stands can also act as display platforms for antiques or decorative accessories in the home. These carts are generally traditional in their design with a touch of vintage elegance. But you can get modern options too.
Our choice Best Carts & Stands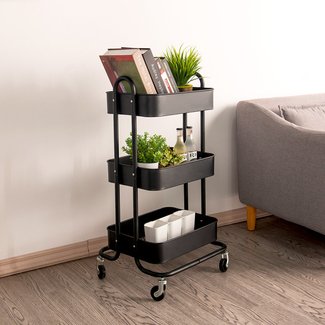 3 Tier Metal Rolling Utility Cart
This portable vintage utility cart comes in many vivid colour variations and its universal shape makes it suitable for bedrooms, bathrooms, offices, and storage rooms. The built-in 360-degrees casters allow easy repositioning, while the metal mesh shelf platforms allow the dust to go through instead of accumulating it. It's produced from metal with a maximum combined weight capacity of 99lbs. to organise all your books, cosmetics, or office supplies.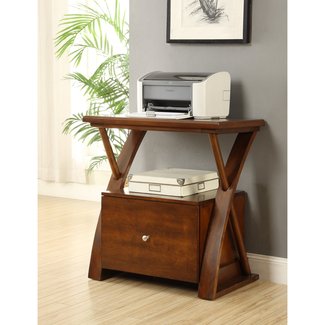 Super Z Printer Stand
Accentuate your taste for classy furniture with this dark chocolate wood printer stand. It's crafted from premium veneers and solids and hand-finished with a multi-step rubbing technique to highlight the beauty of the natural wood grain. It will look best against bright walls of natural hues. You can be sure its fancy appearance will accent your office for many years as it is sealed and protected with both sealer and backed-on lacquer coats.
Supreme 5 Shelf Shelving Unit
Organise in style with this free-standing storage unit featuring five convenient shelves with raised edges to keep things from falling off.
It will be ideal to hold pots and pans in your kitchen, towels and appliances in your bathroom, boxes in your storage room or tools in your garage. Each shelf can hold up to 50lbs. to accommodate heavier objects. The shelf can be set up to half height in case you need less storage down the road.

Dawson 3-Shelf Metal Utility Cart
If you're looking for a simple solution to your light storage needs, this cart provides superb quality at an affordable price. Constructed from steel, it ensures durability and longevity. Its flexible design allows the removal of shelves while the clever metal rods around each shelf help keeping their contents in place. You can easily move it around your home thanks to lockable casters that can be disassembled if needed.
3- Shelf Metal Rolling Utility Cart
If you're looking for a heavy-duty minimalistic utility cart, this product will meet your needs. Besides the 3 shelving units, it offers extra stability—the wheels can be locked to keep the cart in place. In case you want to simplify its industrial look further, you can remove the casters completely. The sturdy metal construction will ensure years of usability while adding a raw element to your decor.
Mobile Printer Stand with 2 Drawer
This convenient mobile stand can be used in a living room, bedroom or home office. It will easily hold a printer on the top surface, a central processing unit in the lower compartment (the back of this space is completely open), and loose objects and accessories in 2 drawers. The thick manufactured wood construction provides a large weight capacity of 154 lbs. You can pair it with a matching desk for a complete look.
Marshall Three Shelf Rolling Utility Cart
Kick-start your home party in a minimalistic style with this slim design rolling cart. The simple metal construction assures durability, while the fully lockable/removable wheels offer extra sturdiness and/or flexibility. Its plain airy look makes it easy to fit it into virtually any space, and the choice of 3 solid colours give you an option to blend it in with your existing decor. It's extremely easy to put it together in just 2 steps.
Lynn Printer Stand
This versatile organic-looking piece of furniture is perfect for crafty people who like to be in control of their decor. The unfinished rubber-wood provides a blank canvas for creativity—you can choose your own stain, paint or clear lacquer to fully personalise it. The open design will be perfect for darker rooms, allowing the light to travel through to illuminate the area. You can use it for a printer and office supplies, as a nightstand, or even as a side table decorated with plants.
Printer Stand
This multi-purpose stand offers 6 various open/closed storage compartments making it an ideal fit for office supplies and accessories. Its sleek black finish will complement black or white furniture and electronics, and rooms with intense accent colours. You can even turn it into an unconventional nightstand with plenty of room for a lamp, portable electronics, and picture frames. There is even an extra shelf behind the door that will please extremely organised users.
3-Tier Home Kitchen Storage Utility Cart
Perfect for busy homes with kids and pets, this scratch-resistant waterproof cart will withstand the test of time. It's made out of high-quality steel resistant to corrosion, plus the wheels won't scuff your floors. The deep 9cm shelf trays will safely hold toys, medicines, kitchen pantry or cosmetics. It's very easy to maintain—just wipe it clean with a soft cloth dampened with water and mild dish detergent or soap to keep it shiny for years.