Our Choice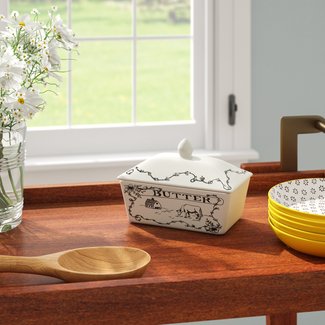 Kiser Butter Dish
Traditional and vintage, this butter dish is the perfect kitchen and table addition for a variety of settings such as country and cottage style kitchens. Its painted details add charm to the kitchen while providing an aesthetically pleasing way to store your butter.
This butter dish is microwave, oven, and dishwasher safe. Replace a basic plastic butter container with this elegant stoneware butter dish to complement your existing table decor.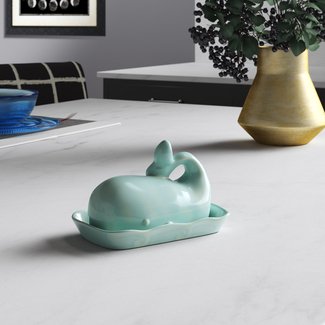 Natividad Whale Butter Dish
If you're looking for a completely unique butter dish, this whale butter dish is the perfect option to keep your kitchen fun and convivial. Available in light blue and navy blue, you can now confidently display your butter in your coastal or beachy themed space.
This butter dish is easy to pick up with the whale's tail, can hold up to 5" L stick of butter, and is the perfect size to be a focal point on the counter.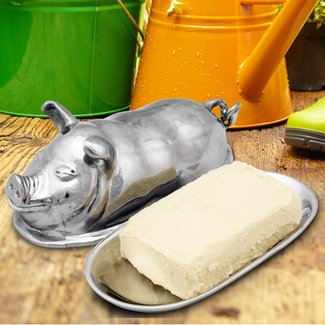 Pig Butter Dish
Add a unique and playful touch to your kitchen with this pig butter dish. Its handmade aluminum body is perfect for sheltering butter in various kitchen styles, including country, rustic, and farmhouse. Its characteristically-porky shape makes it a perfect choice for those who love animal decor.
This fun butter dish is hand wash only, can keep your butter nice and cold on the tabletop, and wide enough to fit a block of butter.
Talala Butter Dish
With a sleek style and stunning colors, this butter dish is a great option if you want to store your butter in style. Most fitting to modern and contemporary homes, it has a classic design that blends well with its surroundings.
Featuring a high-quality ceramic finish, this butter dish is refrigerator and dishwasher safe, non-stick for easy cleaning, durable, and has an easy-grip handle. Pair this butter dish with other neutral colors for a simple yet classy atmosphere.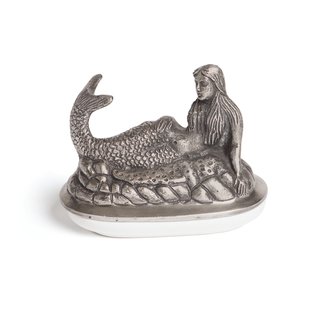 Bianca Mermaid Butter Dish
This handmade mermaid butter dish offers a timeless style best suited for antique and old-fashioned decor lovers. This butter dish has an elaborate metal detailing which makes it the focal point of any table.
The mermaid's body and ground are aluminum with a silver finish while the base is white ceramic that should only be hand washed. Enhance your old world style or farmhouse dining area by pairing this butter dish with other decors such as vintage candle holders.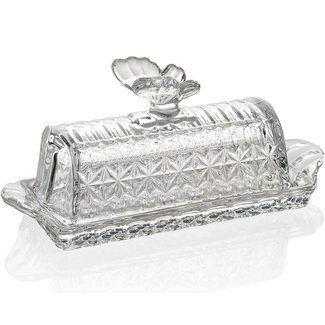 Kangley Glass Butter Dish
If you're looking for an elegant way to hold your butter, this glass butter dish is the perfect table addition. Its delicate designs make it a versatile option for various settings, such as contemporary and traditional.
It has a well-sealed cover to keep out insects and extra oxygen while keeping your butter fresh, is dishwasher safe, and comes with a handy knob for easier access. Coordinate with a clear sophisticated fruit bowl to create a neat and classic table setting.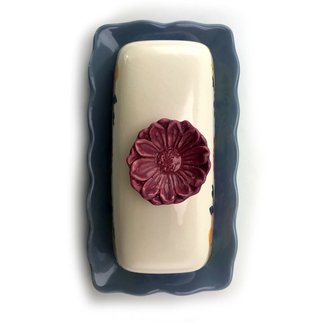 Nellis Butter Dishes
This traditional and sophisticated butter dish adds a fun and floral accent to kitchen and dining tables. Made from quality ceramic, your butter will remain tasty and fresh with this butter dish.
It's suitable for both casual and formal settings since it can add an elegant touch to your table during fancy gatherings and brighten up your table during breakfast. Additionally, its flower handle provides a stylish and easy way to lift the lid.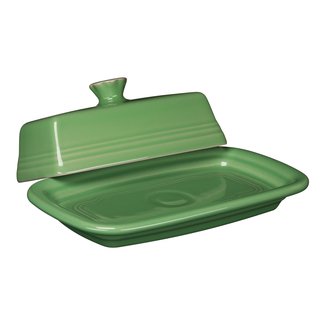 Butter Dishes
Keep your butter well preserved in this extra-large and vintage-looking meadow green butter dish. Made of earthenware, this butter dish is thick, lead-free, and safe to use in the microwave, oven, and dishwasher.
Perfect for vintage, retro, eclectic, and other colorful kitchens, you can store your butter in a classy and stylish way while keeping your setting lively and bright.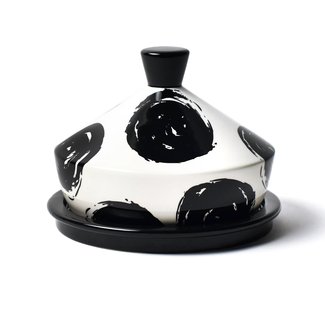 Deco Butter Dish
Its ball of clay shape and distinctive patterns make this butter dish a great choice for those who want to stand out when storing their butter. Its fun design perfectly fits art deco kitchens as well as contemporary ones.
Make a statement with this butter dish with black and white brushed dots and pair it with teacups in the same color for a striking ensemble. This stoneware butter dish is durable and safe to use in the dishwasher.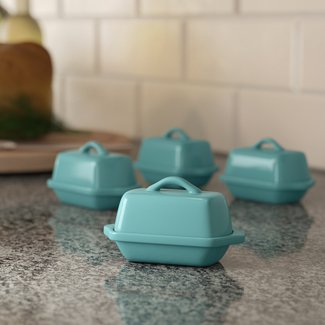 Coakley Mini Butter Dish (Set of 4)
This charming mini butter dish is ideal for serving large groups of people during casual and formal gatherings without the need to pass the butter dish around since it comes in a set of 4 which can hold up to 4 tablespoons of butter.
Its colorful design with a glossy glaze can completely brighten your tablescape, creating a more welcoming setting. Decorate your contemporary dining area by pairing this set with a bouquet of flowers in a colored glossy vase.