Our Choice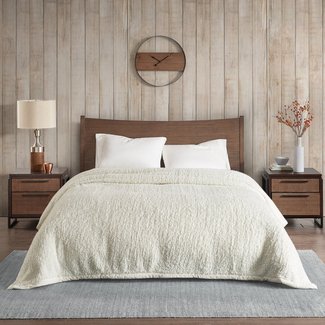 Burlington Blanket
Soft, plush, and undeniably luxurious, this medium-weight 100% polyester blanket comes in five muted shades to bring a gentle, upscale neutral hue to your room.
With generous dimensions available in three different sizes, it provides a boho-inspired, oversized look to your master bedroom. It doesn't shed or pill in the wash or on sheets, which helps to maintain your room's luxe appearance.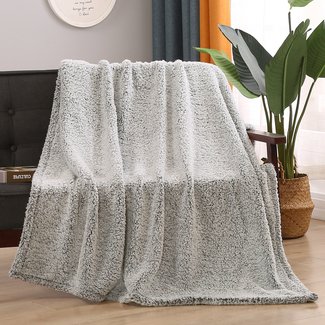 Treadaway Warm And Cozy Throw
Perfect for curling up with your coffee on cool spring mornings, this lightweight plush throw is a soft and cozy addition to your sofa or bedscape.
Knitted from Sherpa polyester, it brings a welcoming, laid-back look to your space. It's available in five different reversible colors--ivory, denim, pink, red, and grey--which makes it easy to match with your personal aesthetic.
With dimensions of 60" L and 50" W, it provides plenty of space for getting cozy and it is machine washable for easy cleaning.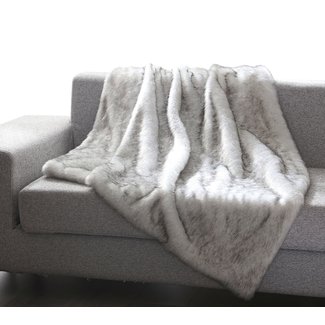 Thiele Luxury Tip Dye Throw
Acrylic faux-fur mimics the soft feel and appearance of mink in this sumptuous blanket. Thick and plush, it pairs wonderfully with a leather sofa and your favorite book.
At 50" W x 60" L, it's the perfect size for one person. The multitoned material instantly elevates the appearance of your room adding a touch of glamor to your contemporary space. Available in blush, gray, white, and beige, you are sure to find the perfect match for your home's decor style.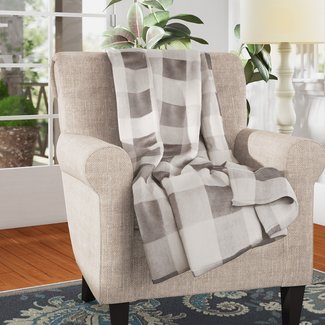 Joana Super Soft Velvet Plush Oversized Throw
The plaid print of this blanket evokes old-fashioned picnics while the ultra-soft, plush, 100% polyester velvet combines machine washability with total luxury. Available in four different shades, it's sure to be an instant classic in your home.
Lightweight yet warm enough for a cold winter's night, you won't feel weighed down warm-up, and it's hypoallergenic and suitable for sensitive skin and sinuses. Curl up and watch TV or use this throw to dress up your bed.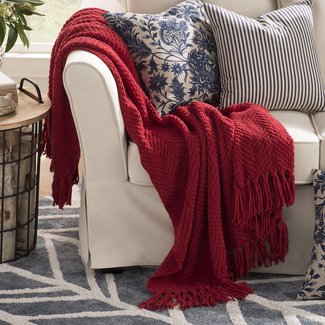 Nader Tweed Knitted-Design Throw
With 36 different color options to choose from, you can match this stunning knitted throw with almost any interior design scheme.
Perfect for softening a reading room or adding a welcoming touch to the living room sofa, this polyester blanket is cozy and warm. It goes wonderfully with a contemporary or minimalistic sense of style with a raised texture and fringed edges. It is available in two sizes: 50" W x 60" L and 60" W x 80" L.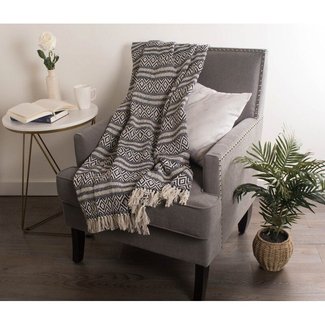 Abel Stripe Cotton Throw
Decorated with stripes, interlacing diamond patterns, and adorable fringe work, this rustic-style throw is available in mineral, grey, and stone color schemes.
Perfect for that cozy chair next to the fire or for the porch swing, this lightweight throw brings laid-back, classy boho vibes to your favorite space.
Adorable and durable, this 100% cotton throw is machine washable and can be tumble dried so the fringes and knitwork maintain their new appearance.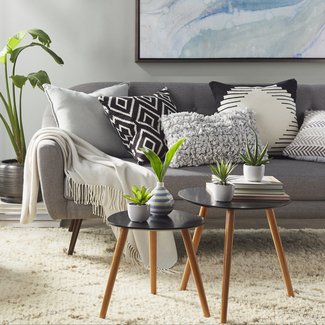 Highbridge Throw
Minimalist details meet maximum comfort with this sumptuous throw. Fringe work and a delicate chevron pattern decorate the throw, which is available in chocolate, camel, pink, green, and gray.
Made from soft and luxuriously high-quality acrylic, the 50'' W x 60'' L piece drapes beautifully over the arm of your favorite chair or rocker. Perfect for providing the finishing touches to a nursery, your sunroom coffee spot, or at-home library.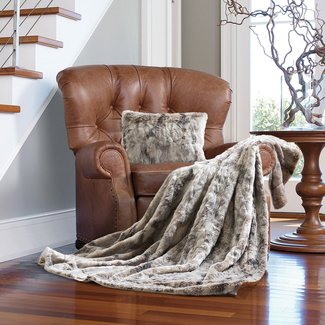 Akash Faux Fur Throw
A stunning, mottled grey, beige, and tan pattern characterize this faux fur throw. The velveteen fabric backing provides a smooth, soft interior while the faux fur traps body heat for optimal coziness.
Ideal for adding style to your den space or a taste of old-world luxury to your master bedroom, this 60'' W x 70'' L throw makes a wonderful Christmas, anniversary, or birthday gift.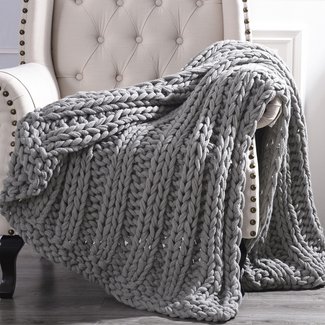 Reinhold Chunky Knitted Acrylic Throw
Lovers of a natural, throwback aesthetic will be thrilled by this chunky, sweater-knit throw. Perfect for rounding off your shabby chic or farmhouse look, it's heavy, thick, warm, and undeniable cozy, yet the knit still allows for ample airflow.
Drape this 50'' W x 60'' L throw over the arm of your sofa or use it to add a welcoming appearance to a farmhouse-inspired wooden bench. Its ivory color matches almost any color scheme.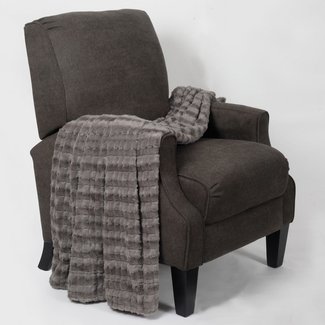 Eisley Double Sided Faux Fur Throw
Handmade and machine washable, this faux fur throw blends modern functionality with superior craftsmanship. Each of the 13 different color options is soft yet vibrant, ideal for adding a personal touch to any space.
For added warmth and interest, the polyester throw is double-sided and features a lined, patterned appearance. Elegant, soft, and cuddly, this throw effortlessly combines class and coziness.