Our Choice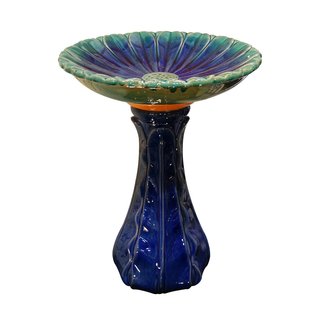 Ceramic Pedestal Birdbath
Introduce an antique finish to your garden with this gorgeous pedestal birdbath. Glazed coating helps it stay naturally cleaner, whereas distressed cracked pattern and glossy finish infuses elegance and striking beauty. Stylized bird patterns and figurines give it a vintage look and a unique touch. Pair this bath with a bird feeder to beckon more winged creatures and supplement their natural food sources.
Summer Garden Glazed Birdbath
A huge benefit of this detachable birdbath is it arrives at your door fully assembled. This ceramic piece is weather resistant to withstand harsh climatic conditions of up to 34°F. Intricate mosaic design adds up enchanting beauty, while the 3.5" bowl depth isn't too deep for birds to bathe and drink water safely. Add sand to the hollow stand to reinforce stability and firmness.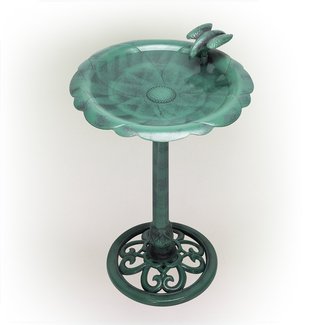 Bird on Side Birdbath
Made from durable resin material, this green birdbath features a bowl and stand design. Resin material warrants extreme weather resistance and doesn't shatter when tipped over. Its green hue seamlessly blends with the garden's greenery, whereas its lightweight quality allows for more comfortable moving around. Mounting hardware securely holds this functional bath, thus, preventing tripping. To clean bird droppings and built-up dirt, use a soft brush with a mild detergent.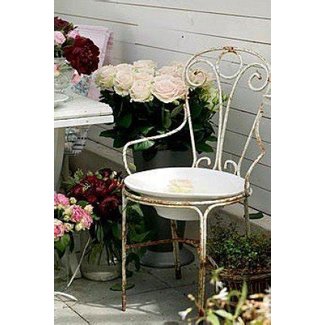 Sunrise Birdbath
Inject vibrant and bright colors to your garden with this charming, hanging birdbath. A 20" three-strand weather resistant chain securely supports a glass embossed floral design in blue, pink, purple, and yellow for a dazzling, visually pleasing look sure to attract tons of birds. The 2.5" deep bowl holds up to three water cups, which is sufficient for your birdy companions. Always bring it indoors during extreme weather conditions to prevent damage and guarantee longevity.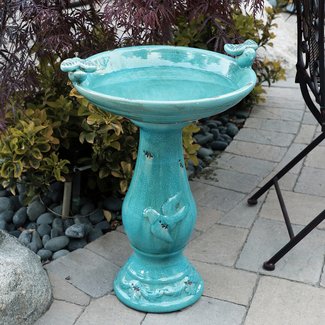 Pedestal Birdbath
Ornament your garden with this antique looking birdbath. Three ground metal brackets steadily secure it to the ground, while removable top allows for easier cleaning and filling, as well as offering flexibility to use as ground bath and attract ground-dwelling birds. Polyresin material making up the birdbath is resistant to water, weathering, and aging to endure prolonged outdoor use. Place stones or pebbles at the bottom to offer birds a variety of depths, especially the small ones.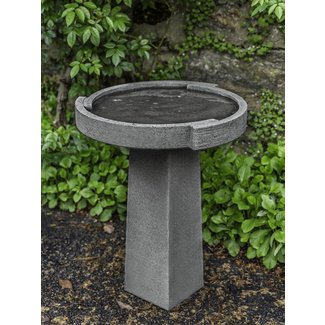 Concept Birdbath
Elegant and classic, this sleek and durable birdbath flawlessly meshes functionality with aesthetics. It's solid and extremely heavy to prevent tilting in strong winds. High-density cast stone material exudes a natural look which beautifully weathers over time and has an infinite lifespan to last through generations. Shallow 1.5" bowl depth affords a safe spot to small birds as they won't drown. Protect the birdbath against freezing as expanding ice ruins it.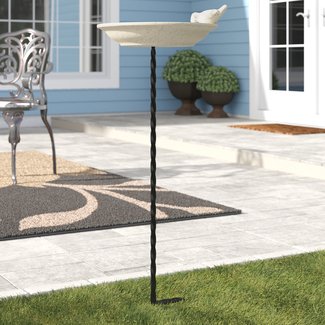 Phebe Twisted Wrought Iron Birdbath Stand
Transform your ground birdbath to a pedestal design with this stunning 36" H black stand. The wrought iron frame provides ornate support to the dish that will be perched atop. Classic twist augments aesthetical appeal while the stake design makes it easy to twist into place. Your feathered friends will appreciate added height since it keeps them safe from cats and other ground predators. Can accommodate up to a 16" diameter dish.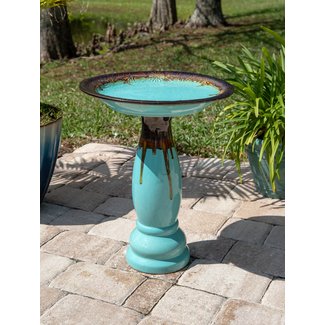 Glazed Birdbath
Crafted from ceramic material with sleek glaze finish, this striking birdbath is the perfect artificial puddle from where birds drink and preen from. Wide and spacious bowl allow for multiple birds to use the bath at the same time without causing territorial conflicts. The graduated slope serves various sized birds ensuring safety and convenience. Adverse weather of below 33° F affects it, therefore, clean and securely store it once winter beckons.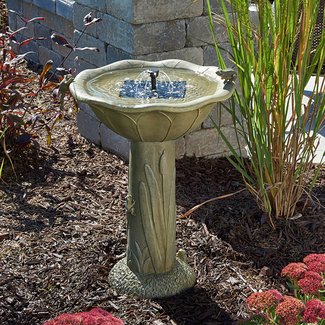 Acadia Solar Birdbath
Featuring an olive green hue, this fountain bird bath adds a charismatic ambiance to your garden. Underwater solar-powered panel and low voltage pump with a filter propels water either upward or sideward. The motion catches the bird's eye while gentle splashing introduces tranquil sounds that's relaxing and serene. Water is recycled from a hidden reservoir. Store this birdbath during winter as front can damage it.