Our Choice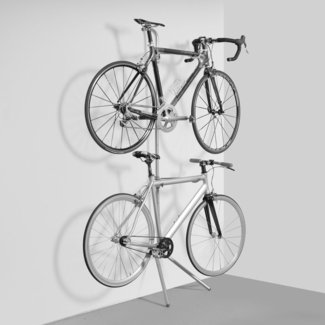 Wayfair Basics 2 Bike Freestanding Bike Rack
Make the most of your space with this freestanding bike rack to keep your bikes neat and organized while being easy to access. Its slender metal frame with hooks can keep two bikes grouped two-by-one without taking up too much space.
Measuring 84" H x 22" W x 14" D, this rack is suitable for mountain bikes, fat tire bikes, and road bikes with a weight capacity of 60 lbs. Simply lean it against the wall without any attachments needed.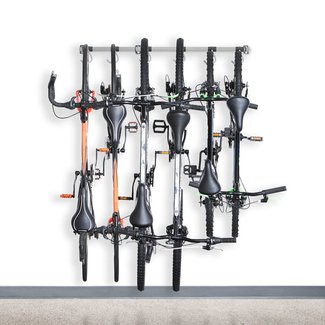 Monkey Bars Wall Mounted Bike Rack
If you own multiple bikes and are looking for a way to presentably store them, this wall-mounted bike rack is the perfect addition.
Space-saving and functional, it can support 6 bikes in only 4 feet and has a versatile surface that blends well with most garage styles. This bike rack is an easy storage solution for clearing up floor clutter and is heavy-duty, ensuring years of usage. Wipe with a dry cloth to keep it clean and immaculate.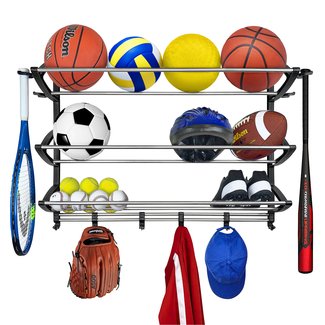 Lynk® Wall Mounted Sports Rack
Keep your sports equipment well organized in one place with this wall-mounted sports rack. Featuring a strong steel and polymer construction along with adjustable hooks, this multi-use rack is durable and maximizes storage space for all your sports gear.
Use the special hooks to hold baseball and softball bats, tennis and badminton rackets, as well as lacrosse and hockey sticks and the large adjustable hooks for your gloves, jerseys, ball caps, hoodies, and other sportswear.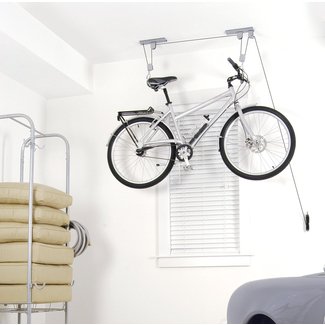 Hoist 101 Ceiling Mounted Bike Rack
Made of metal with a silver finish, this ceiling-mounted bike offers a practical way to make the most of your available space. It keeps your bike out of the way while still being easy to reach and can hold up to 50 lbs.
This bike rack comes with a pulley system to lift and lower your bike along with an auto-locking mechanism that prevents accidental release, allowing you to access it and put it away with ease.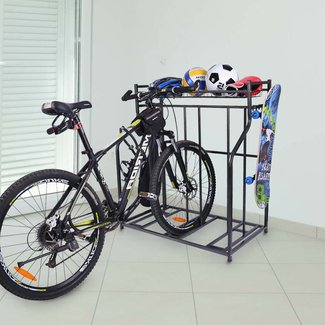 Oaklee Freestanding Bike Rack
Multifunctional and compact, this freestanding bike rack is perfect for mountain bikes, road bikes, and children's bikes and features hooks and a storage basket for sports equipment such as balls, skateboards,and helmets.
This bike rack is suitable for both indoor and outdoor usage including garages and backyards, and can neatly store up to 3 bicycles with its heavy-duty and durable steel construction.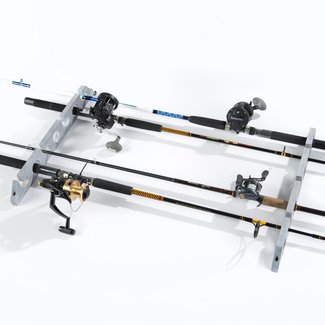 Wall/Ceiling Mounted Fishing Rack
This wall and ceiling-mounted fishing rack provides a convenient way to make full use of your available space. You can either place this rack on the ceiling or horizontally on the wall to keep your rods in good order and your garage clutter-free.
Its simple yet elegant design with an oak and distressed finish can easily blend with other decors. Simply screw the rack into place to systematically store your rods.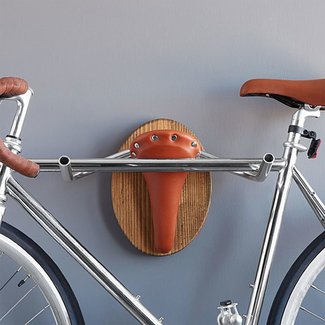 Taxidermy "the Longhorn" Wall Mounted Bike Rack
Organize your bike in style with this artistic wall-mounted bike rack. Inspired by nature with an eye-catching design of long-haired Scottish highland cattle, this bike rack is both stylish and functional.
It features a leather bicycle seat with bullhorn style road handlebars that can hold any standard sized bicycle. Secure on the wall with 3.5" screws to ensure maximum stability.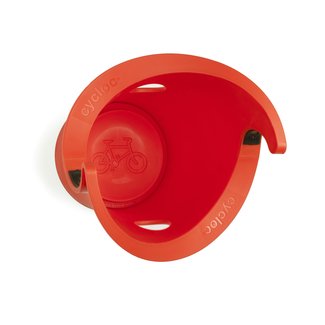 Solo Bicycle Wall Mount Bike Rack
Add a pop of color to your interior while keeping your bike neatly displayed with this easy-to-use cycle storage. It's ideal for displaying bicycles at home, in the garage, office, or even in retail stores as decor.
This wall-mounted bike rack allows you to quickly and easily store your bike horizontally or vertically and protects the bike's frame with its rubber contact points. Use the center space to conveniently store your accessories.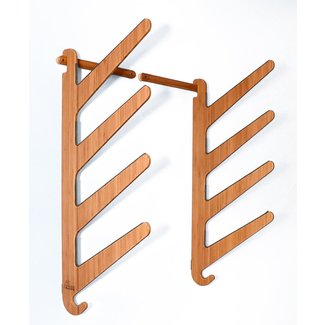 Kaua'i Quad Bamboo 4 Surfboard Wall Mounted Rack
This wall-mounted rack is a combination of versatility and practicality. Its sleek design can accommodate mid-sized boards such as surfboards and shorter boards such as skimboards.
Made from strong bamboo, this environmentally friendly rack has a classy finish that looks good with any wall color whether vibrant or dark. It's easy to install, can support 150+lbs of equipment, and features adjustable cradles and angled arms for space efficiency. Place your boards from small to large for a neat display.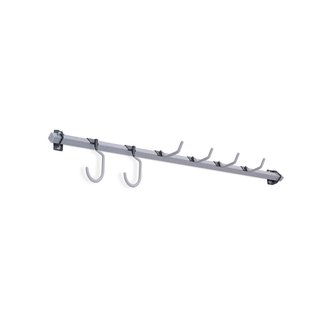 6 Golf Bag Large Wall Mounted Sports Rack
If you're looking for a storage solution to keep your golf bags well organized, this wall-mounted sports rack is the right choice. It can hold up to 6 golf bags, only takes 15 minutes to install, and does a great job at keeping the floor clutter-free.
You can now save a lot of room and keep your clubs up off the floor with this sturdy sports rack that features adjustable hooks with no weight or size capacity.