A computer armoire is an ergonomic and stylish cabinet that allows you to store your electronics and valuables safely. You can pull open the doors and sit down to work at the built-in computer desk or file your important documents in the drawers provided.
Computer armoires also come in a large variety of different styles. If you want to get one for your house, it's essential to consider the type of design, so the unit coordinates with the room and doesn't look out of place.
Here, you'll find a guide to some popular domestic style interiors and recommendations on which computer armoire models best suit each of these interiors.
Modern
Modern design is the quintessential domestic interior form: originating in early-20th century Europe, this ever-popular style reflects the modern-day balance between convenience and aesthetics.
Homes designed in this style tend to have plenty of wooden, glass, and metal furniture pieces, all in light, clean colors. Many furnishings will be dual-purpose, like a dining table with storage drawers or a lamp with different light functions. Modern design combines ergonomics and clean lines to create an overall stylish simplicity.
This slimline computer armoire desk blends perfectly into a modern living room or kitchen. Its adjustable 24" deep desk is a convenient place for working, and after you're finished for the day, simply slide your laptop back into the cabinet and fold the desk back in. This armoire comes in Smoked Oak or white finishes and features clean-cut lines and sleek modern hardware perfect for a modern interior.
When it comes to a modern interior, the armoire desk with hutch is also a great choice. At 59'' tall and 30" deep when fully extended, it fits easily into any room, and it's simple white finish offers a neutral base that coordinates with any room's color scheme.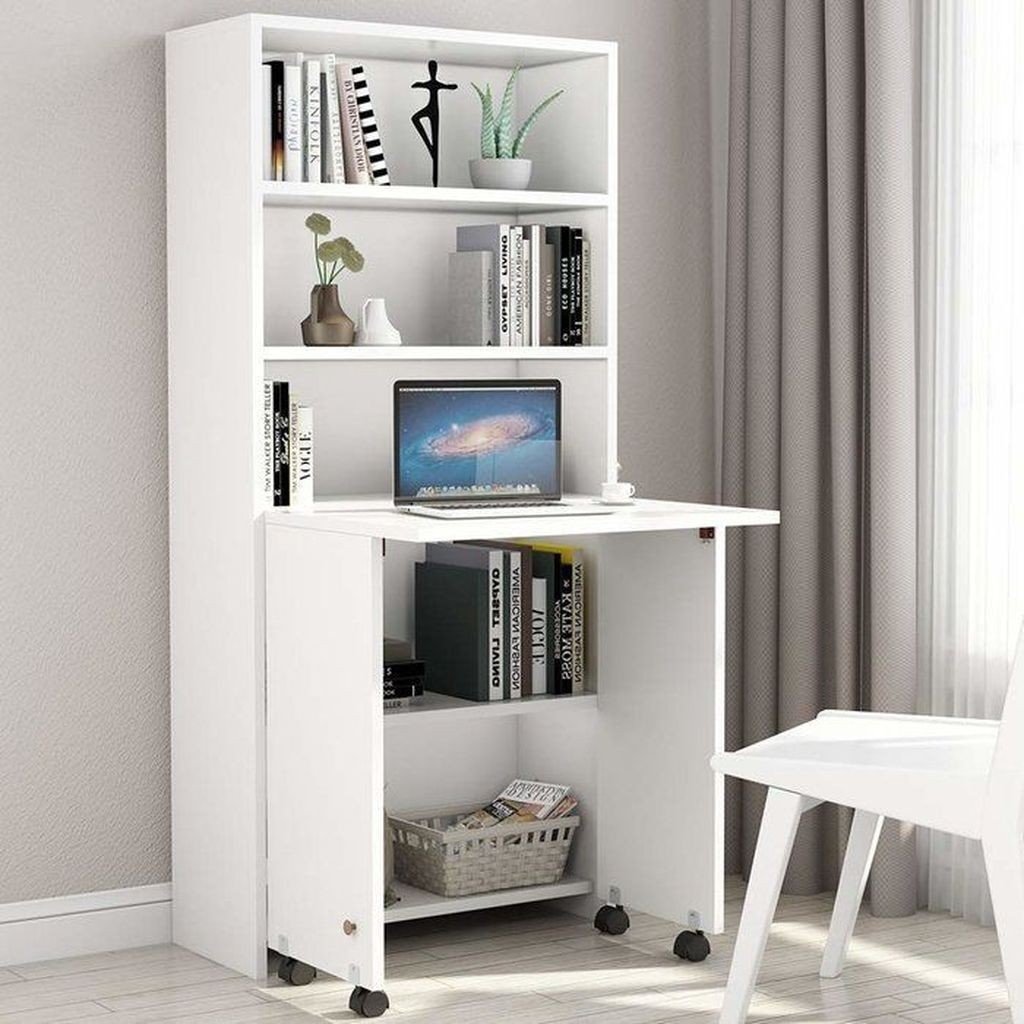 Traditional
Beginning in Europe, the traditional style of design focuses on darker textures, from lacquered wood to thick fabric. This design also emphasizes extravagant details and features, including scrollwork, turned legs, inlays, handles, and engraving. Traditional cabinets, tables, and chairs will often have elaborate curves and carved decoration.
This paneled corner armoire is an excellent example of the traditional style. It has a rich, dark varnish on the solid wood frame. In addition to ample desk space, it also has a pull-out writing platform for more traditional communication forms. However, it also offers modern convenience with a corner design that allows you to place the unit in any location.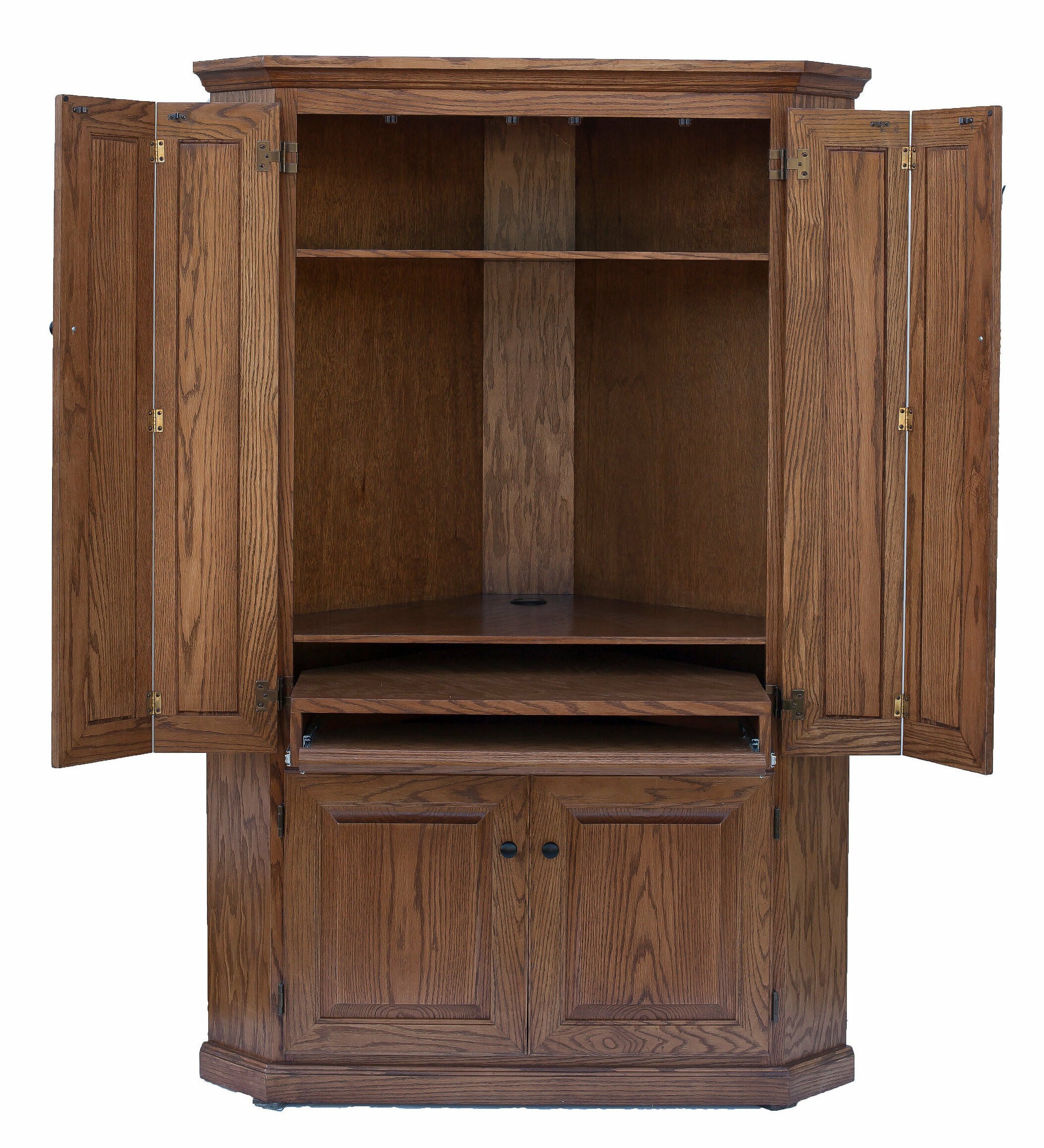 This 50" tall armoire desk is made out of high-quality mahogany wood, giving it a bronzed amber shine. With a 20" deep desktop and finished back, this armoire is both practical and traditionally stylish.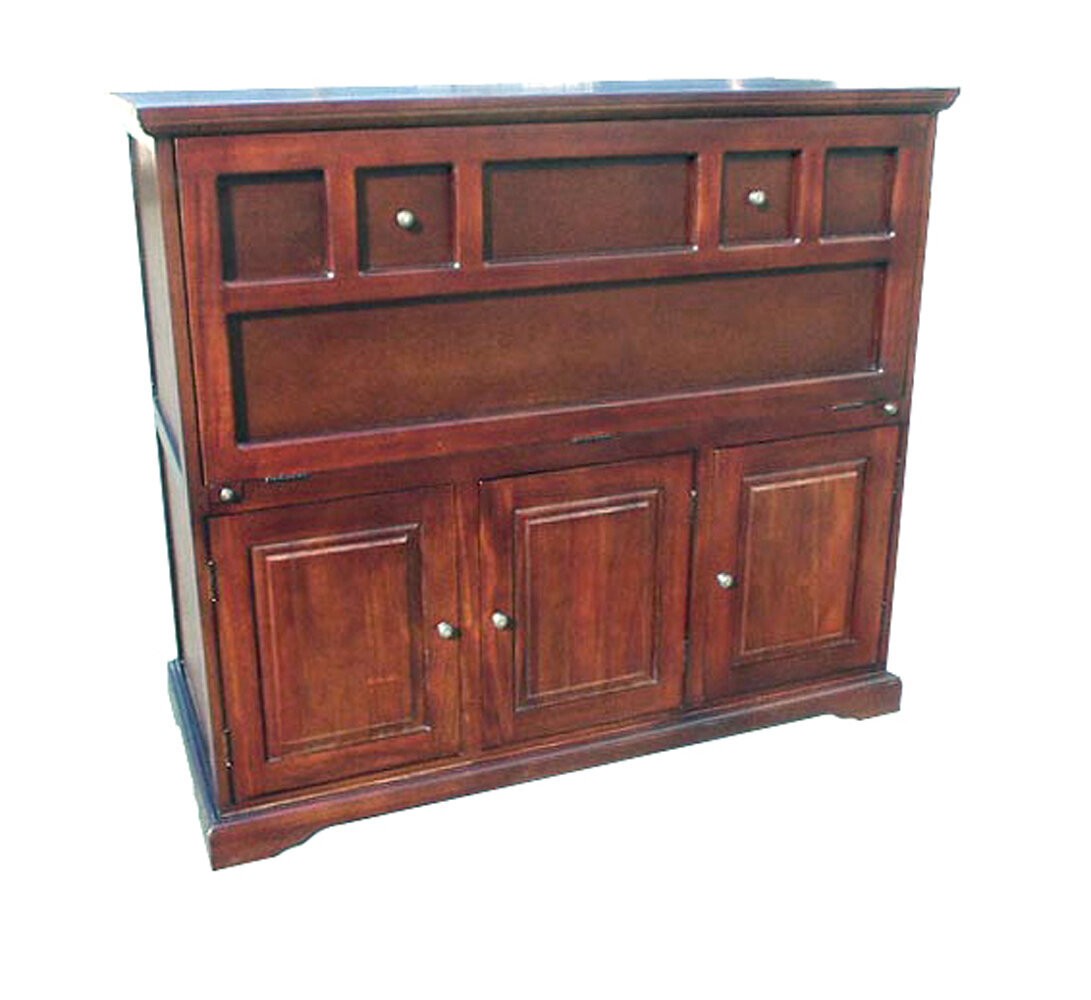 Scandinavian
The Scandinavian style of design has become increasingly popular in recent years. This design is an ode to the simple, invigorating power of nature with its mainly white color palette and wooden elements.
Scandinavian interior design will often mix light, functional furniture with a pop of more intense colors, such as bright orange drawers in the bottom of children's storage cabinets or a blue rug in the middle of a wooden floor.
This 131 lb. armoire desk is ergonomic and easy to clean. Measuring at 43'' H x 43'' W x 17'' D, its smooth white finish, natural wood accents, and multi-purpose drawers make it a perfect fit for a Scandinavian-style interior.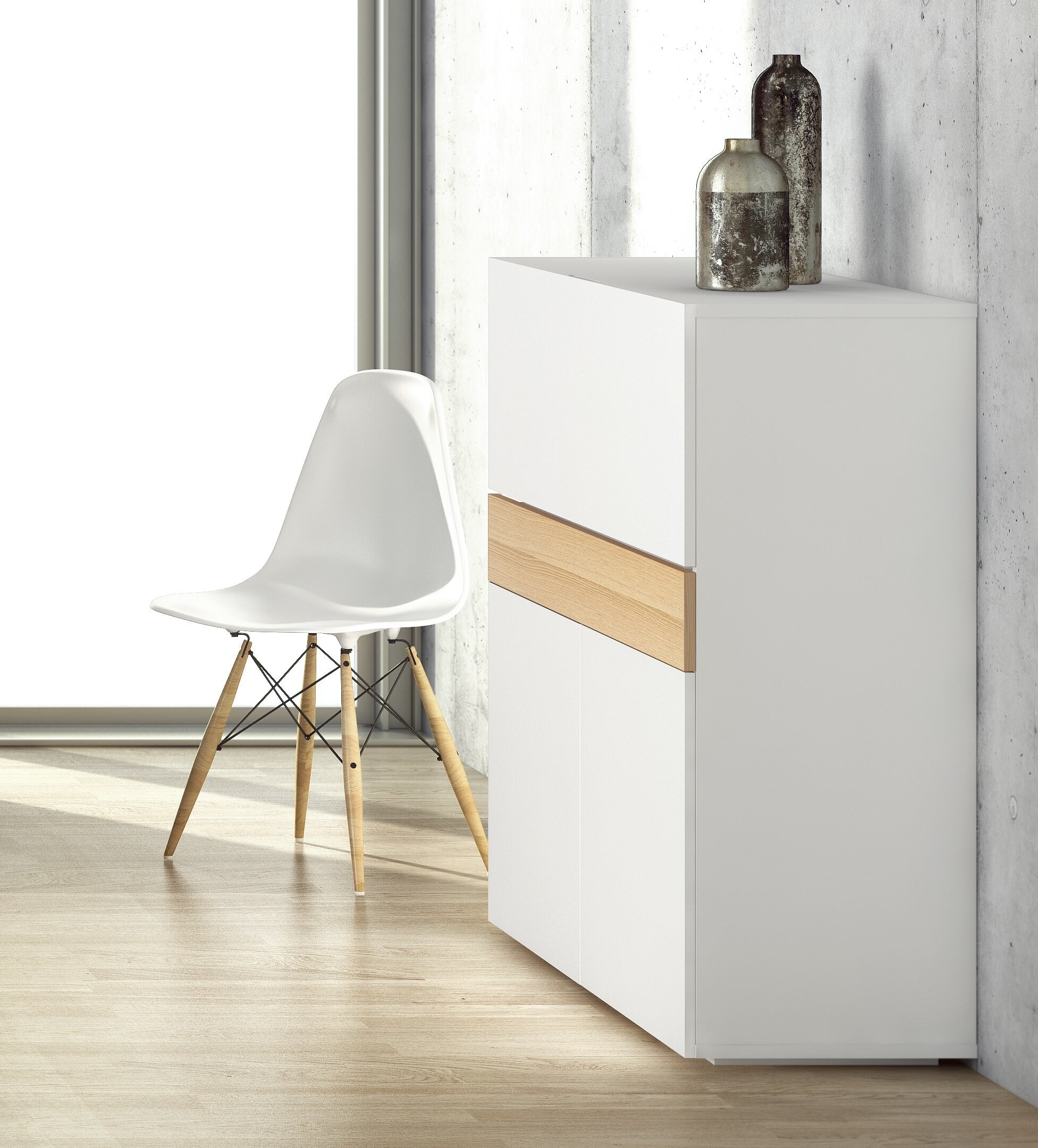 By contrast, this 153 lb. armoire desk has a dark, oaken finish. Although it's not entirely in keeping with the Scandinavian-type color palette, this armoire's classy tribute to natural wood reflects this style's nature-loving sensibilities.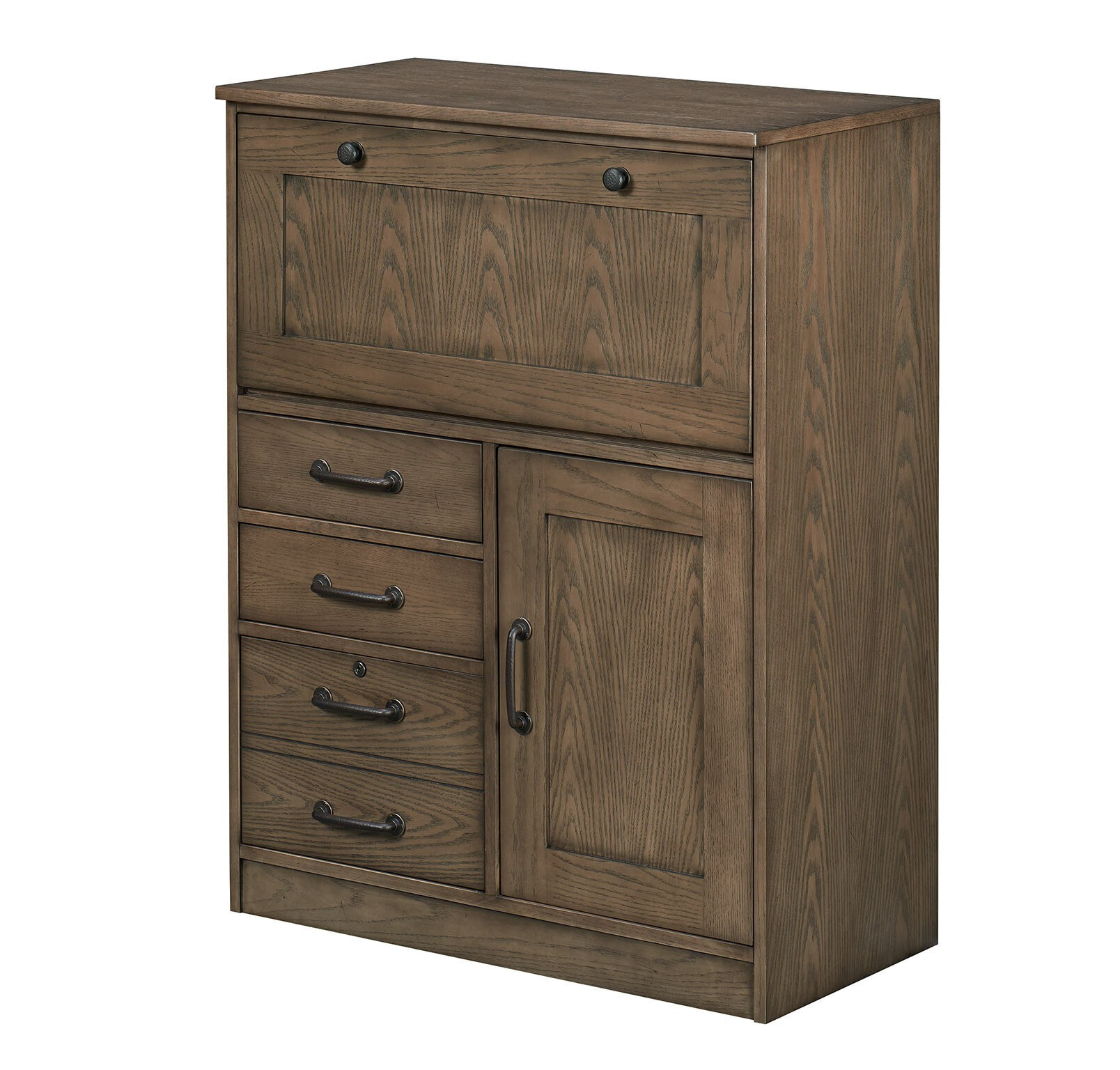 When opting for a Scandinavian-style armoire, it's also a good idea to look for computer armoires with pocket doors. Pocket doors fold back inside the frame of the armoire and are functional features that save on space.
Industrial
Industrial style home design derives a lot of its value from urban aesthetics. Wall and floor materials are often left deliberately unfinished or exposed. Furniture is nearly always functional but often Brutalist, taking inspiration from factory and warehouse-style equipment.
Industrial design favors a relatively neutral color palette, with shiny metal balancing out hard wooden floors and exposed brick. It's often best to create an industrial interior in homes or buildings with high ceilings as the exposed natural elements and metal furniture can feel overwhelming in a smaller space.
With a height of 24", this armoire desk will fit perfectly into an Industrial-style living room: its frame and standing legs are made from durable steel, while its sparse and dark wooden exterior gives it a classy air. This desk weighs just over 80 lbs. and is functional and easy to transport.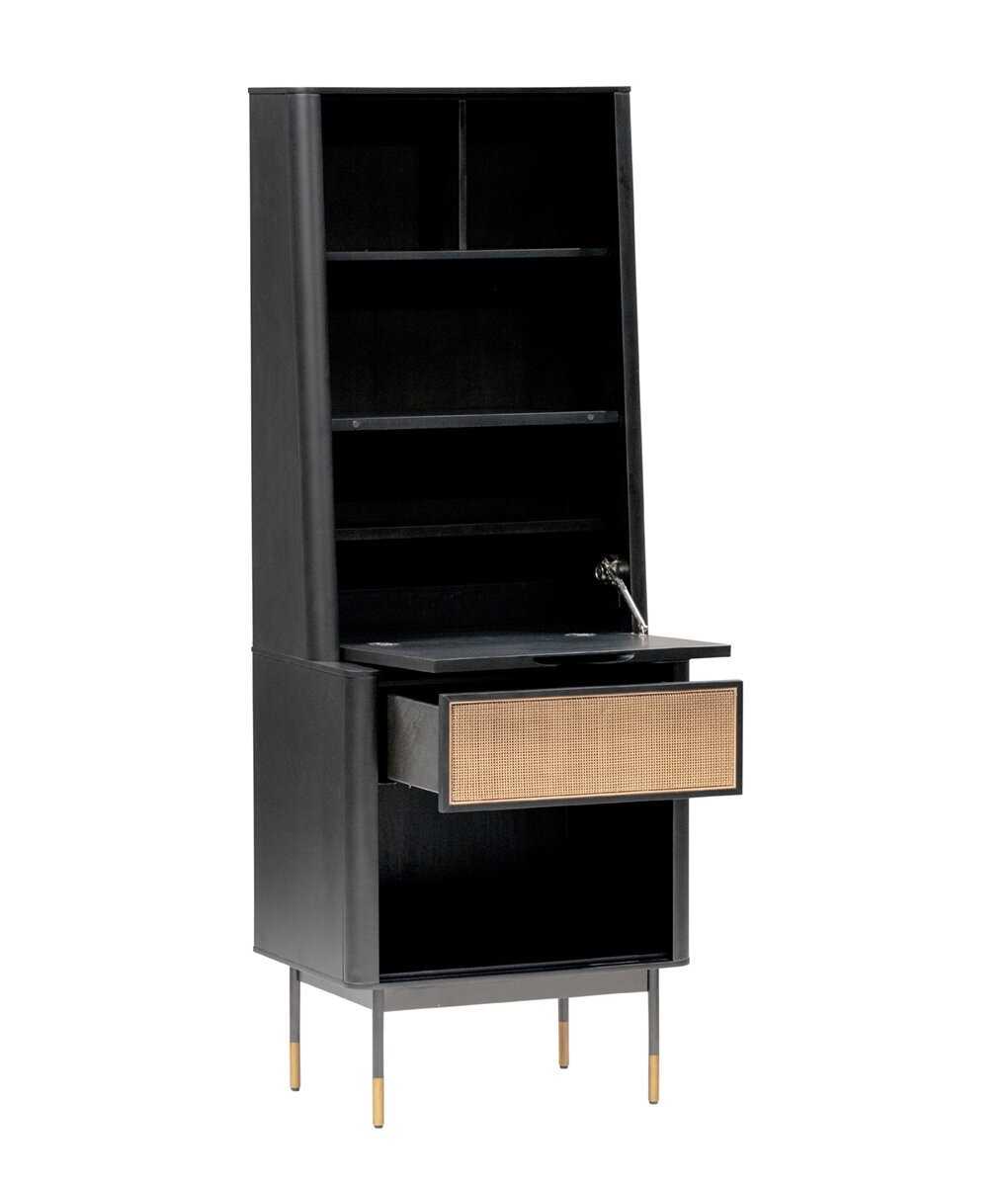 At 71" tall, this slender armoire desk will look the part in a large, high-ceilinged room. Its stylish, dark brown exterior is scratch and heat-resistant, keeping with the basic functionality of all Industrial-style pieces.
Shabby Chic
The shabby chic style emphasizes soft-hued colors and rustic paint finishes. It favors soft, characterful design: furniture should be weathered-looking and worn, with flecked paint and faded colors.
Rooms designed in the shabby chic style could well have several elegant pieces of furniture distributed amongst the pastel colors and shabby items.
This 45" tall armoire desk is a cozy cabinet with a creamy, pastel exterior. Its black-lined edges are worn and weathered, making it a perfect fit for a shabby chic style room. The desk has beige-colored feet, complete with flecked paint and marks. However, it also features in-built USB ports and outlet fixtures for a touch of contemporary convenience.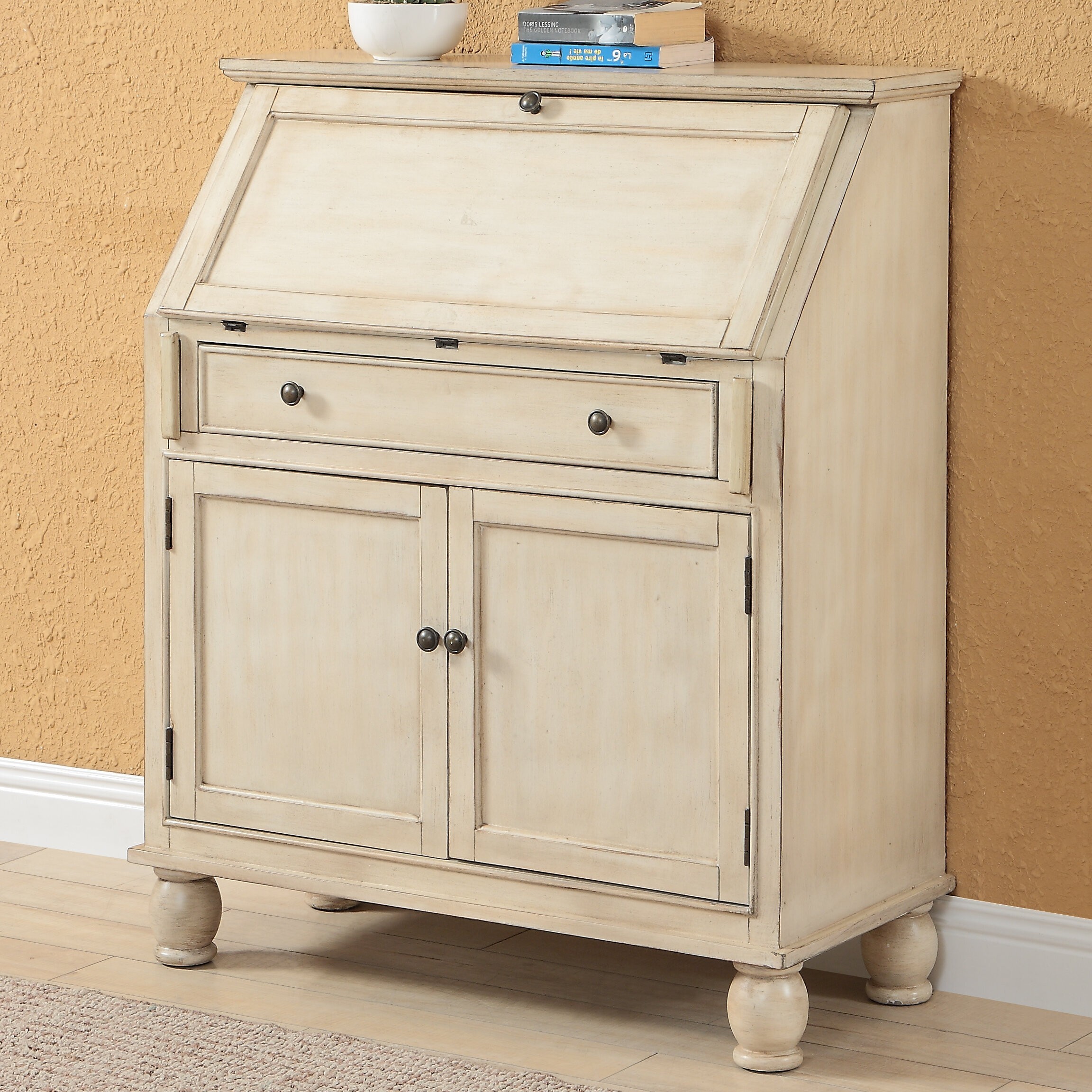 This computer armoire with a hutch is ideal for a shabby chic interior with a light birch and plywood exterior and spacious interior. It's both practical and stylish. You can choose from a range of stunning pastel colors, and the paneled doors and back give the piece a charming country-style appeal.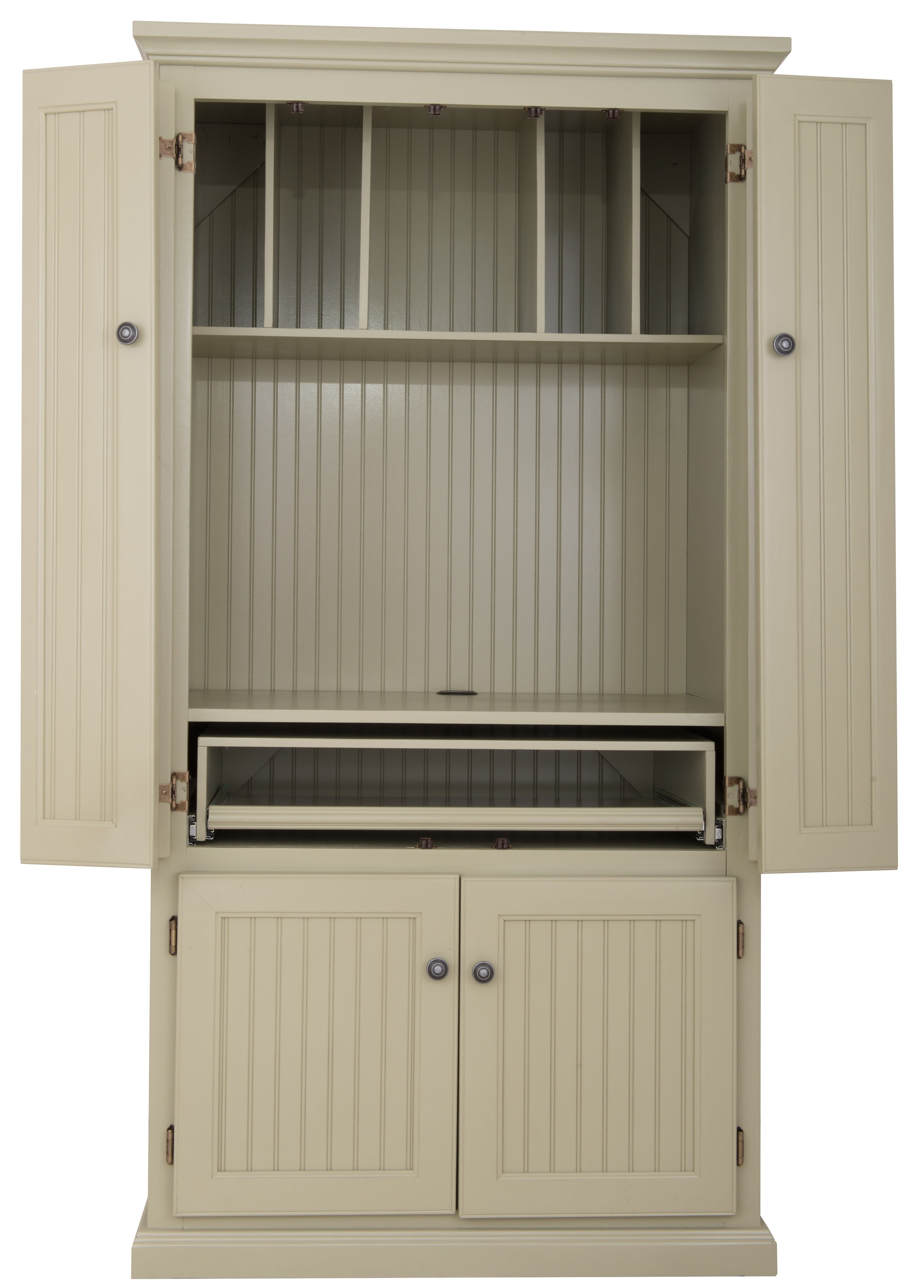 The Final Thoughts
You can improve the style and organization of any room in your house by adding a computer armoire with a hutch. This piece of furniture can be a valuable storage unit and a vibrant fashion statement.
When looking for the right computer armoire for you, it's crucial to consider your house's interior style. A bold, metallic armoire will look out of place in a shabby chic setting, while a pastel-colored, weathered desk will look completely wrong in an industrial-style room.
Once you've decided on a suitable design for your armoire, explore the wide range of chic and functional computer armoires available on Foter.com.