Bed Skirts
Bed skirts or dust ruffles provide an excellent way to add style and elegance to your bed. Bed skirts are also known as bed valance or dust ruffle and are perfect for your own bedroom, children bedroom, and guest room. They tie up the room's style together and add a nice touch to your curated space. The bed skirt will not just enhance the look of the bedroom but will also help to hide bins and other items stored under the bed. They also help significantly to manage the air quality and cleanliness of the bedroom by preventing dust from accumulating under the bed. You can choose yours from a wide range of bed skirts available in different designs and styles to match your needs.
Our choice Best Bed Skirts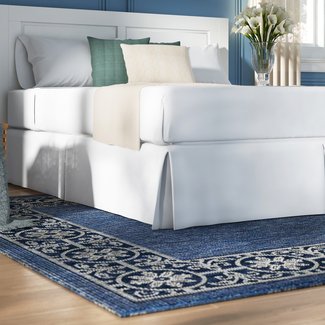 Budde Pleated 14" Bed Skirt
This smooth 14" bed skirt has simple pleats at each corner to coordinate with contemporary décor. It is machine washable and made from 90 GSM brushed polyester fabric for durability.
Pair with lightly textured accent pillows for a sharp modern look or coordinate with lacy bedding for simple visual contrast. This sophisticated-looking bed skirt is available in 40 colors for easy color matching.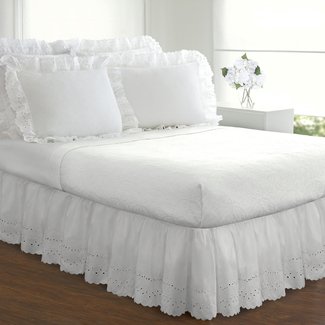 Dakota 14" Bed Skirt
The ruffles and eyelets on this bed skirt are ideal for traditional bedrooms in light and airy colors. It's available in five sizes, including twin size perfect for classically styled children's bedrooms.
The beautiful neutral tones pair well with white bedding and oak furniture for a clean traditional bedroom. Or match with a white bed skirt with pastel pinks for a fresh take on a classic look. The nylon fabric is machine-washable and can be ironed if needed to keep your room looking picture-perfect.
16" Bed Skirt
Combining a classic Broderie Anglaise border with a modern pleated design, this bed skirt is a versatile option to elevate the style in your bedroom.
Available in a range of colors from classic white to elegant navy, the generous 16" length fits perfectly over taller bedframes to look perfectly smooth. With heavy brushed 100 GSM fabric, this bed skirt will hold up through years of wear and washing.
Chavez 16" Bed Skirt
Create a sleek, tailored bedscape with the clean lines of this modern, flat bed skirt. With five gorgeous neutral color options, this bed skirt is an excellent choice for contemporary and traditional bedrooms.
The 16" drop length is perfect for master bedrooms with larger beds, and the eco-friendly rayon fabric helps this bed skirt stay soft yet durable matter how many times it goes through the wash.
Haylee Premium Quality 1500 Thread Count 15" Bed Skirt
Add a touch of romance to your bedroom with this charming ruffled bed skirt. The texture pairs well with smooth comforters and textured accent pillows in coordinating colors.
The wrinkle and fade-resistant 1500 thread count microfiber is both durable and soft, and the skirt features an elastic at the back to secure it in place. Try using a light ruffled bed skirt to add visual interest to a room featuring furniture in a dark wood finish.
Swigart 14" Bed Skirt
Conceal your box spring or bed frame to create a streamlined look with this 14" bed skirt. The stunning muted hues of this piece provide a pop of coordinating color for sleek, modern bedrooms.
The corner pleats allow easy access to under bed storage, while the brushed microfiber fabric adds an elegant textural touch to complement your bed linen. Add a bed skirt that is a few shades darker than the bedding for an interesting color contrast.
Brandenburg Wrap Around Style Tailored 16" Bed Skirt
With its 100 GSM polyester microfiber, this 16" wrap-around bed skirt will hold up for years. The delicate neutrals and bright colors can easily be machine washed to like-new condition without fading.
The bed skirt is designed to fit securely over your bed frame but also features an elastic fastener to prevent slipping. Use the unique green or purple colors in the twin size option for a great addition to a child or teen's bedroom.
Klein 15'' Bed Skirt
Change the look of your bedroom in an instant with this stylish modern bed skirt. The 15" drop length can help you manage under the bed dust and debris, while the microfiber fabric is iron-safe and machine-washable, so you can keep it looking perfect and ready for guests.
Available in 20 beautiful hues, this bed skirt can give a neutral-heavy room a lift with cheerful colors which you can style with warm accent pillows. The fade-resistant color will stay bright through years of use, even in children's bedrooms.
Space Saver Tailored 21" Bed Skirt
This 21" tailored bed skirt provides a polished and regal look for beds that are taller than the standard size. It's available in six sizes including California King, making it ideal for guest and master bedrooms in any home.
The crisp design is iron-safe and machine-washable, and the 95 GSM fabric will stand the test of time. Use the white or gray skirt with white bedding and slate gray accents or wall color for a room that radiates minimalist style perfection.
Mirabal 14" Bed Skirt
With 6 sizes and 14 color options, this charming bed skirt can put the finishing touch on any room. The colors include robust jewel tones and smooth neutrals in light and dark hues.
The skirt is made from polyester, so it stays smooth without ironing making it quick and easy to machine wash, dry, and place back on the bed. The hypoallergenic fabric also makes it suitable for people who suffer from allergies.