Bed Frames
Bed frames are useful devices that hold your mattress and box springs up off the floor, making it easier to clean under and around them and keeping bedding out of the area where people walk. This helps keep bedclothes cleaner and cuts down on laundry. It also gives a good appearance to the bed and to your room. If that were not enough benefits, bed frames allow air circulation under your sleeping area. This makes general maintenance easier and helps keep invasive insects at bay. In a cold climate, having a bed frame keeps your bed off the chilly floor.
Our choice Best Bed Frames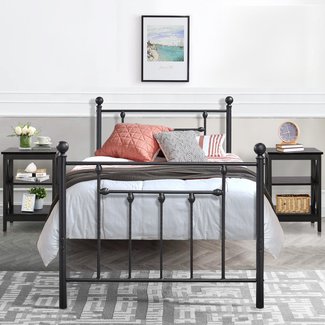 Colmars Bed Frame
Are you looking for a bed frame made of a strong long-lasting iron tube frame? Look no further than this queen size bed frame constructed from thick iron tubes that can support a bedstead. The metal bed frame can accommodate memory foam, box spring, or latex mattresses. It also comes with a headboard and a premium metal slat to support your mattress without sagging or drooping. The entire package comes with all the necessary parts and tools included.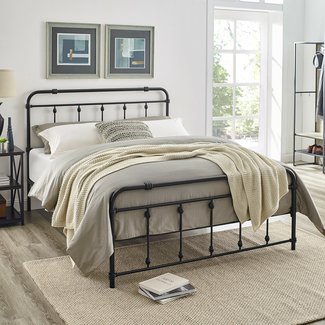 Keats Metal Bed Frame
This heavy-duty metal bed frame will create a classic vintage style in your bedroom. It has an open design and perfectly tuned finials on the footboard and headboard. The package includes a headboard, footboard, and metal slats that can comfortably accommodate your mattress. You don't necessarily need a box spring to use with this bed frame but adding a box spring will help to increase its height and make it more stable.
Landa Bed Frame
This is an elegant heavy-duty twin bed frame with a simple modern design. It's ideal for your children's bedroom, residence bedroom, or even dorm rooms. It's made of heavy duty and durable steel. It comes with a headboard and footboard to match your needs and provide you with a sturdy but comfortable sleeping space. The bed frame also gives you sufficient room underneath for additional storage. It doesn't require a box spring.
Derwin Metal Bed Frame
Here's another attractive metal bed frame with an open modern or classical design. It's a perfect bed for your guest room or master suite. The metal bed frame is elegantly designed to bring a timeless charm to your bedroom. It features a strong bed frame, headboard, footboard, and metal slats that can safely accommodate your preferred type and size of mattress. The entire set is shipped in a compact package that can fit your doorway or entryway.
Latitude Run Bed Frame
If you are looking for a strong and durable bed frame designed for comfort and style, then this king size bed is your perfect choice. It is also an ideal choice when you want to upgrade the style and look of your bedroom. Its twin-size version has 6 legs while the king size comes with 9 legs. The bed's minimalistic design and colors suit all types of bedroom decors and styles.
Mesa Platform Steel Bed Frame
This is a heavy-duty steel platform bed frame that is fully compatible with a headboard to add a touch of modern elegance and style to your bedroom. It is a twin bed frame that comes with 6 sturdy legs. The bed frame does not require box springs and has a maximum weight capacity, besides the mattress, of up to 225 pounds. It has a very strong and extremely durable construction.
Velez Platform Bed Frame
This is a premium steel platform bed frame with clean edges and smooth finish to give your bedroom a nice modern upgrade. The bed frame even provides ample space underneath for extra storage. It also comes with classic wooden slats. It doesn't require a box spring and is easy to assemble. The package includes a bed frame installation mattress to help you set it up quickly and easily.
Forster Egypt Bed Frame
Modern minimalism and functionality meet in this uniquely styled bed frame. The simple bed frame is designed with function in mind. It's made of solid wood with a perfectly streamlined rectangular design. The bed's flat surface provides a strong and sturdy surface for your mattress so you don't need to purchase extra box spring. The bed comes in different sizes to fit your bedroom space. It's compatible with a headboard and is extremely easy to assemble.
Silverstein Metal Bed Frame
This metal bed frame provides a perfect focal point in your bedroom, master suite, or guest room. It has an open design that matches any modern or traditional bedroom style. The bed frame also includes a headboard, footboard, and metal slats that can accommodate a mattress of your choice. No box spring is required with this bed. It has 4 legs and comes in a compact package that can fit narrow doorways, stairways, and hallways.
Cyril Bed Frame
This metal bed frame is a perfect choice when you want to create a clean contemporary look in your bedroom. The platform bed comes with a plywood slat that can easily accommodate different types and sizes of mattresses although we recommend a 15" mattress for the perfect fit. The bed also gives you 6" under-bed clearance for additional storage space. It doesn't require box springs and is quite easy to assemble.