Our Choice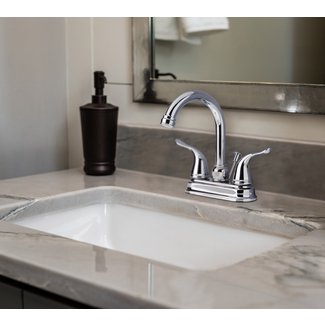 Centerset Bathroom Faucet with Drain Assembly
This stylish brass faucet has an arched neck, adding a touch of elegance to any bathroom. Available in several finishes, it features a swivel spout function and levered handles for temperature control. The ADA-compliant faucet offers a vintage look, while its flexible design makes handwashing easy.
The set is stain resistant, has a secure, three-hole installation, and comes with a deck plate, pop up drain and waste assembly kit included. If you're looking to upgrade a tired looking vanity unit, this is the faucet for you.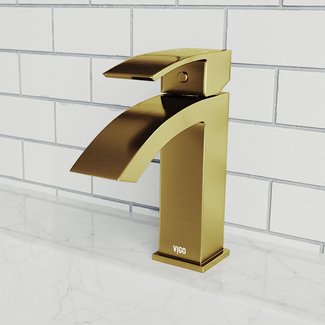 Satro Single Hole Bathroom Faucet
Designed for the modern bathroom, this stylish fixture is sleek, yet robust. Its premium, 7 layer-plated finish means it's scratch, stain, and rust-resistant.
Geometrically-styled for visual appeal and enhanced functionality, this contemporary faucet has reinforced PEX thermostatic piping on the hot and cold lines, which are resistant to pressure and freezing.
Compatible with any vanity sink, this faucet conserves water, without sacrificing pressure. Plus, its single hole design makes it easy to install.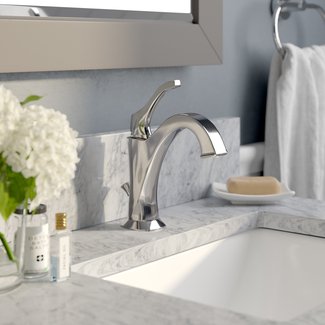 Arlo Single Hole Bathroom Faucet with Drain Assembly
A stunning basin faucet with distinctive clean, refined lines and a stylish arched spout give your bathroom a timeless look. Featuring an eco-friendly aerator for maximum water conservation, this brass faucet delivers up to 1.2 gallons per minute with a splash-free aerated stream.
The faucet's curved, single lever handle complements the shape of the spout and allows you to adjust water temperature and volume with precision. For a personalized look, choose from five unique finishes.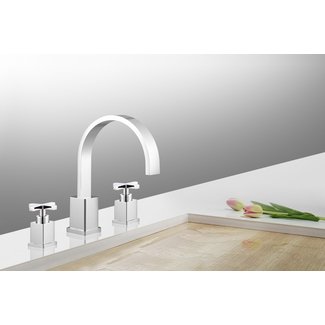 Emmy Widespread Bathroom Faucet with Drain Assembly
This contemporary tap brings a clean-lined, minimalist design to your bathroom basin. Crafted using brass, this fashionably-finished unit is characterized by its stunning arched stem and cross handles housed in stylish casings.
This unique faucet includes a splash-free aerator, drain assembly, and a rough-in valve for convenient assembly. The faucet fits a maximum of 0.75" thick countertops and has a 1.5 gallon per minute flow rate.
DFI Waterfall Lavatory Sink Single Hole Bathroom Faucet
A sturdy, yet gorgeous bathroom fixture with a waterfall design spout and a high-quality finish. Its classy design complements any basin vanity unit and is perfect if you're remodeling your bathroom and want to add a touch of style to your sink.
Designed for one or three-hole installation, this faucet is easy to fit and features a reliable, drip-free ceramic cartridge that can withstand 500,000 open and close tests. The faucet comes with a 6" deck plate included to give your vanity a professional finishing touch.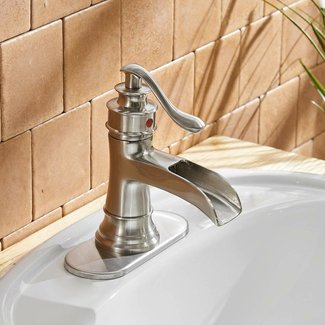 DFI Single Hole Bathroom Faucet
This vintage design faucet that makes a great centerpiece in any farmhouse or traditional bathroom. The soft water flow is gentle on the hands, while the single lever handle allows for easy water temperature control.
Crafted from brass and available in two stunning metallic finishes, this waterfall effect faucet is solidly designed, offering exceptional durability. The faucet comes with a deck plate and temperature and pressure-resistant braided supply lines for easy installation.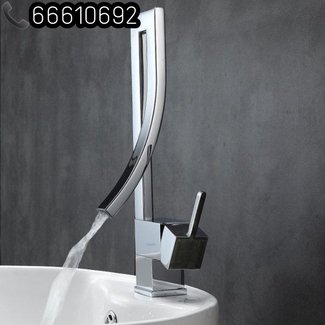 Aqua Elegance Single Lever Wide Spread Bathroom Faucet
An eye-catching faucet that will be the focal point of your bathroom. Exquisitely designed, this is a fixture like no other. Characterized by its height and ski slope-style spout, it's a true statement piece.
This unit offers great water flow and is easy to install. It has a bright chrome finish that is fully stain and corrosion-resistant and comes with a self-contained ceramic disk valve cartridge for a smooth flow and precise temperature control.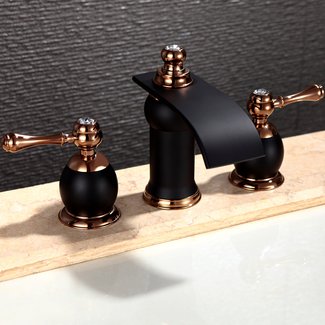 Widespread Faucet Bathroom
A beautiful, contemporary waterfall-style faucet that's characterized by its premium appearance. Designed with durability and reliability in mind, this faucet features elegant handles for easy operation and precise temperature control.
The faucet offers outstanding flow performance at 1.2 gallons per minute, conserves water with 60 psi of pressure, and is rust-resistant. Styled with ornate jewels atop the handles and faucet, it adds a touch of class to any bathroom.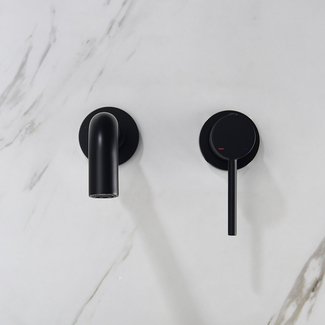 Modern Wall Mounted Bathroom Faucet
This rustic, wall-mounted bathroom faucet is a beautiful, modern addition to your minimalist bathroom. Available in a matte black or brushed gold finish, the faucet is characterized by its smooth curved spout and unique slim lever handle.
Easy to operate and offering a gentle water flow, this beautiful faucet is the perfect fit for vessel-style sink units. Featuring an aerator to guard against splashing, the faucet complements your contemporary bathroom décor.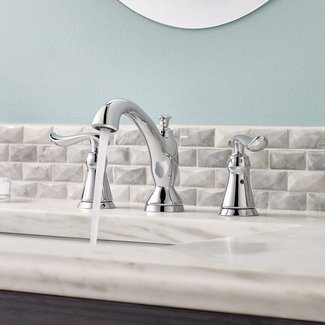 Linden™ Widespread Bathroom Faucet with Drain Assembly
Inspired by nature, the design of this fixture mirrors the branches of a tree to add an organic touch to your bathroom. Pretty, yet practical, this zinc faucet is extremely water efficient and is EPA Watersense certified.
The made in the USA unit has a widespread configuration designed to fit a 3-hole sink design. It features interchangeable hot and cold stems and comes complete with pop up drain assembly and a waste kit, plus a ceramic disk valve that helps prevent leaks.