Our Choice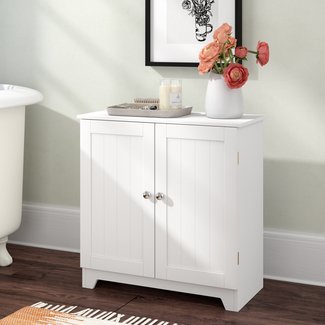 Cassella Contemporary Country Double Door 23.6" W x 23.6" H Cabinet
This is an adorable small free-standing cabinet with two paneled doors for storing towels, toiletries and more. It measures just shy of 2' x 2' and is 11 3/4" deep and has two interior shelves. Perfect for placing in an empty corner or wall in a bathroom. Made of manufactured wood and sealed with a semi-gloss finish, the white color will be easily matched to your country or contemporary decor. Nickel knobs support the simple look.  Highlight with a glass or silver bowl filled with fragrant soaps or bath salts to add a pleasing scent to the scene.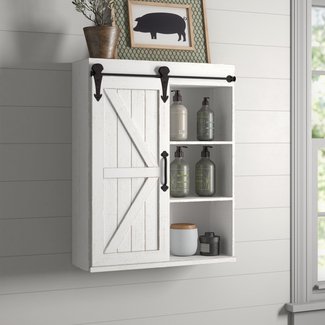 Banbury 21.75" W x 27.75" H Wall Mounted Cabinet
A succulent wall-mounted country charmer, there is plenty of room for personal lotions and sprays. Three open shelves and two hidden shelves are tucked behind a solid wood sliding barn door. Distressed wood in white, gray or brown will deliver character to a rustic or chic country decor. Black arrows, reminiscent of old barn weather vanes, hold the door on a black metal rod. Place above a sink or toilet and use it to hold ointments and bandages.
Ashland Bathroom Cabinet
This free-standing contemporary cabinet works wonders as overflow storage in the bathroom. A handy place to store spare disinfectants, soap and sanitizers, it is thin enough to take up much floor space. 3 easy pull out drawers line one side of the bead board cabinet while a full-length door hides two roomy shelves for larger items. Lovely enough to double as a dresser, a hallway or bedroom could prosper from its charm. Nearly 3' tall and detailed with crown trim and stylish legs, all types of decors could make this piece work.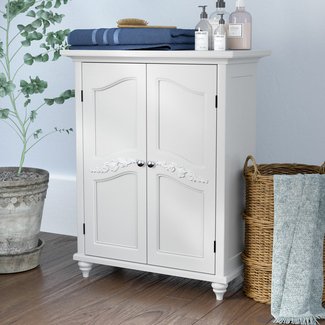 Ione 27" W x 34" H Free Standing Cabinet
Curved inlayed panels and fine detailed scrolls will look stunning in any room. There is never enough room for storage and this 34'' H x 27'' W x 13.75'' D cabinet requires little space. Two roomy shelves are located inside that can house anything from office supplies to towels. Dress up a spare bedroom for arriving relatives or place in a dining room to serve as an overflow for dishes and cutlery. The stainless steel hardware will guarantee a nice polished look for a long time.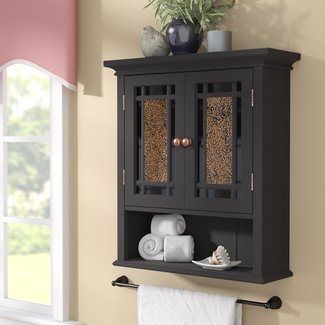 Caleb 22" W x 24" H Wall Mounted Cabinet
Bathrooms need not be boring and this wall mounted storage cabinet proves just that. Almost like a work of art, the stained-glass inserts held in geometric inlays work for bringing out the best of traditional modern to this little noticed room. An open shelf sits below the enclosed cabinet and shows off the elegant crown molding. Oil-rubbed brass handles add a touch of class. Available in white or dark espresso, this cabinet will put the finishing touch on a bathroom filled with marble or ceramic floors or walls.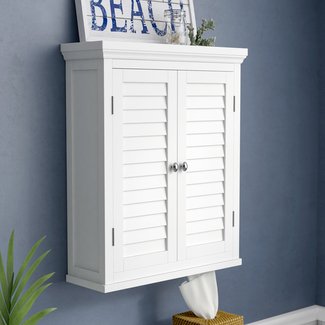 Broadview Park 20" W x 24" H Wall Mounted Cabinet
This crisp slatted white cabinet offers space and a clean balanced look. Hints of side inlayed panels and crown molding make this wall mounted bathroom cabinet anything but dull. Made from manufactured wood, it opens to reveal one shelf for storing toiletries and supplies. At 7" deep, it requires little wall area. Perfect to use as a first-aid station or a spot for makeup and perfumes. Decors from modern to country will be able to place this cabinet without worry of blending in.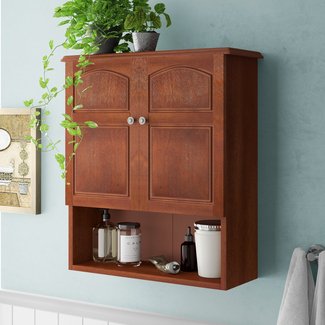 Brogden 22.25" W x 25" H Wall Mounted Cabinet
Here is a smart looking solution to a guest bath or child's bathroom. This wall mounted 25'' H x 22.25'' W x 6'' D cabinet can be placed up and out of the way, but available for all of those small bathroom items. Toothpaste, lotions, and shaving gear will have a safe home behind two traditionally-styled doors that has a natural walnut wood grain finish. Inexpensive and practical, consider placing one in the kitchen for keys and other small items.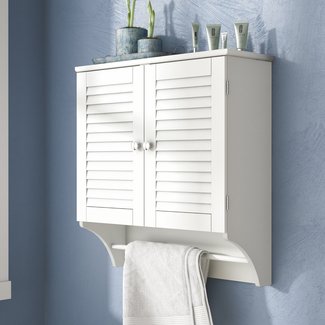 Ellsworth 23.82" W x 25" H Wall Mounted Cabinet
Never look for a spot to hang your hand towel again. This bathroom cabinet has been created to meet proportionate detail to small towels that extend its length. Barely over 2' tall, it is short enough to add balance, yet wide enough to hold your personal toiletries. Two slatted doors are contemporary oriented, but simple to transition to other types of decor. Available in white, espresso and taupe finishes.
Caraway 23.25" x 68.13" Over the Toilet Cabinet
This over the toilet mounted unit has quality, class and is made in the USA. Made of manufactured wood, it comes with a 5-year warranty on defects. A beautiful faux slate shelf makes a separation from base to cabinet and is simple to disinfect and shine. A ribbed glass cabinet is high enough to be out of the reach of toddlers. Plenty of open spaces to show off collectables and trinkets.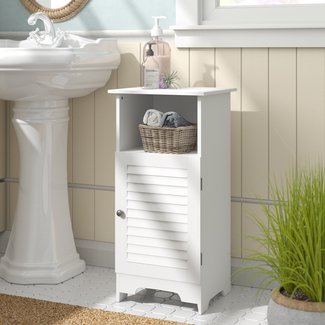 Luciano 13.5" W x 27.5" H Cabinet
No small bath should be without this practical freestanding cabinet that is a life saver when you need an extra hand. Standing only 27.5" tall, it can slide beside pedestal sinks or in a small corner. White slatted, one door opens to provide space with two shelves. An open area lies directly above. Lovely for any type of decor, it also has a tip over restraint device for your safety.