Our Choice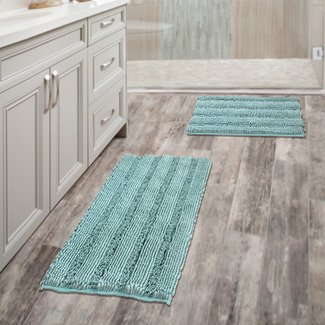 Breakwater Bay Bath Non Slip Ultra Plush Chenille Striped Floor Mats Bath Turquoise Rugs Set Pack 2-20" X 32"/17" X 24"
This luxurious non-slip plush carpet features an amazing soft and cozy surface that will completely transform your home. It comes with a neutral color and incredible pop stripe patterns that bring rich contrast to your décor. The rug is machine washable and its water-absorbing capability will go a long way in keeping your home safe from mildew and mold. It's also a highly durable and long-lasting product that will maintain its look for years.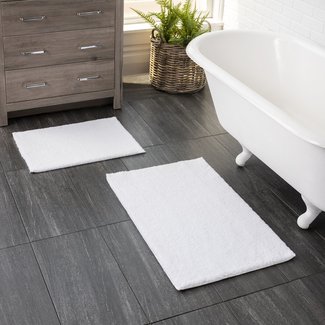 Piscis Bath Rug
Give your bathroom floor a unique touch of contrast and elegance with this neutral fluffy rug. The product is made from high-quality fibers and dries quickly, making sure your bathroom floors are free from any unwanted moisture. The rug is machine washable and its durability ensures that you can wash it over and over again without losing its splendor. The rug is also available in a wide variety of classic colors including neutral finishes that will match up with any bathroom décor.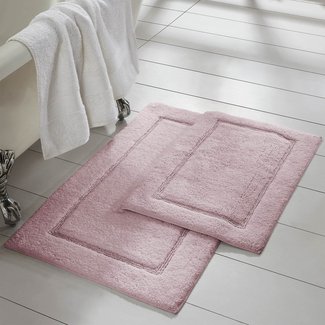 Lundberg Solid Loop 2 Piece Bath Rug Set
Made from high-quality cotton, this fluffy area rug comes fully fitted with a strong non-slip mechanism and a unique neutral look. The rugs are comfortable to step on and come with two different pieces - one large and one smaller. The rugs are ideal for the bathroom but can also be used to add an accent to bedroom floors and along the hallways. The carpet is also safe for commercial laundry so it should be easy to clean.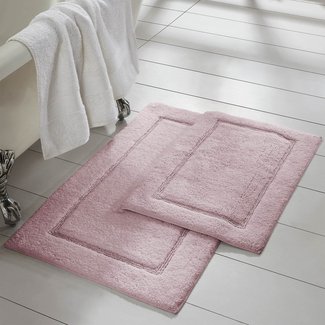 VCNY Home Get Naked Teal Statement Bath Rug
Add a touch of class to your bathroom with this incredibly beautiful decorative area rug. Made from quality microfiber material, the carpet comes with unique word art at the top that adds a playful atmosphere into the space. It is also machine washable and even though it's not that big, it is still good enough to balance out the textures on your bare bathroom floors. It's also highly durable and the materials are water-resistant.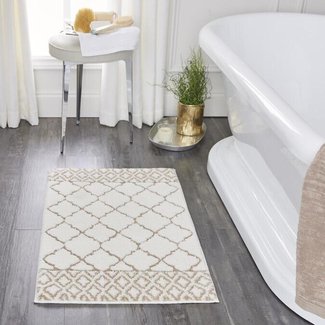 Woodcreek Bath Rug
Featuring unique color patterns and craftsmanship, this bathroom rug is perfectly suited for forward-thinking homeowners looking to add a bold touch of accents to their bath floor. The fiber is made from quality polyester and its two-tone hue coupled with a trellis pattern in the middle will wow you. There is also nonskid latex at the bottom for extra safety. The rug is machine washable and its casual appeal should be a perfect addition to any décor.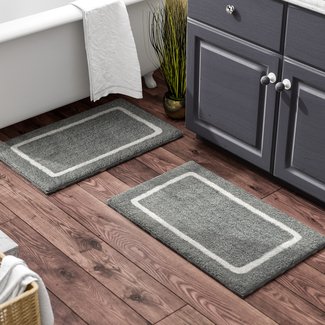 Kernan Reversible High Pile Tufted Microfiber Bath Rug
This beautiful and luxurious microfiber rug is going to offer the much-needed modern update for your bathroom. Its geometric fretwork design combines perfectly with its two-tone color finish to deliver a breathtaking view. The rug is also relatively larger and its high-quality microfiber materials make it extremely comfortable to step on as well. You will, however, need a rug pad to keep it firmly stuck on the floor. It also works great for larger baths.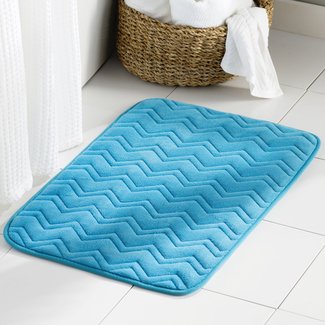 Wayfair Basics Chevron Bath Rug
Bring some colorful comfort and a touch of luxurious class into your bathroom with these bold rugs. They are incredibly soft and come in many different bold colors too. The rugs are fade and stain resistant, which means they can last for years even with heavy-duty use. The rugs are also fitted with a foam cushion that adds that plush and comfortable softness for your feet. These are machine washable rugs for easy cleaning and maintenance.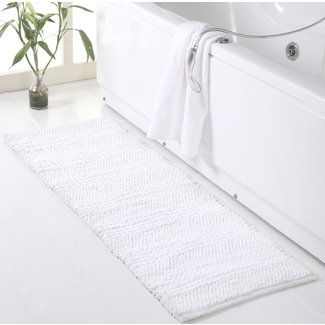 Winder Braided Chenille-Loop Oversized Bath Rug
Take care of that cold and slippery floor in your bathroom with these beautiful area rugs. Featuring a modern white finish, the rugs will seamlessly fit into any type of floor, and bring incredible contrast to the entire bath. They are made from a combination of 35% cotton and 65% polyester. They are also quite durable too and come with the perfect rectangular shape that can easily fit into tight spaces.
Bolte Jacquard 2 Piece Bath Rug
These luxurious and cushiony bath rugs come with effective water-absorbent capability that will keep your bathroom dry all day long. They feature a soft surface and additional nonslip rubber padding at the bottom for extra safety. The intricate patterns and outstanding craftsmanship will also be a great addition to your décor. The rugs are sold in two pieces and are made from polypropylene fiber for long-lasting service.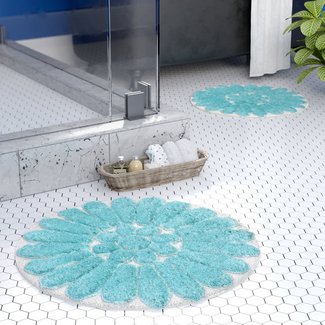 Cressona Bursting Flower 2 Piece Bath Rug Set
Looking to bring a touch of botanical inspiration into your bathroom décor? Well, these beautiful bath rugs will do exactly that. Featuring a unique circular silhouette and sunflower shape, these rugs are incredibly unique. They will also bring an amazing floral motif into your bathroom floor. The rugs are made from cotton and come with a nonskid underside for extra safety. They are also machine washable for easy clean up and maintenance.