Our Choice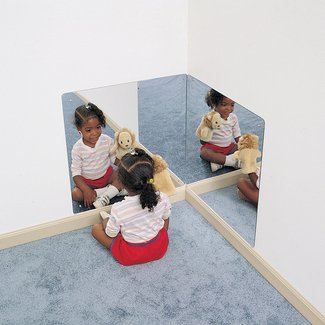 Modern & Contemporary Accent Mirror
Simple to hang up in a child's room, this square wall mirror can help to build your child's self-awareness. The 20.5" frame features rounded corners with a shatterproof acrylic surface to keep curious kids safe.
Install two mirrors in a corner of your children's room for an easy idea for further early learning stimulation and encourage crawling infants and toddlers to explore and learn their facial features.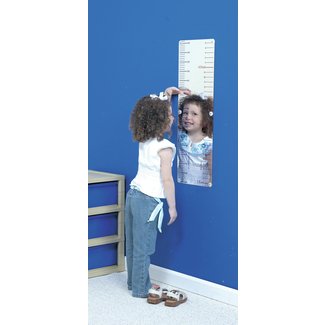 Measure Me Mirror
Keep track of your little one's growth patterns and engage their natural curiosity with this shatter-resistant mirror. At just 1.25 lbs., it is light enough to be hung on any wall in your child's room.
The growth chart is marked in inches, feet, and centimeters making is a valuable learning resource to help teach children how to do simple math and learn about measurement.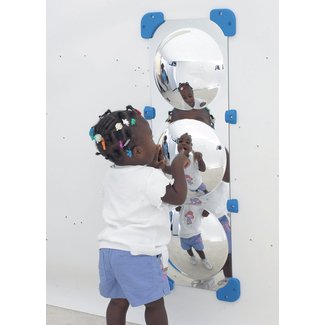 3 Bubble Border Mirror
Three bubbles make up this 32" rectangular mirror to give a funhouse feel to a bedroom or classroom play area. It can be placed vertically or horizontally to fit the needs of your space.
This mirror is a great way to boost cognitive development. With rounded plastic mounting hardware, your kids can safely make funny faces in the mirror and learn how to move their different facial muscles.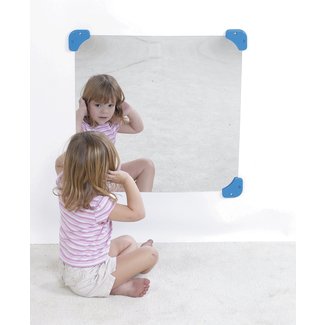 24" Square Mirror
This 24" square children's acrylic mirror is wall mounted for a versatile way to add interest to your child's room. The acrylic provides a soft surface, which helps prevent injuries if kids hit their head on the mirror.
There are also blue plastic guards around the edges for further safety that add a bold splash of color to help it pop against any wall. Ideal for a nursery, preschool, or daycare, this mirror encourages independence and curiosity in young kids.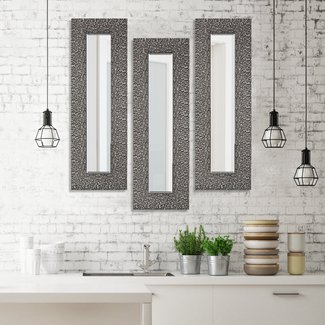 Nisswa 3 Piece Narrow Designer Accent Mirror Set (Set of 3)
Hung vertically or horizontally, this set of three modern mirrors will give a unique and contemporary touch to any home.
The three 27" mirrors are framed in a dark silver finish with a stylish mosaic pattern. This statement set of décor pieces is perfect for an entryway or to line a staircase. It would look striking in an elegantly appointed traditional nursery, hung high enough to keep your little ones safe.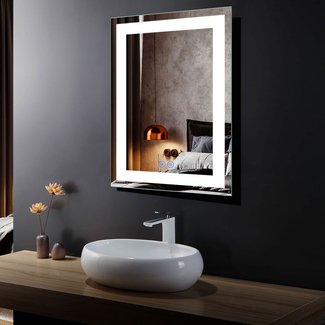 Seville Modern & Contemporary Lighted Bathroom/Vanity Mirror
Illuminate your guest or teen's bathroom with this sleek mirror lined with LED lights. This dramatic lighting solution is the perfect complement to a modern vanity or for your child's bedroom as a combination mirror and night light. The light panel emits no heat, so it is safe to the touch.
The mirror is 32" tall and 24" wide and can be hung lengthwise or widthwise. It also comes with a hook for easy and quick installation, making it an excellent fit for any space.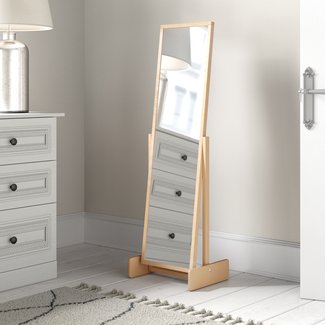 Traditional Cheval Mirror
This child's full-length mirror is framed in light natural wood to coordinate perfectly with nursery décor. The freestanding design has a 12" supporting base, and the mirror is made from shatterproof acrylic material. It also features a tilting mechanism to change the angle and perspective.
This mirror is ideal for children who are starting to dress themselves, allowing them to see their full outfits, but also makes a fun play item to help kids learn.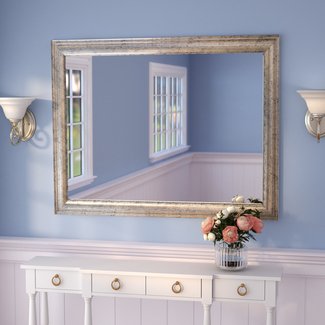 Curren Vintage Beveled Silver Wall Mirror
With a distressed wood frame with an antiqued silver finish, this mirror gives a sophisticated touch to any room it is placed.
It comes in five different sizes so you can easily find a style to suit almost any room in your home. Place it above a mantle in the living room or in a bedroom behind a dresser or vanity. The timeless style will make it a match for any décor from antique to modern.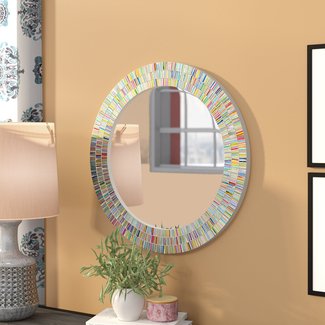 Coleridge Round Rainbow Bathroom/Vanity Wall Mirror
Handmade from glass tile and natural wood, this mirror is a bright and colorful accent piece to suit a teenager's room or a college dorm room.
The bold colors of the tiles contrast beautifully with a room in neutral tones, while the 24" mirror surface will help to reflect the interior of the room to help give the illusion of a light, airy space. Extra colorful stones are included with the piece in case a replacement is needed.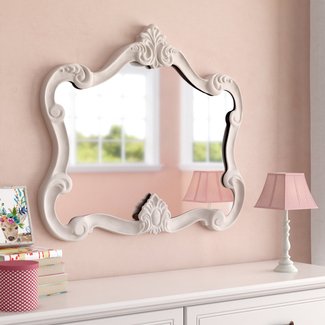 Gingerich Resin Modern & Contemporary Accent Mirror
This eye-catching mirror is a modern take on the baroque style. The ornate white frame is painted in solid white for a streamlined look to coordinate well with your other room decor pieces.
The mirror is 28" tall and 32" wide, making it an excellent accent for any colorful wall, and the detailed frame would look stunning over a vanity or in a spacious closet. The perfect update for any little girl's bedroom, this mirror will make your child feel like a princess.