Our Choice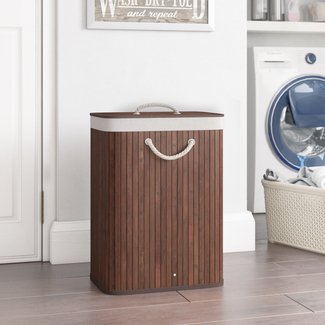 Bamboo Rectangular Laundry Hamper
Keep your child's room free from mess and leave more room to play with this rectangular bamboo laundry hamper.
The compact, slim design makes this hamper a discreet way to store soiled clothing, and the lid helps to keep odors at bay. A removable lining allows you to wash the interior of the hamper along with your little one's dirty clothes for easy maintenance.
Available in two natural wood finishes, this hamper blends seamlessly into nautical or jungle-themed nurseries.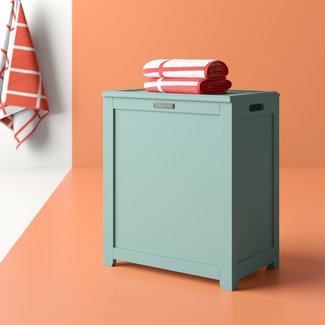 Storage Cabinet Laundry Hamper
Clear the clutter without sacrificing your style with this modern, minimal hamper. The beautiful box design comes with a hinged lid that remains open, making it perfect as a laundry hamper, toy box, or linen storage for your little one's nursery.
Rubber bumpers on the lids prevent little fingers from getting jammed and convenient handles on the sides to make transporting loads to the laundry room a breeze.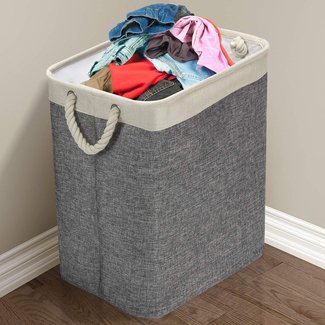 Tall Laundry Hamper
Foster independence and get your kids involved in laundry day with this easy-to-use laundry hamper for their room.
Crafted from stylish cotton linen and jute with a neutral gray exterior and white trim, this sophisticated piece can function as storage for clothes, toys, textiles, pillows and much more.
A collapsible frame with optional stabilizing rods gives you the choice of using the hamper as free-standing or behind the door storage for versatile storage suitable from every room in your home.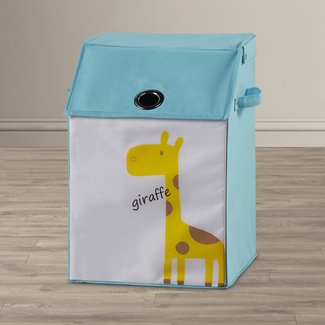 Maye Nursery Laundry Hamper
Whimsical and sweet, this bright fabric laundry hamper is sure to bring a smile to your child's face. With a cute jungle character on the base and a decorative ring lid, this hamper injects a little fun into laundry day.
The 18" high hamper is perfect for little hands to reach so you can encourage your little ones to help with the laundry, while a ventilated lid helps avoid mold and mildew build-up.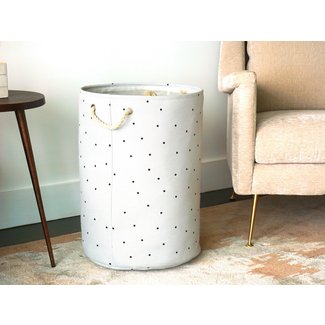 Polka Dots Laundry Hamper
The chic, portable canvas hamper makes laundry day fun! With a charming polka dot design and rope handles, this hamper fits perfectly into a modern nursery.
With a foldable frame for easy storage when not in use and a strong metal frame to keep it standing when full, the versatile hamper offers a stylish way to store your little one's dirty laundry. Hang it on a hook behind the door to free up floor space for play, or store neatly in the corner of the room as a cute accent piece.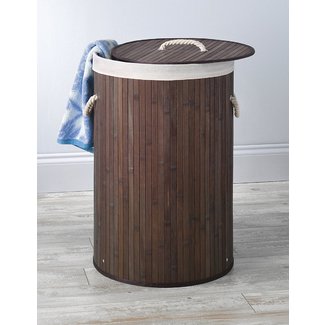 Bambo Round Laundry Hamper
This charming rounded hamper is made for adults yet is child-safe, thanks to its lack of hard corners. It is a beautiful addition to any bedroom and will age with your child as they grow into a teenager.
The removable liner makes it easy for busy moms to haul laundry to the laundry room. The dark bamboo is durable yet lightweight, so kids can move it around whenever they want to create more space to play.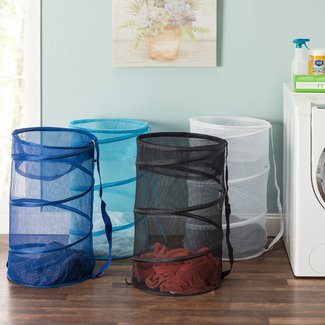 Barrel Pop Up Hamper
If your little one's nursery is small on space, this pop-up hamper offers the perfect laundry day solution. At 30" tall and 18" in diameter, the hamper is large enough to keep clothes off the floor, and the foldable structure allows you to tuck it away out of sight when empty.
Its mesh design resists mildew and mold, making it perfect for sweaty sports clothes or damp swimsuits. The mesh is also durable enough to resist tearing from buttons or zippers so that it can last for years.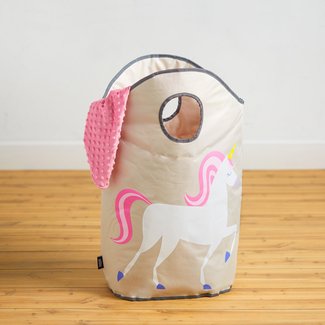 Wildkin Hamper
Does your child dream of being a fireman? Or do they want to swim with a mermaid? Let your child express their style with one of these exciting character laundry hampers.
Available in 6 different whimsical styles, including a dinosaur, unicorn, or train, this hamper is the perfect size for a nursery, and at just 27" inches high, it is the right height for independent kids to put away dirty clothes on their own.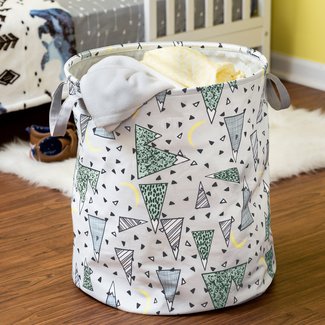 Kids Storage Adventure Hamper
Do you have a little adventurer on your hands? Express your curious explorer's style with this fun mountain-themed laundry hamper.
This hamper can hold multiple loads of laundry thanks to its larger size and interior support. Move it from the bedroom to the laundry room and back with ease, using the reinforced easy-lift handles.
When you're not using the hamper, fold it flat and tuck in under the bed to save valuable floor space.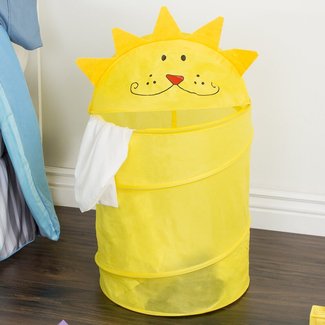 Kids Lion Pop Up Hamper
Let out your little one's wild side with this lion pop up hamper that will make doing laundry a roaring good time.
The lift-up lid is lightweight and easy for children to use on their own, and the size and design also make this hamper a playful toy storage option. This hamper holds enough clothes to suit the laundry needs of messy little explorers, and the fun lion design will encourage your child to stick to their new laundry habits, for good!