Our Choice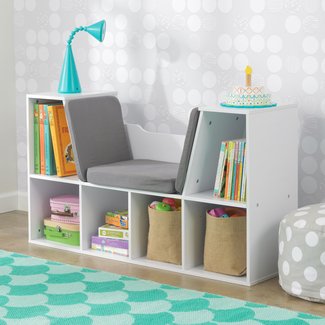 22.5" Bookcase/Reading Nook
Give your kids a little bit of extra storage in their rooms with this classy and high-quality shelving. It features four open shelves at the bottom and two additional book racks at the top. There is also a sitting area in between the top book racks for the kids to sit. The case is relatively lower to the floor but its versatility means that it can be used as extra storage and also as an extra seating area.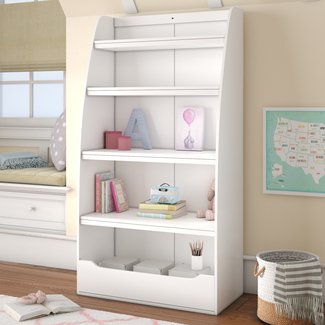 Besse Kids 4 Shelf 60" Bookcase
This beautiful open shelf bookcase features a sleek design and a modern white finish that would be great for any teenager. It has ample storage too with five open shelves and a large bin at the bottom. The stylish appeal of this case makes it the perfect addition to a modern home. Make sure you get some help though when you are assembling the unit.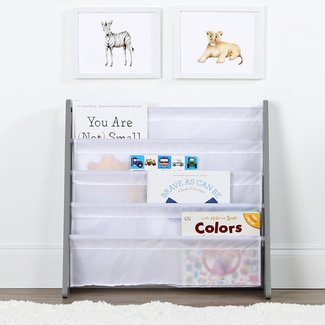 Hoeft 24 Book Display
Looking for extra storage space for your kids that take little floor space? Well, this is the best option for you. The unit features five book racks. Its low height makes it perfect for younger kids too. The rack comes with a natural wood grain finish and its minimalist design will blow you away. You also get ample storage space. Although the rack can be repurposed and used by kids of all ages, it is mostly designed for toddlers and preschoolers.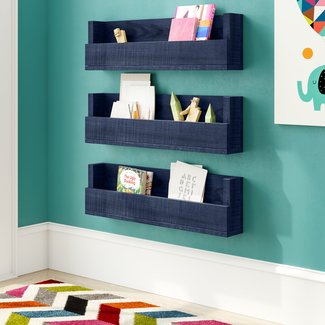 Calista 28" Bookshelf (Set of 3)
Featuring the perfect wall-mounted design, this minimalist bookshelf would be the best place to display all your crafts and other décor accessories in the kids' room. The case is made from reclaimed manufactured wood. It's highly durable and comes with a neat dark finish that will balance out bold colored walls usually found in children rooms. You also get extra wood grain accents for that beautiful and modern appeal.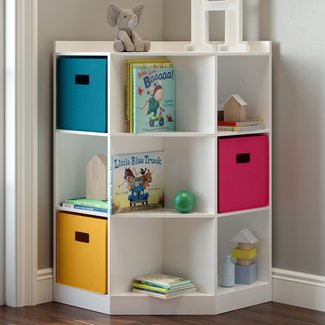 RiverRidge 6-Cubby, 3-Shelf Toy Organizer
Made from highly durable MDF wood, this top of the line shelf is designed to add instant organization into your children's room. Its unique shape means that it can neatly fit into a corner to save space. It also comes with several open shelves that can be used to store toys, accessories, and other small stuff. The storage case is finished with a tasty modern white exterior and it's going to lend a touch of modern elegance to any space.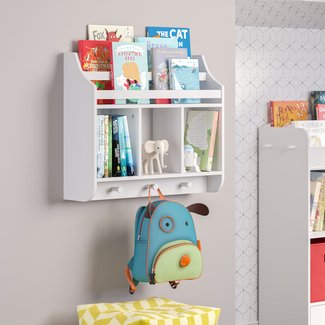 Reliford Kids Wall 20.13" Floating Shelf
This compact wall-mounted bookcase is the perfect display for all your kids' favorite books and toys. Although it's a bit small, it could still be very useful in helping the young ones get organized. Besides, the unit comes with a white contemporary finish and some curved craftsmanship as well. There are three small bottom shelves and a book rack at the top for ample storage. You get three hooks in there for small bags and other kid-related stuff.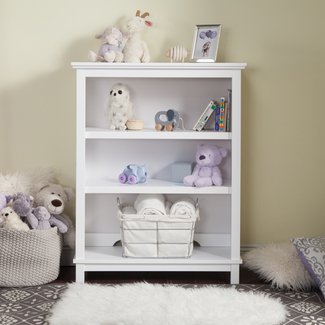 Autumn 43" Bookcase
This 43" open shelve bookcase is the epitome of minimalist design and excellent function. Designed with a relatively lower height, the unit has two large adjustable shelves that can be used to hold several items. However, we recommend that you use storage bins to better utilize the case. The unit is recommended for the nursery as well but can still be used as an accent furniture piece in other room types.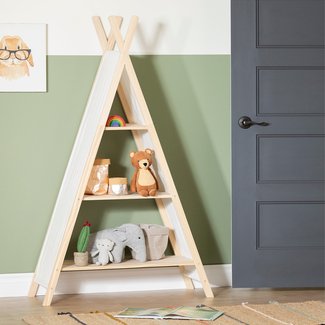 Sweedi Teepee 59.25" Book Display
For those of you looking for a creatively designed case that still offers an option for kids to get organized, you can't go wrong with this one. The unit comes with a triangular shape. It has three different sized shelves each designed for various items. The open shelf design also makes it the perfect display unit. It's relatively low in height meaning that kids of lower age groups can easily use it.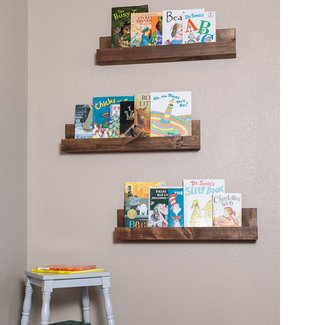 Rutter 4-Inch Floating Shelf (Set of 3)
These incredibly beautiful floating bookshelves should be the perfect addition to your nursery. They can be used to store your child's favorite books but also for a photo display as well. Made from solid wood, the floating shelves come with a combination of industrial and farmhouse styling. They have a natural look to them that provides the perfect accent for any wall. The mounting mechanism is also very basic. It should take you less than five minutes to set the shelves up.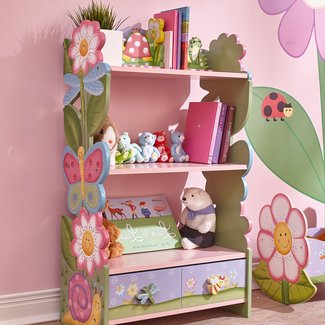 Magic Garden 38" Bookshelf
This beautiful and decorative shelve will bring a vibrant touch of colorful bliss into your children's room. The unit comes with an attractive multi-color finish and intricate kid-inspired craftsmanship for the best look. There is also plenty of storage, including two extra-large shelves and two closed-door cabinets at the bottom. The case is made from durable manufactured wood too. Its breathtaking floral motif should be a delight for most children out there.