Our Choice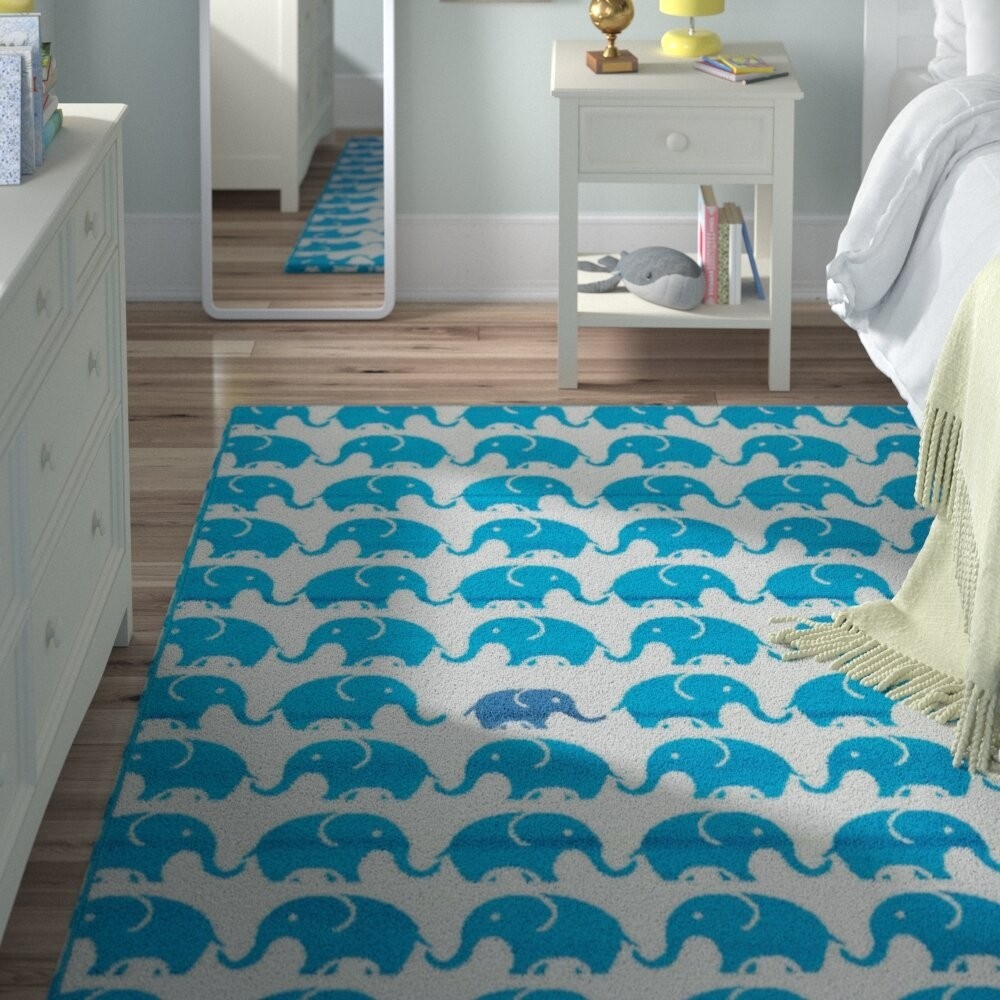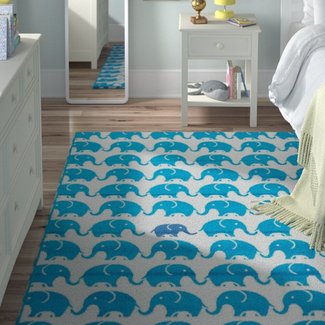 Nicholas Turquoise Area Rug
Stylized turquoise elephants against a pristine white background mean this animal print rug will imbue your little one's room with natural magic.
Manufactured from polypropylene, this stain resistant floor covering is easy to clean and does not shed.
Use to complement a room decorated in matching colors to provide a perfectly balanced palette.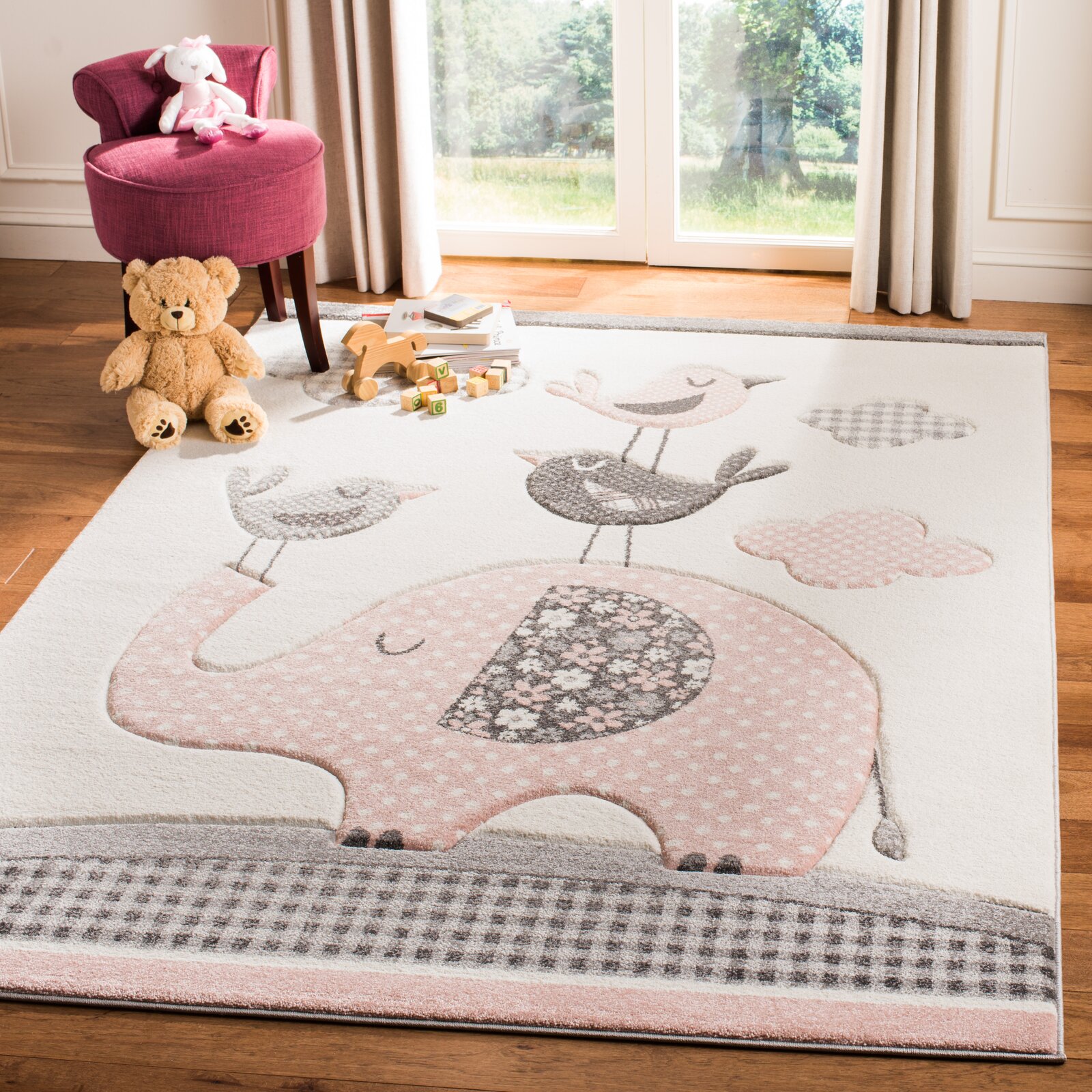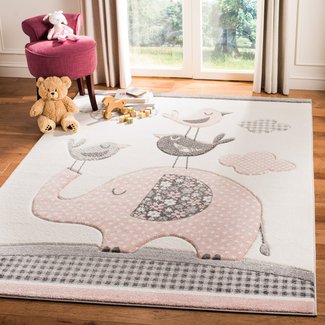 Burgan Kids Pink Area Rug
Whimsical and multi patterned, this rug presents the perfect blend of neutral hues making it ideal for any color scheme of your choosing.
Woven from polypropylene and supported with jute, this floor covering is suitable for vacuuming.
Add as the final finishing touch in a room decorated in pink and white, with a hint of grey.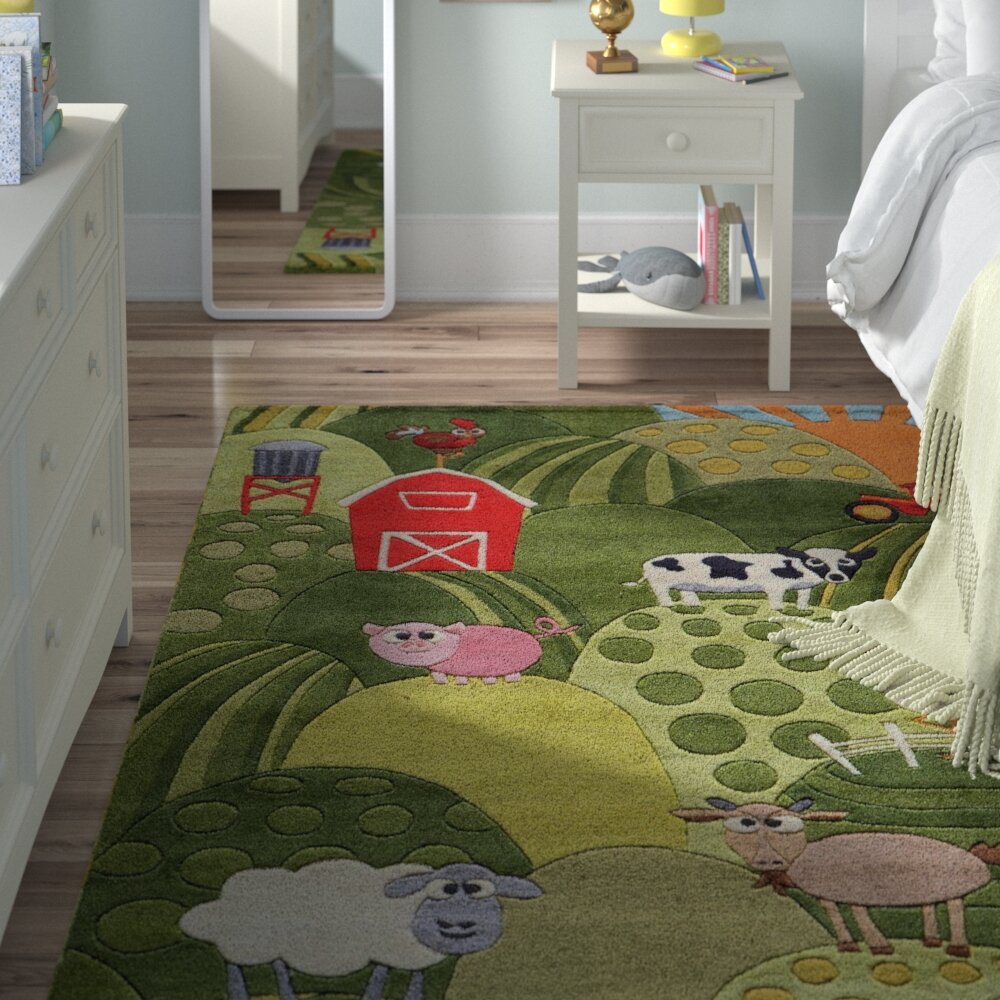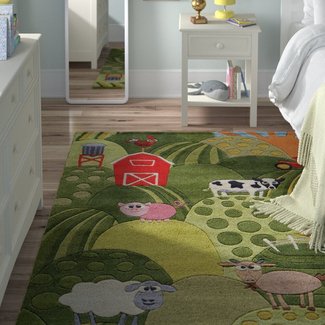 Johnnie Hand-Tufted Grass Green Area Rug
Set against a verdant background in varying shades of green, this depiction of a countryside scene will imbue your child's room with the true beauty of nature.
The floor covering which has been hand tufted using polyester, is low pile and is suitable for vacuuming.
Its unique combination of hues means it may be used to add a splash of color and magical greenery to a nursery decorated in warm or cool tones.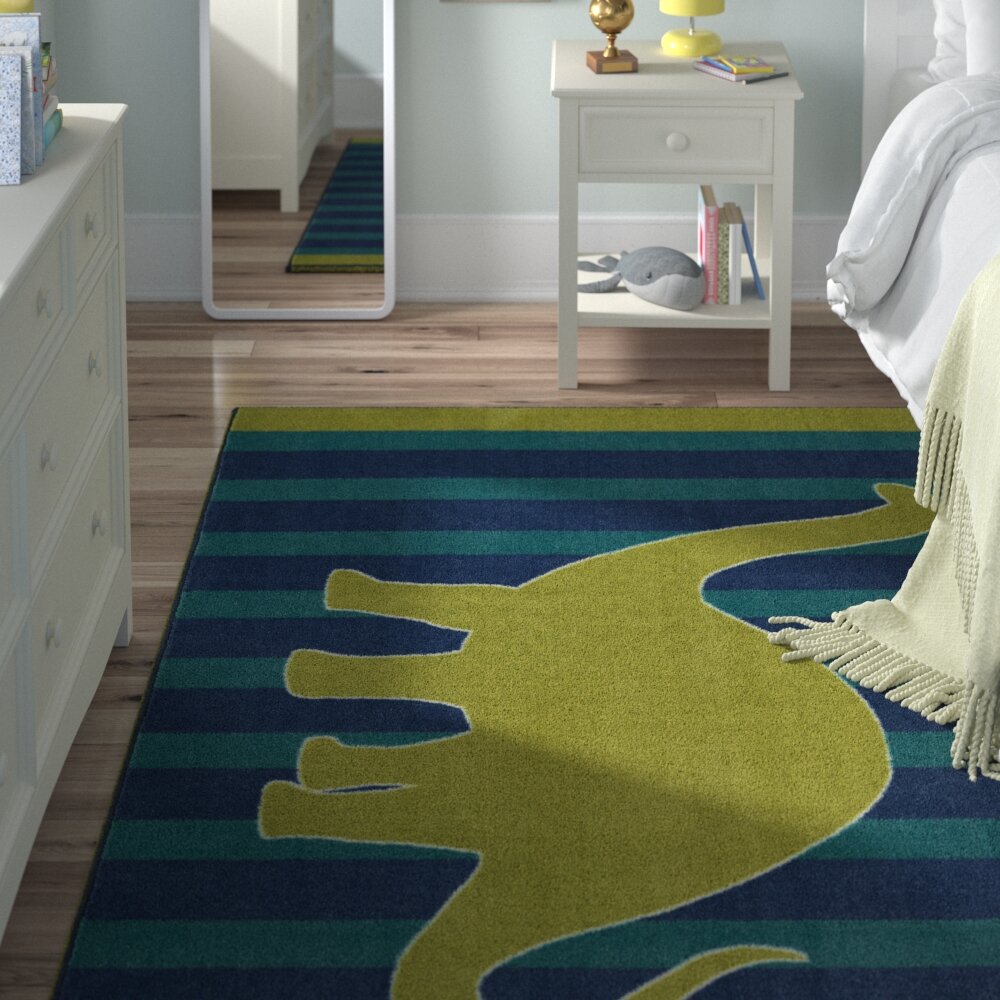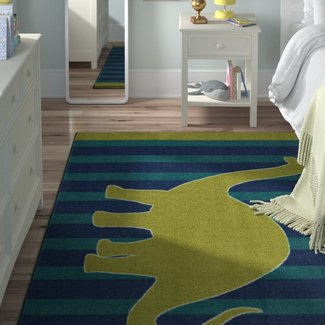 Brynn Friendly Dinosaur Lime/Blue/Teal Kids Rug
Playful and multicolored, this dinosaur-themed rug is ideal for enlivening children's surroundings.
Sustainable and manufactured from natural fibers, this floor covering is stain resistant, impressively durable and capable of handling high traffic. It is also ideal for domestic or educational environments.
Make use of its eclectic combination of lime, blue and teal to elevate decor themes in more neutral colors.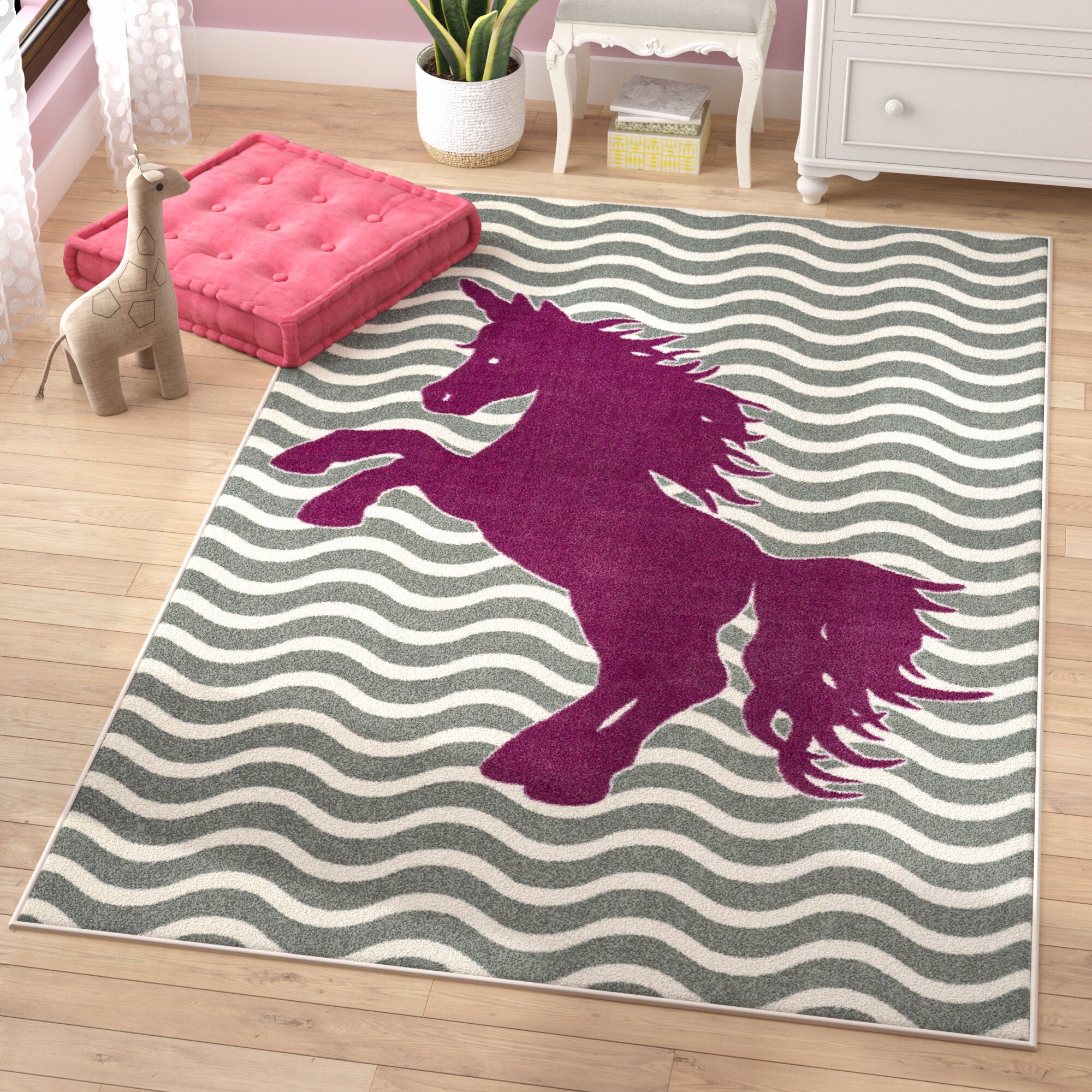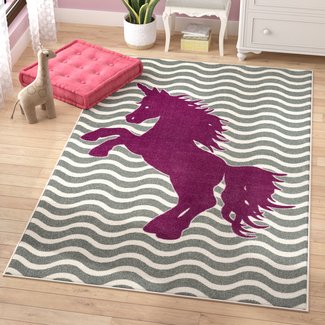 Heimbach Majestic Unicorn Royal Area Rug
A leaping purple unicorn against a background of alternating ripples in grey and white, ensures this rug will instantly transform your nursery into an enchanting haven.
Woven from nylon and featuring latex backing, this floor covering is stain and fade-resistant with a low pile.
Take advantage of its perfect balance of bold and muted colors to complement rooms finished in dark or light tones.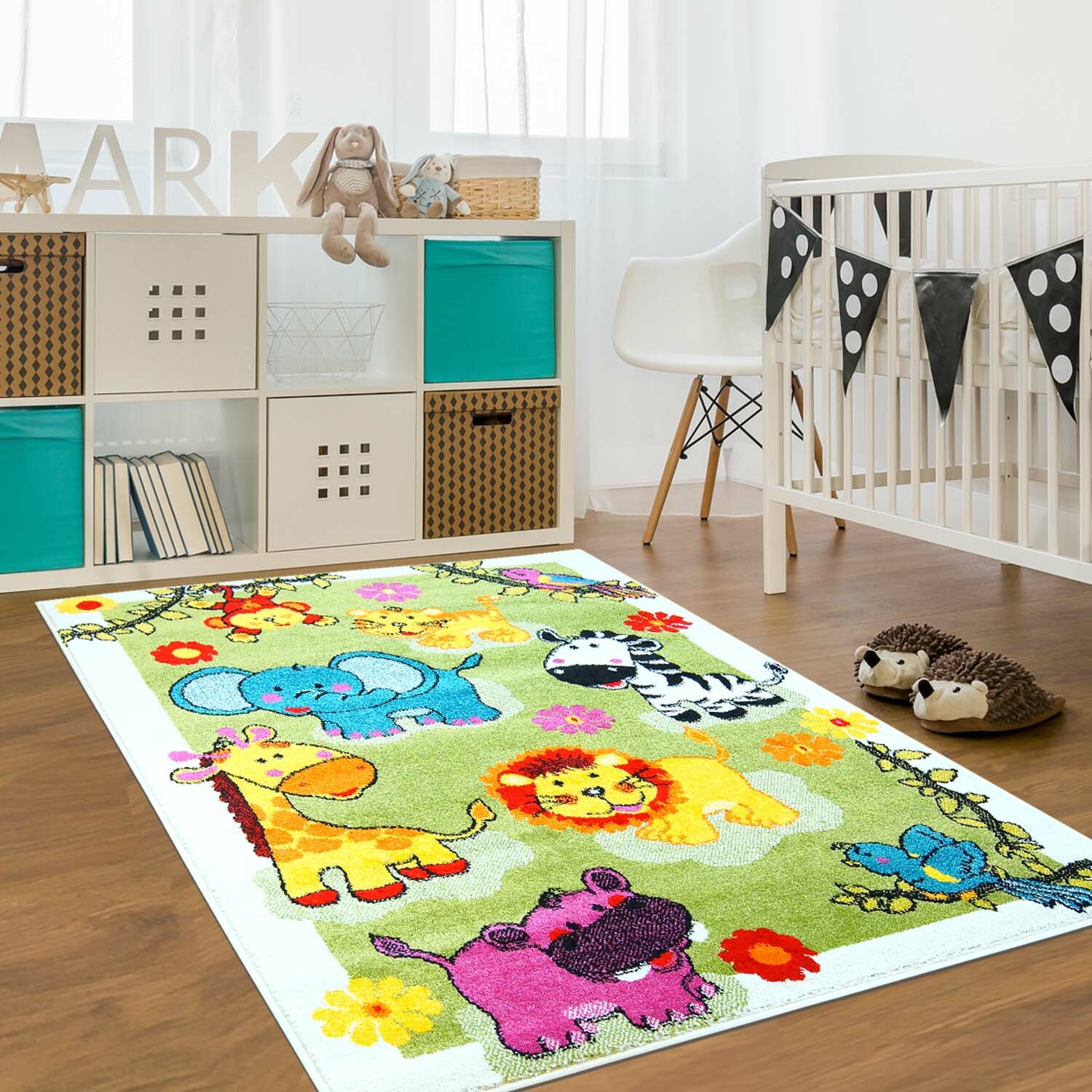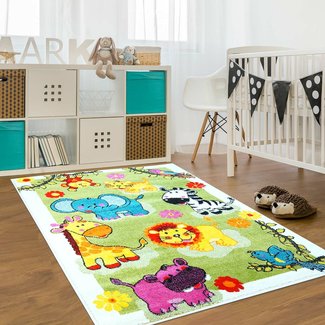 Jodie Kids Animal Green Area Rug
A multi-hued spread filled with magical wildlife, this rug will suffuse your child's room with a burst of color.
Woven from jute and propylene, this medium pile carpet is easy to clean in addition to being especially durable.
Place against floor panels in white or light beige to enable the full allure of its tropical magic to stand out.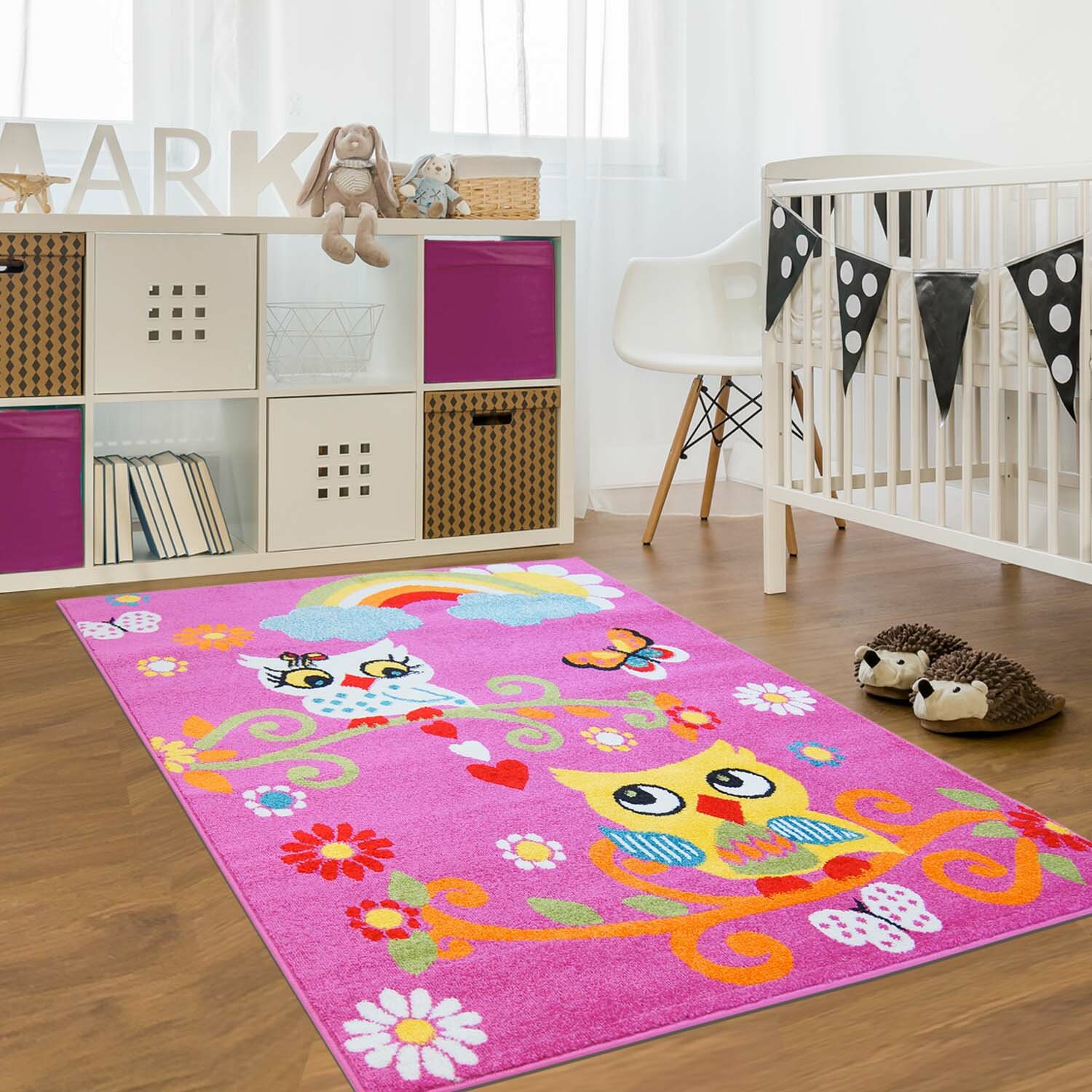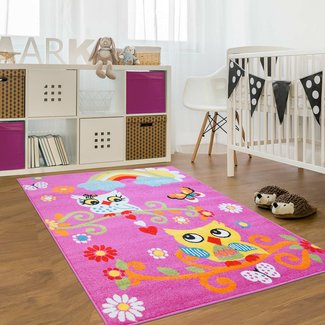 Jodie Kids Owl Pink Area Rug
An idyllic presentation of a magical wonderland against a pink backdrop, this rug will transform your nursery into a real life fairytale suffused with owls, flowers and rainbows.
The machine woven rug has been manufactured from polypropylene and jute and can also be spot cleaned.
Its delightful combination of colorful images and an equally brightly hued background make it ideal for any decor or color theme.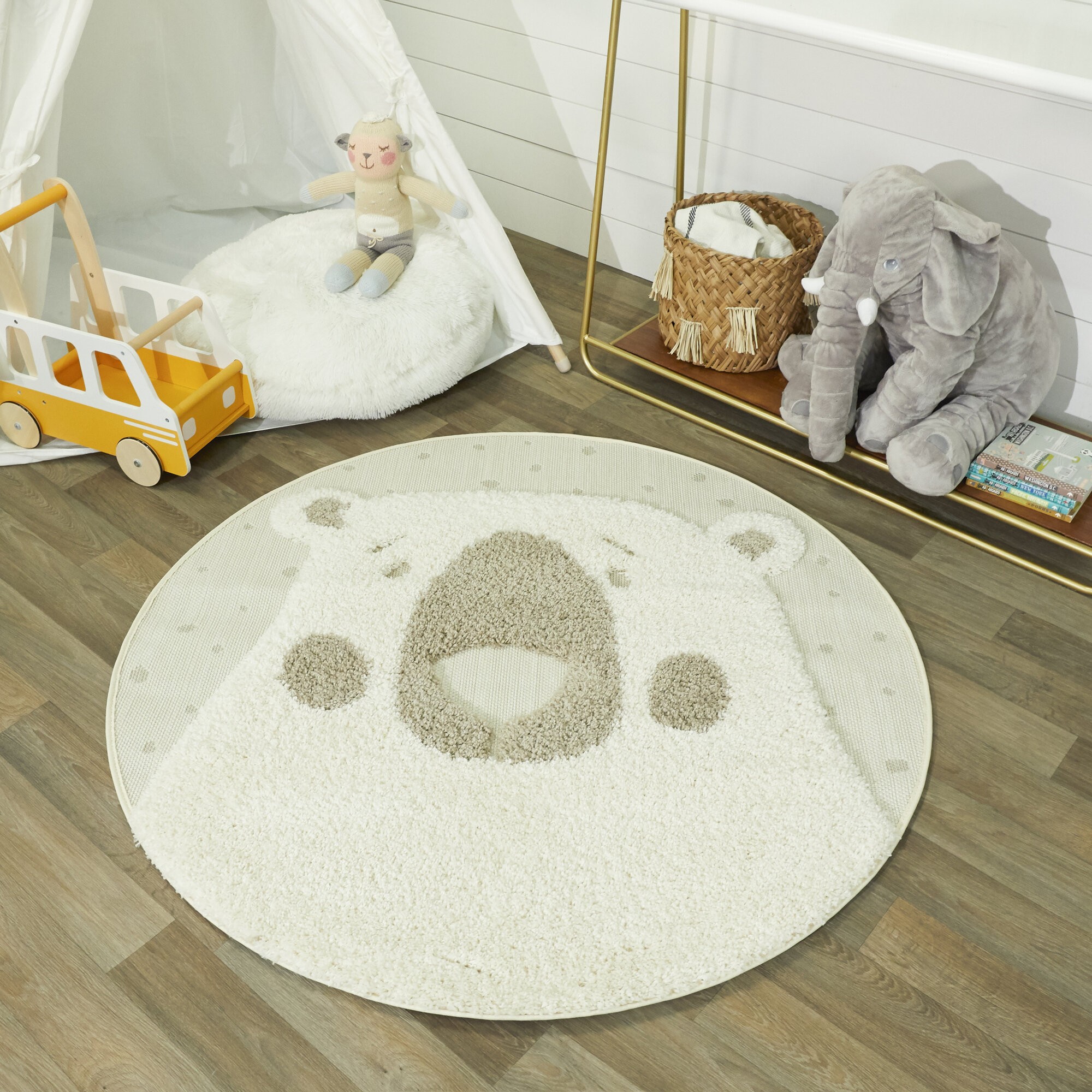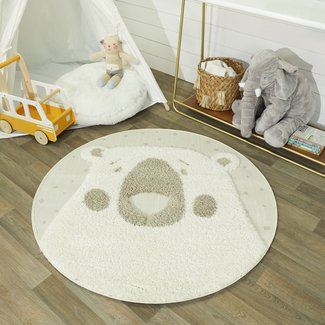 Nueva Polar Bear Shag Off-White Area Rug
Consisting of a perfect circle featuring a large polar bear in off-white with touches of grey, this floor covering can be used to balance out splashes of color in your child's room.
This high-low structured shag rug can also be vacuumed or spot cleaned with a mild detergent solution.
Use to complete a decorative-theme inspired by Arctic wildlife.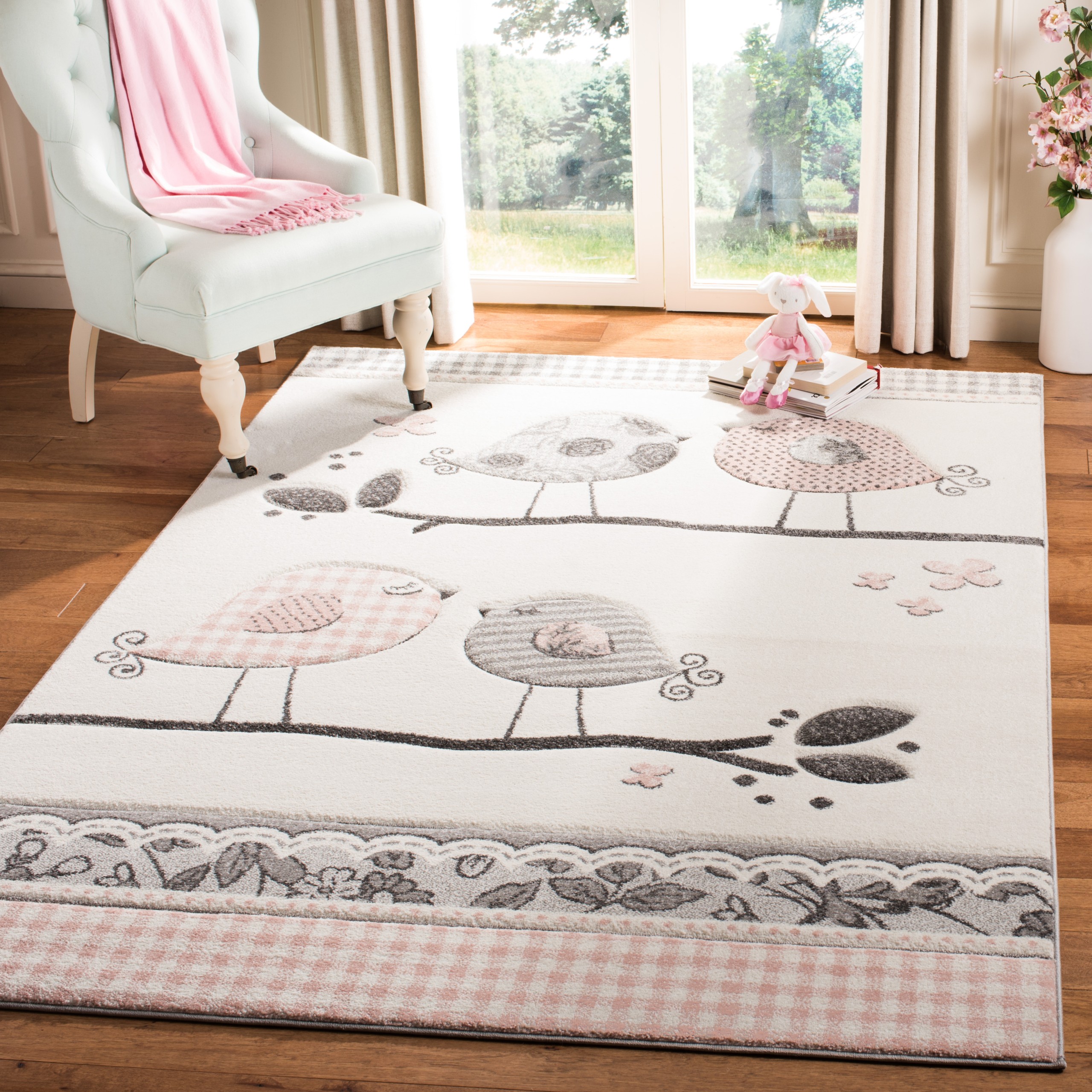 Burgan Kids Ivory Area Rug
Whimsical and seemingly woven from a fairy tale, this multi-patterned rug in sedate tones of pink, and pale and darker grays, and checkered detail, will add an enchanting playful touch to your home's nursery.
Woven from polypropylene with jute backing, this floor covering is suitable for vacuuming and spot cleaning.
Add to a room with a palette consisting of pale pinks, grays and ivory to create a dreamlike ambience.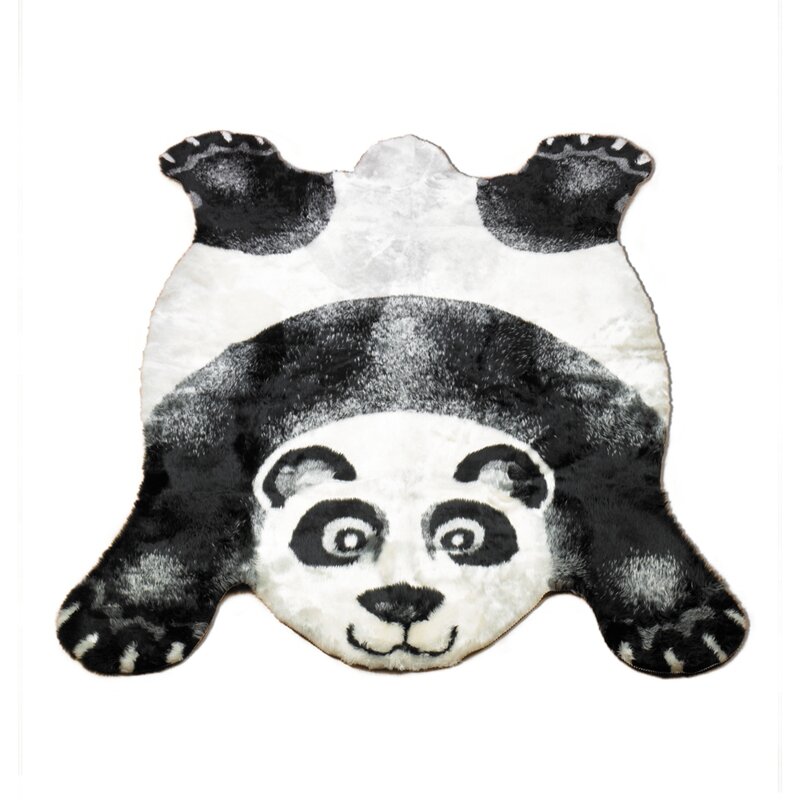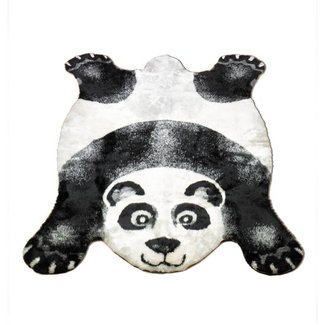 SanderSon Machine-Knotted Black Area Rug
This panda-shaped rug decorated in black and white will enable you to introduce the allure of wild nature to your little one.
Machine-made using synthetic fibers, the rug which is machine washable, also comes with latex backing for added durability. It is also sustainable, hypoallergenic and free from toxins.
Use to create a haven inspired by wildlife to provide an ambience of discovery and adventure for your child.